LILY SHIELEDPAW...Final Chaos Legendary Airdrop Summoner
Hello Splinternerds
They say, all good things must come to an end. So finally we arrived at the last Chaos airdrop character as only 134K Chaos packs are left to be sold. And as all other splinters got their legendary summoner airdropped, so this is going to be a Dragon legendary summoner; LILY SHIELDPAW.
LILY SHIELEDPAW will join the ranks of six Chaos Legendary summoners and will be for sure the last new card in Chaos edition. With 25K packs burned everyday, LILY SHIELEDPAW will for for sure be unlocked in a week.

Stats
LILY SHIELEDPAW certainly needs to do good if it were to secure position among the other legendary Dragon summoners. Designed by @byzantinist and the Red Panda Pool group, LILY SHIELEDPAW certainly justifies to be the last Chaos airdrop summoner. Looking at the stats, one can't help but admire it. Like all previous Chaos airdropped legendary summoners it costs 6 mana, giving all friendlies +1 health, the most important Camouflage and Triage ability.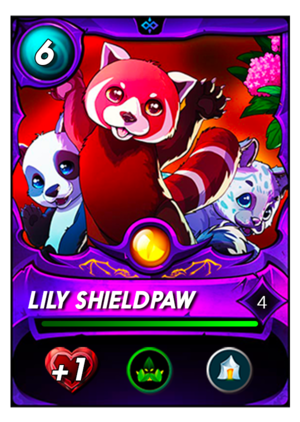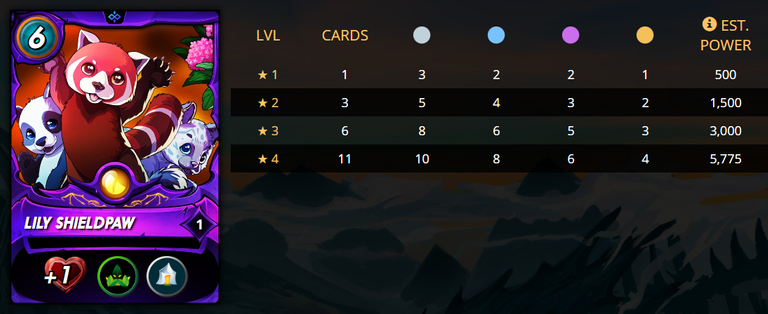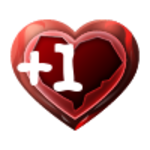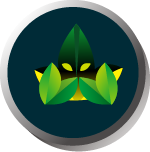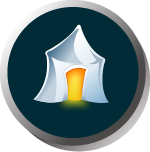 The real gem in LILY SHIELEDPAW is its Camouflage ability that will makes all the friendlies in back rows all most invisible to the enemy. The front facing monsters will effectively serve as a Taunt monster without the Fury implications, whereas all monsters in the back can enjoy attacking in peace invisible to enemy sight.
Also not to forget Triage in the back ranks, as all monsters in the back ranks will continue getting healed even if they get damaged from Scattershot, Blast, Poison, Earthquake or even Redemption.
Plus being a dragon summoner means LILY SHIELEDPAW will have access to monsters across all splinters further increasing its utility.

Abilities Adjustments
Camouflage
Giving all friendlies in back Camouflage might make LILY SHIELEDPAW too strong. So in order to improve odd of other summoners against it, Camouflage ability was tweaked a bit. Now Scattershot monsters can target even Camouflage monsters.
This change will further enhance the utility of Scattershot monsters and Summoners.
Taunt
Taunt ability will gain precedence over Camouflage. So any monster Taunt monsters sitting in back row will attract enemy attack despite being Camouflaged.

Favored Rule Sets
LILY SHIELEDPAW will work fine in almost all kind of rulesets; especially Equal Opportunity and Up Close & Personal rulesets will give Lily an edge. Aimless ruleset will be of course least favorable.

Defense
It would certainly not be easy defending against LILY. But certain summoners and monsters can improve the winning odds.
Maximizing the use of Scattershot and Blast monsters
Summoners like CONQUEROR JACEK and MIMOSA KNIGHTSHADE

Pricing
Looking at the Chaos legendary summoners market prices, I expect LILY SHIELEDPAW to cost more than others ,because of being a dragon and of course being the last one in the line. I expect the price to settle anywhere in between $25 to $30 once initial fomo settles down.

That will be all for today...
What do you think about LILY SHIELEDPAW???
Do let me know in comments below👇👇👇
👋Adios👋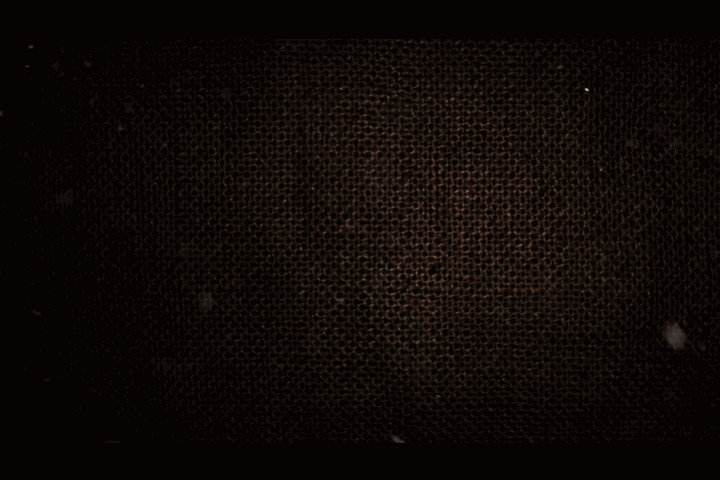 ---
---