Mycelic Slipspawn- Highly toxic swamps of Praetoria.
---
---
Heya Splinter fellas,
It's been ages since I have posted anything valuable about splinterlands. I recently tested one chaos card with kitty summoner and so far I have gotten 100% results from this line-up. I thought I should share with the world :P XD. Yes, I am talking about Mycelic Slipspawn. Mycelic Slipspawn is a Rare earth chaos edition monster. It has three abilities. Taunt ability at level 1, forcefield at level 4 and slow at a maxed level. I tried it on Tswarrior and xadragon. I was so satisfied with the results that i made my mind I will be posting on this whenever I will post. Looks like today is the day and I just maxed it on my own account It cost me 8k decs. I have been waiting for general sales but some chaos cards are just too good I can't stop myself from buying those cards. There are still plenty of chaos cards that I think I need in my deck but their souring prices do not allow me to purchase them. Especially when you have the strong gut feeling they are going to be dirt cheap after the general sale. So i will just wait for the other cards.
Stats
---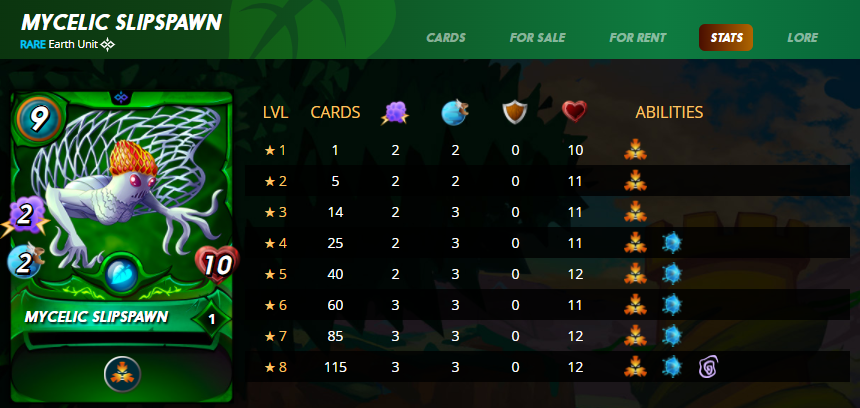 ---
Among all the other splinters only earth was the only splinter that didn't have any monster with a taunt ability. But well now we have this ability in earth splinter. It has forcefield ability. Personally, I don't like this ability when it works against me :P otherwise, a forcefield is one of the best abilities :P XD. Forcefield is a pretty annoying ability if you are not using any monster with this ability but your opponent is using.
My battle using Mycelic Slipspawn
---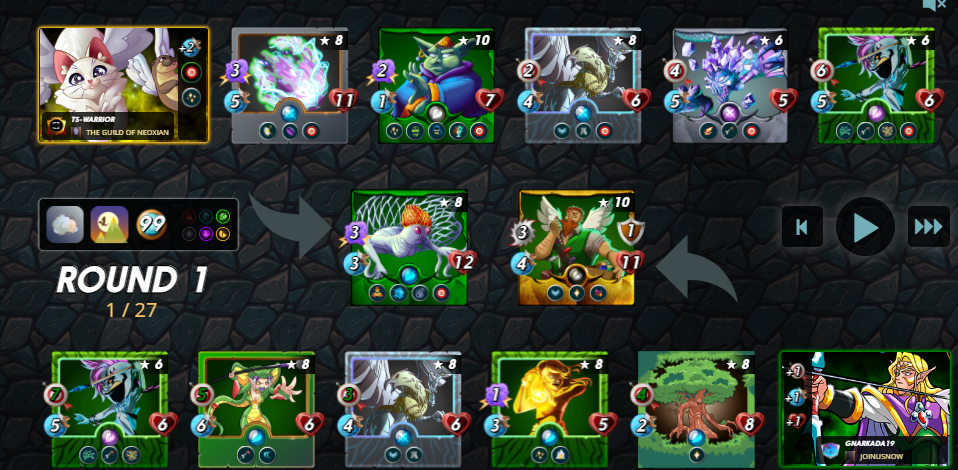 Battle Link
---
I was given a huge mana cap 99 along with fog of war and lost legendries rulesets. Active splinters were dragon, death and Earth. Since the rule was lost legendaries and mana cap was pretty big I predicted my opponent will go with kitty summoner and will use earth splinter. But my opponent used Prince instead. Anyways it went in my favour because Mitica headhunter with 7 ranged attacks and Jevlin thrower with 5 ranged attacks were useless in front of forcefield abilities. I also used Goblin Psychic because of its amazingness. It has dispel, tank heal and affliction abilities. I used Gem meteor because of its scattershot ability. In the fog of war ruleset where all monsters were bound to attack the first position monster only Gem meteor has the ability to attack any random monster. I truly love this ability because it also neglects taunt ability. So far I have seen only ranged attack monsters with scattershot ability. I would love to see this ability in a melee attack.
Chaos release has made things difficult and interesting at the same time. I am enjoying playing chaos.
Cards I want to max asap
Tarsa
Kelya Frendul
Xenith Monk
Igor Darkspear
Dax Paragon
Grund
And many more 😂 lolz anyways I will wait a few more days. Hope this battle will help some people. Disclaimer: It's up to you when you think it will be good to use this lineup. It won't work all the time. Predicting your opponent and the right decision at the right time makes you the winner. Also, your card placement matters a lot.
---

---

If you want to play splinterlands then SignUp Here
---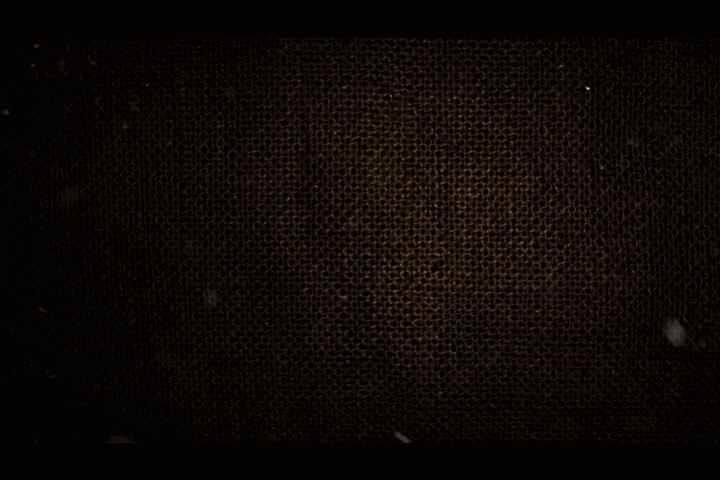 ---
---