GARGOYA SCRAPPER - Life Element Challenge

Once again, Welcome back to my Battle challenge blog 😉

GARGOYA SCRAPPER - STAR OF THE GAME ⭐️

I enjoy GARGOYA SCRAPPER because it is easy to use, does have a 1 cost mana and can be used as a support or tank in ranked games to help me win and get what I need.
SHARE MY BATTLE CHALLENGE EXPERIENCE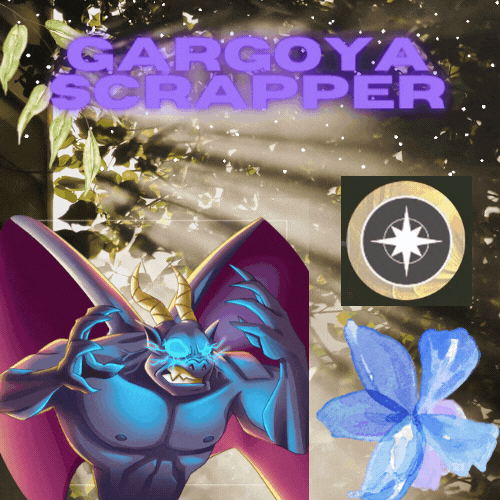 ---
==RULES OF THE GAME==
SPREADING FURY - All monsters have the capacity to get furious when attacked by the opponent.
NOXIOUS fUMES - Each round, all monster cards in the battlefield take 2 poison damage.

Mana Cap 17
Elements Inactive

WATER

Poison is the struggle in this challenge!

My winning bonus shares

GARGOYA SCRAPPER was able to do the work required by this approach and circumstances. It was very tough due to the conditions in the battlefield, elements and focus points, and all participants wanted to win, therefore they had to prepare the greatest possible lineup for the day's elemental challenge.

Youtube Video Battle

I created a Video for the viewers to see the tense moment when I use GARGOYA SCRAPPER as part of my combat strategy.

(Unsupported https://www.youtube.com/watch?v=8gVwDsopcos)




Short Film Battle Link : Splinterlands Battle Challenge 🤝

BATTLE SUMMARY

Round 1

Round 1 has just nine rounds, and with a mana limit of 17, it is difficult to anticipate what monster I will use in it. Additionally, I am in the process of concentrating on the light element, which requires me to cooperate and increase my focus points in order to get more chest daily gifts.

In this challenge, I was able to place my tank, a legendary Urieil, since it has heal, but it's difficult to see how I'll be able to win with 1 main tank in the front while my garogoya scrapper provides assistance, given that the poison restrictions make this combat devastating.

I was able to position herbalist such that he may debuff the main tank a head, while GARGOYA SCRAPPER holds the lines, enhancing my monster line-up and providing protection against sneak attack if my opponent is using it.

Round 2

During the second combat, I was surprised to see that it would take 18 Turns. Since I only have two attackers in this arrangement, my plan is to hold out longer and endure the poison on the battlefield. It is in my best interest to eliminate the poison in this scenario. GARGOYA SCRAPPER must just hold the line and persevere.

Round 3

Round 3 was critical as my herbalist and GARGOYA SCRAPER both suffering, but my uriel was able to survive due to my herbalist removing the poison damage, allowing it to continue its mission to eliminate opponents' cards.

Round 4

The fourth round was my final chance; Uriel was able to charge its ability and perform the damage; and with nine deadly blows in the seventh move, I was able to destroy the enemy's whole army with the help also of the poison rules . It was a difficult battle, so kudos to my adversary!

==Quick Battle Link==

Battle link





The Combat Link that leads to the actual battle on the website of the Splinterlands.


Did your strategy work? What will you try differently next time? Do you like the GARGOYA SCRAPPER ? Why or why not?

1ST Question

The combination of GARGOYA SCRAPPER, herbalist, and legendary Uriel tried their best to survive the noxious fume condition so that I could efficiently execute the combat and win the game.

2ND Question

I will attempt another summoner; maybe I will select peakrider to buff more armor in order to sustain my cards on the battlefield, particularly GARGOYA SCRAPPER; if I buff more armor with a low mana cap, it will be beneficial and basically give me a victory.


3RD Question

Yes, I like *GARGOYA SCRAPPER. Primarily, what I like most about him is that it can be used in games with a tiny mana limit, as it costs only 1 mana, allowing me to optimize you my plan and implement him in your own way, depending on the scenario and game regulations.



Join the game with my referral link: https://splinterlands.com?ref=xykorlz
if you like my content please follow me for more 🤗





---
---