Taunt Them all!
Welcome back to my Battle challenge blog 😉
My Thoughts : 🤔
All I can think about right now is the new Riftwatchers release and the Splinterlands Tower Defense; these updates add to the splinterlands environment and economics. While SPLTD will begin operations next year, this has been going around all week, and more players and investors are interested in buying the 3 million supply of limited cards packs in the riftwatchers. However, what really excites me is the land expansion I've been waiting for, as maybe sooner it will be playable. I think this could be a great year for exploring and playing the splinterlands new expansions, earning SPS, and burning more SPS. SPS is in greater demand, which raises the price.
SPLINTERFEST is nearly approaching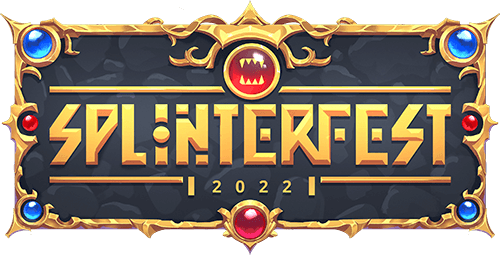 SPS Price Update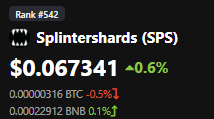 Dark Energy Crystals

Summoner Gold Foil Market Price


Silver Division League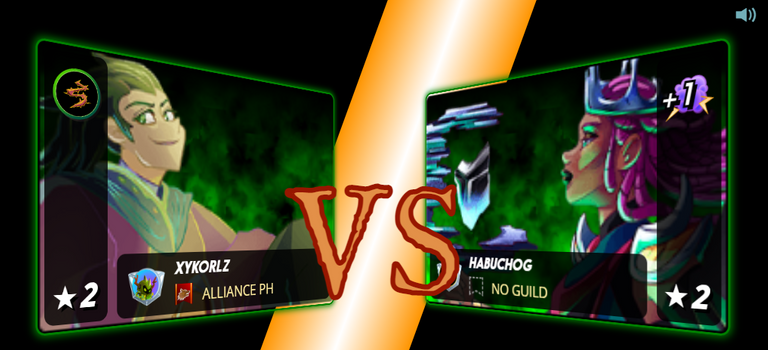 let's get the fight blog started!
---
Despite being extremely challenging, the combat was respectable. Great Job!

MYCELIC SLIPSPAWN - Card Challenge of the week⭐️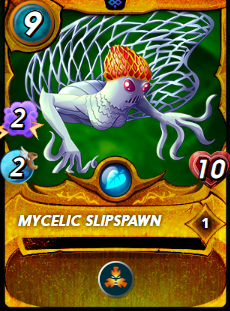 I have a Gold Foil level 3, MYCELIC SLIPSPAWN card in my deck.


Earth Element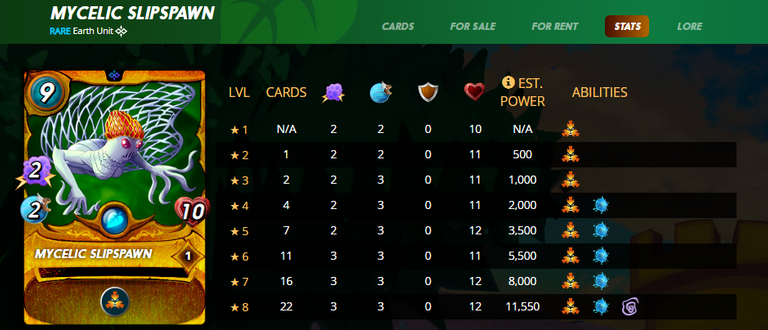 Sharing my battle story fighting with MYCELIC SLIPSPAWN
---
==RULES OF THE GAME==
Heavy Hitters: All monsters in the battlefield had the ability to knockout!
Explosive Weaponry: All monsters have the ability to blast!


Mana Cap 34
~~ Elements that are not Active ~~

Dragon
Life

Explosive Weaponry is the struggle on this challenge!


My winning bonus shares

Reward Points

Season Points 8,559
Focus Points 8,559

Reward Bonuses

Win Streak 5%
Gold Cards 40%
Beta Cards 5%
Guild 3%

SPS 0.344

Youtube Video Battle

I produced a film to show the audience how intense it can be when I use MYCELIC SLIPSPAWN in battle.

(Unsupported https://youtu.be/58DVHrSrzdA )

Short Film Battle Link : Splinterlands Battle Challenge MYCELIC SLIPSPAWN 💪

I appreciate you taking the time to read my blog; if you found it helpful, kindly hit the YouTube Like and Subscribe buttons. I'm still a newbie there. I genuinely hope you like it and tell others about it.

BATTLE SUMMARY

Round One

The combat begins immediately, with all damage being directed at my MYCELIC SLIPSPAWN as it taunts, with the exception of the front. I was able to withstand the damage because of my healer, who also helped me survive MYCELIC SLIPSPAWN's during the devastating onslaught. The taunt was quite effective by MYCELIC SLIPSPAWN and due to Venator Kinjo's powerful effect, the reflection shield's superior effectiveness, and the explosive weaponry's inability to be ineffective in that match.

Round Two

In this round, MYCELIC SLIPSPAWN is still in the position, taunting more damage from the opponent, and my Unicorn Mustang was a really effective tank and to build up more damage to my opponent because I can blast them when I attack. Even though my opponent used MYCELIC SLIPSPAWN, I was still able to take more damage from him and overpower his creatures on the battlefield.

Round Three

Unfortunately, I lost my Mycelic Slipspawn in the round 2, but my opponent still had his MYCELIC SLIPSPAWN to taunt my damages. However, as round 3 continue to battle I was able to quickly take down his MYCELIC SLIPSPAWN as the fight went on. That blast was so strong that my monster suffered a terrible demise. yet I'm still attempting to succeed.

Round Four

As you can probably imagine, I wasn't expecting that my Unicorn Mustang would survive this round and that it would keep taking damage and smashing my opponents' monsters' cards.

Round Five

In this round, I'm up against a healer who deals magic burst damage, but I'm in a favorable spot because my Unicorn Mustang has Void, which allows me to take less damage and block one magic damage. Due to my legendary Venator Kinjo's reflection shield, which makes blast ineffective and dealing no damage at all, he is unable to significantly damage my tank while he attempts to blast it.

Round Six

I was able to defeat the Goblin Psychic in the final round despite not being able to use Mylor Thorns because my opponent used magic rather than physical attack. It's possible that he anticipated my move that I would use Mylor, but I was still able to surprise him in this challenge match and get the best defence.

==Quick Battle Link==

Battle link





The Combat Link that leads to the actual battle on the website of the Splinterlands.


Did your strategy work? What will you try differently next time? Do you like the MYCELIC SLIPSPAWN? Why or why not?

1ST Question

I can keep my creatures alive on the battlefield thanks to the effective combination of an anti-melee summoner, Mylor, and MYCELIC SLIPSPAWN for taunting damage. It caught me off guard at the moment when my opponent is using all magic, but my strategy was successful and I was able to win the challenge!

2ND Question

Sacred Llama Mage is the summoner that I choose and believe offers the finest opportunity to maximize the power of MYCELIC SLIPSPAWN since it can increase hitpoints by two and make a strong tank in my opinion and with the combination of the Kron the legendary monster card. The MYCELIC SLIPSPAWN would be a strong tank and sustain to protect Kron against sneak attacks, Despite Kron's ability to heal, there are numerous new chaos cards that can counter such a combo. These days, thus it's beneficial to use MYCELIC SLIPSPAWN to counteract those attempts that would let Kron survive the battlefield longer until he can use the Sacred Llama Mage and Kron oOmbo as the last man standing. It is an old but gold combination that still performs better in the Silver and Bronze divisions.

3RD Question

MYCELIC SLIPSPAWN is a truly amazing card to start with; with such a great taunt ability and a good defensive card in the Bronze and Silver League, it is the ideal approach to use this card in a different circumstance and rules. As long as you can maintain it, tanking gets stronger and lasts longer, which can frustrate your adversaries' strategy.


Join the game with my referral link: https://splinterlands.com?ref=xykorlz
if you like my content please follow me for more 🤗





---
---