Possessed Puppet - Splinterlands Social Media Challenge!
Greetings my dear Hive community!!!
Very good night, my dear... Beloved community!!!
I hope you are having an awesome week. Here I am again, but this time to show you what I did for the Splinterlands Social Media Challenge!!! ✨✨✨
To start this week, I decided to do something with a more (dark!!!) twist and that's why I loved this character for my idea. A while ago I won this card playing and now I have several copies of it. I mean -=𝕻𝖔𝖘𝖘𝖊𝖘𝖘𝖊𝖉 𝕻𝖚𝖕𝖕𝖊𝖙=-. 🩸🔪💀
These possessed dolls are amazing for many things, including getting to kill. I was fascinated by their design and also the story behind this character, so I didn't hesitate to carry out my idea inspired by the card. 💖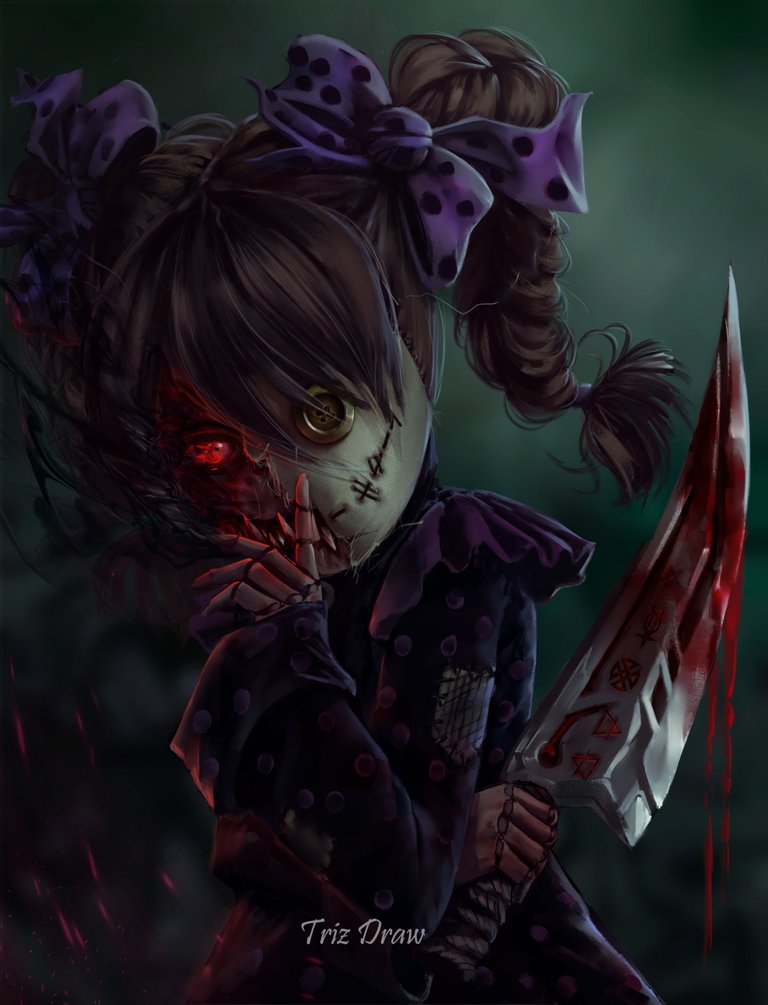 My version is a bit darker (at least I think so), but if you've known me for a long time, you know that I love those characters, whether in games or movies, with that evil and dark touch. So, it all came together beautifully as I developed this idea. 😋😋😋
I don't want to spread myself too thin tonight, as it's late and I'm a bit exhausted from a busy day. And the whole week, I'm absolutely sure, will be even busier... So below, I leave you a brief description of how I was working on this character. I sincerely hope you like the version I made inspired by this card, because every work I do to create content for this community carries with it a big percentage of effort and a lot of love and it makes me very happy to know that some of you see that effort and support me always... Thank you!!! 🥺🤗💖💖💖
✨✨✨
💖💖💖
𝕬𝖓𝖉 𝖍𝖊𝖗𝖊 𝖎𝖘 𝖙𝖍𝖊 𝕷𝖔𝖗𝖊 𝖔𝖋 𝖙𝖍𝖎𝖘 𝖇𝖊𝖆𝖚𝖙𝖎𝖋𝖚𝖑 𝕻𝖔𝖘𝖘𝖊𝖘𝖘𝖊𝖉 𝕻𝖚𝖕𝖕𝖊𝖙:
A possessed puppet is a construct created by a spellcaster to act as a spy, servant, or even an assassin. It appears to be an innocuous doll until the last moment when it strikes. It is not unheard of for the creator to lace their construct's weapon with various maladies as well.
Possessed puppets are used for all manner of tasks, some darker than others. Alchemists utilize them in their stores to assist with their work, while shopkeepers have them run errands. Due to their blind obedience and lack of conscience, though, many are tasked with assassinations and other devious plots. Nothing is quite so unnerving as a child's toy with a pair of daggers, about to snuff out your life.
What they are most prized for, though, is their ability to telepathically transmit anything they see or hear back to their creators, making them incredibly effective spies. This exchange of information is possible through the blood used in its creation, which creates a mystical bond between puppet and master.

---
---
𝕾𝖔𝖒𝖊 𝖎𝖒𝖆𝖌𝖊𝖘 𝖔𝖋 𝖙𝖍𝖊 𝖕𝖗𝖔𝖈𝖊𝖘𝖘 💖😋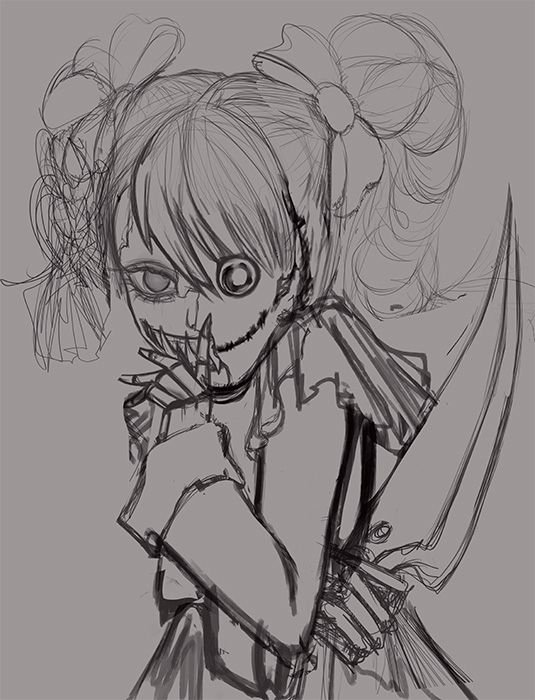 As I mentioned in my last two posts, it doesn't make much sense for me to create a perfect sketch with a #LineArt of divine quality if in the end that sketch or those lines are not going to hold up. That's why this pile of dirty, ugly strokes serves only to capture the idea I had for this character's position.
-.-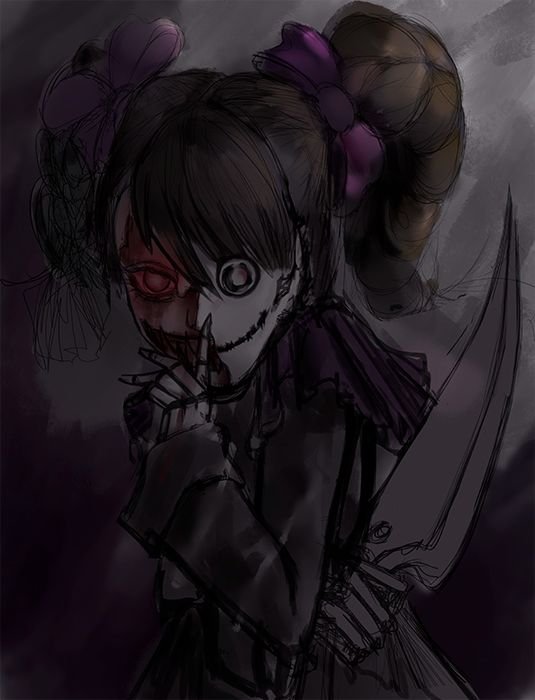 More mess, 🤣🤣🤣🤣 But what can I tell you, I've gotten used to working this way. So, after establishing this purple color as a base for both the background and the character, I started to apply the different lights and shadows that will give life to my illustration.
-.-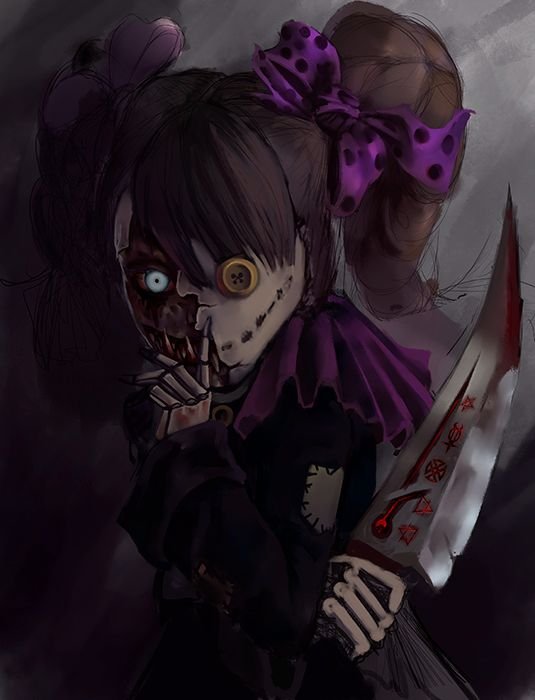 At this point, I dedicated myself to polish and correct the mess that was in the previous steps. I made different folds in the clothes, worked on the knife she is holding in her hand and also worked a little on the face, the hair and that little bow she is wearing in her ponytail. I also added some patches on the clothes to give her that antique touch.
-.-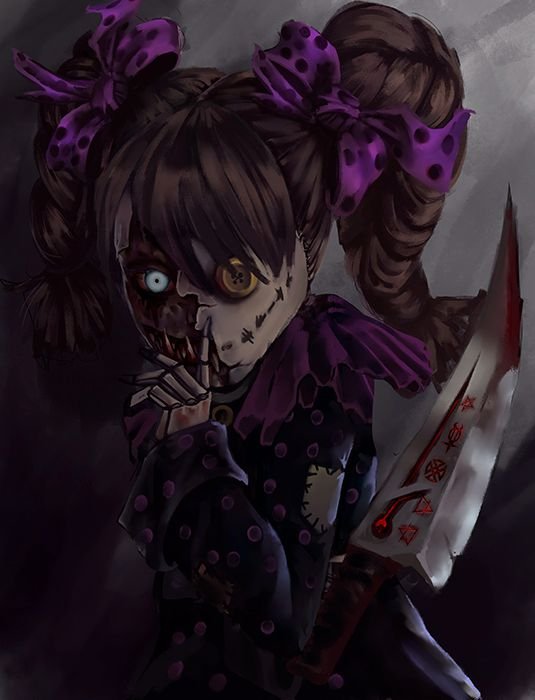 In this part I worked on the hair and, in addition, I placed the other little bow that was missing in the other ponytail. I painted some polka dots on the blouse of this character and, to add even more detail, I arranged the position a little more.
-.-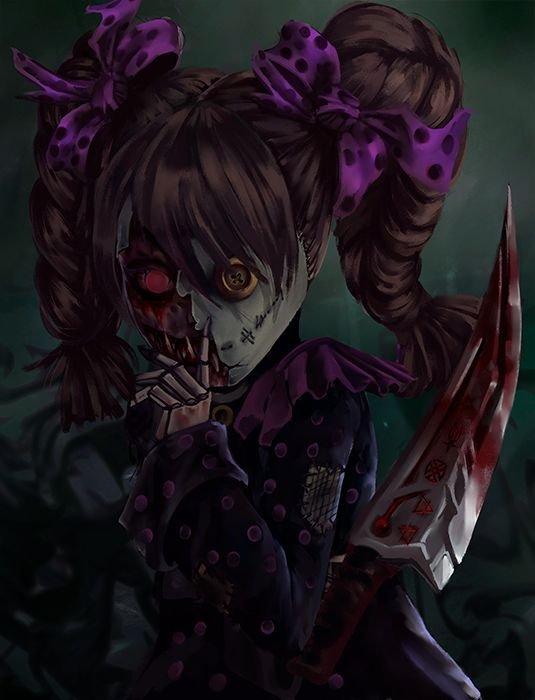 In this part, I decided to transform the base color of the background into a greener tone and add some shadows around it... to achieve a more evil feeling. Also, I kept working on the knife and made some details on the face.
-.-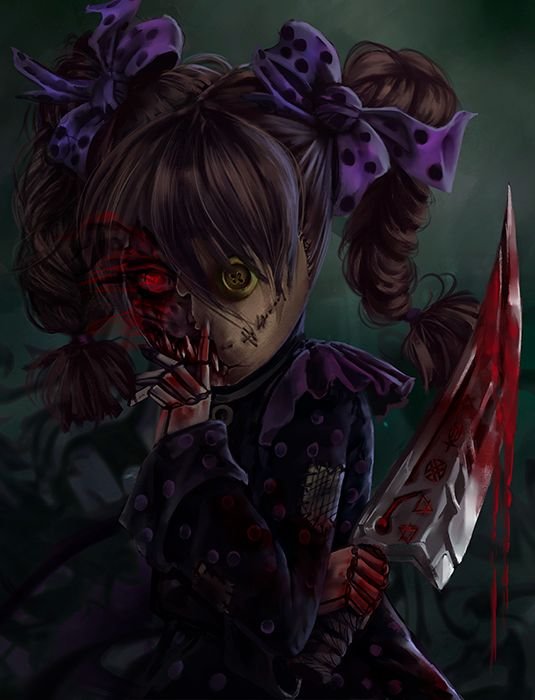 In this part I added touches of blood in several parts. She just did her job!!! 😱😱😱 I also made some highlights in the hair and I was also preparing the face to apply a texture to give her that doll touch.
-.-

---
𝕾𝖕𝖊𝖊𝖉 𝕻𝖆𝖎𝖓𝖙𝖎𝖓𝖌
---

---
---
𝕱𝖎𝖓𝖆𝖑 𝕽𝖊𝖘𝖚𝖑𝖙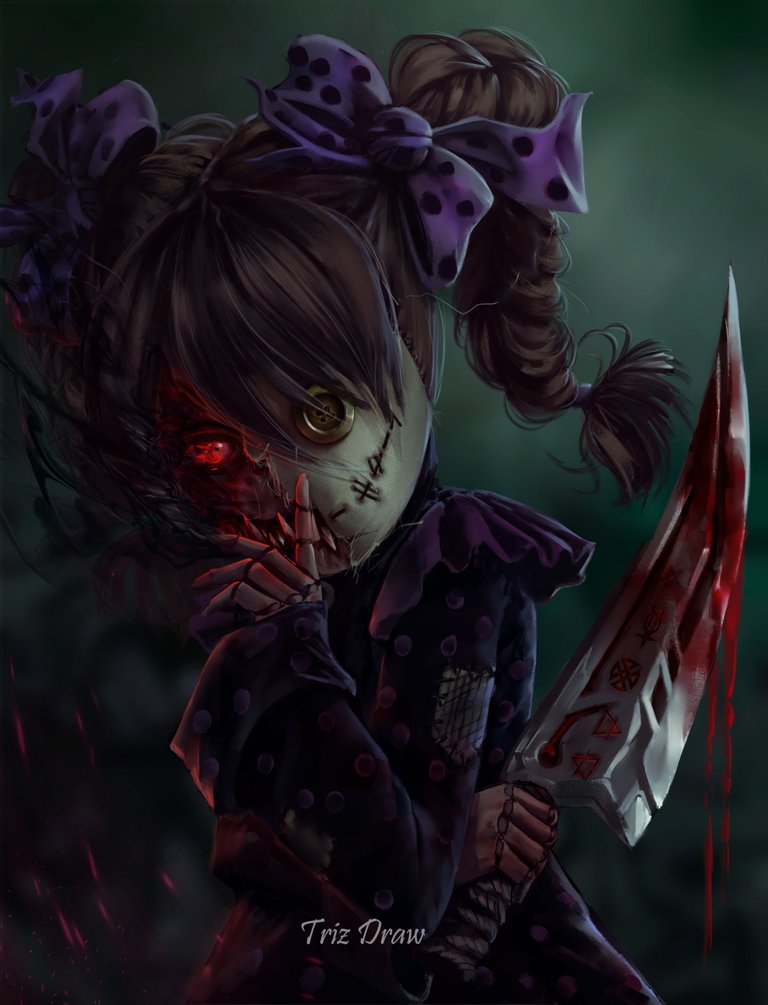 To finish I added a dark aura on the other half of the face. I also arranged the hands to make the joints more evident. In this part, use a texture similar to that of the scarecrows to resemble those rag dolls. I added some additional details and the final rendering touches!!! And voila, she was finished!!!
Thank you all for visiting and seeing my new post. I hope you liked it and see you soon!!! 💕💕💕

---
---
---
𝕿𝖍𝖊𝖘𝖊 𝖆𝖗𝖊 𝖙𝖍𝖊 𝖑𝖆𝖘𝖙 𝖉𝖗𝖆𝖜𝖎𝖓𝖌𝖘 👉🏼😘👈🏼
---
---
---

𝖂𝖍𝖆𝖙 𝖉𝖎𝖉 𝖞𝖔𝖚 𝖙𝖍𝖎𝖓𝖐 𝖔𝖋 𝖆𝖑𝖑 𝖙𝖍𝖎𝖘?
𝕴 𝖜𝖔𝖚𝖑𝖉 𝖑𝖔𝖛𝖊 𝖙𝖔 𝖐𝖓𝖔𝖜 𝖞𝖔𝖚𝖗 𝖔𝖕𝖎𝖓𝖎𝖔𝖓
𝕺𝖍𝖍𝖍 𝕭𝕿𝖂
𝕴 𝖙𝖍𝖆𝖓𝖐𝖘 𝖋𝖔𝖗 𝖗𝖊𝖆𝖉𝖎𝖓𝖌 𝖙𝖍𝖎𝖘
𝕱𝖔𝖑𝖑𝖔𝖜 𝖒𝖊 𝖎𝖋 𝖞𝖔𝖚 𝖜𝖆𝖓𝖙
🤗🥰😉😘😘
𝕾𝖊𝖊 𝖞𝖔𝖚 𝖘𝖔𝖔𝖓 𝕳𝖎𝖛𝖊!

🤭🤐🥹😍😍😍💖💖💖😋🤭🤣🤫🍾✨🥹🖨️😍🫣😍🥰
---
---