Queen Crypt Beetle - Splinterlands Art Contest Week 231

Greetings my dear Hive community!!!
Very good night my dear Hivers, I hope you are having a great week.
I've been a little busy all these days but I still found some time to participate in my favorite contest #Splinterlands!!! 🫶🏻👋🏻🥳
Yes, if you are a fan of the game and you notice that you haven't seen this card ever it's because yes, it doesn't exist 🤫🤣🤣... It's just that my favorite part of this contest is that it allows me to play, explore and develop my creativity more and if you've known me for a while and have seen my posts about the contest you'll know it's true what I say.
I think the percentage of art created for the #Splinterlands contest in all my years in this community is much more than the free art and now #NFTs I've done, even I'm since I was drawing with colors that at that time I didn't even think about having my digital tablet and besides that before they allowed two entries per week and I almost always participated with my two entries... Well, what can I say, 🫲🏻😋🫱🏻 love this contest and I think it has been very important for me in my career as a digital artist because it has allowed me to grow to the level I am at this moment because every time I participate I try to surpass myself. And since I am very demanding, I am hard on myself to give more than I can.🔥💪🏻
Sometimes I am satisfied, sometimes not so much but I always try to give more of myself in each work I do.
For this week the card I chose to make my participation was the card called -=Crypt Beetle=-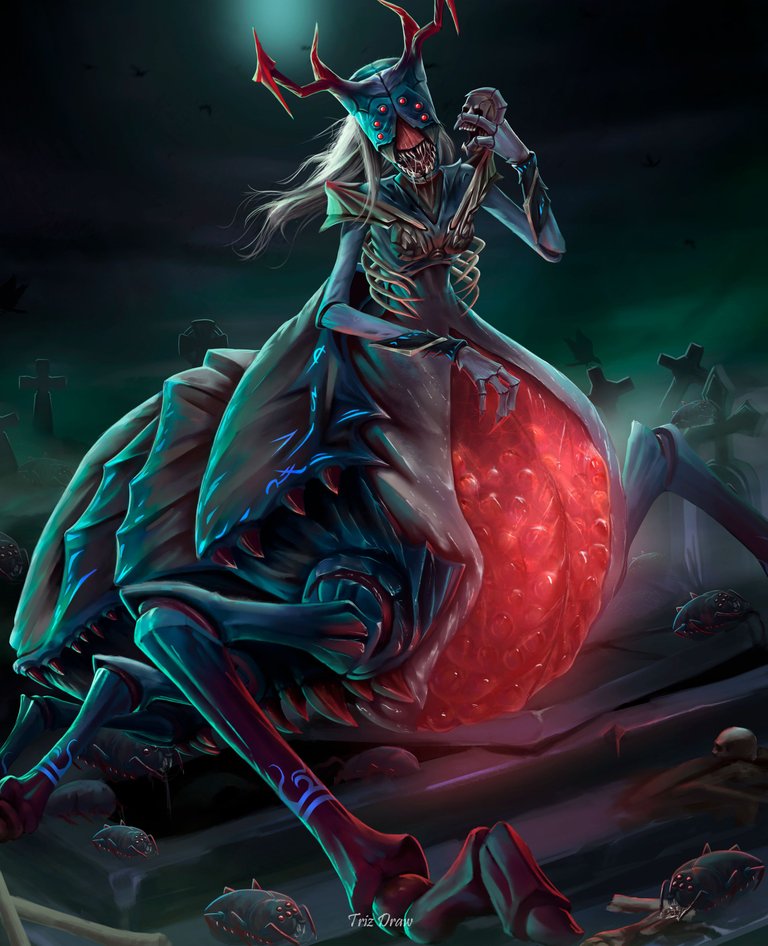 As usual for me, I read about the description of this card and after that I had two main ideas but after thinking about it better since the first idea was a bit more bizarre 🤔😱😅.. So I opted to stay with the second idea which is the one you see above, I didn't make the beetle as such but I made the Queen Mother Beetle which is where they all originate from.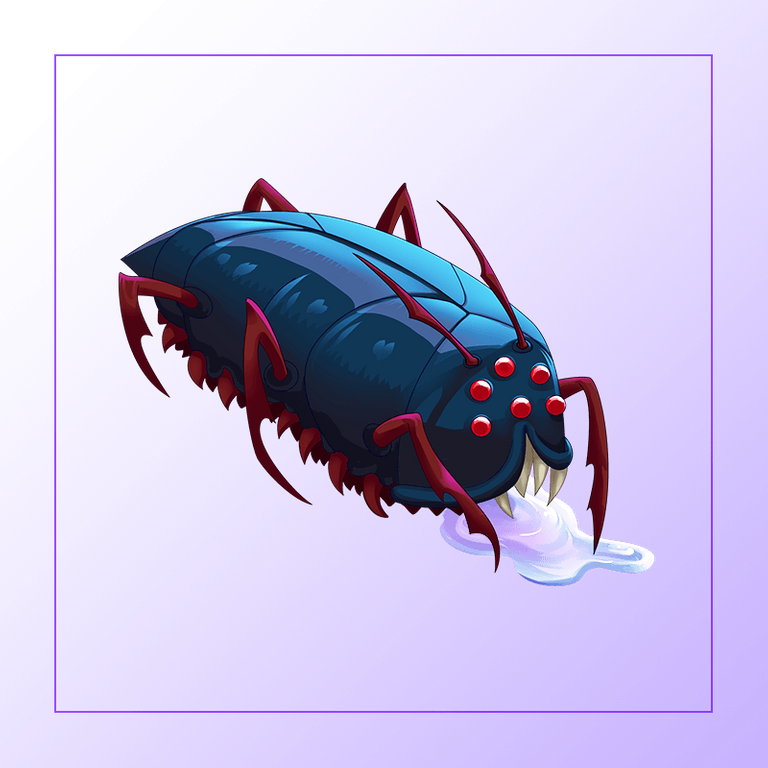 Crypt Beetle
💖💖💖
Here on the left you can see the card I chose and as you can see I repeated again my favorite Splinter for this week, the one of death... I hope with all my heart to those who see my post that you liked my version or maybe not my version but the origin of these scavenger creatures.
Be careful, besides having her small army of beetles, she is ruthless and loves to eat humans to feed her little eggs that she carries in her swollen belly. 💀💀💀

Some images of the process
---
Step 1️⃣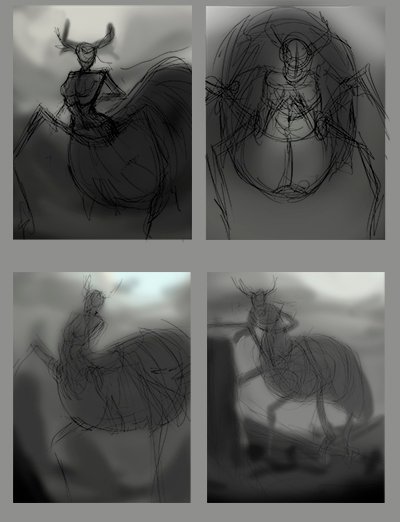 First parts of the idea, I made some ideas to see how I wanted the character, I've realized that I'm a little, just a little messy, sometimes I make sketches others not 🤔🤔... Well, in this opportunity I made it a little different some stripes and a little grey, before this I had never made a beetle, I don't know how it is when it comes to drawing it, so I made these ideas, although in the end everything was discarded since in my opinion they didn't look like a beetle. 😡😤🤣
-.-
Step 2️⃣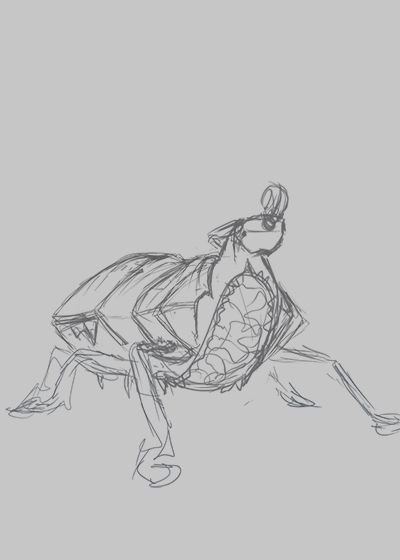 In my last attempt to make it look like a beetle and after educating myself about the body and structure of a beetle, I was able to make it look like a beetle... Congratulations to me. 😂
-.-
---
Step 3️⃣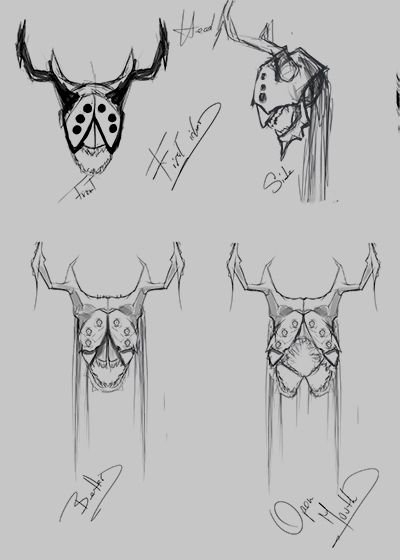 I got a bit into the character's role and since I didn't know anything as I said above I did my homework and did some research, I tried to make some sense of the character I was about to make, a couple of ideas to see how the head would be and in certain ways and in attack mode, even though I wasn't going to draw it in those positions it serves me to improve the perspective of the character. 😌💪🏻
-.-
Step 4️⃣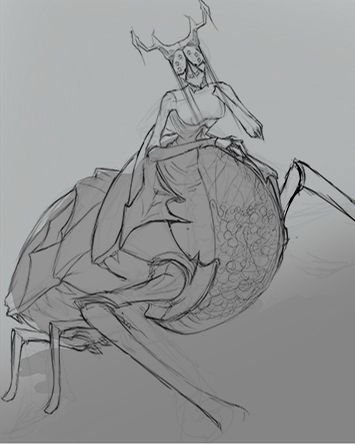 I finished the sketch and although I rotate the canvas to give a better position to the bug 🤣 Before it looked a bit hhmmmmm lmt, I didn't like it 😆. improving a bit that's good I guess 🤔.
-.-
---
Step 5️⃣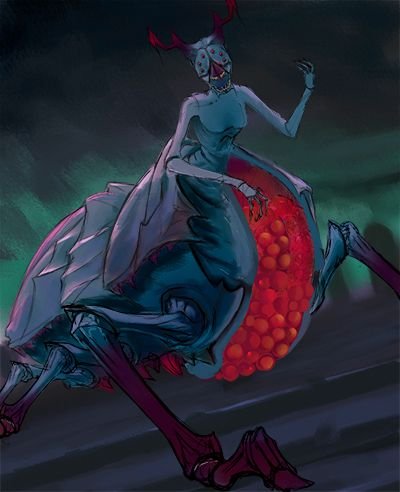 A bit of base colors and eggs all over the place, we have more hatchlings to come 🙀☠️, nothing that detailed, just a few brush strokes there and here.
-.-
Step 6️⃣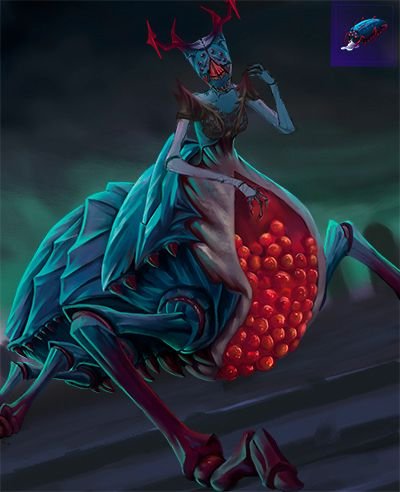 The eggs were supposed to be inside the belly but at this point they still look like they are outside, I hope they don't come out at some point. 🤯😱 Well, at this point I mixed up the colors and did a few things.
-.-
---
Step 7️⃣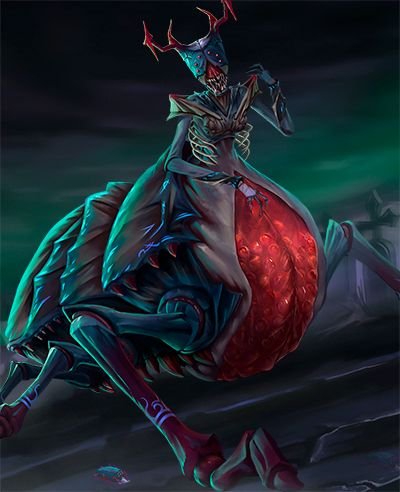 A little more detail on it and the bottom, I did some ribs on the outside to serve as a shield, an ugly face well I should have made it more monster but well next time I make one like that 🥴. ohhh and finally the eggs won't fall out. 🙏
-.-
Step 8️⃣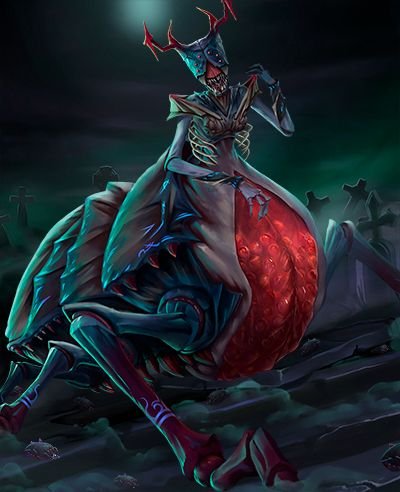 I made some changes in the background during the whole process. For the little hatchlings that are doing their thing, I used the same beetle as the character on the card, I made some of them over there and over here, yes! she has many children, come on! she is a queen. 😅😅😅
-.-
---
---
Final result 😘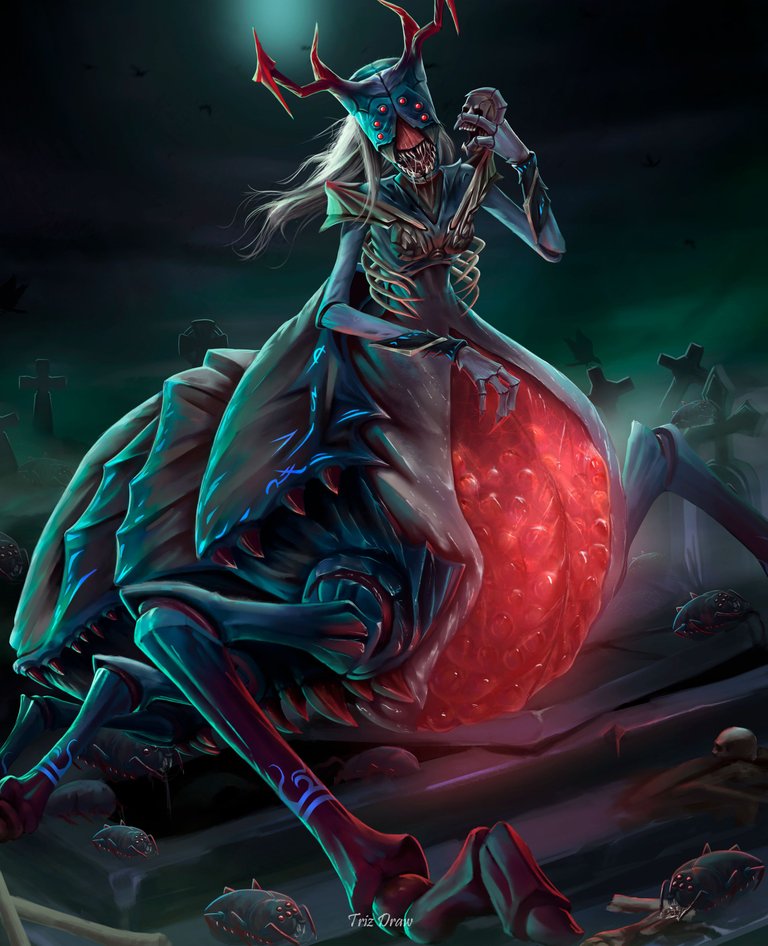 For the final part I made her hair... I wanted her to look like a witch in this part, I also arranged the background again and this time it was to understand the cemetery and that her children love it when they don't have a naughty human that they can eat, they eat the remains of the corpses, I also enlarged them a little because they looked very small. After that, retouching and retouching and that was it. My job was done. 💖💖💖
Thank you for seeing my post and I hope you liked my new illustration for the contest... Happy night and go to sleep. 😴😴
---
.-.-.-.-.-.-.-.-.-.-.-.-.-.-.-.-.-.-.-.-.-.-.-.-.-.-.-.-.-.-.-.-.-.-.-.-.-.
.-.-.-.-.-.-.-.-.-.-.-.-.-.-.-.-.-.-.-.-.-.-.-.-.-.-.-.-.-.-.-.
.-.-.-.-.-.-.-.-.-.-.-.-.-.-.-.-.-.-.-.-.-.-.-.-.-.-.-.-.
.-.-.-.-.-.-.-.-.-.-.-.-.-.-.-.-.-.-.-.-.-.
.-.-.-.-.-.-.-.-.-.-.-.-.-.-.
These are the last drawings 👉🏼😘👈🏼
---

What did you think of all this?
I would love to know your opinion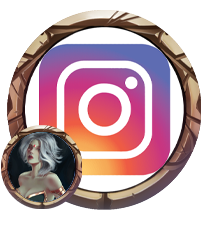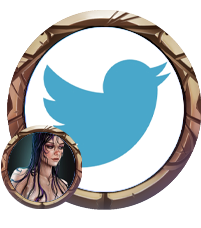 Ohhh BTW
I thanks for reading this
Follow me if you want
🤗🥰😉😘😘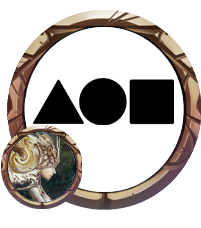 See you soon Hive!

🤭🤐🥹😍😍😍💖💖💖😋🤭🤣🤫🍾✨🥹🖨️😍🫣😍🥰
---
---