Sola Ranjell - Splinterlands Art Contest Week 242

Greetings my dear Hive community!!!
Goodnight my dear Hivers and Splinterlands fans!!!
I know I haven't been very active in the community, but I have so many things on my hands that I'm completely busy and I have practically no time left in the day to do much... 🥺 I will tell you about those things as I can show them.
And even though I got up earlier than usual today so I could make time to enter this week's #Splinterlands contest, I didn't even have time to do a sketch. I simply worked on the fly to streamline and finish as soon as possible, since I also have to do the illustration for the social media challenge!!!. 🔥🔥🔥
This time, I chose card -=𝕾𝖔𝖑𝖆 𝕽𝖆𝖓𝖏𝖊𝖑𝖑=-, a character that belongs to the life splinter. While I was examining all the cards to know which one I was going to make I saw this one and I thought it would be great to be able to make something with it. 💕💕💕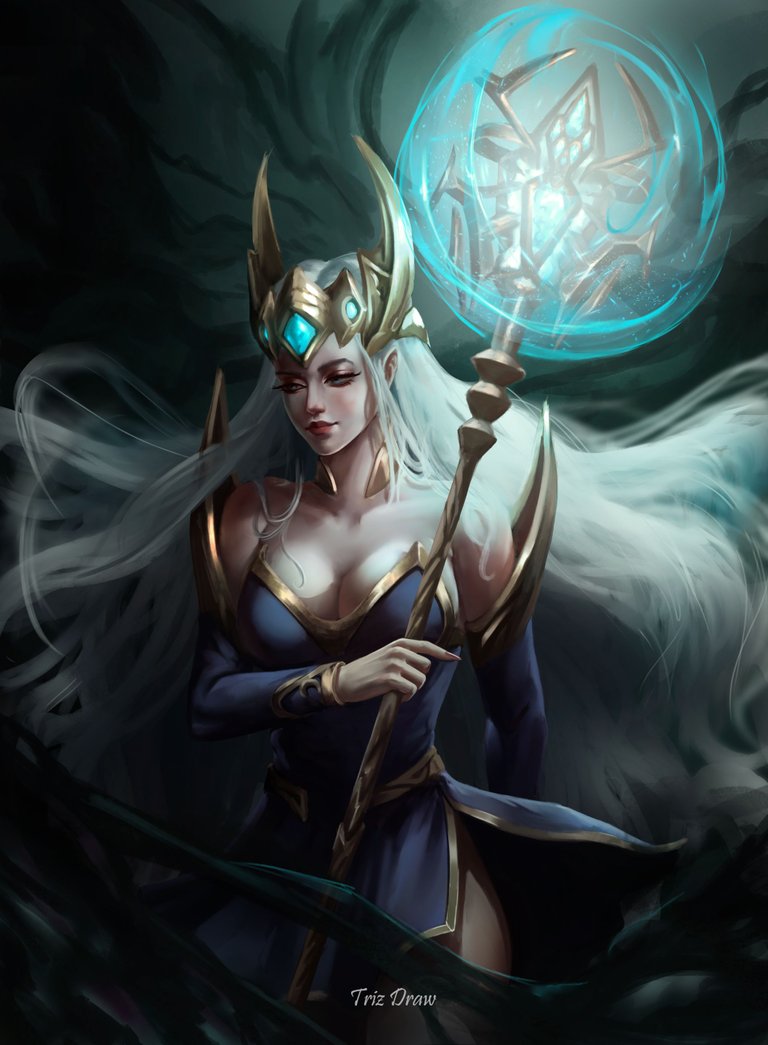 Being from the life splinter, it occurred to me to develop the idea that she is shrouded in shadows, but her light does not allow her to be consumed, to be trapped and filled with darkness. So that's the idea on which I focused my work, I hope you like it.
As I mentioned before, this was something quick and you can see how I worked this time in the images and the video I prepared for all those who always watch and support my work... For which I will always be grateful to everyone!!! 🤗😘
✨✨✨
💖💖💖
𝕳𝖊𝖗𝖊 𝖎𝖘 𝖆 𝖘𝖒𝖆𝖑𝖑 𝖕𝖆𝖗𝖙 𝖔𝖋 𝖍𝖊𝖗 𝖑𝖔𝖗𝖊:
When the Wizards' Council disbanded and settlement of the Praetorian lands was announced by the Gloridax, a silent migration began, unlike any the Splinterlands had ever experienced. The daughters of the moon, also known as the Lunakari, began making their descent to the ground. Ever since the brutal war in the sky known as the war of sons and daughters, the Lunakari have been few in number and their home has been crumbling under their feet. Before the floating continent of Lunaki is gone forever, the women of the Lunakari must descend, and they must do it without being noticed.
Each of these women has powers beyond those found on the ground, remnants from the stolen angel blessings that led to the war with Solaki many years ago. Each day, two more of them make the descent into the Splinterlands by night with instructions to simply blend into life there. Some of the Lunakari have not gone quietly nor blended easily. One of these is a beautiful 19-year-old youth named Sola Ranjell.

---
---
𝕾𝖔𝖒𝖊 𝖎𝖒𝖆𝖌𝖊𝖘 𝖔𝖋 𝖙𝖍𝖊 𝖕𝖗𝖔𝖈𝖊𝖘𝖘 💖😋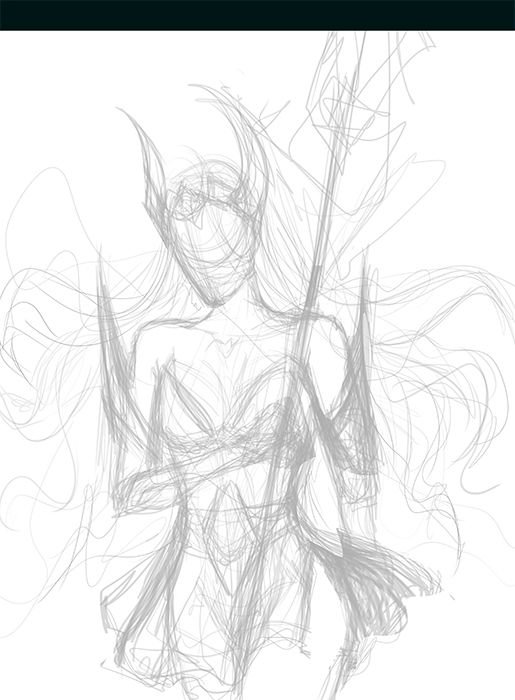 Lately, when making my drawings I try to achieve cleaner and more detailed sketches. This implies investing a lot more time, "and boy, I don't have it at this very moment". However, it is essential for the lines to look decent and I have to do and redo multiple times. But this week, with all the problems I had to draw, plus I didn't have a second to spare. This got me thinking... Why make such elaborate sketches if I just waste a lot of time trying to make "decent lines" that will get lost in the end? That's why Ta-ta-ta-tan!!! Here is the sketch for this drawing. It took me about a minute to do it, so that's good!!! 😋🤭🤭 It will have a face later, "I assure you" 🤣🤣🤣
-.-
---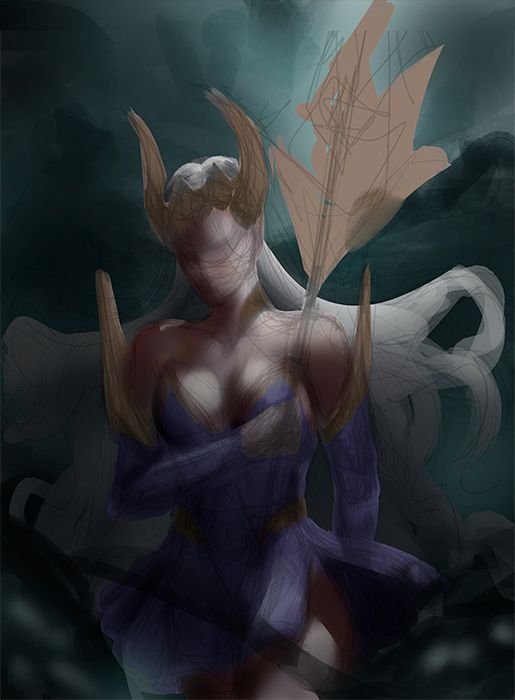 On many occasions, I'm resorting to grayscale to start my pieces. And you know what, I should use it more often as it allows me to finish faster, although not like in previous cases where I would focus excessively on the gray tones and then switch to color. In the video you can better appreciate what I am referring to. After establishing that base, I proceed to apply the colors that will make up my work, with a defined lighting. At this point, I knew I had to finish quickly, so the steps I did worked.
-.-
---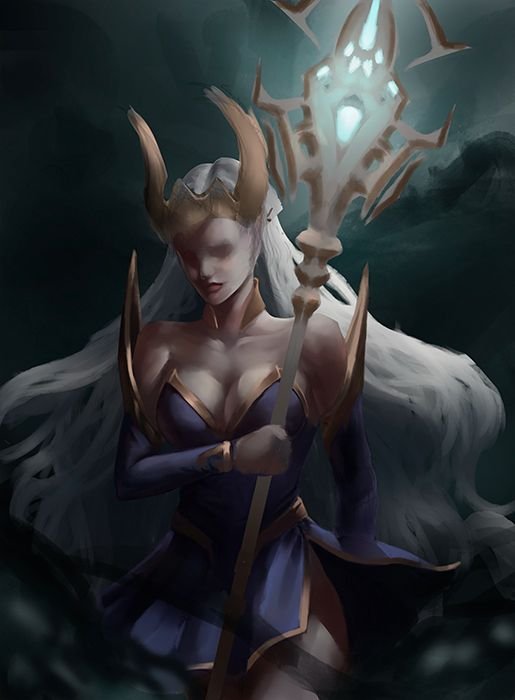 A little more work on the rendering and it already has a face!!! "I told you so 🤣" Even though it looks like the face of a spectre with no eyes, it's something!!! I worked on several things simultaneously. I didn't want to dedicate myself only to detailing one thing, but I tried to be more equitable with things and not focus only on details. Which I usually spend a lot of time on that.
-.-
---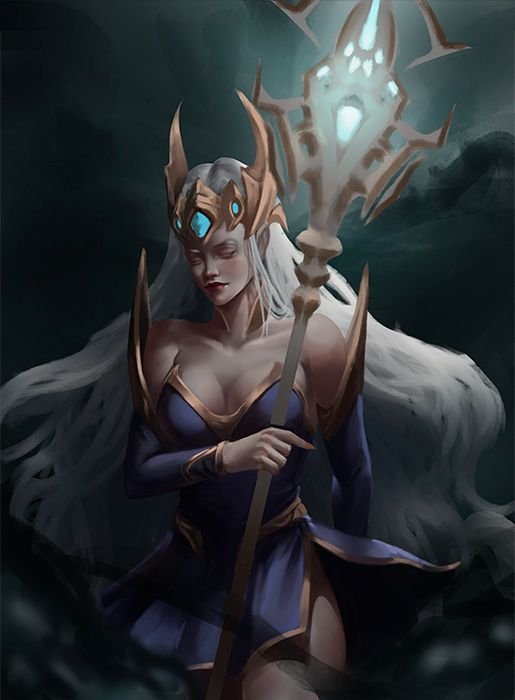 Practically, this was like giving shape to what my eye imagined, since, as you saw in the sketch, there was nothing concrete, just an idea that as it progressed, those strange lines were taking shape and transformed into something more decent. As in the previous step, here there were improvements in several parts, although few. Perhaps the most relevant is that she had a much better face. 😅
-.-
---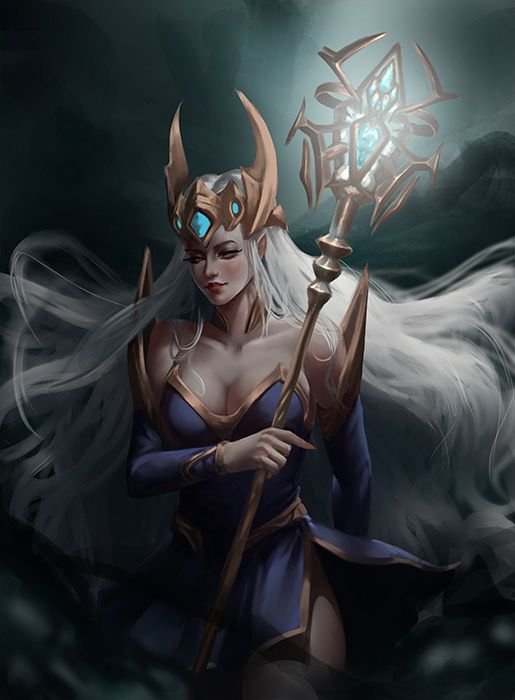 I think I made some minor changes to the drawing. Although in previous occasions I usually make significant changes in the #FanArts I make, in the cases that I don't change much like this one is because I don't have time , although I still added some things. 🤫🤭😋😁
-.-
---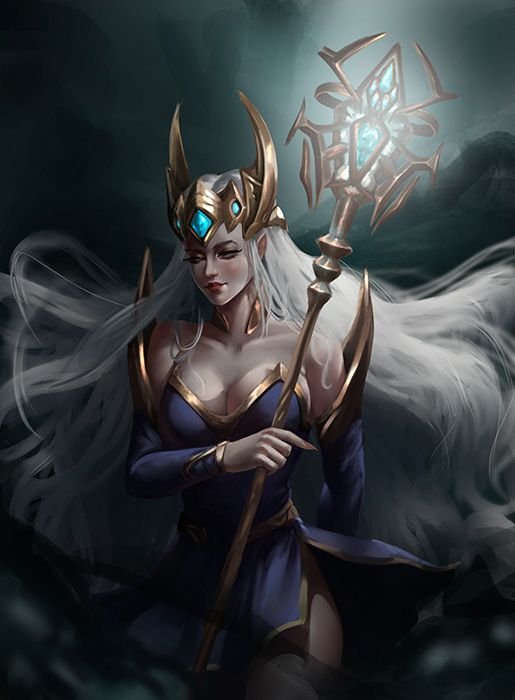 Almost at the end, I just had to polish a little bit what I already had. So far, the background remains the same as at the beginning, and it didn't really change much at the end. I didn't focus too much on that. As for the armor, I improved some details, as well as the scepter.
-.-
---

---
𝕾𝖕𝖊𝖊𝖉 𝕻𝖆𝖎𝖓𝖙𝖎𝖓𝖌
---

---
---
𝕱𝖎𝖓𝖆𝖑 𝕽𝖊𝖘𝖚𝖑𝖙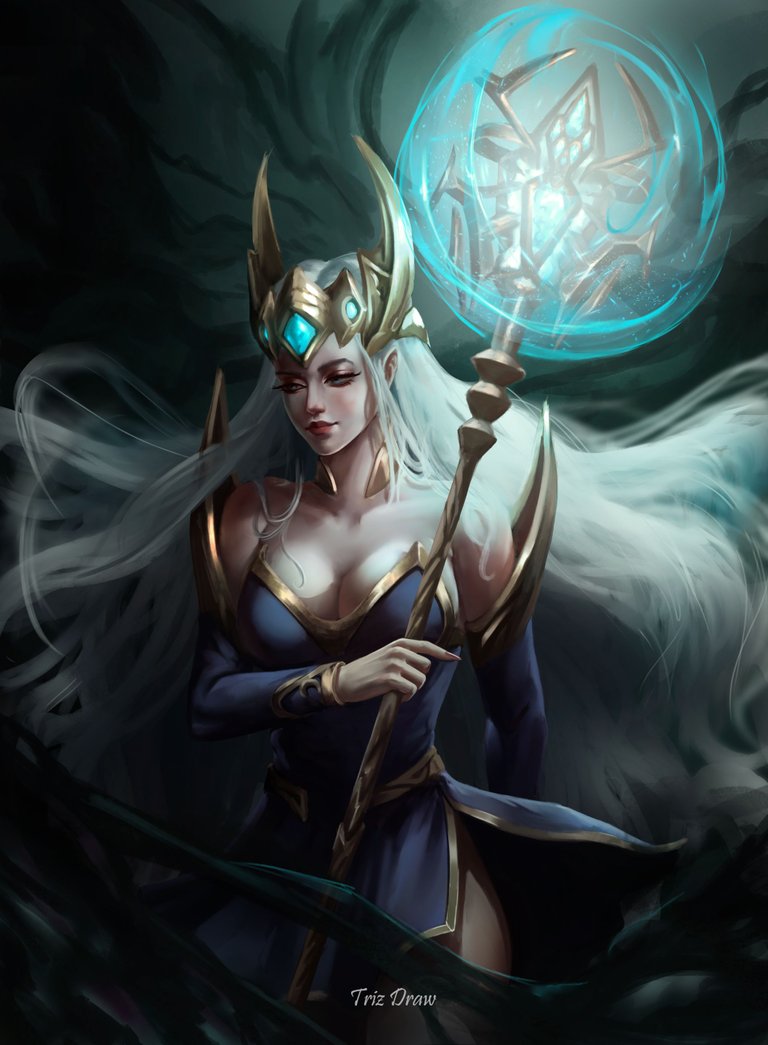 And to top it off, I made some technical tweaks with #Photoshop, and basically, my work was done... And I hope you enjoyed my new post.
Thanks a million for all the support!!! 💕💕💕
See you soon, I hope so and greetings to all!!! 🤗😘💖

---
---
---
𝕿𝖍𝖊𝖘𝖊 𝖆𝖗𝖊 𝖙𝖍𝖊 𝖑𝖆𝖘𝖙 𝖉𝖗𝖆𝖜𝖎𝖓𝖌𝖘 👉🏼😘👈🏼
---
---
---

𝖂𝖍𝖆𝖙 𝖉𝖎𝖉 𝖞𝖔𝖚 𝖙𝖍𝖎𝖓𝖐 𝖔𝖋 𝖆𝖑𝖑 𝖙𝖍𝖎𝖘?
𝕴 𝖜𝖔𝖚𝖑𝖉 𝖑𝖔𝖛𝖊 𝖙𝖔 𝖐𝖓𝖔𝖜 𝖞𝖔𝖚𝖗 𝖔𝖕𝖎𝖓𝖎𝖔𝖓
𝕺𝖍𝖍𝖍 𝕭𝕿𝖂
𝕴 𝖙𝖍𝖆𝖓𝖐𝖘 𝖋𝖔𝖗 𝖗𝖊𝖆𝖉𝖎𝖓𝖌 𝖙𝖍𝖎𝖘
𝕱𝖔𝖑𝖑𝖔𝖜 𝖒𝖊 𝖎𝖋 𝖞𝖔𝖚 𝖜𝖆𝖓𝖙
🤗🥰😉😘😘
𝕾𝖊𝖊 𝖞𝖔𝖚 𝖘𝖔𝖔𝖓 𝕳𝖎𝖛𝖊!

🤭🤐🥹😍😍😍💖💖💖😋🤭🤣🤫🍾✨🥹🖨️😍🫣😍🥰
---
---