Splinterlands art contest week 180 - Qid Yuff

Hello! triz here! How are you?
I hope my dear Hivers and fans of #Splinterlands are having a nice Saturday!!!, first of all thanks to everyone who saw my previous participation in last week's #Splinterlands contest in which I was the winner...🎉🎉🎉 I put a lot of effort into this design and the final result makes me extremely happy, as well as all the support received by all of you in this work.
For this opportunity I put aside what I was doing to make a new design for week 180 of the contest, this time the victim I chose to make my participation was the card - QID YUF -. The truth is that due to the issue of time I didn't want to do something full body like I usually do so I just made a portrait of this character... I just hope you like it. 😳😳😳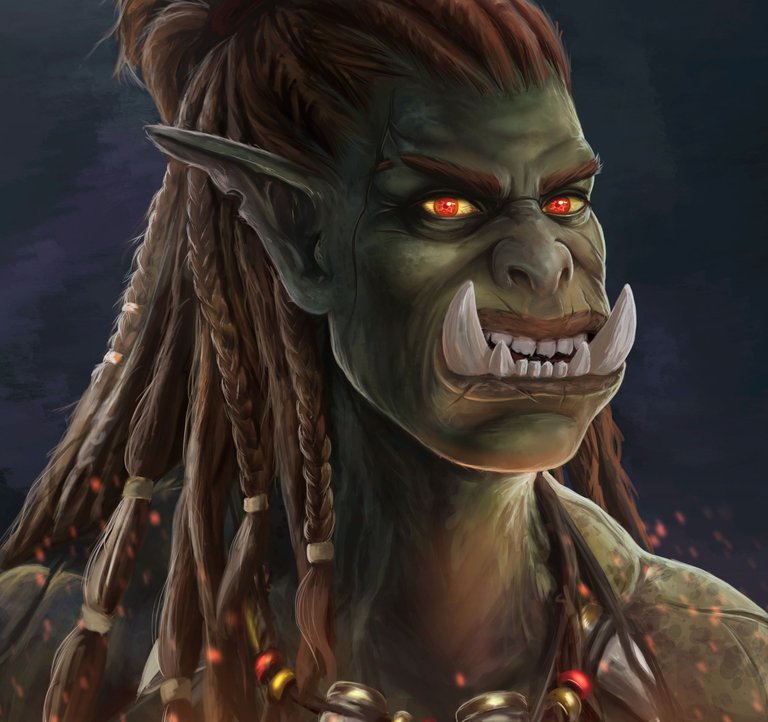 Below you can see how was the step by step of the crazy things I did before reaching the final result, years without making an orc and well, apparently this has taken its toll on me. 🙈😁😁😁
---

Now if I will show you how the process of this was. Sorry for the mess😁
~ 1️⃣ A stain? ~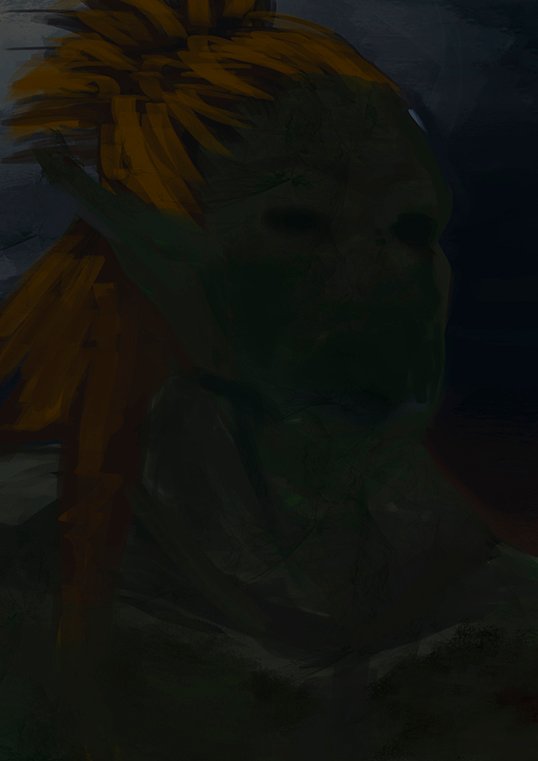 On this occasion I did not make a sketch, I would have done it that way and I would not have gone around so many times doing this. I like to make orcs I did some in the past, I'm rusty I think, I didn't want to start with lines because I wanted to change what worked for me on the fly. Believe it! this was the beginning of everything 😊.
~ 2️⃣ Ah bit of shape ~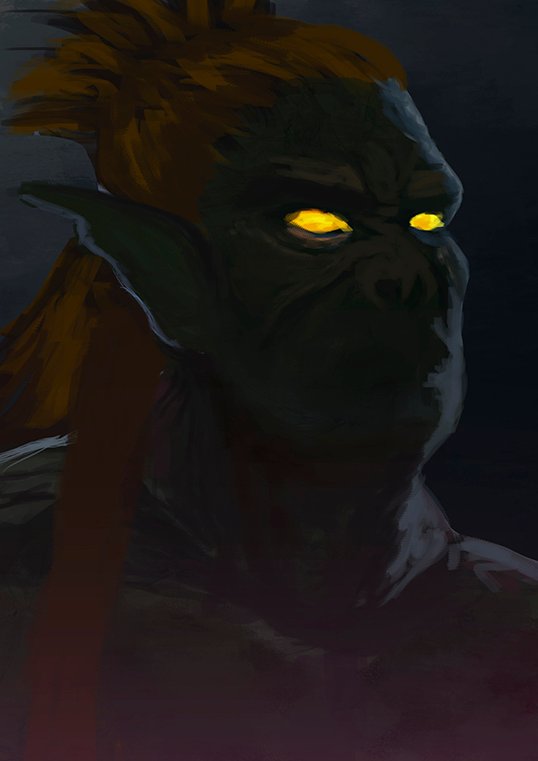 In this step I was giving a little shape to the character's face but it still didn't look like an orc but a green person, maybe Hulk. You had to keep improving what he already had. What was clear to me from the beginning was that I wanted some small particles of fire, although here it was in another color, that was the idea 😋.
---
~ 3️⃣ More modification ~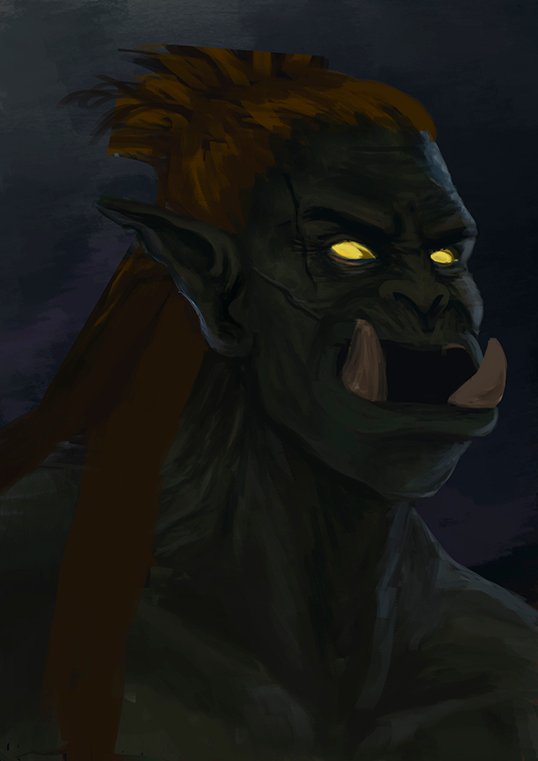 Well, after doing a couple of little things and making some significant changes, I had this. --Sorry, they hit the orc and knocked out his teeth-- He looked more like an Orc but he didn't look like the character but rather an Ogre 😉.
~ 4️⃣ it's better? ~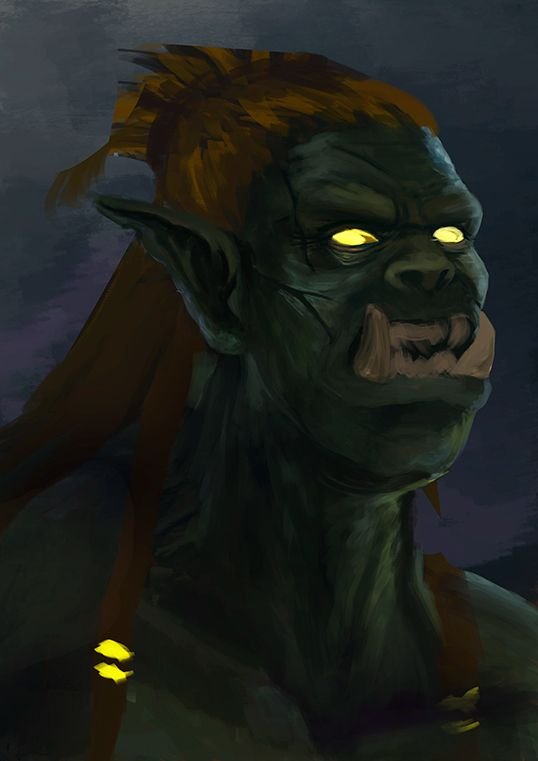 Another of the orcs, but it already has complete teeth, making the mouth complicated me a bit in the other orcs I did, but in this one I wasn't sure how I was going to place it, that's why it changed so much, well everything changed so much. Although it looked a bit like an Orc, but I didn't like it yet.
---
~ 5️⃣ Still more to go! ~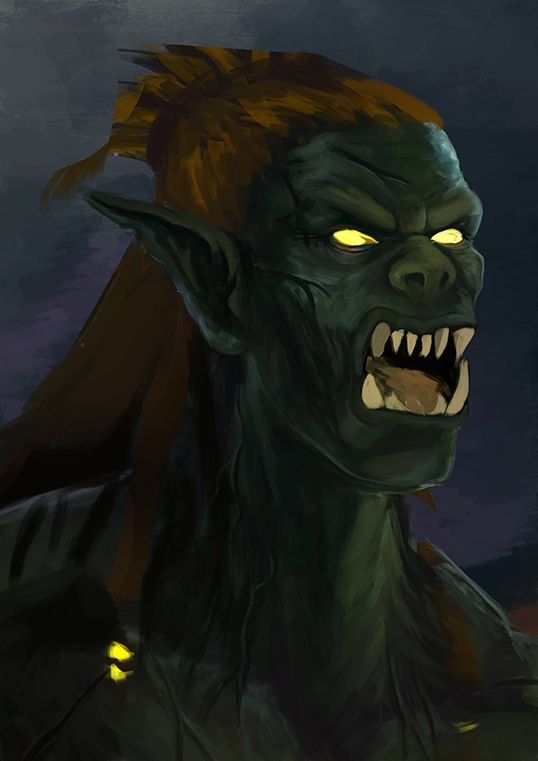 As you will realize, the most noticeable thing about this step is the change in the mouth, since I duplicated the previous image so as not to make a mistake and damage what I had, so I made a new mouth. This orc did not seem so bad to me, he even looked rough, but something did not agree with me.
~ 6️⃣ Not yet! I wanted a little more ~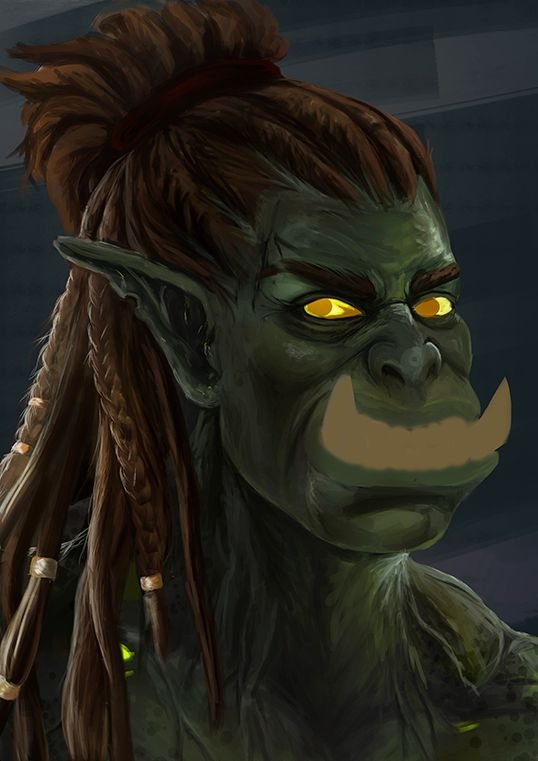 After making so many changes, I was finally seeing the light at the end of the tunnel. I was liking this one, I made several changes in terms of color since before it was only green, so I added other tones and I liked how it looked better too, I wanted to tattoo the character somewhere on the face or shoulder but In the end I didn't want to change so much. I finally liked the mouth and he got the hair.
---

When I finished this drawing I realized that in reality I didn't make an Orc but many (I already have models in case I want to make one in the future hahha) so I found it fun to make this gif, it seems as if they were transformed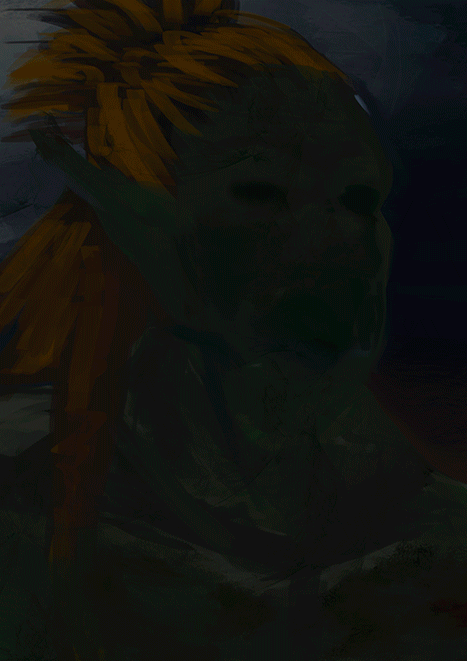 ---

Final Result
And finally this was the final result after spending a few hours making several orcs!

Qid Yuff Character I have selected.

---

Tell me, what did you think of all this? I would love to know your opinion. And if you have reached this point, I thank you very much for taking the time to read me 🤗🥰😉.

---

Some of the most recent pieces here😌

---

This has been all for tonight 😍😘 !!

See you soon Hive 😏!
---
---