Wood Nymph - Splinterlands Social Media Challenge!
Greetings my dear Hive community!!!
Good night, my dear Hivers!!!
What an exhausting day I had today!!! I woke up early so I could do and complete all the things I had pending. I tried my best and yes, I managed to finish everything planned for today. One of those tasks was to finish my entry for the Splinterlands social media challenge. So that was the last thing I did and I just finished.
This time I decided to go back to an older card which I had already done a #FanArt of it but that was a long, long time ago. this time, I wanted to do a portrait inspired by it. As you can see, -=𝖂𝖔𝖔𝖉 𝕹𝖞𝖒𝖕𝖍=- was the card I chose for this week!!!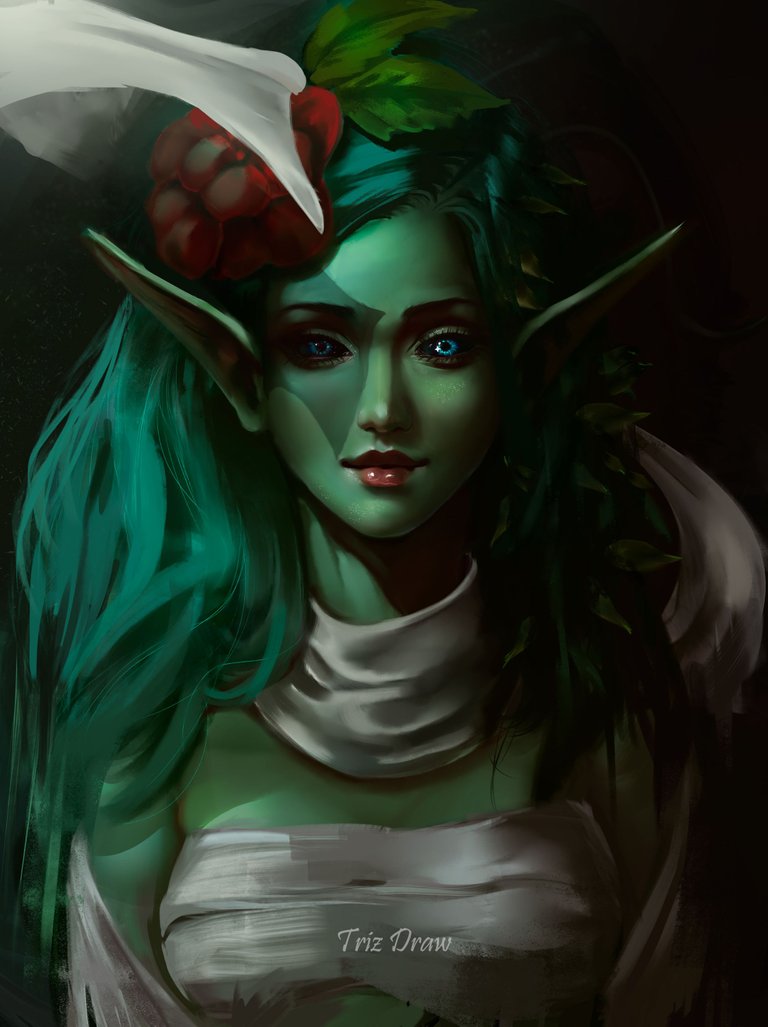 It wasn't as detailed a job as I usually do, but that was my intention from the beginning. I love artists who have a more impasto style, but try as I might, I just can't seem to master that technique. Well, this portrait was one of those "failed attempts" 🤫🤭😅. Someday I will manage to master that technique and apply it to my own style.
Due to the problems I had today with my internet, I won't be able to share the video this time. If I get the chance or if my connection improves during the wee hours of the morning, I will try to upload it to #Youtube. In case I make it, I will edit the post to add it.
I leave you with some of the images I saved while working on this card. 🫶🏻✨⬇️
✨✨✨
💖💖💖
𝕯𝖎𝖘𝖈𝖔𝖛𝖊𝖗 𝖙𝖍𝖊 𝖘𝖒𝖆𝖑𝖑 𝖇𝖎𝖔𝖌𝖗𝖆𝖕𝖍𝖞 𝖔𝖋 𝖙𝖍𝖊 𝖂𝖔𝖔𝖉 𝕹𝖞𝖒𝖕𝖍 𝖈𝖆𝖗𝖉:
A peculiar new bud appeared at the tips of the highest branches of the Elder Tree. The animals living in the tree watched as the strange buds grew, and in a matter of days, burst open. From each bud zoomed forth a tiny sprite. These Wood Nymphs quickly scattered around Anumun in a frenzy of mischief.

---
---
𝕾𝖔𝖒𝖊 𝖎𝖒𝖆𝖌𝖊𝖘 𝖔𝖋 𝖙𝖍𝖊 𝖕𝖗𝖔𝖈𝖊𝖘𝖘 💖😋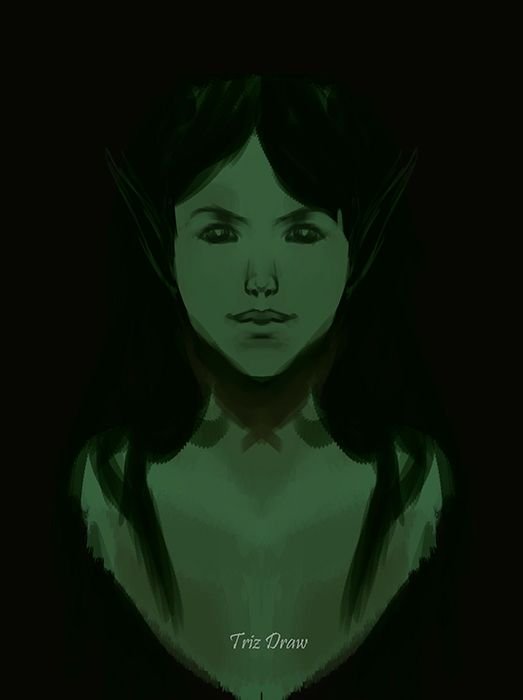 To carry out this portrait, I started without any sketch or anything, I simply began with a shade of green to give it shape and thus achieve the contour that would satisfy me to create this portrait.
-.-

After that, I arranged a little bit what I had until I was satisfied and I started working on the hair, which I modified several times, as you can see in the following images. I also decided to add the beautiful flower on the head.
-.-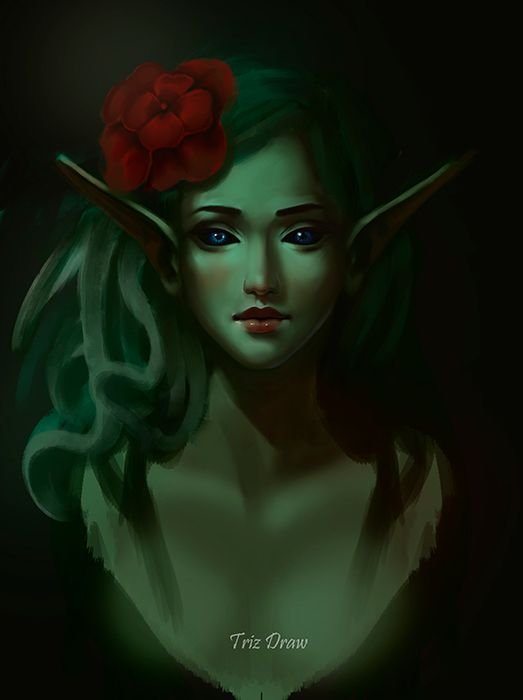 I love the original eyes on the card, but they are more anime style, which I don't do, so I adapted them to more "human" eyes and gave them a touch of glitter to highlight them. I also worked on the rest of the face and started shaping the ears.
-.-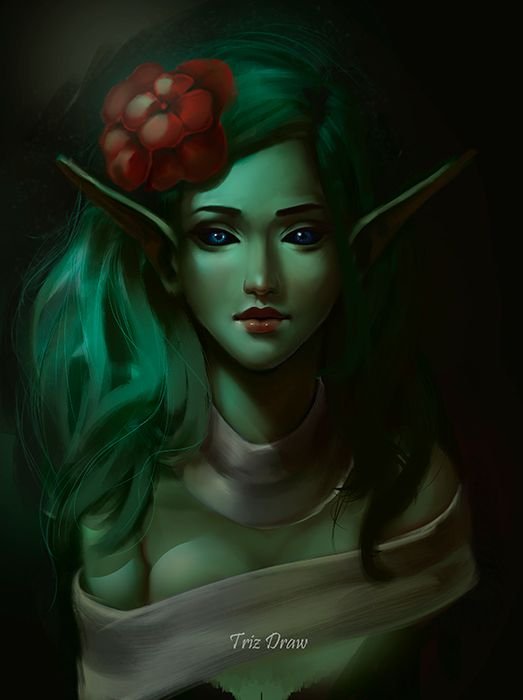 Then, I tried to soften the features of the face even more and added some soft highlights. Also, at a certain point I detailed the hair a bit and added the outfit she's wearing, which resembles a bandage or something like that. 🫲🏻😋🫱🏻
-.-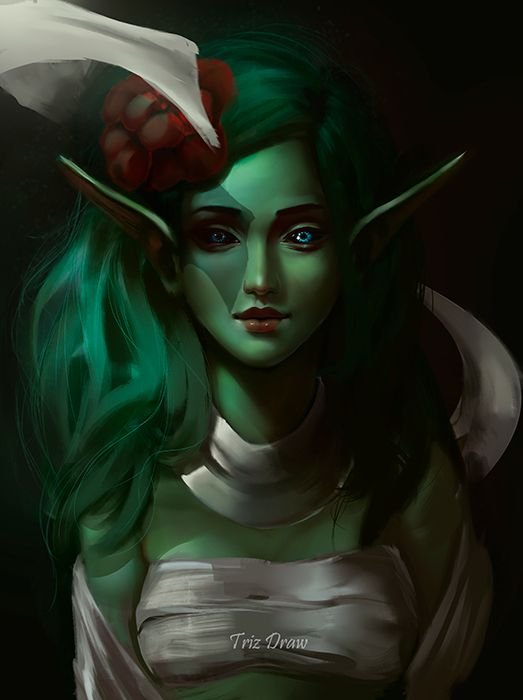 I've been working on the shadows that the clothe cast when passing over them and I tried to give movement to the fabric, adding different folds with lights and shadows to give it that more real feeling. As for the background, as you can see from beginning to end, I decided not to make any changes. As it started, so it ended!!! 😅😅😅
-.-

---
---
𝕱𝖎𝖓𝖆𝖑 𝕽𝖊𝖘𝖚𝖑𝖙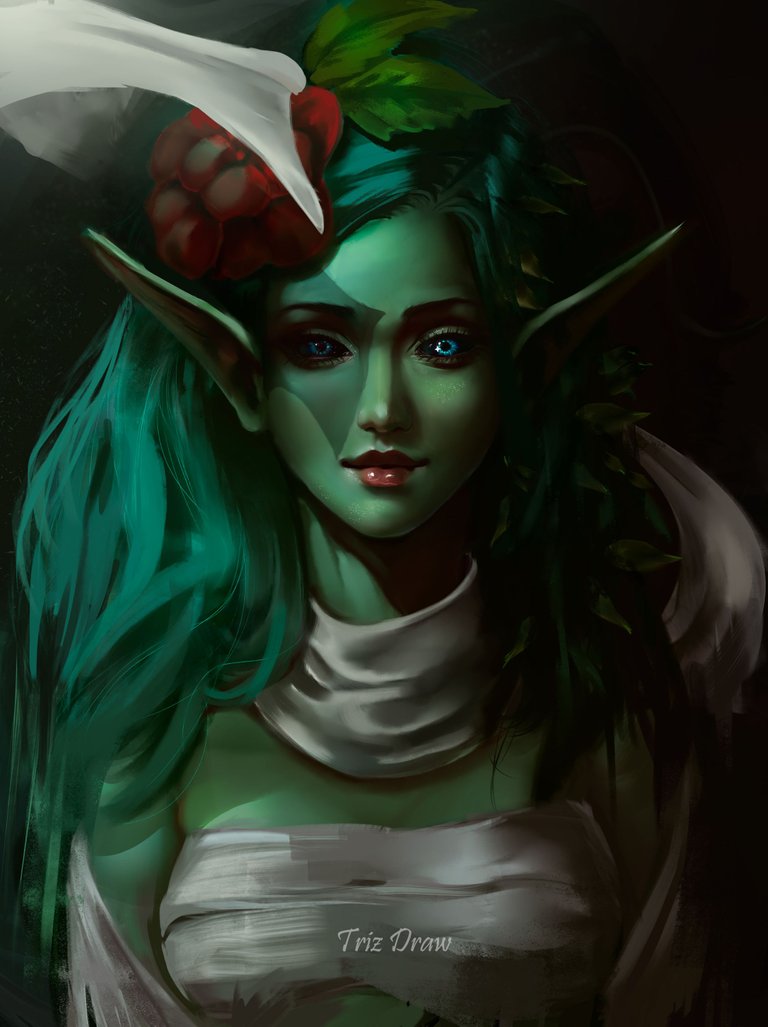 To finish, I went back to work on the hair and made improvements in the details of the bandages, and placed glitter in different parts to give that magical touch to this portrait. And with that, my piece was finished. I hope everyone who sees my new post likes what I did. 🤗😘
I want to thank you all for your support and I hope you have a wonderful night. ✨✨✨
See you!!! 💕💕💕

---
---
---
𝕿𝖍𝖊𝖘𝖊 𝖆𝖗𝖊 𝖙𝖍𝖊 𝖑𝖆𝖘𝖙 𝖉𝖗𝖆𝖜𝖎𝖓𝖌𝖘 👉🏼😘👈🏼
---
---
---

𝖂𝖍𝖆𝖙 𝖉𝖎𝖉 𝖞𝖔𝖚 𝖙𝖍𝖎𝖓𝖐 𝖔𝖋 𝖆𝖑𝖑 𝖙𝖍𝖎𝖘?
𝕴 𝖜𝖔𝖚𝖑𝖉 𝖑𝖔𝖛𝖊 𝖙𝖔 𝖐𝖓𝖔𝖜 𝖞𝖔𝖚𝖗 𝖔𝖕𝖎𝖓𝖎𝖔𝖓
𝕺𝖍𝖍𝖍 𝕭𝕿𝖂
𝕴 𝖙𝖍𝖆𝖓𝖐𝖘 𝖋𝖔𝖗 𝖗𝖊𝖆𝖉𝖎𝖓𝖌 𝖙𝖍𝖎𝖘
𝕱𝖔𝖑𝖑𝖔𝖜 𝖒𝖊 𝖎𝖋 𝖞𝖔𝖚 𝖜𝖆𝖓𝖙
🤗🥰😉😘😘
𝕾𝖊𝖊 𝖞𝖔𝖚 𝖘𝖔𝖔𝖓 𝕳𝖎𝖛𝖊!

🤭🤐🥹😍😍😍💖💖💖😋🤭🤣🤫🍾✨🥹🖨️😍🫣😍🥰
---
---