¡Social Media Challenge! Being a teacher🌺 - @ztinger
---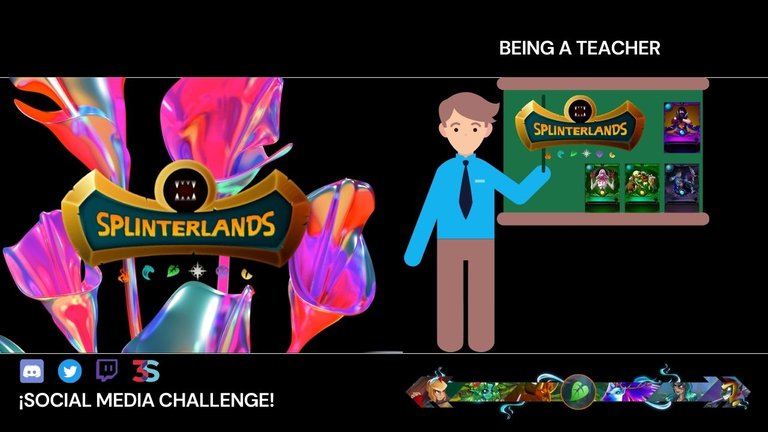 Hola comunidad de
#splinterlands
, en el social media challenge de esta semana me gustaria enseñarles una partida de las cuantas que jugue con
@ztinger
, acaba de iniciar en splinterlands y me pidio consejos, no soy bueno ni mucho menos capacitado para enseñarle, solo le di algunos detalles y jugamos hasta que logro ganarme
Hello
#splinterlands
community, in this week's social media challenge I would like to show you one of the many games I played with
@ztinger
, he just started splinterlands and he asked me for advice, I'm not good and I'm not qualified to teach him, I just gave him some details and we played until he managed to beat me.

Jugamos un total de 4 partidas, las 3 primeras ganaba yo por razones de posicionamiento de sus cartas
We played a total of 4 games, the first 3 of which I won due to the positioning of his cards.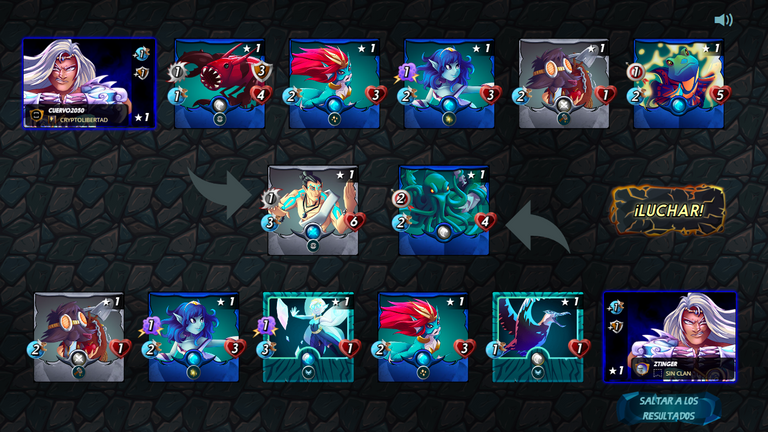 El ejemplo de esta batalla es el siguiente, ambos tenemos tanques en la primera posición, pero luego a
@ztinger
le siguen 2 cartas que no hacen algún efecto agresivo frente a mi tanque, por lo que era casi imposible derribarlo y mucho menos si tengo curadores o cartas que agregen escudo a la misma
The example of this battle is as follows, we both have tanks in the first position, but then
@ztinger
is followed by 2 cards that don't do any aggressive effect against my tank, so it was almost impossible to take him down and even less if I have healers or cards that add shield to it.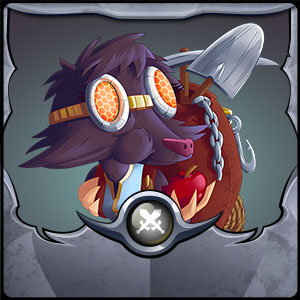 )
Placing Scavo Hireling in the last position makes him vulnerable to fall very soon, and his ability is to give 2 shield points to the card in the first position per round, which makes him important, his 1 life point makes him not suitable to be behind or in front, he must always be guarded by another card.
Al colocar a Scavo Hireling en la ultima posición lo hace vulnerable a caer muy pronto, y su habilidad es darle 2 puntos de escudo a la carta de la primera posición por ronda, lo que lo hace importante, su 1 punto de vida no lo hace apto ni para estar atrás ni adelante, siempre debe estar resguardado por otra carta

Por eso en mi caso y advierto que no soy experto, use a Angelic Mandarin que contiene 5 puntos de vida para aguantar ataques traseros y así ayudar al tanque a aguantar un poco más, aparte de que solo cuesta 3 de mana lo hace más eficiente
That's why in my case, and I'm not an expert, I used Angelic Mandarin which contains 5 health points to hold back attacks and help the tank to hold a bit longer, besides the fact that it only costs 3 mana it makes it more efficient.

Luego tambien un punto importante es que no tiene daño su formacion, cuenta con 4 de daño posible de hacer por partida, teniendo en cuenta que tengo escudo y regeneracion de vida era imposible su penetracion
Then also an important point is that your formation has no damage, it has 4 damage possible to do per game, taking into account that I have shield and life regeneration it was impossible to penetrate it.

BATTLE LINK
https://splinterlands.com?p=battle&id=sl_d7f8c9a483a58d344443980d47e3e42f&ref=cuervo2050
Espero su correccion hacia mi formacion en esta partida si fue la correcta en posicionamiento de cartas, pasemos a la siguiente batalla🗡️
I look forward to your correction of my formation in this game if it was correct in card positioning, let's move on to the next battle🗡️

Esta fue larga llegando asi a la ronda 10, pero en todo momento tuve ventaja significativa, cuestiono mi formacion ya que si contenia mi contrincante daño de area podria haberme ganado sin problemas
This was a long one going into round 10, but at all times I had a significant advantage, I question my formation as if I contained my opponent's area damage he could have beaten me without any problems.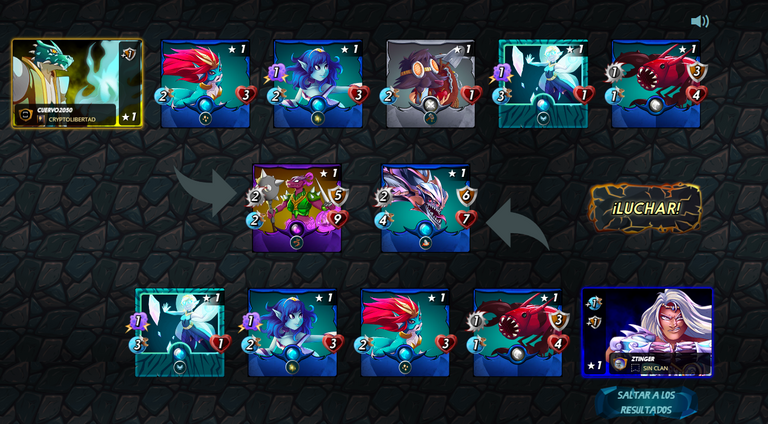 Quitando de lado que Djinn Chwalla es fuerte y duradera, aparte de tener la habilidad | espinas | lo que la hace mas fuerte aun, conteniendo asi por 8 de mana 9 de vida y 5 de escudo, la hace casi inpenetrable. Tambien el tener curador y sumarle vida y escudo al mismo
Apart from the fact that Djinn Chwalla is strong and durable, she also has the ability 'Thorns' which makes her even stronger, containing 8 mana, 9 health and 5 shield, making her almost impenetrable. Also having a healer and adding health and shield to it makes her almost impenetrable.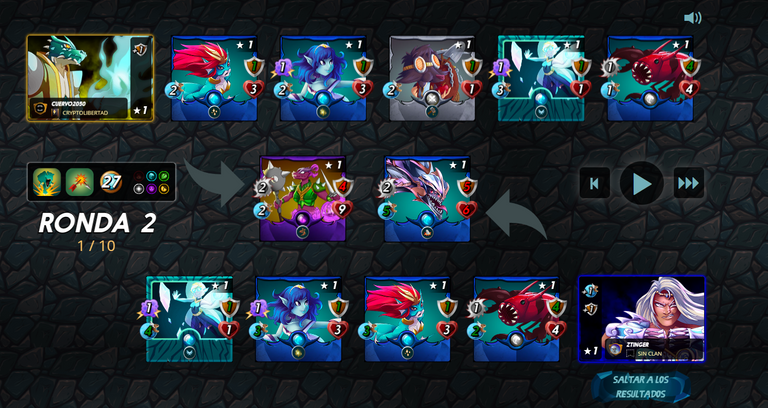 Al comienzo de la ronda 2 y con su tanque ya efectuado el daño, notamos que mi carta de la primera fila cuenta aún con 9 puntos de vida y 4 de escudo, por ende, sacamos la conclusión de que me haría 1 punto de daño por ronda, imposible matar mis cartas a ese ritmo, noten que ninguna otra carta fue afectada con ningún punto de daño, es más, cuentan con 1 punto más de escudo
At the beginning of round 2 and with their tank already doing damage, we notice that my front row card still has 9 health and 4 shield points, so we conclude that it would do 1 point of damage per round, impossible to kill my cards at that rate, notice that no other card was hit with any damage, in fact, they have 1 more shield point.

BATTLE LINK
https://splinterlands.com?p=battle&id=sl_f5cbd9a6b9dc594983749f2fdeb03ad2&ref=cuervo2050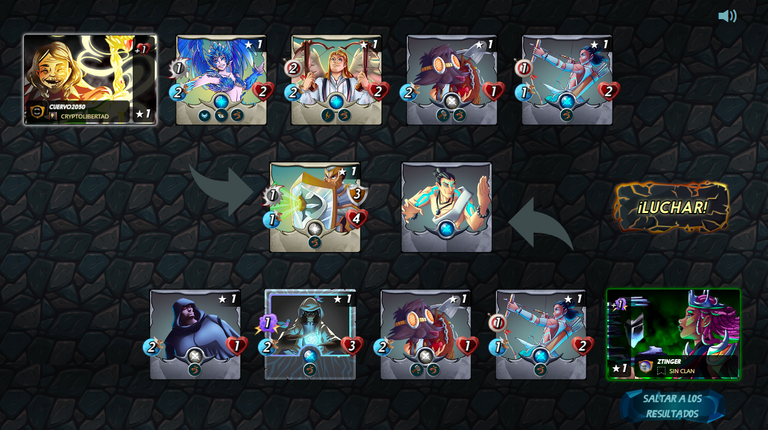 Esta es la tercera partida, desde ya podríamos deducir que tengo absoluta ventaja, su arquera mal posicionada en la segunda fila como primera la hace mucho más vulnerable, y vuelvo a lo reiterado, no hay daño en su formación, lo que genera imposible ganar
This is the third game, from now on we could deduce that I have absolute advantage, her archer badly positioned in the second row as first makes her much more vulnerable, and I repeat again, there is no damage in her formation, which makes it impossible to win.

En la ronda número 2 finaliza la batalla, tengo mejores cartas tambien ya que el empezó ese dia y necesitaba practicar, le mostre lo poco que conozco, y es tambien jugando que uno aprende el funcionamiento tanto de cartas como de habilidades
In round number 2 the battle ends, I have better cards too since he started that day and I needed to practice, I showed him what little I know, and it is also by playing that one learns the functioning of both cards and skills.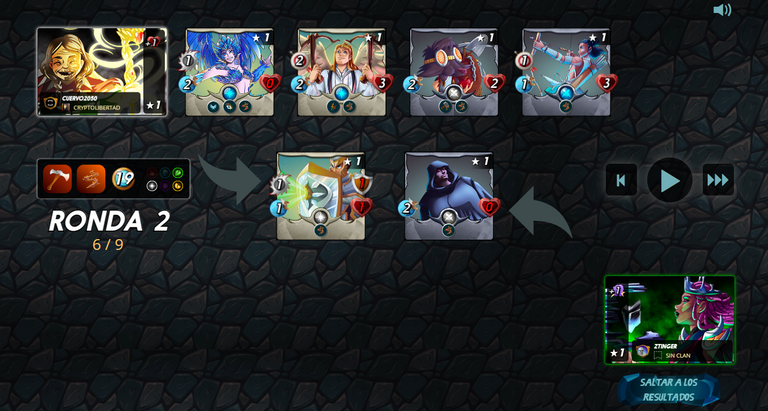 BATTLE LINK
https://splinterlands.com?p=battle&id=sl_cbc43e09f0a7b568951029747920ca16&ref=cuervo2050

Y ahora como ultima pero no menos importante, la batalla por la cual
@ztinger
me gano mejorando su formacion y nuestro poco entendimiento sobre splinterlands:
And now as last but not least, the battle for which
@ztinger
beat me by improving his training and our little understanding of splinterlands: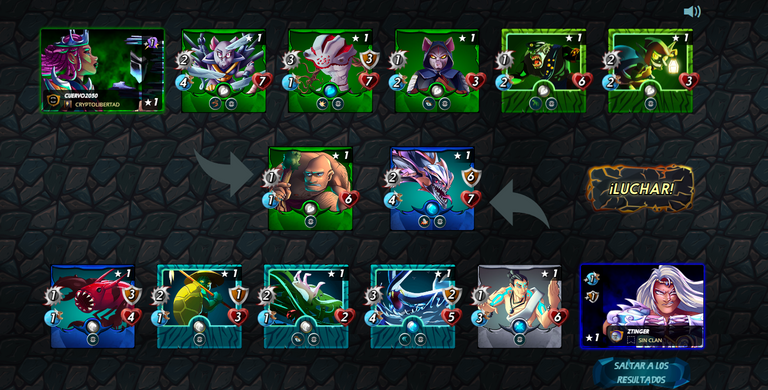 Cometi un error en dejar 3 tanques delante, dándole la potencia en mi error al derribarme por detrás a mis cartas con habilidades tambien importantes lo que género que me ganara por mi error y por su mejor composición de cartas
I made a mistake in leaving 3 tanks in front of him, giving him the power in my mistake by knocking me down from behind to my cards with also important abilities which made him beat me because of my mistake and his better card composition.

La batalla no supera la quinta ronda, y para nada tuve oportunidad de ganar, me alegra mucho que ztinger me haya pedido ayuda y juguemos 4 partidas y el poder aprender juntos es muy importante, ahora tengo nuevo compañero de practica 🗡️ les dejare el link de la batalla perdida para mi
The battle doesn't go beyond the fifth round, and I didn't have a chance to win at all, I'm very happy that ztinger asked me for help and we play 4 games together and learning together is very important, now I have a new practice partner 🗡️ I'll leave you the link of the lost battle for me.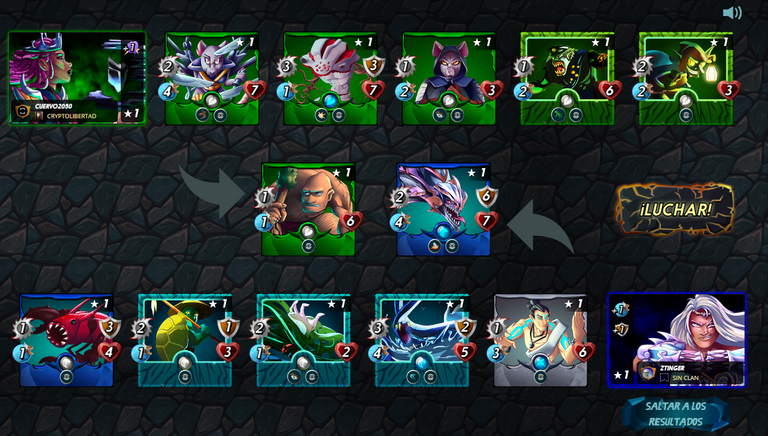 BATTLE LINK
https://splinterlands.com?p=battle&id=sl_4bd4f6873b6c2f00dde18316aee80601&ref=cuervo2050

De todas formas esta partida sin daño magico estaba perdida, su carta tanque contaba con mucho escudo y vida para poder ganarle y mucho menos si el me derribava las cartas traseras, asi que GG compañero, espero que volvamos a enfrentarnos y aprender juntos
Anyway this game without magic damage was lost, his tank card had too much shield and life to beat him, let alone if he knocked down my back cards, so GG mate, I hope we meet again and learn together.

https://images.ecency.com/p/x7L2VSNEiyAB5Ux7nxKmLo6yLyEJT6Jt5yhNCUpGMoX5FAMcmJ2jsF2733EQkNrLU55gQnh7d2YMySm.webp?format=webp&mode=fit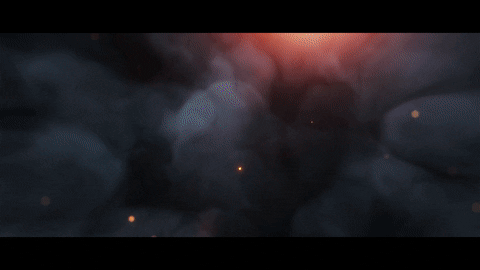 ydaiznfts#1000 El club de Rising Star

El club de Rising Star

Twitter

Reddit
Thanks for reading, huge hug from ydaiz⭐

---
▶️ 3Speak
---
---