Social Media Challenger | Team New [ESP🇻🇪 | ENG🇺🇸]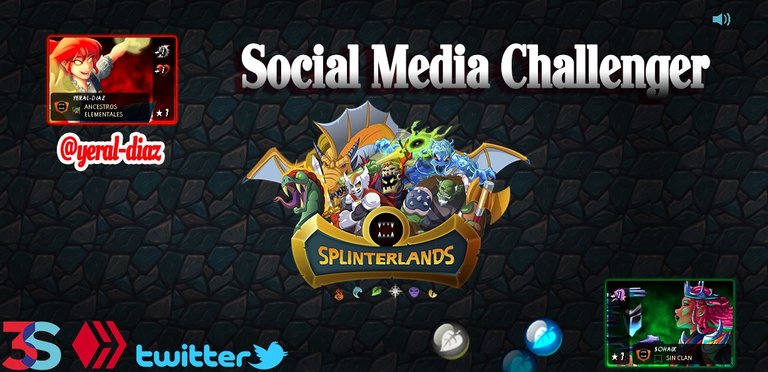 ¡Hola! ¿Qué tal, espero esten muy bien porque cómo sabemos estamos en la semana de Social Media Challenge!. Y vengos a compartirles en este caso una partida dónde realice una composición diferente a la de magos, casualmente me tocó en contra de un equipo mago y la composición me resutló bastante favorable, además de que las cartas que yo tenía dejó fuera en ventaja al equipo enemigo por sus habilidades.
Hello, I hope you are doing well because as we know we are in the week of Social Media Challenge!. And I come to share with you in this case a game where I made a different composition to the mages, coincidentally I played against a mage team and the composition was quite favorable to me, plus the cards that I had left out the enemy team in advantage by their skills.


VIDEO 🎥➘

░▒▓█ ░▒▓█▓▒░▒▓█▓▒░▒▓░▒▓█░▒
Daño vs Magia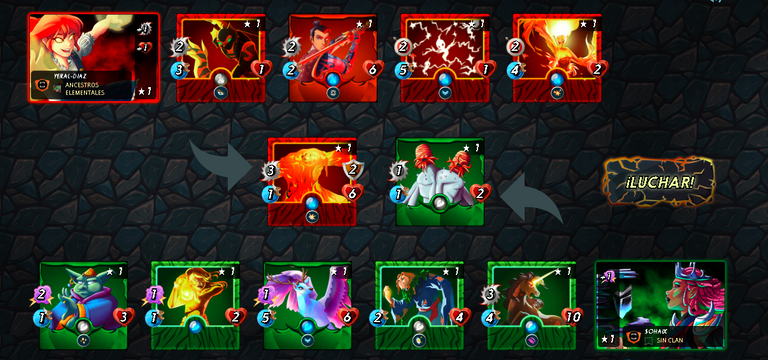 La composición obtenida de daño con cartas de habilidades para atacar al último oponente y al que tenga menor vida, junto al arquero que realizaban desgaste a los enemigos de la fila principal. Las cartas de magia nos permite trabajar en desgaste a un equipo que trabaje mucha armadura, pero la desventaja es que los magos comúnmente poseen poca vida y por ende recibir 2 ataques o hasta 1 se eliminan y queda la parte frontal de su composición dónde ya no tendría apoyo de magia extra y no funcionaría su modalidad de ataque.
The composition obtained from damage with skill cards to attack the last opponent and the one with less life, along with the archer that performed attrition to the enemies of the main row. The magic cards allow us to work in attrition to a team that works a lot of armor, but the disadvantage is that the mages usually have little life and therefore receiving 2 attacks or even 1 is eliminated and the front part of its composition remains where it would no longer have extra magic support and its attack mode would not work.

Comúnmente yo dejo la carta de primeras o segundo puesto dependiendo la cantidad de maná que podamos utilizar en composición para que así el enemigo le cueste más el culminar con ella o el primer tanque y al tocar su turno se demore más con sus probabilidades de esquivar. Cómo vemos tiene hasta un máximo de 8 de vida; 3 de Magia y +7 de Velocidad. bastante buena con mayor nivel pero ya para ello tocaría estar en otro nivel según tu rango.
Commonly I leave the card in first or second place depending on the amount of mana that we can use in composition so that the enemy will have a harder time finishing with it or the first tank and when his turn comes, he will take longer with his chances of dodging. As we see it has up to a maximum of 8 life; 3 Magic and +7 Speed. quite good with higher level but for that it would be necessary to be in another level according to your rank.


Iniciando el juego / Starting game
Empezando la ronda la verdad que fué bastante directo el juego una vez iniciado la carta con habilidad de escabullirse y oportunista desgastaron y acabaron con los 2 últimos mago de la fila dejando así fuera su ventaja que era la del mago con curación de tanque. luego de esto las otras 2 cartas de arquero fueron desgatanto al Unicornio Mustang. dónde sólo evita ataques de magia pero no físicos. Esto permitió dejar a su equipo sin tanque y tomando la ventaja en todo el juego. Me gustó mucho esta composición para poner a prueba en otros modos dónde pueda aplicar diferentes estrategías y no sólo sea magia.
Starting the round the truth is that the game was pretty straightforward once started the card with sneak ability and opportunist wore down and finished with the last 2 mages in the row leaving out their advantage which was the mage with healing tank. after this the other 2 archer cards were wearing down the Unicorn Mustang. where only avoids magic attacks but not physical. This allowed to leave his team without tank and taking the advantage in the whole game. I really liked this composition to test in other modes where I can apply different strategies and not only magic.

VICTORIA // VICTORY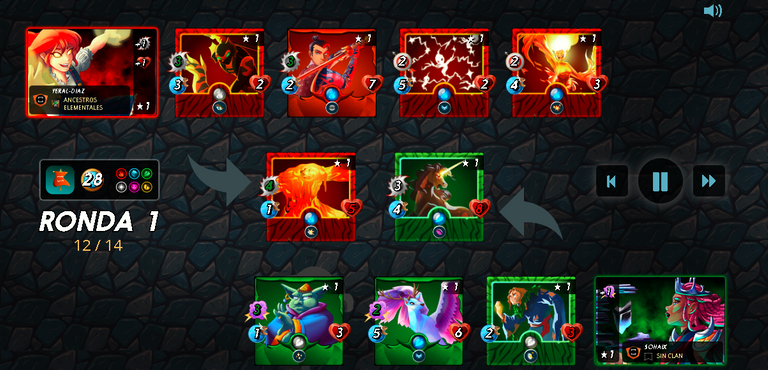 ---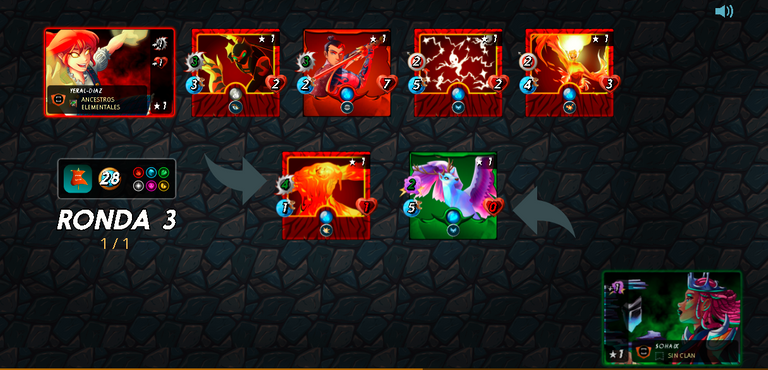 Bueno amigos hasta aquí les comparto lo que fué de mi experiencia con esta partida, recuerden que no tengo la experiencia cómo muchos pero pronto estaré en lo alto y les enseñarñe lo básico para llegar a ligas altas... Hasta la próxima😁
Well friends until here I share with you what was my experience with this game, remember that I do not have the experience as many but soon I will be at the top and I will teach you the basics to reach high leagues ... Until next time😁

▓█░👾GRACIAS POR VER // THANKS FOR WATCHIN 👾▒▓▒


Componentes de mi pc:
Intel(R) Core(TM) i3-3110M CPU @ 2.40GHz, 2400 Mhz
Memoria ram: 6Gb
Sistema operativo: Windows 10 Pro. x64 bits
Inter (R) HD Graphics 4000
Components of my pc:

Intel(R) Core(TM)2 Quad CPU Q8200 @ 2.33GHz 2.34 GHz
Ram memory: 4Gb
Operating system: Windows 10 Pro. x64 bits
Inter (R) HD Graphics 4000


╔═══════════════════════╗
▂ ▃ ▄ ▅ ▆ ▇ █ 🐍SPLINTERLANDS🐍 █ ▇ ▆ ▅ ▄ ▃ ▂
╚═══════════════════════╝

Datos de edición
Dispositivo: CAPCUT
Banner: PHOTOSHOP CC
Translator: DeepL
Logos: @threespeak , @hiveio
Edition data
Device:CAPCUT
Banner: PHOTOSHOP
Translator: DeepL
Logos: @threespeak , @hiveio

░▒▓█▓▒░▒▓█▓▒░▒▓░▒▓█ ░▒▓█▓▒░▒▓█




---
Contenido original por Ұeral Ðiaz🤸‍♂
Original content for Ұeral Ðiaz🤸‍♂
---
▶️ 3Speak
---
---