SHARE YOUR BATTLE / DIEMONSHARK [ESP🇻🇪 | ENG🇺🇸]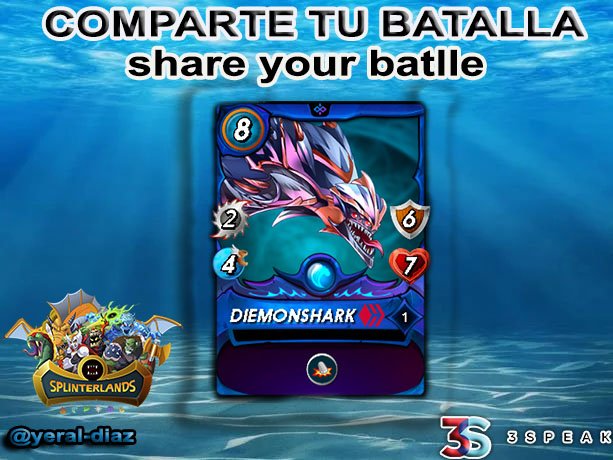 ¡Hola! ¿Qué tal, Splinters amigos? ¿Cómo están? ¡Yo espero que muy bien! En el día de hoy vengo a traerles mi partida de "Comparte tu Batalla" junto a la carta de DIEMON SHARK.
Hi, Splinters, how are you? How are you? I hope you're doing great! Today I'm here to bring you my "Share Your Battle" game along with the DIEMON SHARK card.

VIDEO 🎥➘

░▒▓█ ░▒▓█▓▒░▒▓█▓▒░▒▓░▒▓█░▒
🎮INFORMACION DE LA CARTA 💻 CHARTER INFORMATION🎮


Esta carta Rara de Elemento agua posee una mejora de habilidades al nivel 4 en adelante "Enfurecer" y de 7 en adelante "Contraatacar" Su vida tiene un máximo a nivel 7<10, escudo 6, daño 2<4. Cómo por último la velocidad de movimiento 2<4.
This Rare card of Water Element has a skill upgrade at level 4 onwards "Enrage" and from 7 onwards "Counterattack" Its life has a maximum at level 7<10, shield 6, damage 2<4. How finally the movement speed 2<4.


Iniciando el juego / Starting game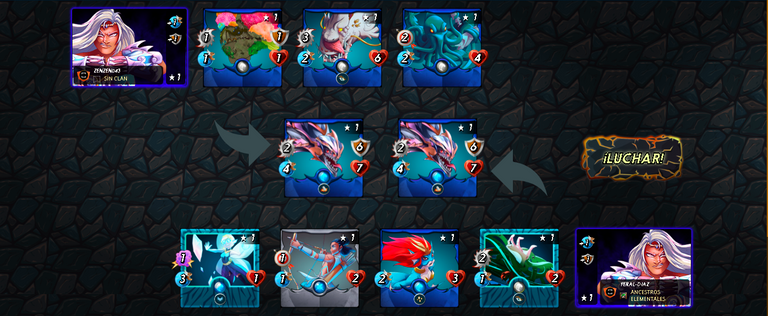 Cómo podemos ver empece con una composición mejor, ya que tenía una carta que me curaba a mi tanque y un mago para desgaste con la habilidad de volador dónde tiene un probabilidad de esquivar ataques a distancia o cuerpo a cuerpo, me resistió por dos rondas dónde me sirvió para desgatar a su tanque y junto a la carta con habilidad de oportunista eliminando a sus carriles de atras.
Cuando ya tocarón la parte final dónde mi tanque no tenía escudo pero la vida seguía sumando junto a la carta del tanque dónde le daba vida por cada ronda.
As we can see I started with a better composition, since I had a card that healed my tank and a mage for attrition with the flying ability where he has a chance to dodge ranged or melee attacks, he resisted me for two rounds where he served me to tear his tank apart and together with the card with the opportunist ability eliminating his back lanes.
When I reached the final part where my tank had no shield but the life was still adding up together with the tank card where I gave him life for each round.


▓█░👾GRACIAS POR VER // THANKS FOR WATCHIN 👾▒▓▒


Componentes de mi pc:
Intel(R) Core(TM) i3-3110M CPU @ 2.40GHz, 2400 Mhz
Memoria ram: 6Gb
Sistema operativo: Windows 10 Pro. x64 bits
Inter (R) HD Graphics 4000
Components of my pc:

Intel(R) Core(TM)2 Quad CPU Q8200 @ 2.33GHz 2.34 GHz
Ram memory: 4Gb
Operating system: Windows 10 Pro. x64 bits
Inter (R) HD Graphics 4000


╔═══════════════════════╗
▂ ▃ ▄ ▅ ▆ ▇ █ 🐍SPLINTERLANDS🐍 █ ▇ ▆ ▅ ▄ ▃ ▂
╚═══════════════════════╝


░▒▓█▓▒░▒▓█▓▒░▒▓░▒▓█ ░▒▓█▓▒░▒▓█



---
Contenido original por Ұeral Ðiaz🤸‍♂
Original content for Ұeral Ðiaz🤸‍♂

---
▶️ 3Speak
---
---