"BOT and SPLINTERLANDS"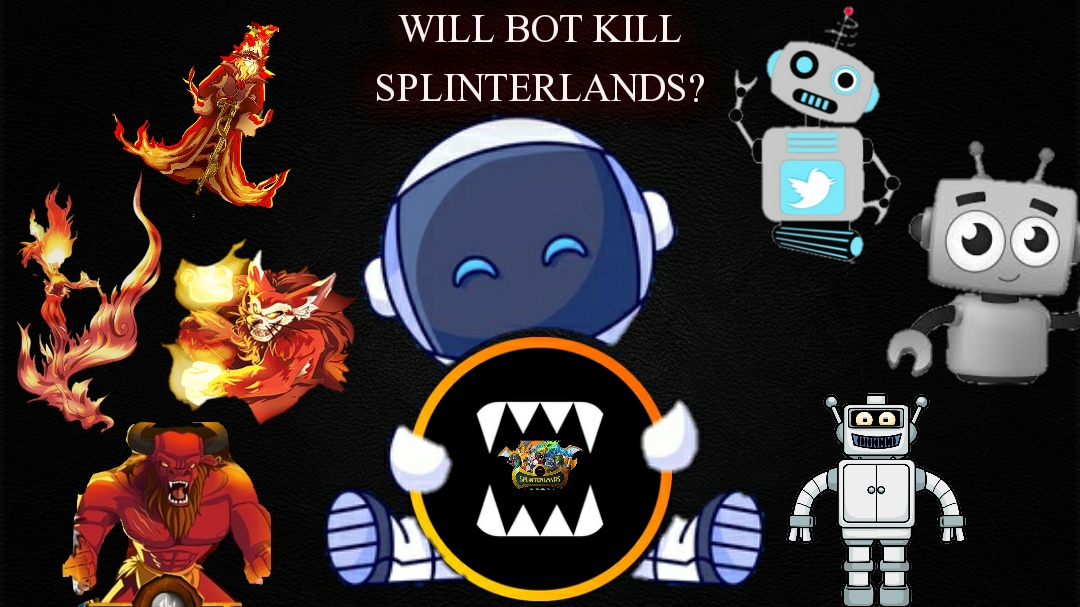 Many are wondering on why do developers of Splinterlands legalized the use of bot.
Cause base on the history of gaming. No such game survived when users start botting.
So how does bot kill the games?
Lets start understanding bot.
What is a bot?
A 'bot' – short for robot – is a software program that can do repetitive, automated and pre-defined tasks. Bots typically imitate or replace human user behavior. Because they are automated, they operate much faster than human users.
so basically. When bot enter the game. You are playing with an AI (artificial intelligence) which keep on learning through time. splinterlands is a strategical card game. Bot that running on this game are gathering data and analyzing all its previous battles on which deck of cards is much better to use on each battle that will give it more chance of winning in a match.
Bot can run 24/7 playing your account. It will battle all day long and the best part is it just keep on learning and going better on each battle.
So why does splinterlands allow using these bots?
• Splinterlands is a decentralized game. Prohibitting users from using bot is removing the essence of the game being decentralized.
• Bots actually adding liquidity on matches. You dont need to wait long time on finding an opponent.
Bot users main goal
• farming game resources
• top rank on each league (rewards)
• tournament champion (AI high win rate)
Reason why bot cant kill the game
ECR (energy capture rate)
ECR is a fluctuating player statistic that limits the amount of Dark Energy Crystals that can be earned for a given Ranked battle.
Just this alone can stop the bot from killing the game. The more time they play. The lesser the dec reward they will get.
Rank on each league and tournament
Even you use the most advance bot in the wor!d. When you have a weak cards. Theres no chance you can climb up to the top spot or winning tournaments. so bot users are buying or renting cards for their account which adding value to the game economy.
the big question that many wants to know is
is bot profitable?
Yes. But still theres a lot of things to consider before you gain good profit from bot.
The bigger the investment, the bigger the profit.
Yes, you read it right. You need a big capital for you to have a good return on botting in splinterlands.
Creating an account, buying a spellbook and connecting it to a bot is not enough. It will just gives you frustration about low ecr and dec per day. You need to invest good cards on every account you will use in bot, rental fees or payment on server for our bot.
would i recommend using bot?
Yes sure. If you can afford to have. Why not. Who dont want to earn passive income daily.
Just a suggestion that dont connect your main account on a bot. So that you can still play it manually. In that way, you will not lose the real essence of the game. Enjoying it😉 maybe thats why "play" come first before the "earn" on play2earn. Because you need to enjoy first on playing it then the latter will follow.
---
---