Introducing splinterfy.com
https://splinterfy.com/ is a little tool I built over the last couple of months containing several features that might help you improve your splinterlands games, track your matches or check out how your friends and foes are doing.
Disclaimer: Its currently designed for desktop use and still a work in progress. Improvements for mobile are still in the making.
The application has several features:
A live dashboard
User stats page
Guild info
Card price calculator
Leaderboard
Additional "premium" features after login via keychain & access (see premium below)
---
The Dashboard
In the dashboard view, you can track the progress of any player in a table. You can use this to compare yourself to others or check multiple accounts that you own and compare how they are doing. All game data (like winrates) is based on the last 50 matches. You can even check the last reward the player got!

A click on "show battles" shows the last 50 battles like this: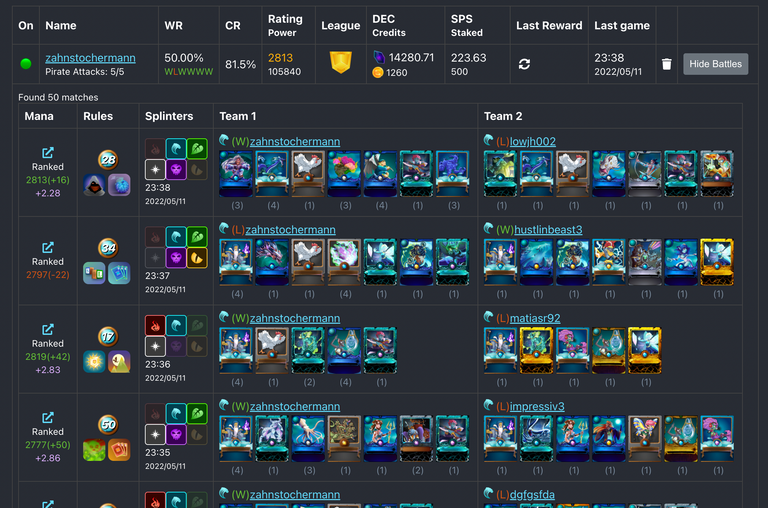 ---
User Stats
The User stats page contains more info about a single player, including some charts that show the user rating and the last activity.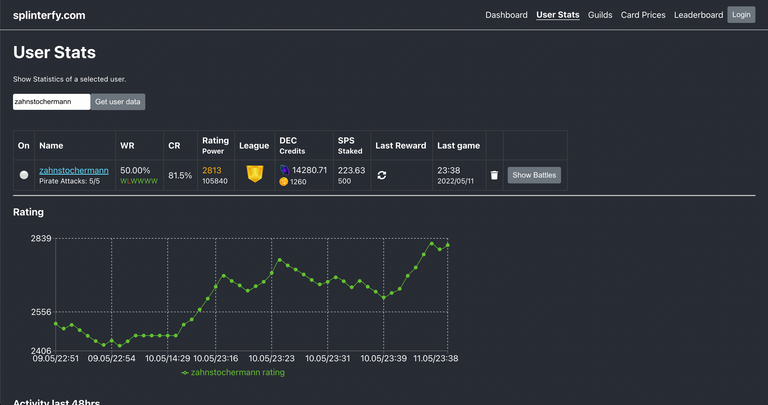 ---
Guilds
On the guilds page, you can compare two guilds with each other. This view is still very basic and work in progress.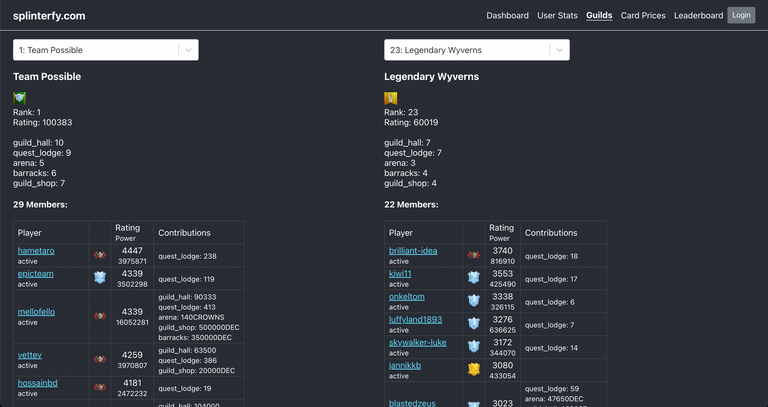 ---
Card prices
Lets say you want to figure out what a specific card of a certain level would cost to buy. Select the card you are looking for (easiest by using the filters) and calculate how much the total invest will be. Note: The numbers might not be perfect as the market prices differ from time to time, this tool just helps to get a rough estimate.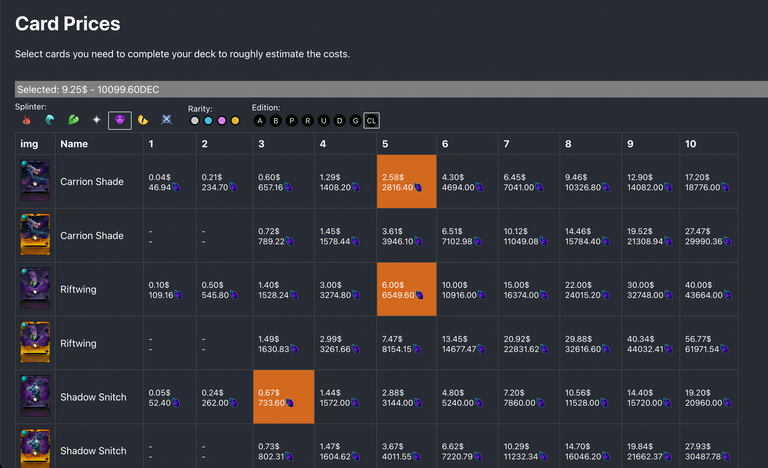 ---
Leaderboard
The leaderboard is a simple view similar to the leaderboard ingame. A link to each account on peakmonsters (for easy stalking ;)) is added in the last column.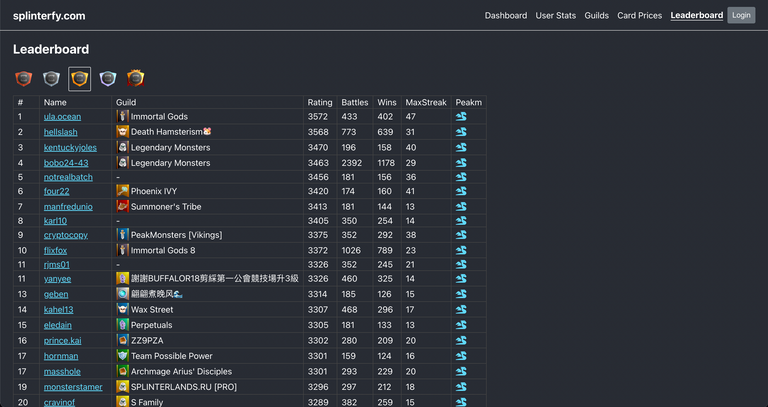 ---
Premium features
Premium features have to be enabled manually for every account and are currently reserved to members of the @legendarydragons and its wings as a donation based service. This might change in the future, so let me know if you are interested!
Currently the premium features are:
Add more than 5 accounts in the dashboard table
A live opponent info page that shows what he played on similar games (only works in games that you know the enemies name, so this will not work in ranked games)
A card statistics table on the user stats page (see screenshot below)
A graph that shows the times of the last 50 games of the top 20 players in a leaderboard (see screenshot below)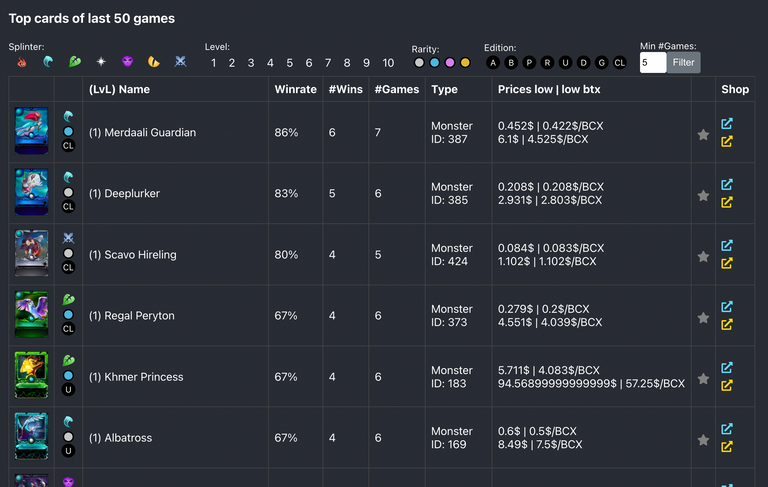 Top 20 players battle times: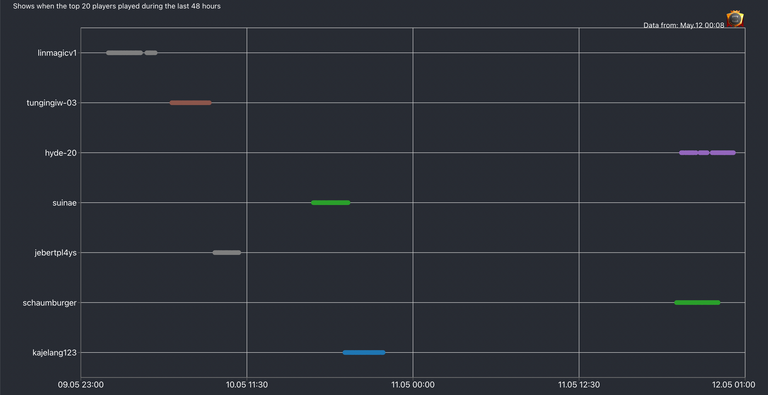 ---
Why build this?
At first I simply wanted to try the splinterlands public API. All the data that you find on splinterfy either comes directly or is calculated with data from the public splinterlands API. Today I find the app really useful for myself to keep track of multiple accounts, compare players to one another or look back at match setups.
If https://splinterfy.com/ benefits you in any way and you want to give something back to me, feel free to donate whatever you want to my account "zahnstochermann" - I really appreciate any help and motivation in building this app :)
---
Whats next?
The application is a constant work in progress. I work on it in my free time, so new features and bugfixes will be added whenever I have time. Currently I plan to fix some small bugs, improve the (mobile) interface and add additional info. Do you have suggestions or wishes? Let me know in the comments!
Cheers!
---
---