Zaku's Splinterlands Reports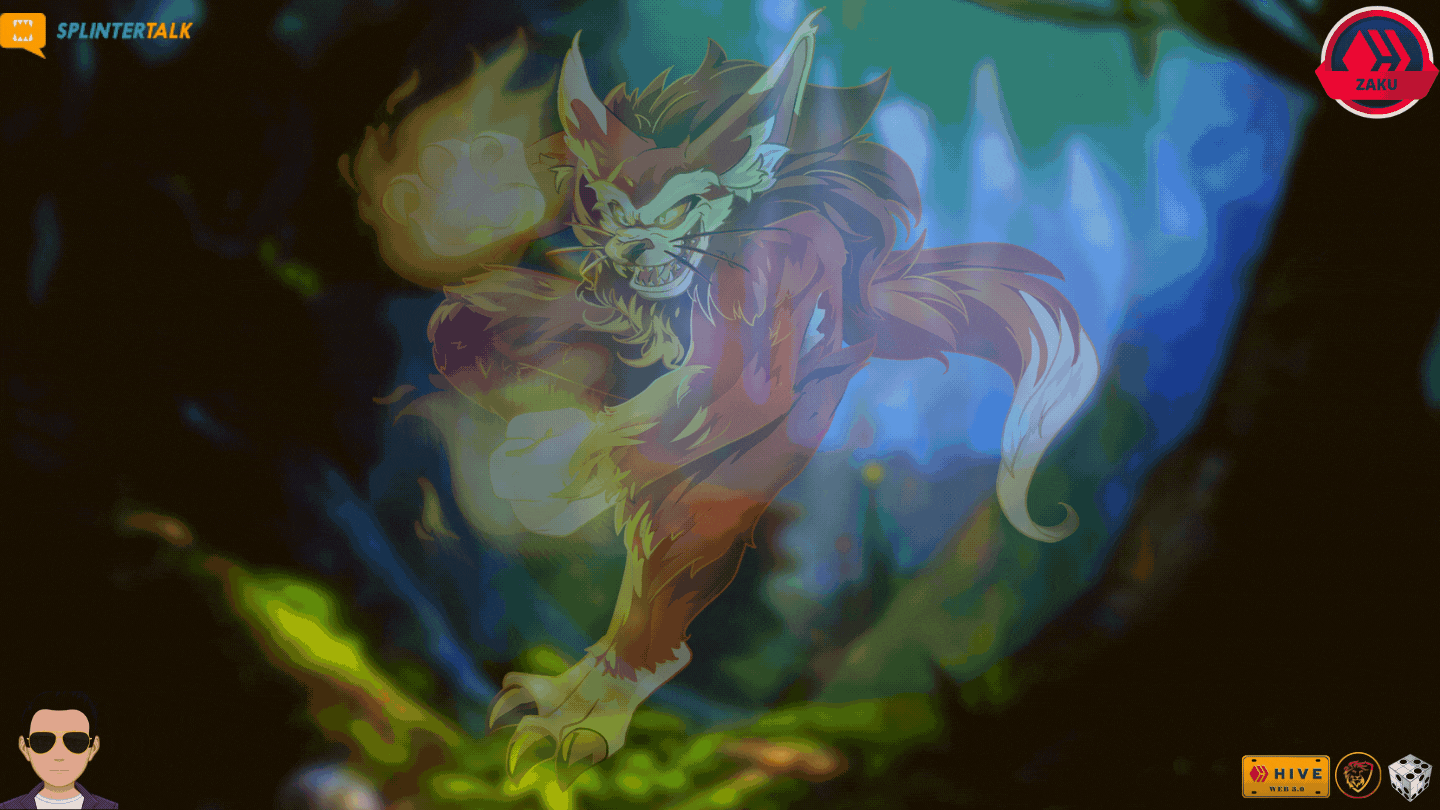 Hello my fellow splinterlands lovers!
I hope you all are doing well in your life and also enjoying the Splinterlands game. After a long break I started playing my own deck by myself. Earlier I put my deck on Teamshare, Because I was busy with other things. But now I have enough time to spend on splinterlands battle ground. But honestly because of this long break I almost forgot all kind of game strategy, so I need to start everything from the begining and also there are some major reward cards missing from my deck, So I need to buy those as well. Yesterday I did some shopping. Beside that I am also on SPS FULL STAKE, I am staking all my sps earning ( Daily Airdrop & Tournament Winning Prize ). Everything will be discussed below in details.

MONSTER SHOPPING

As I said earlier my deck still missing many cards specially some gold foil reward cards. Thats why I did some shopping for my deck,
Yesterday I bought 20 BCX (Lvl 8) Gold foil ANT MINERS Common fire splinter reward card. Cost me total $210.42 (Approx $10.521/BCX). Well $10+ for common gf card obviously seems too much, but if you consider current situation then its acceptable. Ant miners is really great monster at low mana game, It may turn to be game changer if you got low mana melee rule game, At 8 Lvl it got Scavenger and Sheild abilities.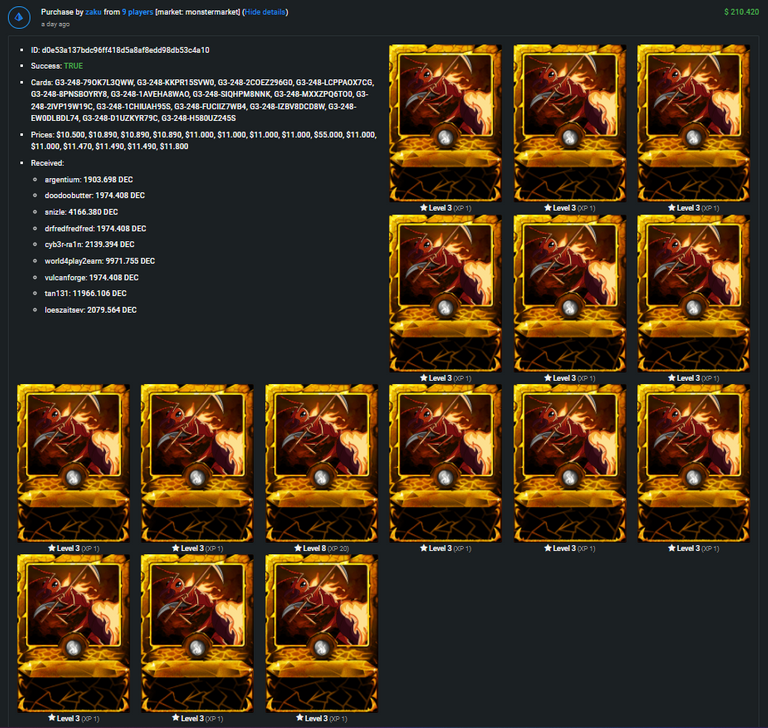 The next card I bought for my deck is 11 BCX (Lvl 6) Gold foil EFREET ELDER Rare fire splinter reward card. Cost me total $343.71 (Approx $31.246/BCX). EFREET ELDER is also a decent card at high mana magic game, it may come in handy if you have play magic attack with fire splinter, because it got Phase and Last Stand abilities.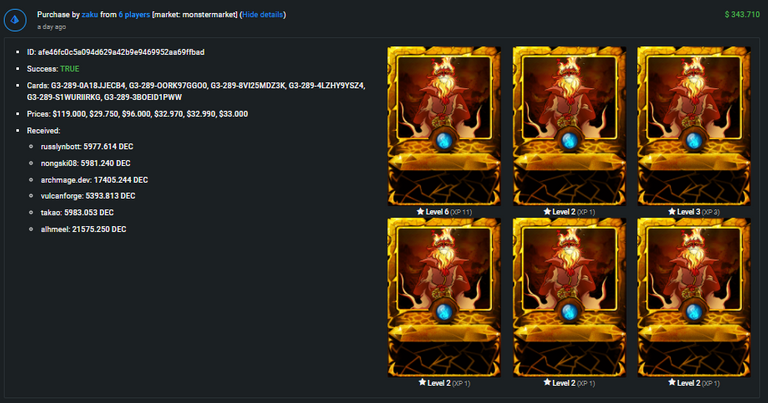 Then I bought 4 BCX (Lvl 4) Gold foil AXEMASTER Epic Water splinter reward card. Cost me $653.400 (Approx $163.35/BCX). Well $160+ for a gf epic card obviously over priced, but you can't wait for low when it's already out of circulation.

The next one is 20 BCX (Lvl 8) Gold foil DEMENTED SHARK Common Water splinter reward card. Cost me $193.296 (Approx $9.665/BCX). DEMENTED SHARK pretty decent card for water splinter melee attack game. It has Thorns & Inspire abilities.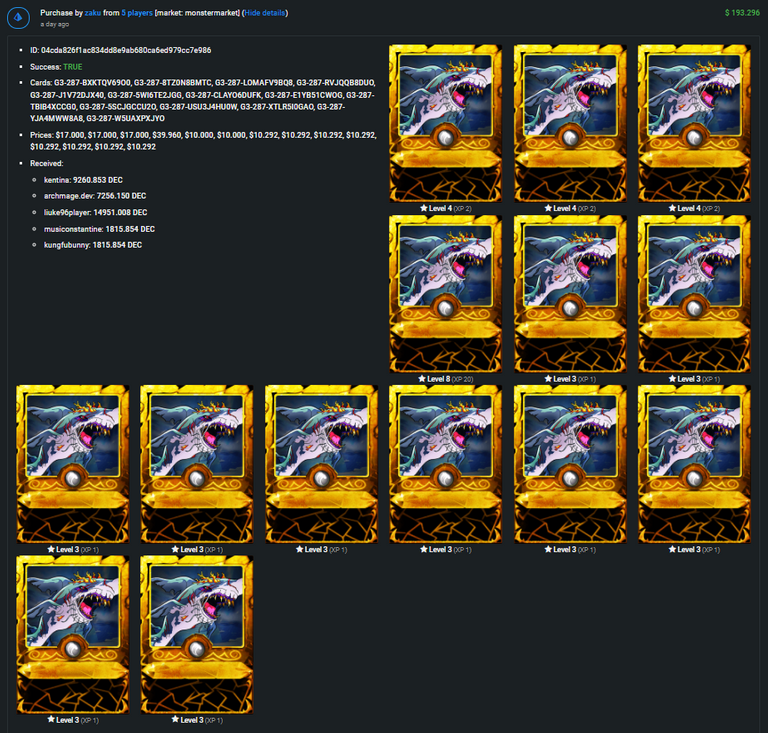 Last but not the least 7 BCX (Lvl 5) Gold foil CENTAURI MAGE Rare Earth splinter reward card. Cost me $408.628 (Approx $58.375/BCX). Nothing to say about CENTAURI MAGE, I bought it because Repair and Return fire abilities.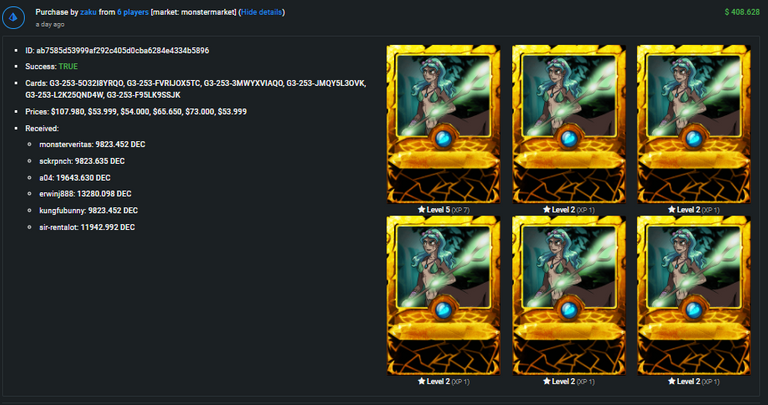 All at once yesterday I spend total $1809.454 on those 5 cards, But the fun part is I used MonsterMarket to purchase those cards, which gave me 3% cashback (Approx $54) saving.

QUIZ TIME

Which Monster have 3 Magic attack, 2 Speed, 3 health at max Level.
---
QUIZ REWARD: 1 Voucher
HOW TO PARTICIPATE:
Leave a comment with your answer & your splinterlands username.
The person who will comment the right answer at first will be the winner of this contest and will get 1 Voucher.
Contest window will be opened till next Quiz & winner announcement post publish.
If no one able to answer the correct answer then the quiz reward will be added with next quiz reward.
ONLY ONE ACCOUNT PER PERSON to be eligible. (Please do not take advantage by using multiple accounts to submit multiple entries and also by removing then rewrite your new entry more than one time.)
Edited comments will not be considered valid.
Example participation : Username: zaku, Answer : Monster Name
Best of Luck
---

Posted Using LeoFinance Beta
---
---