ZALLIN - ROAD TO CHAMPIONS LEAGUE - 14 - WORST WIN RATE!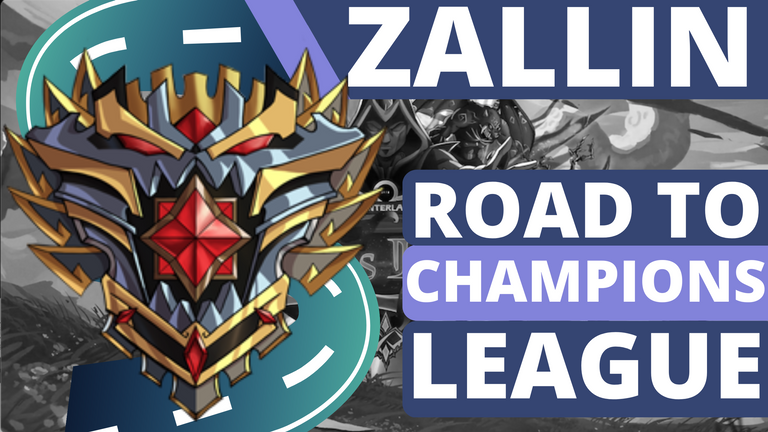 🚙 MY ROAD 🚙
As usual late, overall this was a pretty average season, the idea of playing fast is helping me to gain a lot of chests and SPS, but it is sacrificing my win rate, I have to see how far it is worth it, I also started to buy my SPS back and should buy about 200SPS per season.
I thought I had saved a match, but I couldn't find it anywhere, so again I didn't bring one of my best matches.
These late posts about my season are confusing me, and I'm not being able to put some ideas into practice for this reason, I have to start making this post as soon as the season ends, I have to get this glitch right quick, because the next season is in two days.
Economics
Going with the plan I bought about 200 SPS for 12 Hives, I should keep doing this until I reach at least 10k in stake, I will also start recording how much I am earning in the season, for this I will claim at the end of each season in the same way I am doing with the chaos legions and gladius packs.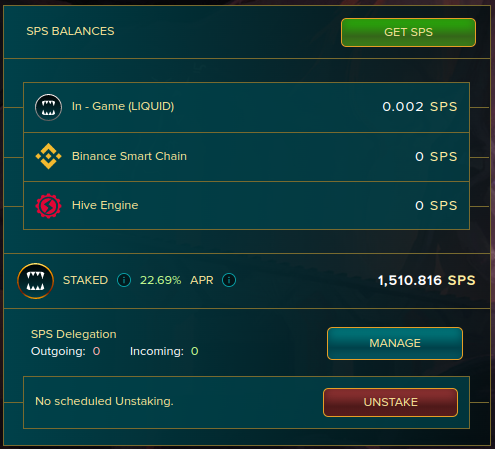 With the rentals not much has changed, the market is a mess, and I'm seriously thinking of selling a lot of stuff, especially lvl 1 cards from the untamed set, good that I can invest in other assets.

---
Card Spotlight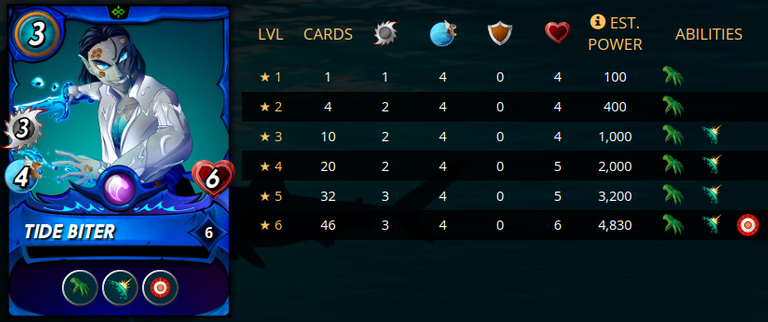 My favorite off tank, low mana cost, reach ability at first lvl, and super cheap ($0.19), in lvl 3 he is wonderful because it gains the amazing ability Reflection Shield making him not take damage from skills (Blast, Magic Reflect, Thorn, or Retunr Fire), this guy hits any card with thorn without worrying and still holds all the damage of a blast (Yodin)😄, I almost always play with it in the second position, is great combined Keyla Frendul(+ Shield and Speed) and River Hellondale(+ damage).
---
Season(108)

A lackluster season, the only thing that stood out was the Max Streak that reached the same amount of 9 as season 107/105/104, the rewards were not bad either, and I got a profit of 8,692.
For the next posts I will start a list with the worst seasons as well, big chance that this will have the worst win rate, I'm playing too fast and thinking too little resulting in several defeats to advanced bots like xbot and archmage 😅.
| Zallin League Summary | Season 108 |
| --- | --- |
| League | GOLD I |
| Rank | 683 |
| Rating | 2764 |
| Longest Streak | 9 |
| Battles | 284 |
| Wins | 140 |
| Win Rate | 49.29% |
| Gold Chest | 129 |
| Profit | 8.692$ |
---
| Zallin League Summary | Score | Best Season |
| --- | --- | --- |
| League | Gold I | All Seasons |
| Rank | 82 | Season 106 |
| Rating | 3200 | Season 106 |
| Longest Streak | 9 | Season 108/107/105/104 |
| Battles | 360 | Season 107 |
| Wins | 203 | Season 107 |
| Win Rate | 62,4% | Season 103 |
| Silver Chest | 23 | Season 99 |
| Gold Chest | 198 | Season 107 |
| Diamond Chest | 33 | Season 106 |
| Profit | 13.068$ | Season 104 |

💎 REWARDS 💎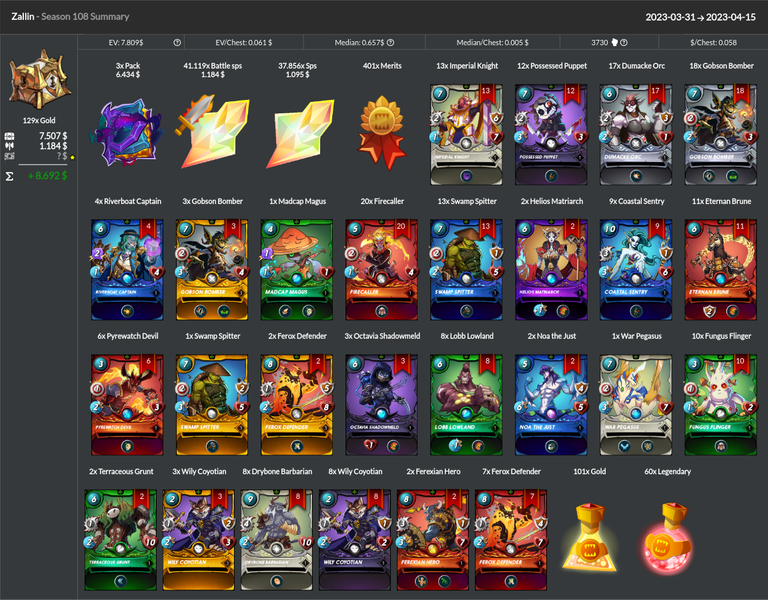 A lot of cool cards came in these rewards, I got my first legendary lvl 2 (Ferexian Hero) sad that it belongs to the element that I use the least 😅, there were 3 packs, 24 summoners, 2 epics, 2 legendary and incredible 9 Common Gold Foil 😁.
---
Chaos Legions Packs



A Legendary Gold Foil should be coming soon, because it only came crap in these last packs, at least I pulped the trouble of buying a Merdaali, besides it came a Magi Necrosi and a Vanari Scout Gold Foil both in the same pack, the rest so crap 🤣.
---
GLADIUS PACK





---

---
My gladiator collection is getting pretty, I got the last epic that was missing the powerful Marisol Contuma, now I just need the legendary Flagulon Reine and Larissa Kerato to have all the brawl cards.

💸 SHOPPING 💸
I finally managed to buy all the missing Merdaali Guardian for $0.386, I started to buy the Angelic Mandarin for $0.161, and I already bought 15 of them, and I'm still trying to buy the 13 remaining cards from DiemonShark, it's taking a long time.
I decided to change the list again, and I will not buy the rares in their gold versions, maybe the reward rares, because I already have them in their normal versions at lvl 5, but until the time comes to buy them I can change my mind again 😂.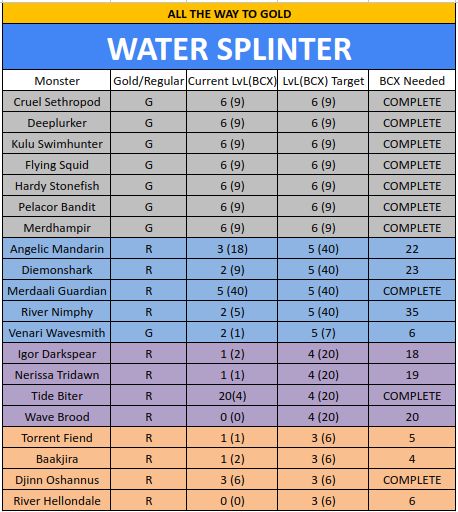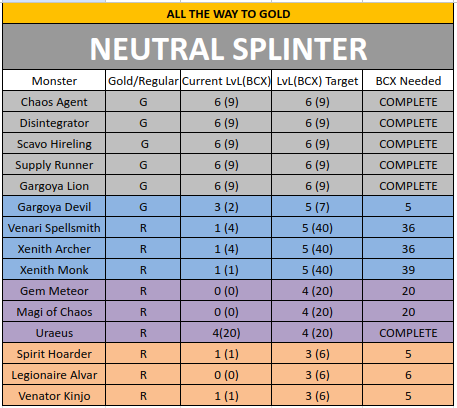 BONUS PACK

I thought it would be difficult to appear a pack worse than the last post, but I was wrong, surely this was the worst pack so far, I will not use these cards, because the kulu I already bought, I can only hope for a better bonus pack in the next post, the whole pack is worth $0.24😭.

🎊 NEXT STEPS 🎊
As it was rush, I couldn't do some things I wanted to, but it is certain that the next post will come out a day or two after the end of the season, I'm starting to get lost with these late posts about what I did in the season, besides that I'll follow up with the plan to see what were the worst seasons and the worst bonus packs it will be pretty funny 😅 and keep improving the economy part is still not the way I want 😄.

"You are the creative force in your life."


---
Image sources:
https://splinterlands.com/
https://splex.gg/
https://peakmonsters.com/
---
---