ZALLIN - ROAD TO CHAMPIONS LEAGUE - 15 - 10 PACKS IN ONE SEASON!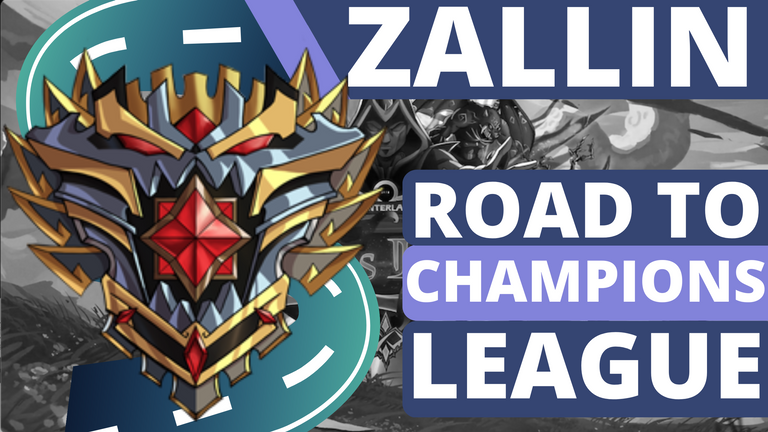 ---
🚙 MY ROAD 🚙
This post was delayed just a bit this time, because it was supposed to be posted on Monday.
This season I did nothing different and kept everything as planned follow buying SPS and the cards from the list, and playing hard to not lose energy.
The biggest joy of this season was the profit, it was my record so far, but it made me think about some issues that had been going through my mind for some time (sell, open or save the packs), I do not feel that it is worth opening them, but I had enough joy opening them.
Economics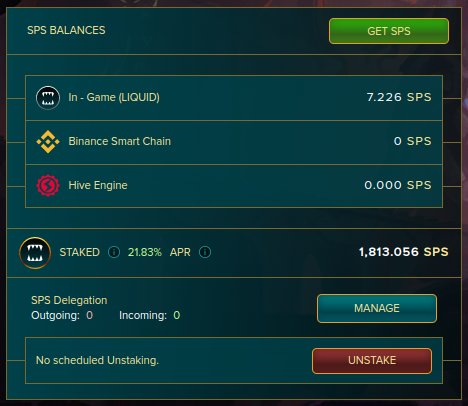 I kept buying 200 SPS per season, besides keeping in stake everything I'm earning during the seasons, my goal is to recover the tokens I sold, today I have 1,813SPS in stake, I see that it will be a long way to 10k SPS, later on I think about increasing this amount of SPS bought per season.
---

My profit from renting cards is interesting, and I finally cleaned up the cards I was renting to play, I removed all the unnecessary ones, I hope I won't miss them in the matches 😂.
This part will finally receive a reformulation in the next post, I want to see how much of SPS I am farming per season, for this I will only give claim at the end of each one. I still believe in the value of this token.
---
Card Spotlight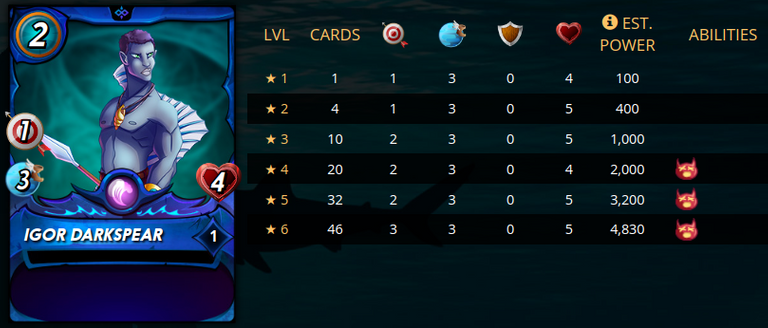 Think of a simple card that fits easily into any line-up of the water element, well Igor Darkspear has this profile, its seems an improved version of Xenith Arhcer, at lvl 3 gets 2 damage and lvl 4 still gets the ability to stun, this ability is one of the best in the game and will almost always be useful, thought that was all? No 😄, even costing only 2 mana Igor is very resistant, being able to hold the back line efficiently.
It is almost always in my line-up, with this cost I can position him anywhere, I like to use this unit in matches with bit mana, but it's easy-to-use in big matches to complete a line-up.
Season(109)

Unbelievable, without a doubt it was the season that I got more packs since I started playing splinterlands, 10 packs were dropped during this season 🤑, this resulted in my highest profit recorded so far 22.960$, otherwise the season followed the same pattern as the previous ones, playing fast to make the 24 daily matches, it was pretty average in other aspects.
| Zallin League Summary | Season 109 |
| --- | --- |
| League | GOLD I |
| Rank | 379 |
| Rating | 2840 |
| Longest Streak | 7 |
| Battles | 355 |
| Wins | 181 |
| Win Rate | 50.98% |
| Gold Chest | 144 |
| Silver Chest | 9 |
| Profit | 22.960$ |
---
| Zallin League Summary | Score | Best Season |
| --- | --- | --- |
| League | Gold I | All Seasons |
| Rank | 82 | Season 106 |
| Rating | 3200 | Season 106 |
| Longest Streak | 9 | Season 108/107/105/104 |
| Battles | 360 | Season 107 |
| Wins | 203 | Season 107 |
| Win Rate | 62,4% | Season 103 |
| Silver Chest | 23 | Season 99 |
| Gold Chest | 198 | Season 107 |
| Diamond Chest | 33 | Season 106 |
| Profit | 22.960$ | Season 109 |

💎 REWARDS 💎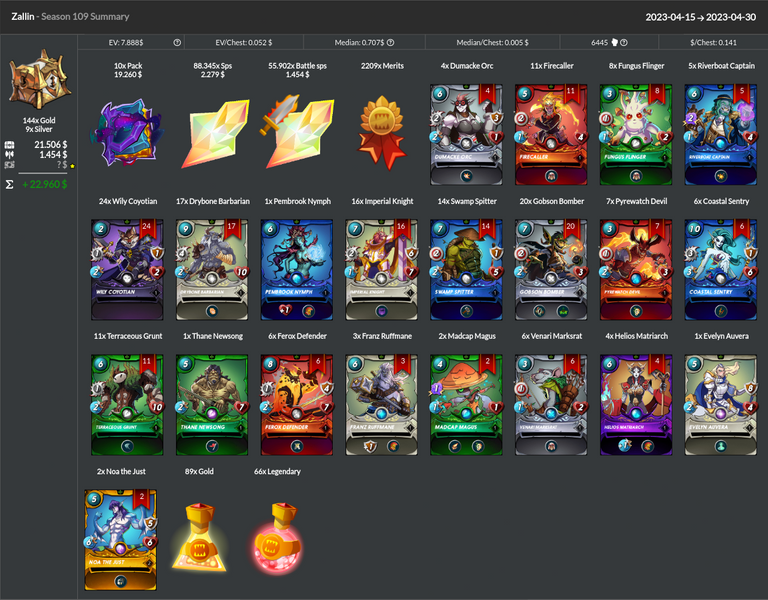 Very happy for the amount of packs dropped, the highlights were 10 Chaos Legions Packs, 2x Noa the Just GF, 2x epics and 8 summoners. I loved the results.
---
Chaos Legions Packs











And here began my drama, is very difficult to get something to pay for these packs the value of all cards was $8.88 I would have earned double selling these packs on the market, with the value I could have bought all copies of two or three rare cards from my list.
Let's go to the highlights: 2 Legendaries(in the same pack😁), 2x GCF(lava Spider and Carrion Shade) and 1x epic (Prismologist).
GLADIUS PACK





I finally upgraded my powerful Quora Towershead to lvl 2, I consider it one of the best cards in this collection, and it will certainly help me a lot in combat.
This time there were only 4 packs, but as Quora came I was happy, in addition to it came an Ajax LightFoot GF 😁.

💸 SHOPPING 💸
I didn't buy much this time, only 19x DiemonShark(one copy I got from the recent packs), now I only need 3 copies of it to get it to lvl 5, and I bought 3x Angelic Mandarin.
I'm going to buy some copies of Venari WaveSmith Gold Foil, its price is relatively low, and I already have three copies of it in gold foil version, I'm giving preference to blue cards, and it shows up well in my matches, so, it will be next.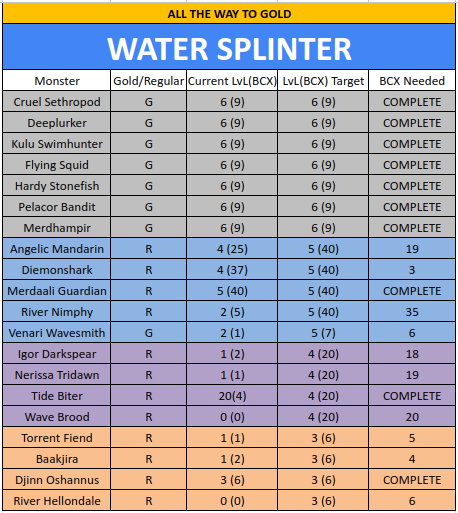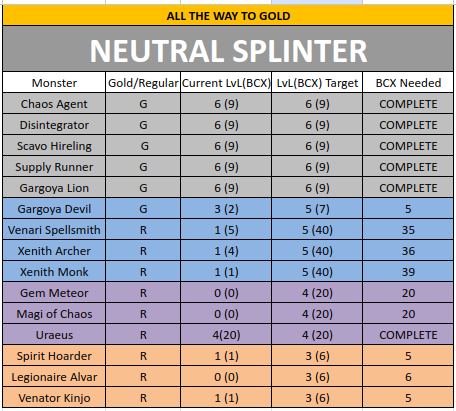 Bonus Pack

A few more HIVES thrown away 😅, this is getting worse and worse. The value of this pack was $0.16 definitely this is the worst bonus pack I ever opened in these posts, even the rare card was horrible, nothing to highlight beyond my sadness seeing it 😂.

🎊 NEXT STEPS 🎊
This post was supposed to come out on monday, but as always I'm late, for the next post I hope to have bought all copies of Diemonshark and change the economy part a bit more, I want to know exactly how many SPS I'm getting per season, but the main change will be in the packs won during the season, I will no longer open all of them, and I will divide them between (Open, Sell and Hold) that is, if I get 4 packs, I will open 2, sell 1 and hold 1, always in this order, so I will bet on a future valuation and still have more money to buy cards from the list.

Let us make our future now, and let us make our dreams tomorrow's reality.


---
Image sources:
https://splinterlands.com/
https://splex.gg/
https://peakmonsters.com/
---
---