ZALLIN - ROAD TO CHAMPIONS LEAGUE - 16 - JUST A NORMAL SEASON!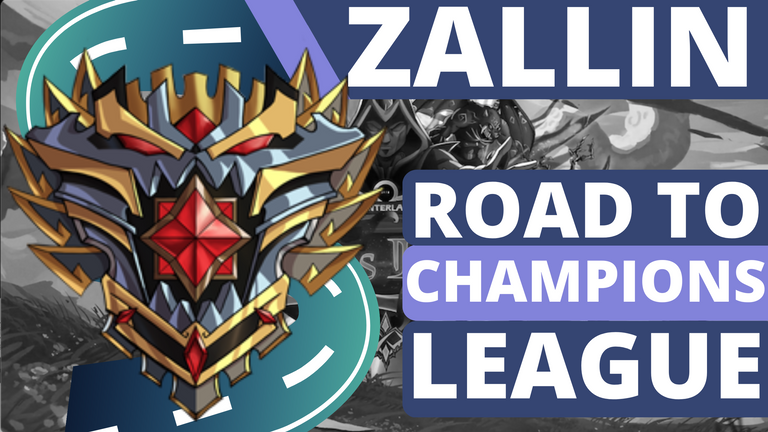 🚙 MY ROAD 🚙
My most delayed post, I'm still posting the season 110 report 😅 I know season 111 just ended a few hours ago, the post about it will be released in a few days, I got addicted to the new Zelda and distanced myself a bit from HIVE due to the hype. The important thing for me is to have one post about this series per season, it's like my diary 😄.
During the season I decided not to hold the packs earned, I thought it was better to open or sell them, I'll leave this part of holding more ahead, I also decided that the money earned from the sale of packs I would buy more SPS, in addition, I will return to play in the pools SWAP.HIVE-SPS will put only what I'm earning from STAKE rewards something around 11 SPS per season for now.
Otherwise, it was a pretty normal season, I bought the remaining cards to leave the DiemonShark and Venari Wavesmith at lvl 5, I managed to play a lot of games but lost most of them I think it was the first time I got a negative winrate, the game is getting harder and harder, I look forward to seeing my performance playing only against players instead of bots.
Economics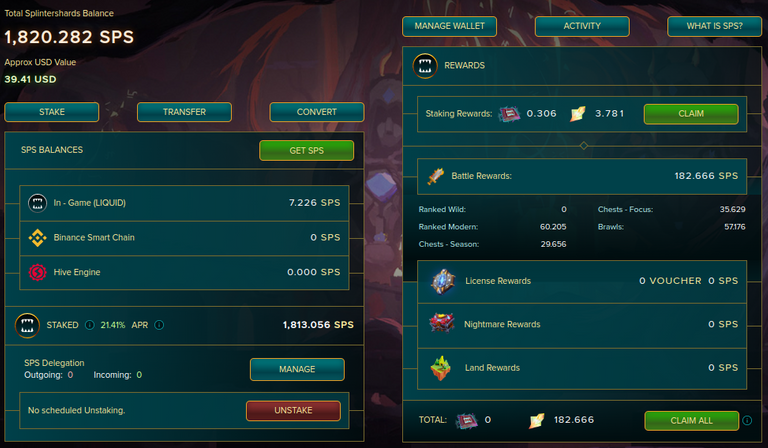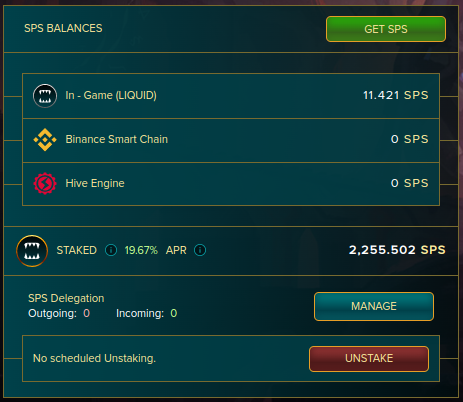 I finally started modifying this part, I managed to make a total of 182.66SPS during this season, counting Brawl, it will be interesting to compare with the next seasons.
I sold1x pack and got 59.78SPS with it, I also bought the 200SPS that I'm buying per season, so I made a total of 442.44SPS this season 😅, I ended with 2255.502SPS in stake.

I got into the Swap.Hive-SPS pool again, I had a lot of SPS in them, but I sold everything a while ago, now I'm going to put all the income from the SPS rewards in stake, how much will I be able to collect in this game?
Card Spotlight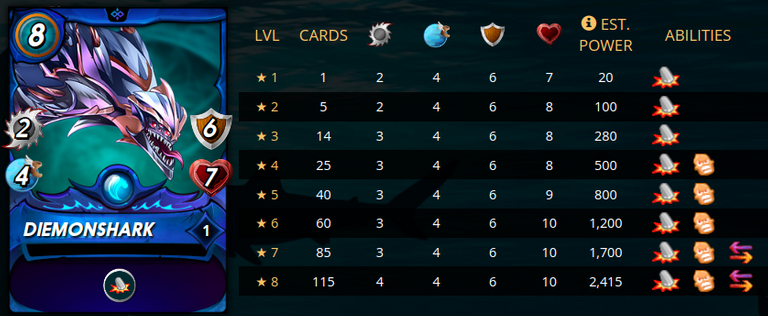 I almost forget this big guy, I only remembered him because I finally upgraded it to lvl 5 recently, this shark is my default water tank, almost guaranteed presence in matches with medium/high amount of mana.
High damage, lots of armor, Trample and Enrage, make him a very offensive tank, combined with the abundance of supports in this element can make this unit run over an entire team if not knocked down, and if it reaches lvl 7 things get even cooler, because it gains Retaliate 😂.
I like to use it with Merdaali Guardian(Regenerates armor and life to last longer in the front line) and River Hellondale(resurrection with plenty of armor and enrage activated and inspire for extra damage), almost always use in the first position, its main replacement is the Legionnaire Alvar being a more defensive option.
Season 110

A regular season, which shows that quantity is not quality, I made my highest amount of matches so far 368, but made my worst win rate 48,64%, I only went up because I got several win streaks, without them, I think I wouldn't even reach Gold 1, the matches are really complicated, sometimes I think I made a perfect team and when I see I was massacred 😅, I should start playing less and focus on quality 😅.
| Zallin League Summary | Season 110 |
| --- | --- |
| League | GOLD I |
| Rank | 645 |
| Rating | 2686 |
| Longest Streak | 8 |
| Battles | 368 |
| Wins | 179 |
| Win Rate | 48,64% |
| Gold Chest | 135 |
| Profit | 7.451$ |
---
| Zallin League Summary | Score | Best Season |
| --- | --- | --- |
| League | Gold I | All Seasons |
| Rank | 82 | Season 106 |
| Rating | 3200 | Season 106 |
| Longest Streak | 9 | Season 108/107/105/104 |
| Battles | 368 | Season 110 |
| Wins | 203 | Season 107 |
| Win Rate | 62,4% | Season 103 |
| Silver Chest | 23 | Season 99 |
| Gold Chest | 198 | Season 107 |
| Diamond Chest | 33 | Season 106 |
| Profit | 22.960$ | Season 109 |

💎 REWARDS 💎
Season 110
It was not a bad season as I won 3x packs, 4x legendaries, 2x epics, 13x summoners and 3x Gold Foil Commons. If I could sell these cards, I would make good money 😅. I am getting closer and closer to leaving all common and rare at lvl max silver.
Chaos Legions Packs


I think I was right not to open all the packs, look how much I won on the ones I opened, less than 0.70$ 😅, at least I dropped a Lava Spider gold foil.
GLADIUS PACK







My guild has reduced the pace, and we are no longer able to fill all the frays, greatly reducing the gains of Merits, but I was lucky in some chests and managed to maintain the average of 6 packs per season, but I think it will not repeat next season.
The highlights were one more copy of the legendary Jini Guise, 2x epics (Gorth and Marisol), and one more copy of the Chimney Wallstop gold foil.

💸 SHOPPING 💸
I finally bought the last 3 copies of my DiemonShark for $0,176 I also bought all the remaining copies of Venari Wavesmith Golden Foil for $1,338 each 😁, my targets now are the remaining 19 copies of Angelic Mandarin and the Xeniths (Monk and Archer), for the price of monk versions can be bought in its golden foil version and the archer in its regular version, but I already have 3 gold copies of Xenith Archer, I'll have to decide what to do until the next post 😅.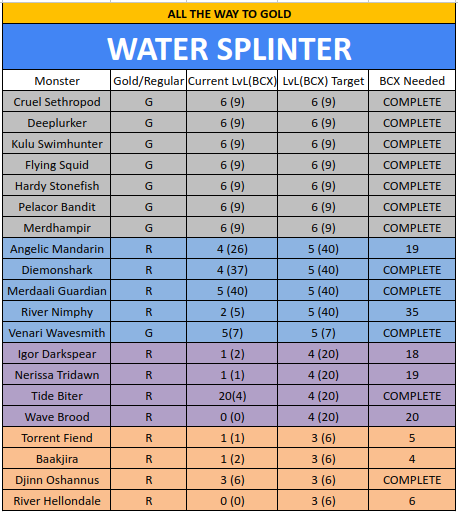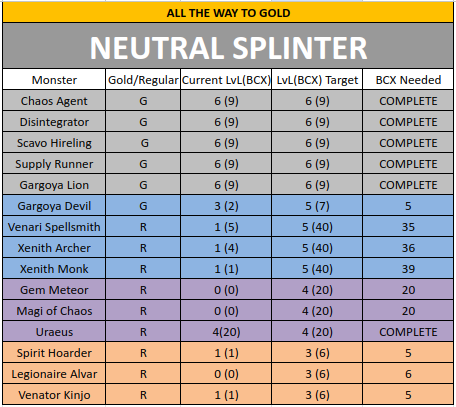 🎊 NEXT STEPS 🎊
I was very late with this post, at least I managed to polish the economy part a little more and I will continue improving this part in the next posts, I have to study the tournaments again I want to play in them again.
I will have to update the rental prices once again, because more than half of the cards were not rented this season, every time having to update these prices is getting tiresome, I think I will make them very cheap and put them in season instead of daily rents.

"You learn more from failure than from success. Don't let it stop you."


---
Image sources:
https://splinterlands.com/
https://splex.gg/
https://peakmonsters.com/
---
---