Zallin - SHARE YOUR BATTLE - XENITH ARCHER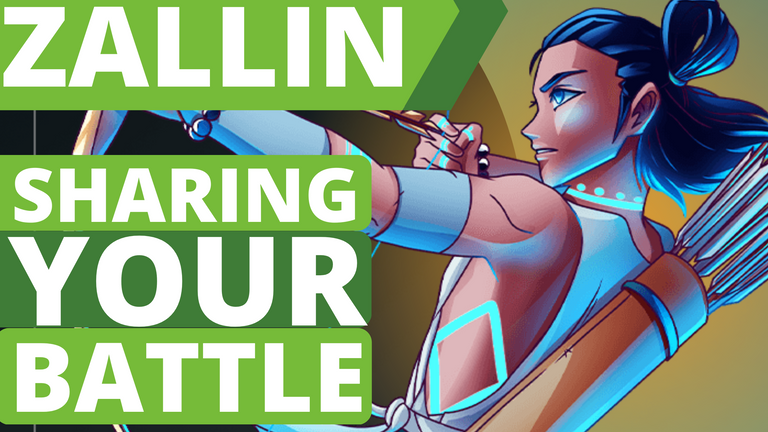 Another Sharing Your Battle, this is the last one that was delayed and I'm already getting ready for the next event. Today's card is Xenith Archer her art is beautiful with a lot of neon details, she is very popular thanks to her low mana cost and it wasn't hard to get a win as she fits in any line-up.

XENITH ARCHER
Xenith Archer is a rare card of the neutral element, uses ranged attacks, its attributes are very low near the minimum in each of them, it has no skill. It is a really simple card, being neutral with ranged attack and having a low mana cost makes it a little popular because it can fit in any line-up of any element, it will hardly be a card that will stand out in a match.
I usually use her with the white summoner General Slon to get a good buff and in the rules Aim True, Target Practice, Even Stevens and Equalizer, but she can do well in many other situations.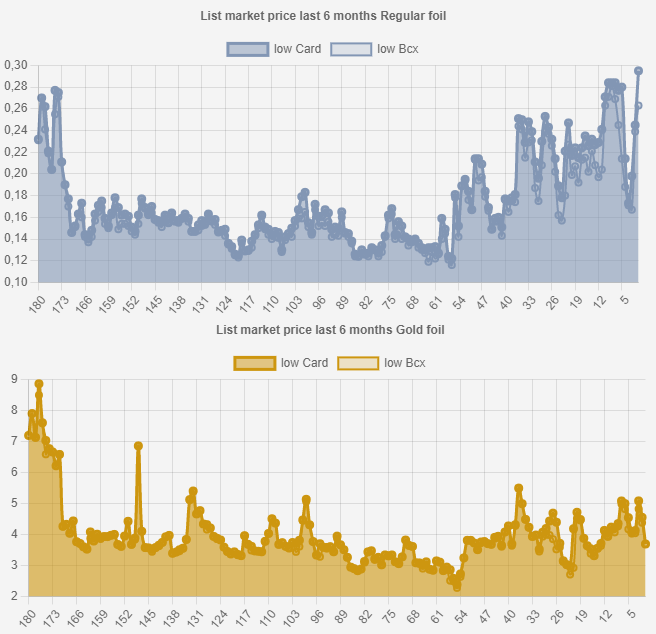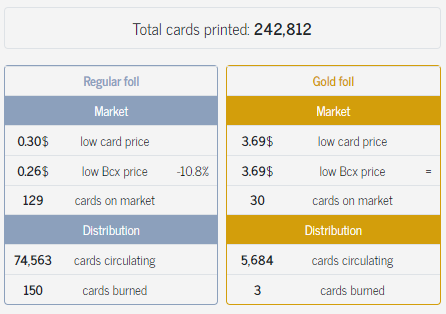 Xenith Archer is costing 0.30$ in its regular foil version and 3.69$ in its gold foil version, its price almost puts it among the most expensive of its rarity and set, its price varies a lot from one day to another, and it still has the ad of the new modern format that will disrupt the market in the coming days.

My Team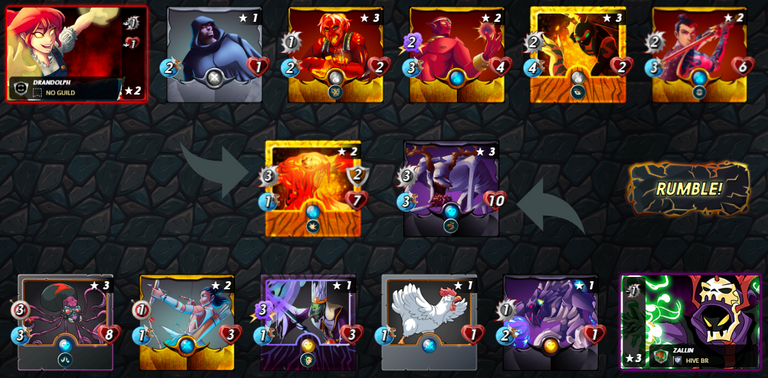 | Rule | Effect |
| --- | --- |
| | Aim True: Melee and Ranged attacks always hit their target. |
A game with 26 mana and that never misses its attacks, I didn't see anything special in these rules so I made a practically standard team using a strong tank followed by DPS, between these I mixed physical and magic damage, and in the last position I put the Octopider that hits very hard and still applies excellent debuff on enemy cards, our star was placed in the middle of the line-up to be protected and hopefully kill someone😄.
| Card | LineUP |
| --- | --- |
| | Summoner : As green was out of the game I didn't bother to defend myself from magic attacks, so I chose this one to reduce the opponent's melee attack. |
| | Tank : Its attributes are very good and it still has an excellent thorn skill. |
| | Support : Practically a meat shield that defends itself, as there was a slot left in the line-up, it was certain that it would enter. |
| | Support : Another free meat shield, but this one just doesn't hurt 😂, little by little I'm saying goodbye to it, the launch of the modern format is almost here. |
| | DPS: This one is interesting, it has excellent magic damage and still gains a lot of HP with its Life Leech skill, and will hold the line if needed. |
| | DPS: Our star, there's not much to say about her, I usually use her to complete the team, I put it well protected to see eliminating some cards 😁. |
| | DPS : Another card that I'll have to start saying goodbye, it has an excellent damage and its debuff makes a good combo with the summoner Zintar. |

The Battle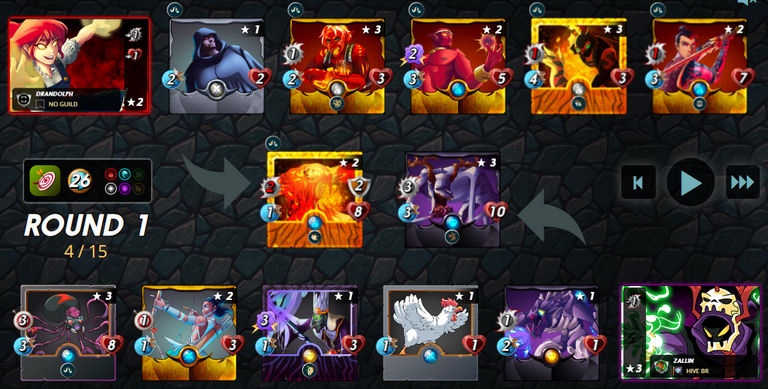 Analyzing the game -My debuff worked and affected 4 cards and he has no defense against my powerful Lich, so this card will probably have a lot of HP in the end, but Serpentine Spy will be able to annihilate all my meat shields and his tank should resist a lot.
Round 1 - Right at the beginning Serpertine Spy takes my demon out of the game, I couldn't defeat any of his cards in this first round but his tank won't resist much, I think he's the worst threat.
---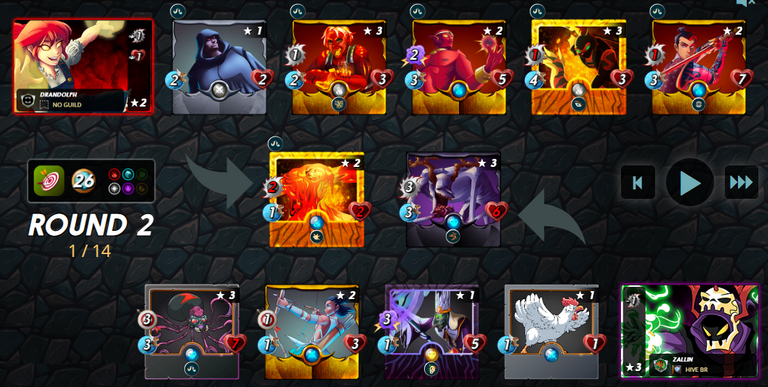 Round 2 - As predicted in the analysis, the Spy takes another one of my meat shields out of the game, but almost immediately my spider octopus knocks out my opponent's tank, taking away my main problem, soon after the Cursed Windeku and the Lich defeat Chaos Agent and Radiate Scorcher, putting me at a good advantage in the match.
---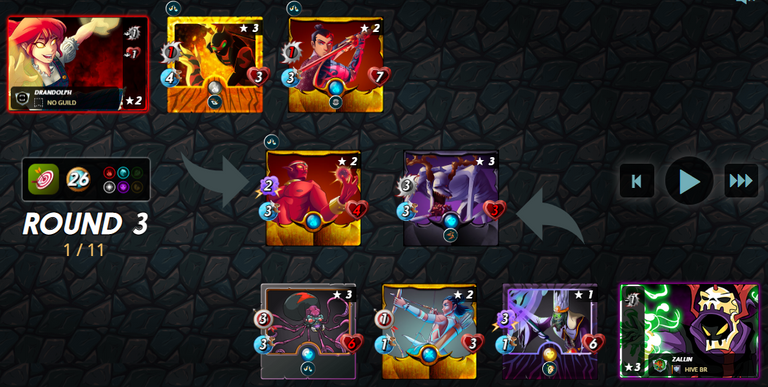 Round 3 - My Tank held up very well but didn't resist until the end of the match, in the middle of the round Dijn Apprentice is knocked out and finally our star applies a beautiful hit and eliminates the spy.
---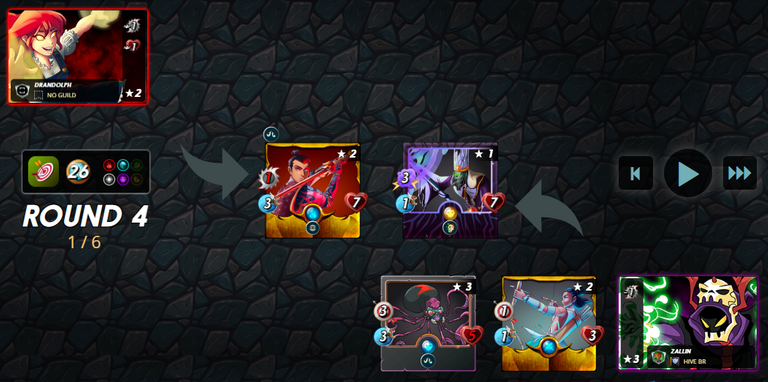 Round 4 - Finally victory came with only a card in play that deals 1 damage, he wouldn't be able to defeat my lich that gains HP every time he hits, just wait until our star applies one more last hit granting the victory.

Conclusion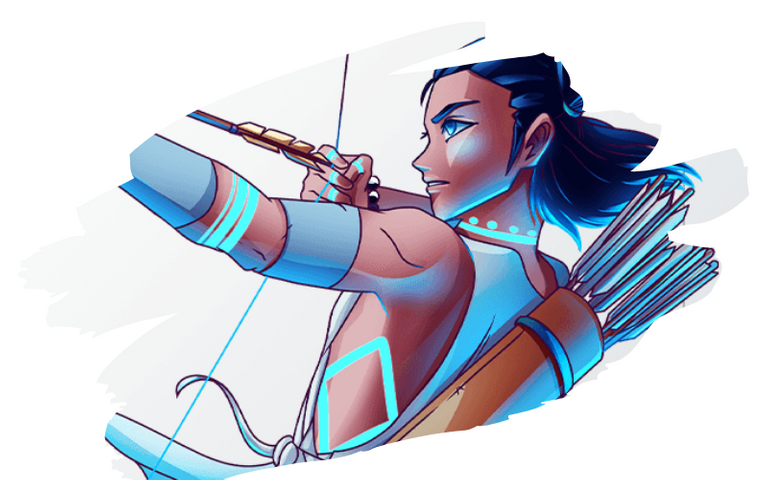 My basic strategy worked, this debuff combo between Zintar and Octopider is extremely effective against most red decks, My tank resisted until the third round still applied good hits with the thorn skill, my meat shields gained a good time, the lich it was brilliant its damage is extremely strong and it still reached the end with a lot of HP it would certainly last a few rounds as a tank, our star eliminated two cards and declared victory, my last card is beautiful, debuff with strong damage I don't need to say anything more about it 😄.
Xenith Archer is a basic card without a lot of shine, I can't see it changing a game alone, its lack of skill contributes to this, but it has a low cost and attacks from a distance which makes it perfect to fit in any line-up , but in my opinion it seems that I always have a better card to use, but for those who have few cards it is a good option to complete teams.
Thanks, see you next time!

---
Game Link: Splinterlands
Battle Link: ZALLIN Vs. DRANDOLPH


Image sources: https://splinterlands.com/ and https://www.splintercards.com/chaos-xenith-archer
---
---