Thank you all <3 Time to celebrate... (Post #2)

Thank you all so much! Time for a celebration!
A message to anyone who supported my first post and my stream.
I never could have expected the level of positivity and support surrounding my first post and my stream in general. I have been streaming for about 4 years now, it has been a dream of mine for awhile now. This community is unlike anything I have seen and it has given me a glimpse of an actual future where streaming is how I make my living. I couldn't say thank you enough for hitting 500 followers. I'm sorry I have been a little quiet but I have been planning... In honor of this amazing milestone that our community has reached, I have decided it's time to start 2022 and our journey to 1000 Followers with a BANG. My first ever UNCAPPED SUBATHON. Full of Splinterlands, Rising Star, Marbles, Stream Raiders, Skyweaver, and much more...
Let's Make History Together
Splinterlands/Skyweaver Viewer Battles For Prizes
DEC , Cards, Skyweaver Conquest Tickets, etc...
Exclusive Subathon Rewards
Subathon Only Channel Point Rewards (DEC, STARBITS, Cards, etc...)
Exclusive Subathon Commemorative NFT's * limited *
Giveaways throughout the stream!!!
Big Shoutouts
I want to take a moment to give some love to some amazing people in this community. You all continue to inspire me and I can't wait to see where all of our futures take us! (There are so many of you, I'm sorry if I didn't include you.) @drabs587 @gameboyali @clove71 @risingstargame @mhowii @rentaw03 @splinternews @cmmndrbawang @solymi @stickupboys @luthien12 @holoz0r @senseibulrog
This Subathon is UNCAPPED (No limit on time on the clock)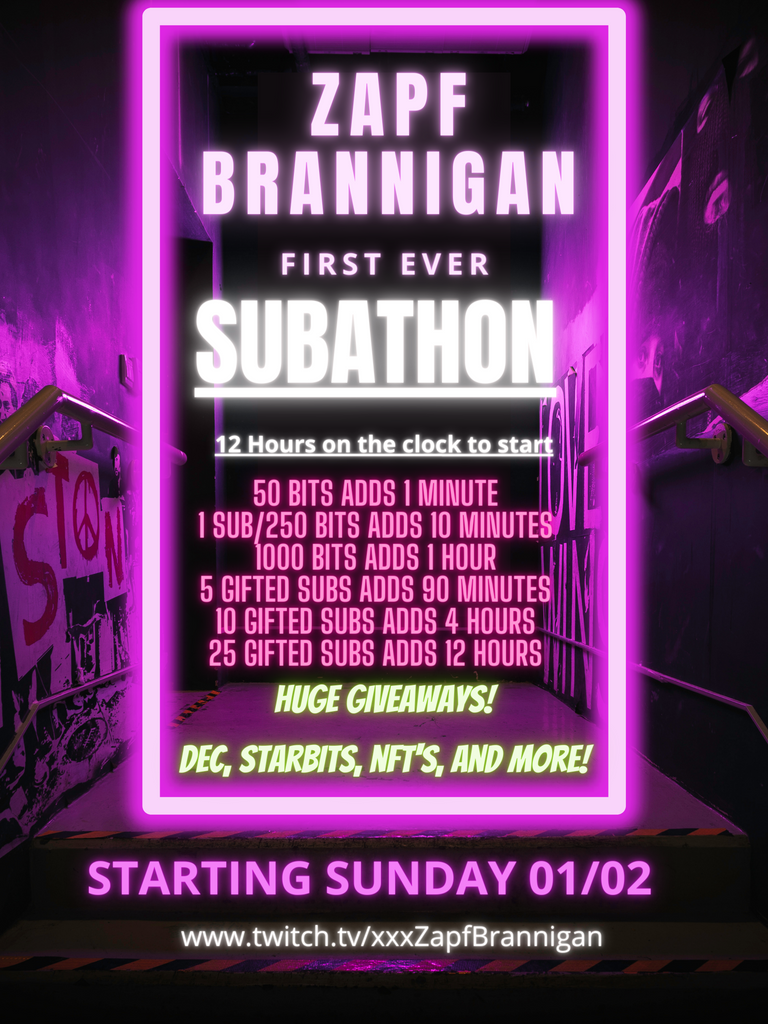 Be Sure to Follow the Stream and tune in for more details as we get closer :)
---
---