Splinterlands | Arrow Shower build in low mana cap match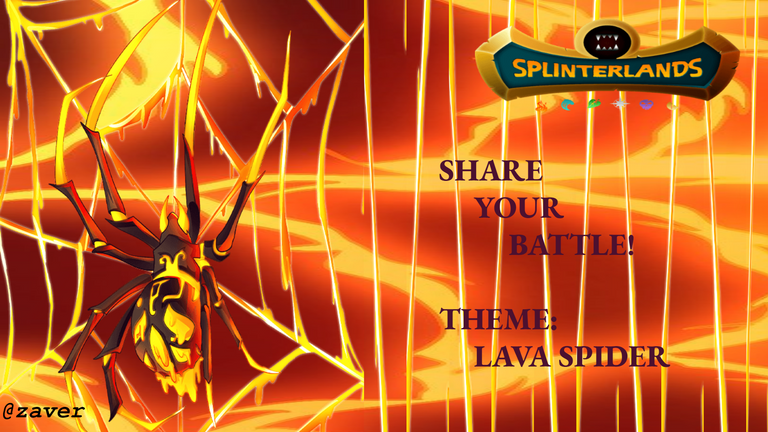 ---
*Wazzup guys, this is @zaver and in this post I will share one of my battle using one of the newest cards from Chaos Legions, the Lava Spider!!!
---
Monster Lore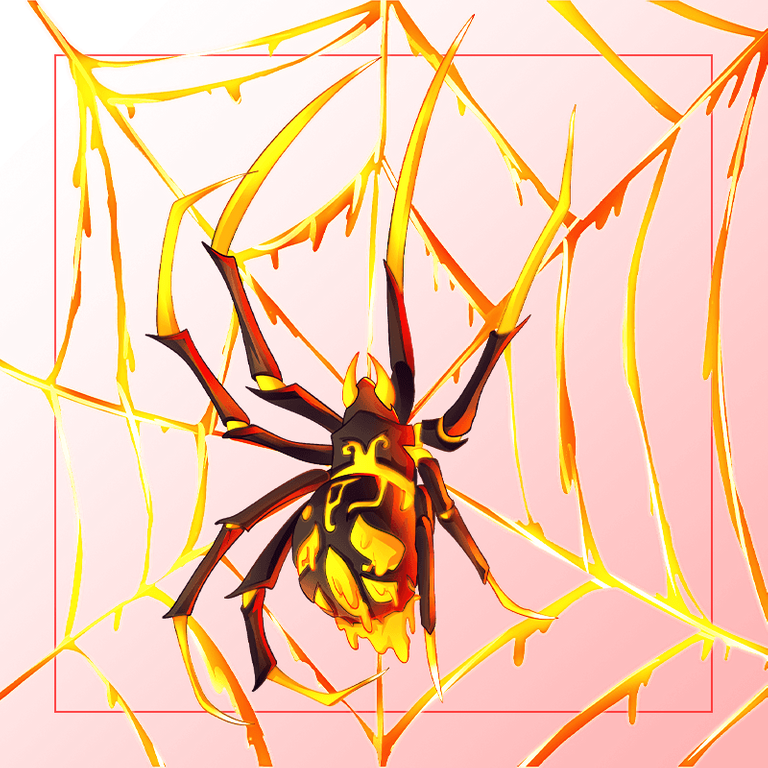 Few explorers dare to go deep within the volcanoes of the world. Tales are told of great spiders that weave threads of fire and trap their enemies in webs of flame. An inescapable and painful death.
When the Chaos Legion entered the Splinterlands through the great volcano in the center of Praetoria, they saw the lava spiders and used them to their advantage. Transporting these spiders into areas that need defense is a win-win for both groups. For the Chaos Legion, it is an easy barrier to ward off unwanted visitors. And for the lava spiders, they get free meals from the curious, the foolish, and the unwary adventurers that seek to strike at the Chaos Legion.
Stats & Abilities per Level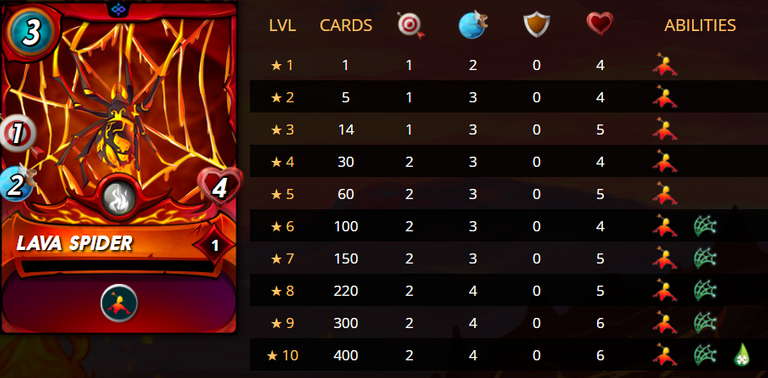 Monster's Abilities:
Snipe : Targets monsters with Ranged, Magic, or No attack that are not in the first postion
Snare : When attacking enemies with flying, remvoes the flying ability and cannot miss
Poison : Attacks have a chance to apply poison, which does automatic damage to the target at the beginning of each round after the poison is applied.

Is LAVA SPIDER good?
LAVA SPIDER is one of the decent 3 mana monsters with ranged attack monsters in Fire splinter. It is a good fit especially for low mana battles. Since it has Snipe, Snare, and Poison, it can easily take down back-line monsters. It may not have a high damage, but the Poison and the Snare debuffs can weaken your opponent drastically.

My Battle with LAVA SPIDER
Link to my battle : https://splinterlands.com?p=battle&id=sl_30111f8736cd1786b30926b7cbd2ee15&ref=zaver
The Ruleset in this match was Reverse Speed and Heavy Hitters. With Reverse Speed, we need to prioritize monsters with the lowest speed since they will have the chance to attack first and has a greater chance to evade attacks. With Heavy Hitters, all monsters gain Knock Out ability. Knock Out ability does double damage when attacking a monster that is stunned. So in order to utilize this one, we need to have monsters that can stun targets. Unfortunately, we don't have monsters with Stun ability so this rule will be useless in this match.
The capacity is only set to 16 mana cap while the allowed splinters were Fire, Water, Earth and Dragon.
In this match, I went for SELENIA SKY as it has only 3 mana requirement, plus it has the +1 damage for ranged attacks. I partnered the Dragon with Fire since I have a good Ranged monsters with high HP and Close Range ability to use as tank (MOLTEN ASH GOLEM).
I placed SCORCH FIEND and FURIOUS CHICKEN as sandbag to take the initial attacks from the opponent's monsters while having MOLTEN ASH GOLEM as my main tank. Then I followed it up with low-mana ranged-attacking monsters like GOBLIN FIREBALLER (with 2 mana cap), LAVA SPIDER with Snipe and 3 mana cap, and then lastly, XENITH ARCHER with 2 mana cap as well.
With just 16 mana cap, I was able to place 6 monsters on the field and 8 damage per round (excluding the melee damage from SCORCH FIEND). This damage is enough to burst and take down SEA MONSTER within 2 rounds. This line-up definitely worked and worth trying.

Join us in playing the best NFT trading card game. Sign up now using my referal and I will definitely assist you on your journey https://splinterlands.com?ref=zaver
---
---