How much did I earn in Splinterlands?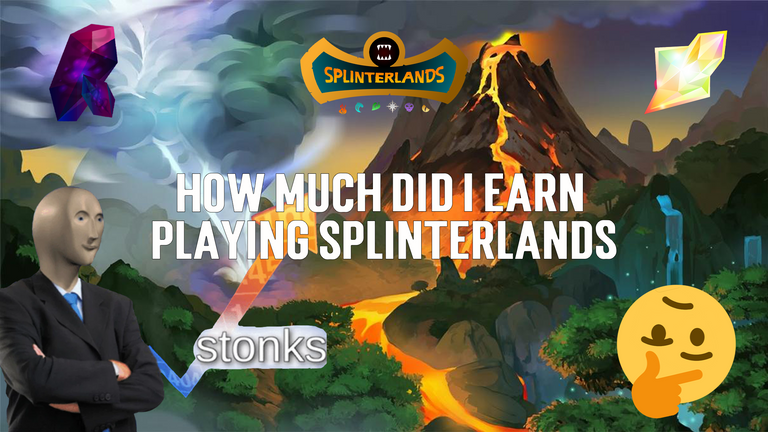 Brief History - How did I find Splinterlands
In August 6 when I was started searching for an NFT Games that I can afford to play. I've snuggled into video of whatoplay wherein they featured 10 NFT Games that are playable right now and there's a game called Splinterlands that really stirred my eye then after seeing what I want to play I started researching for this game and started to look for guides on how can I start. After watching Rozz Charles video I tested out on how the game works. I practice for about 1 day before I bought the Spellbook because I wanted to became familiar to the game first before buying it and I've thought now that that was a bad idea because I lost Energy Capture Rate too much and I have accumulated 500 rating before really jumping into game.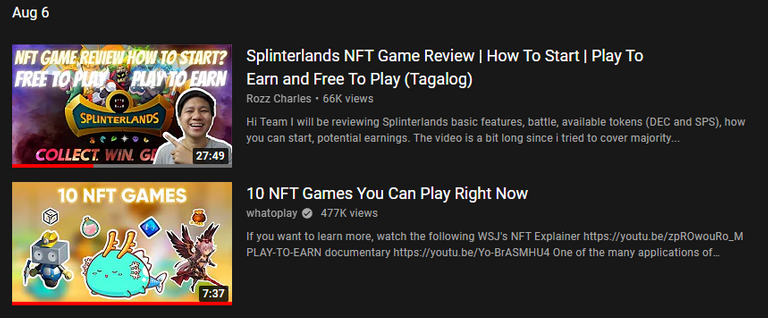 After having a good run to the game I hurried up and tell my friends about this NFT Games but unfortunately only a few of them join me.
Now that it is past 4 months since I played Splinterlands let's see how much did I earn on this game and I'm hoping you may find this helpful and maybe you might think to join the community.
So without further ado let's jump into it!.
Game Assets
DarkEnergyCrystal (DEC)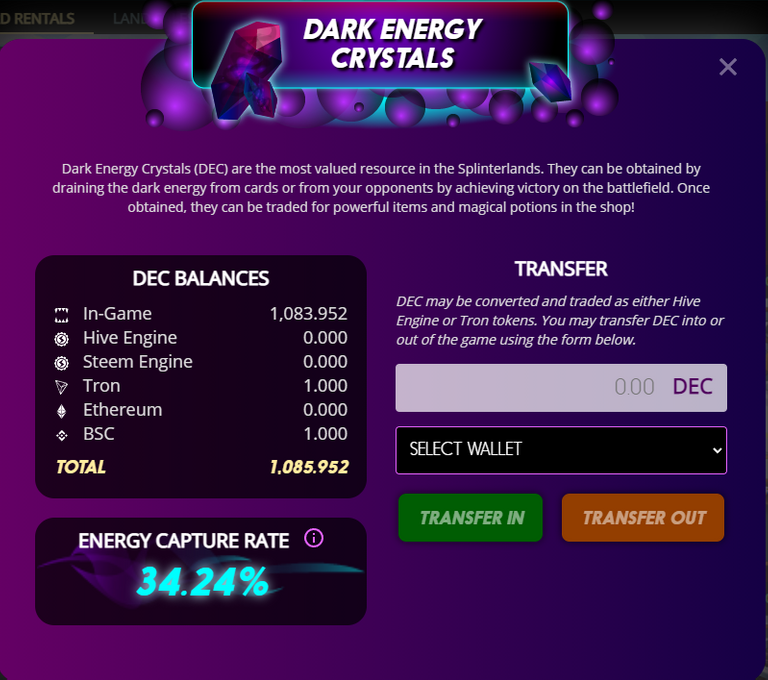 The Dark Energy Crystal is the main in-game currency of Splinterlands, you can use it to pay when you buy or rent a card. You can earn it by winning a ranked battles or tournaments (but only when you've bought the Spellbook). At my current league (Silver) the average DEC I earn per win is 20 DEC (or 0.29usd/14php as of writing). Right now I have 1085.952 DEC (or 15.90usd/805.67php as of writing).

---
SPLINTERSHARDS (SPS)

On to this date I have 152 SPS or approximately 121.32USD this is good amount for me because I only invest for Spellbook and 10 Quest Potion (Quest Potion/750 DEC right now but I bought some when it is only cost 0.75USD/QUEST POTION.
Splintershards is the official governance token of Splinterlands. For further information please read Splintershards Whitepaper.
Splintershards (SPS) is a new cryptocurrency governance token which will be integrated into the Splinterlands game in order to provide increasing levels of decision-making ability and control over the product to the player-base, asset owners, and other stakeholders.
SPS AIRDROP
I got this Splintershards on airdrop by holding Splinterlands game assets. This is the table of in-game assets that you can hold in order to participate the airdrop: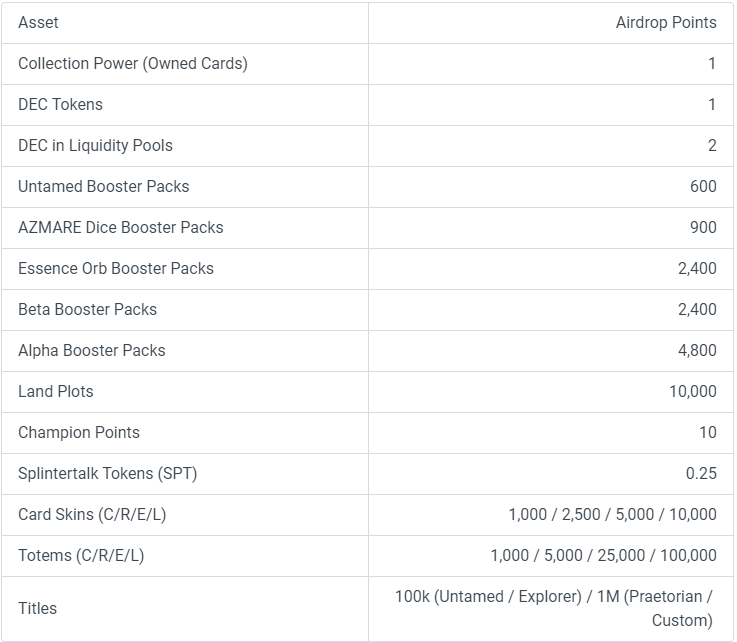 SPS STAKING
I also gain some of this SPS by staking it to the game right now I have 64% APR.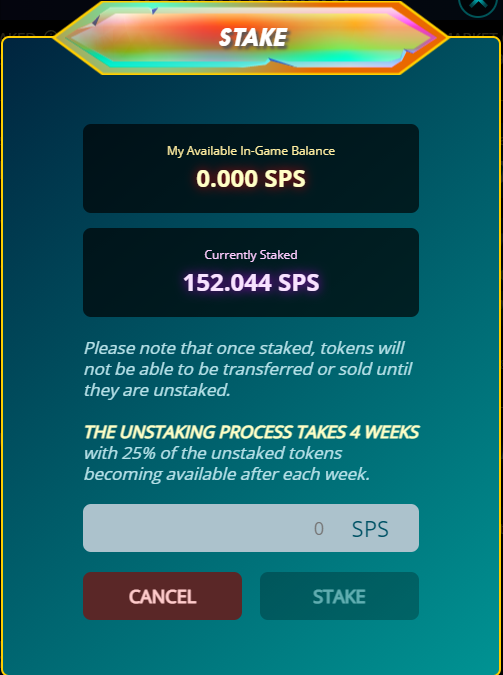 ---
SPT
SPT is another governance token of Splinterlands where you get when you post in Splintertalk. You'll have it when someone voted for your post and the payouts are sent for 7days (per post/blog). At this moment I have 1884 SPT or approximately 18USD. You can also earn SPT passively when you delegate it to @monster-curator.

---
BONUS
ONEUP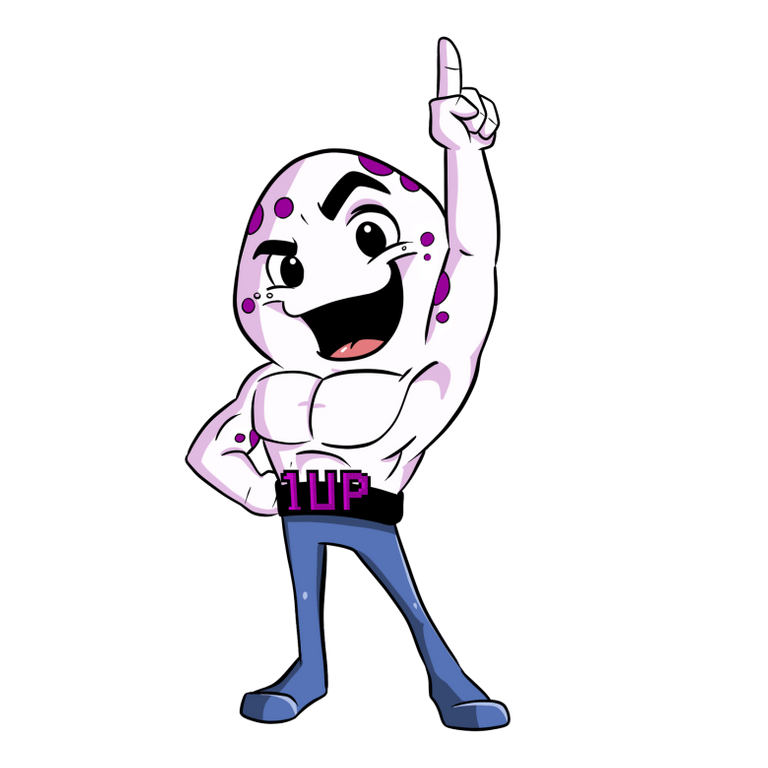 1up token is same as SPT I add it here because I gain it by posting Splinterlands content but 1up token is generally made for Gaming Content so if you want to blog your gaming activity make sure to add up #oneup to your post.

Right now all of my
#oneup
are in the liquidity.
---
CARDS
You'll get reward cards when you open daily quest chest or season chest. The number of cards I have right now is 69 overall - Common 40, Rare 20, Epic, Legendary 0. I also bought some cards at the market the currency I use for buying is DEC. Right now the approximate value of my collection is 260.71USD.
---
SUMMARY OF EARNINGS
| TOKEN | DEC | SPS | SPT | ONEUP | CARDS |
| --- | --- | --- | --- | --- | --- |
| USD | 15.90 | 121.32 | 18.01 | 14.73 | 260.71 |
| - | - | - | - | - | TOTAL: 462.35 |
---
CONCLUSION
Overall I did earn a lot by a 10USD game and not mentioning Splinterlands is a fun game. I'm hyped with this upcoming pre-sale event so if you want to participate try the game right now I bet you'll enjoy it.
---
REFERRAL PROGRAM
Splinterlands
If you want to try this wonderful game you can use my link and if you bought a Spellbook I'm giving
you 100 DEC nice trade right?.
My Splinterlands Link
Rising Star Game
If you love music you might want to try this cool game Rising Star Game. If you use my link and finish 100 mission I'll give you 1000 startbits.
My Rising Star Game Link
dCrops
A farming simulator that is #play2earn. This game brings back the old farming simulator experience. I really love the aesthetic of this game. If you want to join the DCrops community make sure to use my link and if you bought packs I'll give you a random seed.
My dCrops Link

---
---