Weekly Challenge: Elven Cutthroat | KAWAI KILLER ELF!!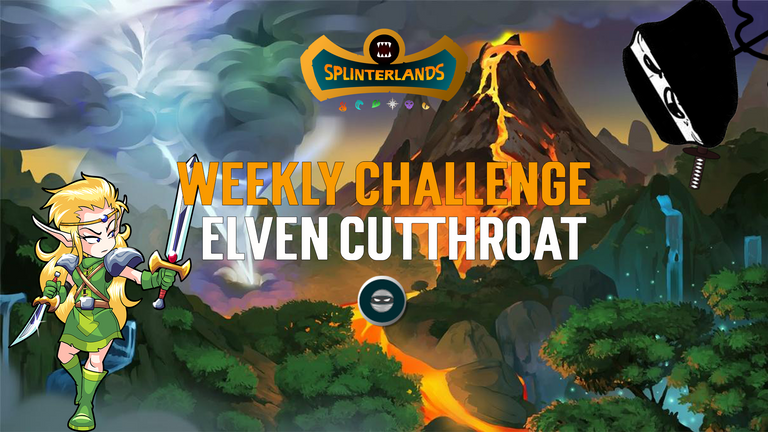 Its been awhile since my last post, I've been kinda busy learning new things and while I'm away I've missed a lot of things. Now that I have time I'll be active again try to cover up things. This weekly challenge is easy for me because I often use Sneaky cards with Life Elements. Life cards melee are mostly monsters that have Sneak and Opportunity that's why I want to use Life Elements a lot and I think Elven Cutthroat is a good addition to this lineup and it would be easy for her to have good damage and not dying first because I'll use Shieldbearer as my tank. Didn't I tell on my post that my favorite element is life but forget about it now because we will feature this wonderful neutral card.
Without further ado let's jump into it.


THEME
| Edition | Rarity | Element | Attack Type | Ability |
| --- | --- | --- | --- | --- |
| Beta | Common | Neutral | Melee | Sneak |
BATTLE CONDITION

Mana: 46
Rules: Noxious Fumes & Lost Magic
Elements can be use: Earth & Life
BATTLE STRATEGY
In this battle I'm planning not to care about the poison because I don't have much rented cards that can counter this set of rules and with that strategy I need to burst out my opponent assuming that he will deploy some cards that have Scavenger and Healing Abilities. The plan is to end this battle in just round 3 or 4 because when you don't depend on Heal, Scavenger, Immunity, & Cleanse this would be hard match and poison will just cost you this kind of rule. I'll be choosing Shieldbearer so that my low health monsters would not be burst with opponents monsters and they would last for round 3.

THE BATTLE
BATTLE FORMATION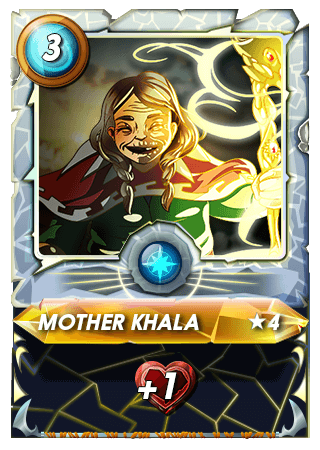 SUMMONER
Mother Khala - I always rent Level 4 Mother Khala because she is the most cheap summoner to rent in Life Elements on Silver League. In this past season its hard to get profit or even just to get back your rental fees that's why I'm picking most of my rental cards with minimum fees in the market. I often rent her not because she's cheap but also because I have a high percentage of winning when I'm picking this summoner at Silver League.
---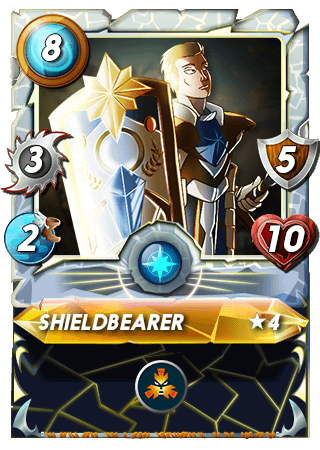 1ST POSITION
Shieldbearer - I got this on the market for 20 DEC/DAY and I think that's a steal price and I'm happy I got him cheap because this monster is so op in my opinion. Just look at his stats with 3 damage, 5 armor, and 10 health he ain't only a tank he can also deal massive damage. Also picking him is one of the plan because we have Sneaky Cards and they don't have that much of health, so Sneaky Cards would have so much time to deal a ton of damage at opponents backline monsters.
---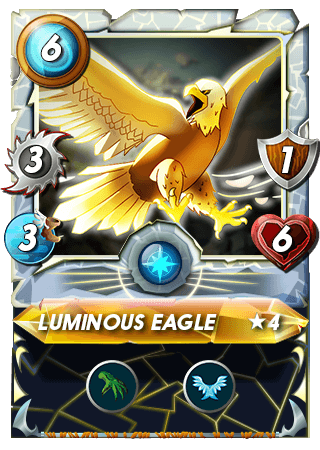 2ND POSITION
Luminous Eagle - This card is underrated. I think he is the best 2nd tank out there with 3 damage, 3 speed, 1 armor, & 6 health, he may not have a lot of health but he can burst out opponents quick and also you most likely to have good chance of winning when opponents pick melee without flying ability.
---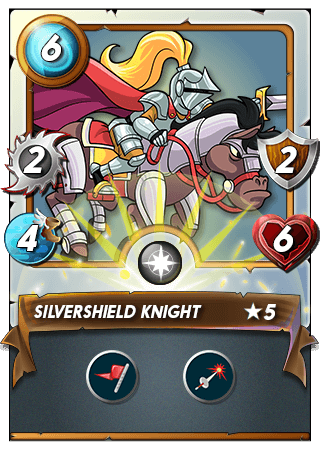 3RD POSITION
Silvershield Knight - You may think putting Silvershield Knight at 3rd position without rule advantage is just wasting some spaces from my lineup but he's a good backup tank and with the Inspire Ability he is a good buff monsters, that is why I don't use him as a main tank because he will just die fast and you will just waste his +1 melee buff.
---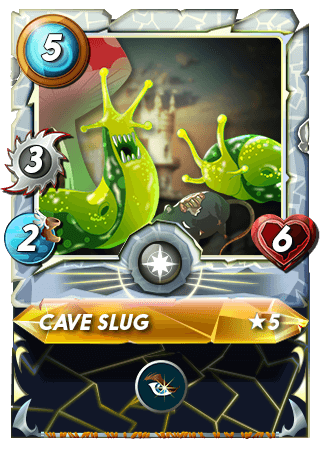 4TH POSITION
Cave Slug - This monster would be dangerous if he stays for a long time in a battlefield because he got the Ability to burst down the lowest health at your team if you don't have monster that have Taunt Ability. I use this card a lot because even with low level this card have 2 damage at level 1 with opportunity ability. The only problem with this monster is his speed you will see him miss a lot when your opponents monsters high speed cards or ability that makes your monster have a high evasion.
---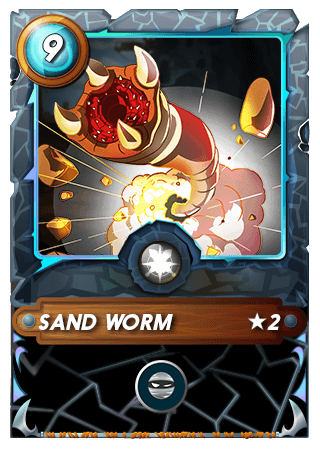 5TH POSITION
Sand Worm - Sand Worm tend to have a monstrous damage. On level 1 he already have 5 damage but same case with Cave Slug he is also a slow monsters that's why you will see him miss when you use him (depends on your luck or the battle condition have reverse speed rule set). I only have level 2 of Sand Worm maybe if I got level 5 this would be a easy game.
---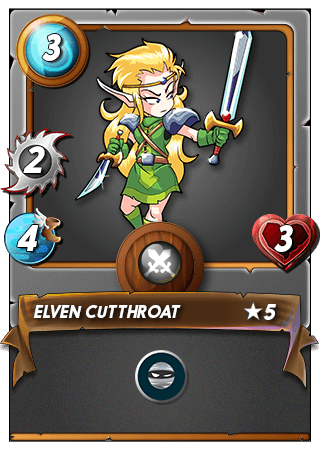 6TH POSITION
Eleven Cutthroat - Our weekly challenge monster is this cute little elf. In spite of her low health (that's why I choose Shieldbearer to not her die easily) she got a high speed stats and got a decent amount of damage. This card is only cheap to rent yet so useful because she only spends 3 of your mana and you'll get yourself a good Sneaky Cards that can easily burst out backline enemies. She is perfect to this lineup because my picks are most likely have abilities that can attack opponents backline monsters. I recommend her if you like lineup that is pure melee and have Inspire Ability.

REFERRAL PROGRAM
Splinterlands
If you want to try this wonderful game you can use my link and if you bought a Spellbook I'm giving
you 100 DEC nice trade right?.
My Splinterlands Link
Rising Star Game
If you love music you might want to try this cool game Rising Star Game. If you use my link and finish 100 mission I'll give you 1000 startbits.
My Rising Star Game Link
dCrops
A farming simulator that is #play2earn. This game brings back the old farming simulator experience. I really love the aesthetic of this game. If you want to join the DCrops community make sure to use my link and if you bought packs I'll give you a random seed.
My dCrops Link

THATS ALL WITH THIS WEEK CHALLENGE I HOPE YOU ENJOY!!
Recently, the rental fees are gone higher than expected that is why I'm trying to build my owned cards until 15k power so I won't be needing to rent and still can sit at Silver 3 league. I hope Bronze 3 players will make it until the end season.
Thank you guys for reading see you on my next post!!.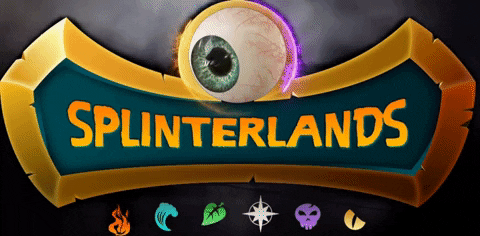 ---
---