Share your Battle Dragons (DE/EN)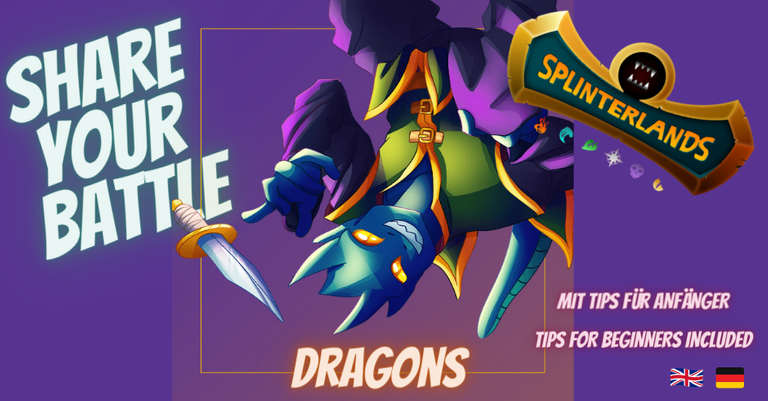 Einleitung
Das dieswöchige Share your Battle steht unter dem hohen Patronat der Drachen 🐉 . Das bedeutet, dass es dieses Mal, zumindest in meinem Post, nicht ausschließlich alles um eine Karte dreht. Das ist eine Herrausforderung. Aber ich bin davon überzeugt diese gemeinsam mit dir bewältigen zu können. Wie immer widme ich den Schluss des Artikels den Splinterlands Neulingen und gebe ihnen, hoffentlich, hilfreiche Tips mit auf den Weg.
Dann wollen wir mal schauen ob Drachen wirklich so furchteinflößend sind.
Introduction
This week's Share your Battle is under the high patronage of the dragons 🐉 . That means that this time, at least in my post, it's not exclusively all about one card. This is a challenge. But I'm convinced I can overcome it together with you. As always, I'll dedicate the end of the article to Splinterlands newbies and hopefully give them some helpful tips along the way.
Let's see if dragons are really that scary.

Keine Stat Card
Da keine spezifische Karte im Vordergrund steht, kann ich dir keine Stat Card anbieten. Was ich jedoch kann ist, dir die breite Palette der Drachen aufzeigen. Während die Elemente Feuer auf Nahkampf und Leben auf Fernkampfschaden ausgerichtet sind, sind die Drachen wahre Allrounder. Dies zeigt sich bereits bei der Auswahl der Summoner. Nahkampfschaden, Fernkampfschaden, Magieschaden. Buffs, Debuffs. Es ist von allem was dabei. Und genau das macht sie so flexibel einsetzbar.
Bei den Monstern zeichnet sich ein ähnliches Bild. Während die Summoner Punkto Manakosten noch relativ günstig sind, sind die Monster deutlich teurer, was ihren Einsatz wiederum einschränkt.
(Sorry für die Bilder, aber leider bin ich, wie du unschwer erkennen kannst, was Drachen angeht, sehr sehr schlecht aufgestellt.)
No Stat Card
Since there is no specific card in the foreground, I can't offer you a stat card. What I can do, however, is show you the wide range of dragons. While the elements fire are focused on melee and life on ranged damage, the dragons are true all-rounders. This is already evident in the selection of summoners. Melee damage, ranged damage, magic damage. Buffs, debuffs. There is something of everything. And that's what makes them so flexible to use.
With the monsters, the picture is similar. While the Summoners are relatively cheap in terms of mana costs, the monsters are much more expensive, which in turn limits their use.
(Sorry for the pictures, but unfortunately, as you can easily see, I'm in a very bad position as far as Dragons are concerned).



Einsatzmöglichkeiten
Allgemein können Drachen immer dann gespielt werden, wenn das Element "Drachen" zugelassen ist. Durch ihre hohe Flexibilität können sie sich gut auf die unterschiedlichen Rulesets einstellen. Sofern man die nötigen Karten besitzt. Vor allem wie du unten lesen wirst vor allem für Neulinge eine Herausforderung.
Possible uses
In general, dragons can be played whenever the element "dragon" is allowed. Due to their high flexibility, they can adapt well to different rulesets. As long as you have the necessary cards. Especially as you will read below, especially for newcomers a challenge.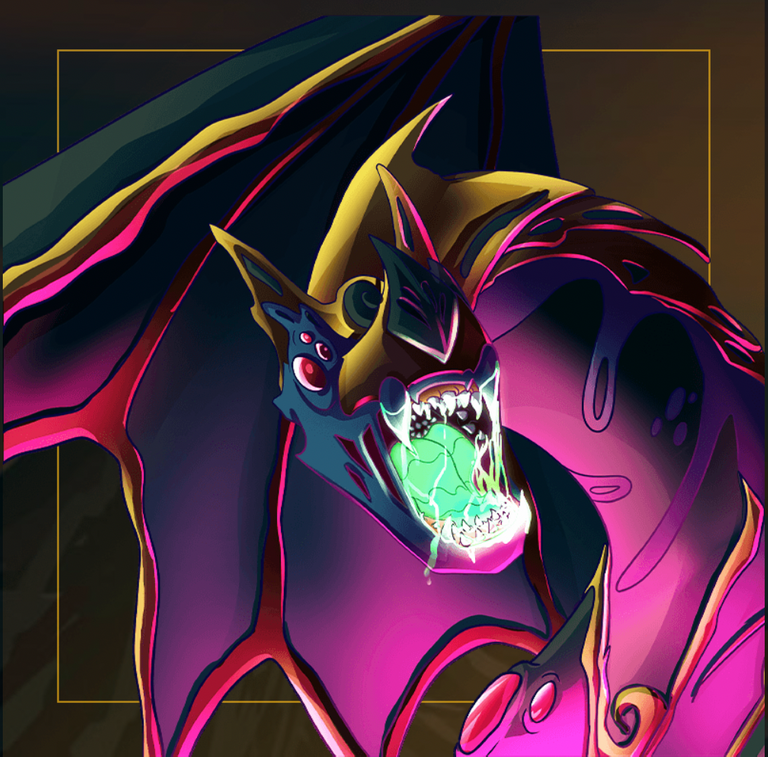 Das heutige Spiel - Ruleset und Manacap
Damit lässt sich arbeiten. Der 54 Manacap gibt genug Spielraum um die etwas teureren Drachen spielen zu können. Nahkämpfer können von jeder Position aus angreifen und mit Blast kombiniert hat das bei mir gleich eine Aufstellung getriggert. Der heilige Schild stört dabei eigentlich gar nicht.
Today's game - ruleset and manacap
Very nice. The 54 mana cap gives enough leeway to play the slightly more expensive dragons. Melee fighters can attack from any position and combined with Blast it triggered a lineup for me right away. The holy shield doesn't really bother at all.


Die Ausstellung
Die Aufstellung war für mich relativ schnell klar. In der Defensive brauchte ich einen Tank mit Taunt, damit sich der Blast Schaden nicht wie wild durch meine Reihen frisst. Deshaln steht Agor Longtail auf der ersten Position. Venator Kinjo hatte die Aufgabe den Blast Schaden zu negieren mit seiner Fähigkeit Reflection Shield. Diese beiden Karten sollten den eingehenden Schaden vom Gegner ein Stück weit kontrollieren. Die Schadensausteiler sollten vom Ruleset Gebrauch machen können. Deshalb waren es allesamt Nahkämpfer und wegen dem Blast Ruleset habe ich mich dafür entschlossen Monster mit der Fähigkeit Doublestrike zu spielen. Zum einem um den heiligen Schild so schnell wie möglich auf 1 oder 2 Monstern zu entfernen und zum andern um vom Bonusschaden durch Blast profitieren zu können. Runic Skyclaw sollte das Setup vervollständigen und potenzielle Sneak Attacken abwehren.
Ein Negativpunkt war, ich werde unten im Punkt für Anfängertips ebenfalls darauf verweisen, dass ich Quix the Devious nur auf Level 1 besitze und deshalb das Potenzial meiner gelevelten Karten nicht vollkommen nutzen konnte.
Soweit der Plan. Ob die Strategie aufging zeige ich dir jetzt.
The Lineup
The lineup was relatively quickly clear to me . Defensively, I needed a tank with Taunt, so that the Blast damage doesn't eat through my ranks like crazy. Therefore Agor Longtail is on the first position. Venator Kinjo had the task to negate the Blast damage with his ability Reflection Shield. These two cards should control the incoming damage from the opponent to some extent. The damage dealers should be able to make use of the ruleset. Therefore they were all melee fighters and because of the Blast Ruleset I decided to play monsters with the ability Doublestrike. On the one hand to remove the holy shield as fast as possible on 1 or 2 monsters and on the other hand to benefit from the bonus damage of Blast. Runic Skyclaw should complete the setup and ward off potential sneak attacks.
One negative, I'll also reference below in the beginner tips point, was that I only own Quix the Devious at level 1 and therefore couldn't fully utilize the potential of my leveled cards.
So much for the plan. If the strategy worked out I'll show you now.
---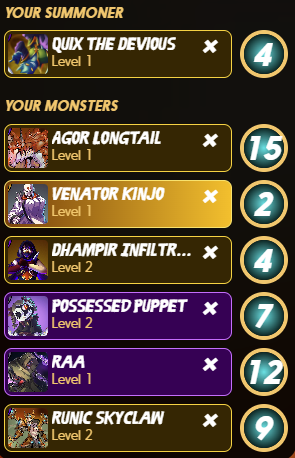 Das Spiel
Schauen wir uns das Spiel doch mal gemeinsam an: https://splinterlands.com?p=battle&id=sl_f4114cd2999564cd6e011ca4b2000a65&ref=zephid83
Die Strategie ging voll auf. Kleiner Bonus meinerseits war, dass der Gegner auf Magie gesetzt hat und sich bei Algor Longtail erst durch seine 6 Schilde kämpfen musste, während in den hinteren Reihen kein Schaden angekommen ist. Pro Zug hatte ich anfangs 4 Attacken mehr als mein Gegner und die Strategie vollkommen vom Blast Schaden zu profitieren hat meiner Meinung nach enormen Schande beim Gegner angerichtet.
The game
Let's take a look at the game together: https://splinterlands.com?p=battle&id=sl_f4114cd2999564cd6e011ca4b2000a65&ref=zephid83
The strategy worked perfectly. A small bonus for me was that my opponent relied on magic and had to fight through his 6 shields with Algor Longtail, while no damage arrived in the back rows. Per turn I initially had 4 attacks more than my opponent and the strategy to benefit completely from the blast damage has in my opinion caused enormous shame to the opponent.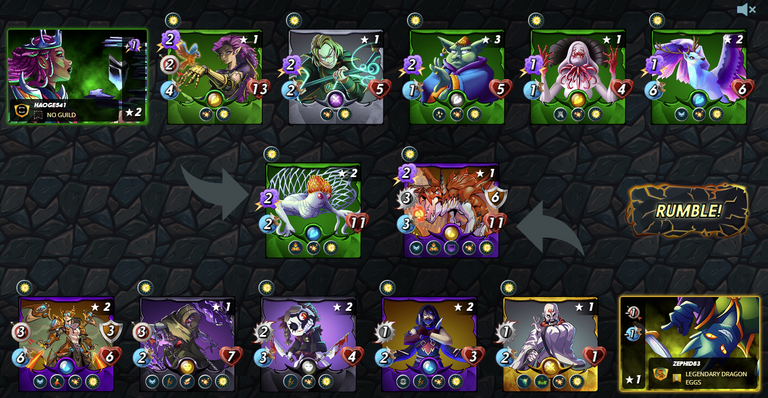 Das Resultat
Ich freue mich, dass die Strategie so gut aufgegangen ist. Ein verdienter Sieg 😉.
The result
I'm pleased that the strategy worked out so well. A deserved victory 😉.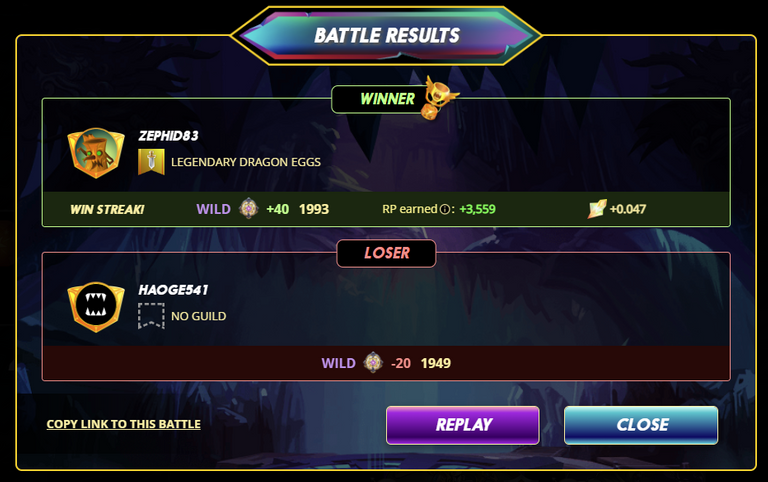 Mein Tip für Splinterlandsneulinge
Drachen bieten die eine enorme Flexibilität. Das wiederum verlangt deinem Deck eine gewisse Breite ab. Das Interessante ist vor allem, ich weiß nicht ob du das weißt, dass Drachen sich immer mit einem anderen Element "verbünden". Mehr Flexibilität und Auswahl geht eigentlich nicht. Das stellt aber vor allem für Neulinge ein Hindernis dar, da man zum einem sehr viele Karten (zum guten kombinieren) braucht und weil viele Drachenkarten, um nicht die Mehrheit zu sagen, punkto Rarität "legendär" sind. Das bedeutet unterm Strich: Sie sind sehr teuer im Vergleich zu anderen Karten.
Mein Tip also für dich als Neuling: Drachen sollten beim Aufbau deiner Sammlung nicht unbedingt Priorität haben. Setz deinen Focus auf die anderen Elemente. Wenn du dich dann an die Drachen machen willst, solltest du schon einen konkreten Plan haben, denn der Preis um die Karten zu maxxen ist nicht zu vernachlässigen.
My tip for Splinterlands newcomers
Dragons offer enormous flexibility. That, in turn, demands a certain breadth from your deck. The interesting thing is, I don't know if you know this, that dragons always "team up" with another element. You can't really get more flexibility and choice than that. But this is an obstacle especially for newcomers, because on the one hand you need a lot of cards (to combine well) and because many dragon cards, not to say the majority, are "legendary" in terms of rarity. The bottom line is that they are very expensive compared to other cards.
So my tip for you as a newbie: Dragons should not be a priority when building your collection. Focus on the other elements. If you want to start with the dragons, you should already have a concrete plan, because the price to max out the cards is not negligible.

Outro
Wie immer, ein fettes Merci für deine Zeit und dein Interesse. Was denkst du über Drachen? Top oder Flop? Wie setzt du sie ein und wie kombinierst du sie? Hast du eine Lieblingsaufstellung welche du immer wieder spielst? Schreib es mir gerne unten in die Kommentare.
Disclaimer
Alle Bilder und Grafiken gehören Splinterlands.
Mein referral Link
Du bist noch nicht bei Splinterlands? Würdest du dem Spiel aber gerne eine Chance geben? Dann würde es mich freuen, wenn du das über meinen Referral Link machen würdest. Dich kostet es nichts und mir hilft es ein bisschen 🙂 https://splinterlands.com?ref=zephid83
Outro
As always, a big Merci for your time and interest. What do you think about Dragons? Yay or Nay? How do you use them and who do you combine them with? Do you have a favorite lineup that you play regurlarly? Feel free to tell me in the comments below.
Disclaimer
All images and graphics belong to Splinterlands.
My referral link
You are not yet on Splinterlands? Would you like to give the game a chance? Then I would be happy if you would do that via my referral link. It costs you nothing and it helps me a little bit 🙂 https://splinterlands.com?ref=zephid83
Thanks deepl.com 🙏

---
---