Share your Batlle Template Magi Necrosi (DE/ENG)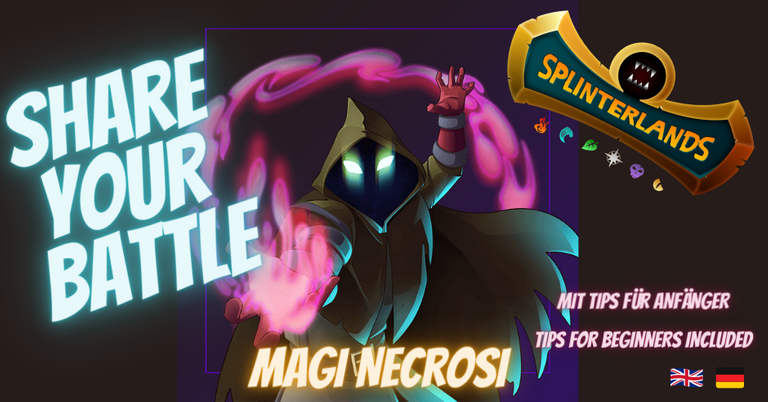 Einleitung
Im dieswöchigen Share your Battle steht der kleine Magi Necrosi im Mittelpunkt. Sein Name klingt schon fast süß, ist aber ein wahrer Killer. Kucken wir mal gemeinsam hin. Meine Meinung ist sehr in zwei geteilt. Heute erkläre ich dir wieso und wie sonst auch gibt es dann am Ende die Tips für Anfänger.
Introduction
In this week's Share your Battle, the little Magi Necrosi takes center stage. His name sounds almost cute, but it's a real killer. Let's take a look together. My opinion is very divided into two. Today I'll explain why, and as usual, there are tips for beginners at the end.

Die Stat Card
Magi Necrosi ist eine Karte des Elementes "Tod" und epischer Rarität aus dem Chaos Legion Set. Mit 6 Manakosten kommt er auf Level 1 mit 2 Maigeschaden, 4 Schnelligkeit und 4 Leben daher. Gleich zu Beginn mit 2 Fähigkeiten, Snipe und Camouflage . Ich spiele ihn aktuell auf Level 3. Also mit 3 Schaden und 5 Leben. Er schien mir immer sehr fragil. Schlecht eingesetzt ist er das auch! Und, glaube mir, das habe ich oft. Über die Zeit aber habe ich gelernt den Magi Necrosi einzusetzen. Hauptsächlich weil der Gegner ihn gut aufgestellt hat. Wichtigste Attribute der Karte sind (auf Level 3) seine 3 Schaden und die Snipe Fähigkeit. Er ist kein Damagedealer, sondern eine hervorragende Unterstützung, wenn du ihn so einsetzt, dann denke ich leistet er dir gute Dienste! Ich habe die Karte ehrlich gesagt sehr unterschätzt. Jetzt spiele ich sie wo ich kann.
The Stat Card
Magi Necrosi is a card of the element "Death" and epic rarity from the Chaos Legion set. With a 6 mana cost, it comes in at Level 1 with 2 May damage, 4 Speed, and 4 Life. Right out of the gate with 2 abilities, Snipe and Camouflage . I currently play him at level 3. So with 3 damage and 5 life. He always seemed very fragile to me. Used poorly, he is! And, believe me, I often have. But over time I have learned to use the Magi Necrosi. Mainly because the opponent set him up well. Most important attributes of the card are (at level 3) its 3 damage and snipe ability. He's not a damage dealer, but an excellent support, so if you use him like that, I think he'll serve you well! I honestly underestimated this card a lot. Now I play it where I can.


Einsatzmöglichkeiten
Magi Necrosi kann in fast jedem Spiel eingesetzt werden. Es sei denn es gibt Kriterien, welche die Karte ausschließen, wie zum Beispiel Lost Magic, ist klar. Ich sehe auf Anhieb kein Ruleset in welchem er jetzt mehr glänzen würde als in einem anderen. Da er mit seinen 6 Manakosten doch relativ teuer ist, denke ich, dass et in niedrigen Manapools eher selten gespielt wird. Ach ja, sobald Manareflect gespielt wird, würde ich ihn nicht empfehlen, da er mit 4 Leben sich sehr schnell selbst aus dem Spiel schießt.
Possible uses
Magi Necrosi can be used in almost any game. Unless there are criteria that exclude the card, such as Lost Magic, of course. Off the top of my head, I don't see a ruleset in which it would shine more now than in another. Since it is relatively expensive with its 6 mana cost, I think it will be played rather rarely in low mana pools. Oh yeah, as soon as Manareflect is played (as a ruleset or when facing monsters with the ability), I wouldn't recommend it, since it shoots itself out of the game very quickly with 4 life.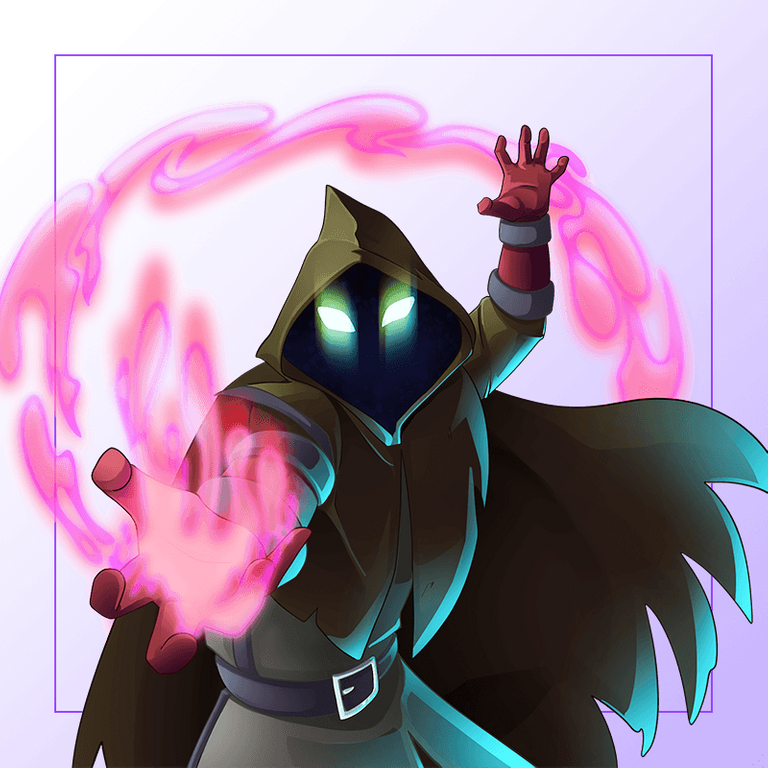 Das heutige Spiel - Ruleset und Manacap
Gleich beim ersten Spiel kann ich den Magi Necrosi spielen! Jawohl! Nicht die idealen Rulesets um zu zeigen wass er kann aber was solls. Even Stevens lässt micht den Magi Necrosi spielen. Ein bisschen Schade aber ist das Back to Basics Ruleset, welche ihm die Fähigkeiten Snipe und Camouflage wegnehmen. Aber da der Gegner ebenfalls mit Monstern ohne Fähigkeiten spielen muss, denke ich, dass der Magi Necrosi mit seinen 3 Magieschaden was zum Sieg beisteuern kann.
Today's game - ruleset and manacap
Right from the first game I can play the Magi Necrosi! Yes! Not the ideal ruleset to show what he can do, but what the heck. Steven Stevens lets me play the Magi Necrosi. A bit of a shame though is the Back to Basics ruleset, which takes away his Snipe and Camouflage abilities. But since the opponent also has to play with monsters without abilities, I think the Magi Necrosi with its 3 magic damage can contribute to the victory.


Die Ausstellung
Ziel war es eine Mischung zwischen Schadensoutput und einer breiten Aufstellung hinzubekommen. Also einen guten Mix zwischen teureren und billigeren Monstern. Hinzu wollte ich den Magi Necrosi noch gut schützen, damit er so viel Schaden wie nur möglich anrichtet. Hier die Auflistung der Aufstellung:
Cursed Windeku
Corpse Fiend
Magi Necrosi
Xenith Archer
Venari Bonesmith
Weirding Warrior

Mit 11 Leben sollte Cursed Windeku lange genug standhalten, damit die hinteren Reihen Schaden austeilen können. Der Corpse Fiend Dient als zweiter Tank und sollte schlichtweg eine Attacke abwehren. Die letzten 4 Positionen sind die Schadensausteiler, meine Mischung aus Fernkampf und Magie um so flexibel wie möglich zu sein auf das was der Gegner mir entgegensetzt. Zugleich wollte ich das zur Verfügung gestellte Mana so gut wie möglich nutzen.
The Lineup
The goal was to get a mix between damage output and a broad lineup. So a good mix between more expensive and cheaper monsters. Additionally I wanted to protect the Magi Necrosi well, so that it does as much damage as possible. Here is the listing of the lineup:
Cursed Windeku
Corpse Fiend
Magi Necrosi
Xenith Archer
Venari Bonesmith
Weirding Warrior

With 11 life, Cursed Windeku should last long enough for the back row to deal damage. The Corpse Fiend Serves as a second tank and should simply deflect an attack. The last 4 positions are the damage dealers, my mix of ranged and magic to be as flexible as possible on what the opponent throws at me. At the same time, I wanted to use the available mana as much as possible.

Das Spiel
Schauen wir uns das Spiel doch mal gemeinsam an: https://splinterlands.com?p=battle&id=sl_1a1aaa7fe199567ec909a3449b9aacb8&ref=zephid83
Der Gegnger scheint eine ähnliche Aufstellung ausgewählt zu haben. Tusk mit hohem Leben als Tank und dahinter die Schadensausteiler. kleinere Monster und Größere. Bereits in der ersten Runde konnte man erkennen wie viel Schaden ausgeteilt werden konnte, da die Tanks mit doch hohem Lebensanteil schon fast gestorben sind.
Da die Monster keine Fähigkeiten haben, verlief das Spiel relativ unspektakulär ab. Das Monster in der ersten Reihe bekam jeweils den gesamten Schaden ab, bis dann das letzte Monster fiel.
The game
Let's take a look at the game together: https://splinterlands.com?p=battle&id=sl_1a1aaa7fe199567ec909a3449b9aacb8&ref=zephid83
The opponent seems to have chosen a similar lineup. Tusk with high life as a tank and behind it the damage distributors. smaller monsters and bigger ones. Already in the first round you could see how much damage could be dealt out, because the tanks with high life after all almost died.
Since the monsters have no abilities, the game went relatively unspectacular. The monster in the first row got all the damage until the last monster fell.

Das Resultat
Sieg! Super!
Ich glaube was den Unterschied gemacht hat war, dass ich, wie oben bereits angesprochen mit zusätzlichem Magieschaden breiter aufgestellt war. Sein Nachteil war klar, dass seine Monster in der ersten Reihe oft keinen Schaden ausgeteilt haben. Mein Magi Necrosi hingegen konnte auch in der ersten Reihe noch zusätzlich 3 Schaden austeilen, was in diesem Spiel sehr wichtig war.
The result
Victory! Great!
I think what made the difference was that, as mentioned above, I was more broadly positioned with additional magic damage. His disadvantage was clearly that his monsters often didn't deal damage in the first row. My Magi Necrosi, on the other hand, could deal an additional 3 damage even in the first row, which was very important in this game.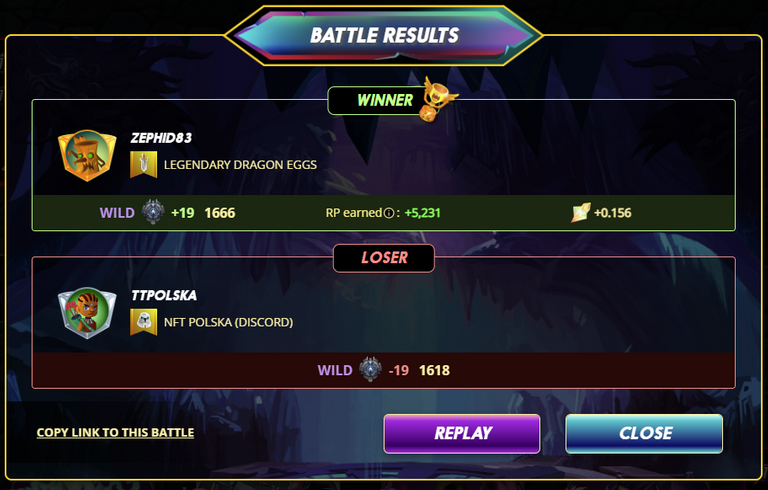 Mein Tip für Splinterlandsneulinge
Magi Necrosi ist eine super Karte. Wenn du sie spielen willst rate ich dir folgende Dinge:
Betrachte sie als Supportkarte und setze sie dementsprechend ein.
Sorge dafür, dass er lange Schaden austeilen kann. Tanks mit hoher Überlebensfähigkeit helfen dabei ungemein.
Snipe ist mächig!
Jedoch in nur höheren Manapools wegen den hohen Kosten.
Wie gesagt, ich habe etwas gebraucht um die Einsatzmöglichkeiten vom Magi Necrosi zu verstehen. Jetzt macht es aber immer wieder Spaß ihn einsetzen zu können. 💫
My tip for Splinterlands newcomers
Magi Necrosi is a great card. If you want to play it, I advise you to do the following things:
Consider it a support card and use it accordingly.
Make sure it can deal damage for a long time. Tanks with high survivability help immensely.
Snipe is powerful!
However, only in higher mana pools because of the high cost.
As I said, it took me a while to understand the uses of Magi Necrosi. But now it is always fun to be able to use him. 💫.

Outro
Wie immer, ein fettes Merci für deine Zeit und dein Interesse. Was denkst du über Magi Necrosi? Top oder Flop? Wie setzt du ihn ein und wie kombinierst du ihn? Mich interessiert das brennend. Schreib es mir gerne unten in die Kommentare.
Disclaimer
Alle Bilder und Grafiken gehören Splinterlands.
Mein referral Link
Du bist noch nicht bei Splinterlands? Würdest du dem Spiel aber gerne eine Chance geben? Dann würde es mich freuen, wenn du das über meinen Referral Link machen würdest. Dich kostet es nichts und mir hilft es ein bisschen 🙂 https://splinterlands.com?ref=zephid83
Outro
As always, a big Merci for your time and interest. What do you think about Magi Necrosi? Yay or Nay? How do you use him and who do you combine him with? I'm very interested in this. Feel free to tell me in the comments below.
Disclaimer
All images and graphics belong to Splinterlands.
My referral link
You are not yet on Splinterlands? Would you like to give the game a chance? Then I would be happy if you would do that via my referral link. It costs you nothing and it helps me a little bit 🙂 https://splinterlands.com?ref=zephid83
Thanks deepl.com 🙏

---
---