(Eng/Esp)Una carta que no puede faltar en tu colección de Splinterlands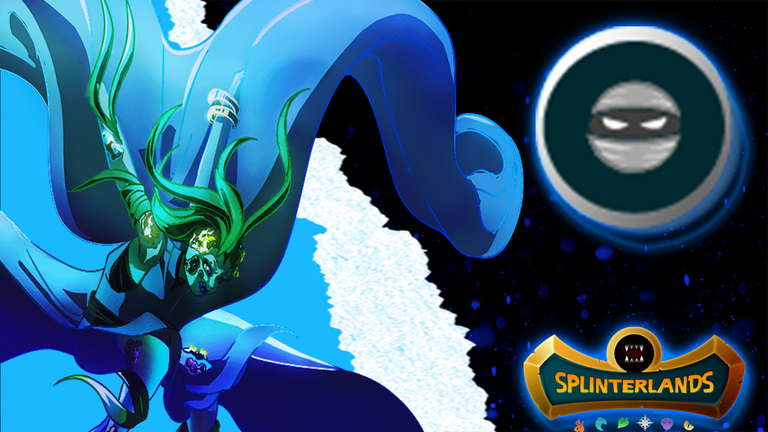 ---
#Splinterlands tiene una gran variedad de cartas y habilidades, pero a veces no conocemos muchas cartas que son de gran importancia.
Por eso hoy quiero hablar de una carta del elemento agua que me ha encantado, y es que su habilidad es muy buena y combinada con el invocador adecuado, se hace mucho más poderosa.
#Splinterlands has a great variety of cards and abilities, but sometimes we don't know many cards that are of great importance.

That's why today I want to talk about a card of the water element that I loved, and is that its ability is very good and combined with the right summoner becomes much more powerful.
---

CORAL WRAITH es la carta de la cual te hablaré hoy, y esta es una carta de elemento agua, su rareza es EPICA, y el gasto de maná es de solo 4 y este es uno de sus puntos a favor.
Pero si te fijas en su vida es una cantidad muy baja, pero de verdad creo que está muy bien comparado con su gasto de maná, pero el poder de ataque mágico que tiene es muy bueno.
Lo que la hace especial para mí y el motivo por el cual la uso mucho en mis batallas es su habilidad Sneak, esta habilidad hace que sus ataques mágicos se dirijan a la última carta de mi oponente y así iré debilitando su formación en forma reversa.
CORAL WRAITH is the card I will talk about today, and this is a water element card, its rarity is EPIC, and the mana expenditure is only 4 and this is one of its plus points.

But if you look at its life it is a very low amount, but I really think it is very good compared to its mana expenditure, but the magic attack power it has is very good.

What makes her special for me and the reason why I use her a lot in my battles is her Sneak ability, this ability makes her magic attacks go to the last card of my opponent and thus I will weaken her formation in reverse.
---
---
El valor de esta carta en el mercado ronda los 3$ en su nivel uno, y creo que es un buen precio, ya que al tenerla se que te ayudara mucho en las batallas, aún más si eres como yo que le encanta jugar con las cartas de este elemento.
Claro que en su nivel 4 adquiere también la habilidad Rust la cual reduce la armadura de tu enemigo, y esto también es un punto a favor para ti.
The value of this card in the market is around 3$ in its level one, and I think it is a good price, since having it will help you a lot in battles, even more if you are like me who loves to play with the cards of this element.

Of course, at its level 4 it also acquires the Rust ability which reduces the armor of your enemy, and this is also a plus for you.
---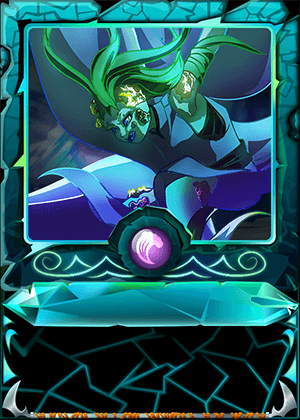 Si hablamos de su diseño, también diría que es un diseño muy peculiar, aunque no es tan de mi gusto, creo que igual es lindo.
Pero aun asi la carta esta entre mis favoritas, pues su diseño para mi no es el mejor, pero su poder es lo máximo.
If we talk about its design, I would also say that it is a very peculiar design, although it is not so much to my taste, I think it is still nice.

But still the card is among my favorites, because its design for me is not the best, but its power is the best.
---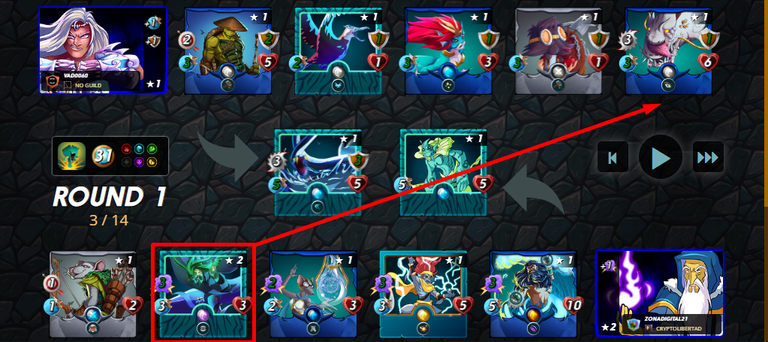 https://splinterlands.com?p=battle&id=sl_45eec5c0184b2da0a96458f0bbe2ee52&ref=zonadigital21
---
Para poner a prueba esta carta les comparto esta batalla usando la carta en su nivel 2.
En la imagen de arriba pueden ver que he marcado con una flecha que mi carta estará haciendo ataques a la última posición de mi rival.
En esta ocasión la carta que estoy usando tiene un poder de ataque mágico de +3 y esto se debe al uso de un invocador que le da ese aumento de +1 de ataque mágico a todas mis cartas, recuerda que puedes entrar al link de forma directa para ver la batalla con más detalles.
To test this card I share with you this battle using the card in its level 2.

In the image above you can see that I have marked with an arrow that my card will be making attacks to the last position of my opponent.

This time the card I am using has a magic attack power of +3 and this is due to the use of a summoner that gives that +1 increase of magic attack to all my cards, remember that you can enter the link directly to see the battle with more details.
---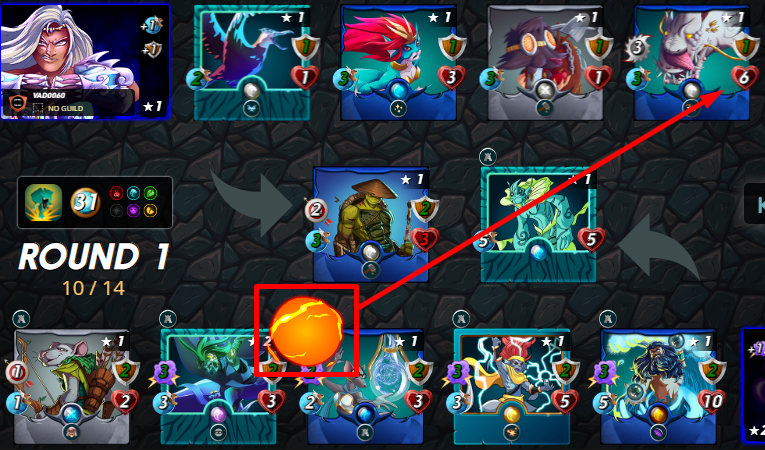 ---
Los ataques mágicos están caracterizados por ignorar completamente la armadura de mi oponente.
Y aunque el rival esta usando un invocador que le otorga armadura, con esta carta la armadura no será un problema.
Acá como puedes ver su primer ataque estará afectando su vida de forma directa.
Y lo bueno de esto es que al estar atacando a las cartas de la última línea, mi rival estará quedando sin una buena defensa, yeso me facilitara la victoria.
Magic attacks are characterized by completely ignoring my opponent's armor.

And although the opponent is using a summoner that gives him armor, with this card armor will not be a problem.

Here as you can see his first attack will be affecting his life directly.

And the good thing about this is that by attacking the cards of the last line, my opponent will be without a good defense, and that will make it easier for me to win.
---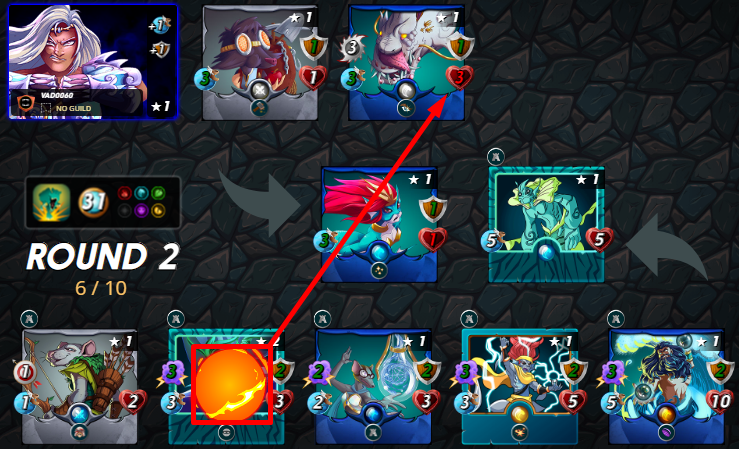 ---
La carta que estaba en la última línea de mi oponente es una buena carta, al tener la habilidad de oportunista estará haciendo daño a mis cartas con menor cantidad de vida, así que esa era una carta potencialmente peligrosa.
Pero gracias a la carta de la cual les hablo hoy la logre derribar en solo dos rondas de ataques.
La victoria fue totalmente mía y lo mejor de todo sin una sola carta pérdida en combate, así que fue muy satisfactoria, sería genial que veas la batalla con más detalles en el link compartido anteriormente.
Un saludo para todos y deja un comentario si te ha gustado conocer esta carta.....
The card that was in the last line of my opponent is a good card, having the ability of opportunist will be doing damage to my cards with less life, so that was a potentially dangerous card.

But thanks to the card I'm talking about today I managed to take it down in only two rounds of attacks.

The victory was totally mine and best of all without a single card lost in combat, so it was very satisfying, it would be great if you see the battle with more details in the link shared above.

Greetings to all and leave a comment if you liked to know this card.....
---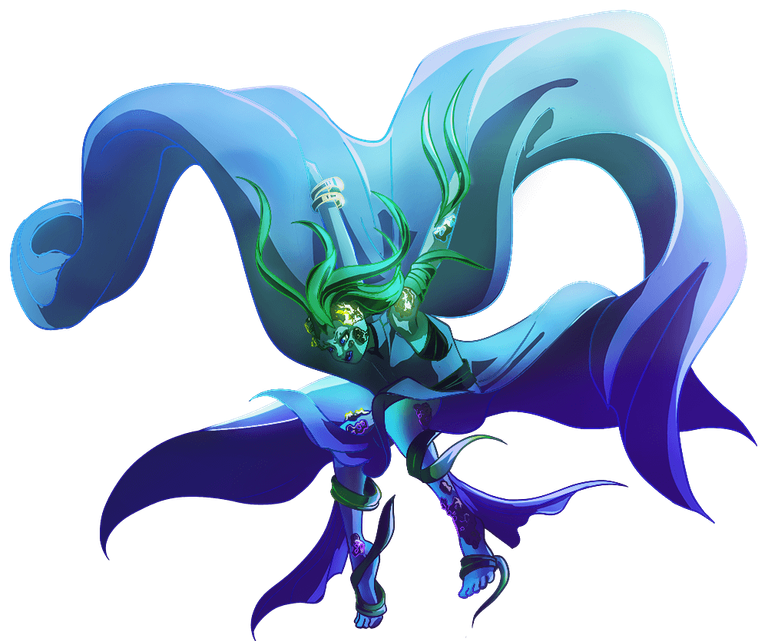 ---

---
---