No melee attack allowed (My battle method)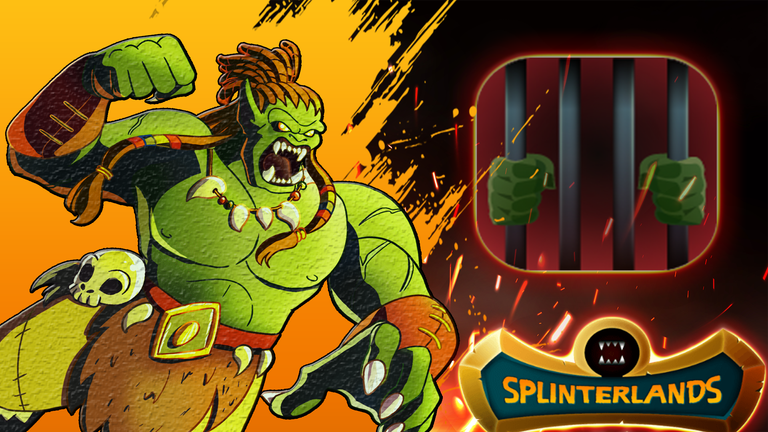 ---
Me encantas la batallas con cartas sin ataque cuerpo a cuerpo, ya que si usamos bien este tipo de reglas a nuestro favor podemos tener el control total de la partida.
Aunque un error de nuestra parte nos puede costar la victoria, es por eso que hoy te quiero mostrar dos batallas, cada una con la misma regla, pero con diferentes cartas e invocadores, ponte cómodo que acá inicia la explicación del día de hoy.
I love battles with no body-to-body attack cards, because if we use these rules to our advantage we can have complete control of the game.

Although a mistake on our part can cost us the victory, that is why today I want to show you two battles, each with the same rule, but with different cards and summoners, make yourself comfortable that here the explanation of today begins.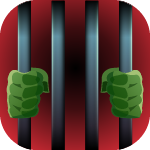 Para esta ocasión estaremos jugando con la condición de batalla que limita el uso de cartas con ataque cuerpo a cuerpo, esto quiere decir que solo puedes elegir cartas con ataque mágico, o cartas con ataque a distancia.
Claro que aún siguen estando disponibles el uso de cartas sin ningún tipo de ataque, y eso lo verán más adelante.
For this occasion we will be playing with the battle condition that limits the use of cards with body-to-body attack, this means that you can only choose cards with magic attack, or cards with distance attack.

Of course, cards without any type of attack are still available, and you will see that later.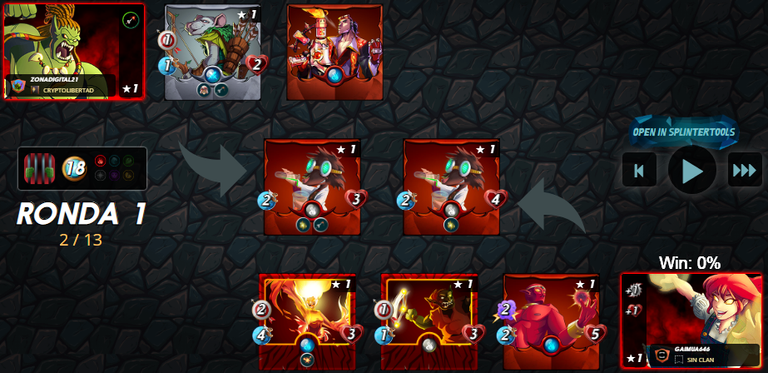 https://splinterlands.com?p=battle&id=sl_4be40eb72824ebe31b75dcda794dea58&ref=zonadigital21
---
Para la primera batalla estoy haciendo uso de un invocador que compre hace un tiempo, acá les comparto una imagen general de la batalla, así como también el link par que la puedan ver de forma más detalla.
Pero si se fijan en las reglas de batalla, tenemos presenta la regla de no usar cartas con ataque cuerpo a cuerpo.
Aunque es contradictorio, pues solo podemos hacer uso de cartas de elemento fuego, y como ya sabemos, el elemento fuego se caracteriza por usar cartas con un buen poder de ataque cuerpo a cuerpo, así que en esta batalla no podemos usar ese tipo de cartas.
Pero mi rival uso de igual forma al invocador Tarza, dicho invocador da un aumento tanto de vida como de ataque cuerpo a cuerpo, cosa en esta batalla no tiene mucho efecto, pues ese aumento de poder no tendrá resultado, pues no puede hacer uso de cartas con este tipo de ataque
For the first battle I am using a summoner that I bought some time ago, here I share a general image of the battle, as well as the link so that you can see it in more detail.

But if you look at the battle rules, we have the rule of not using cards with body-to-body attack.

Although it is contradictory, because we can only use fire element cards, and as we already know, the fire element is characterized by using cards with a good body-to-body attack power, so in this battle we cannot use that type of cards.

But my rival used the Tarza summoner in the same way, said summoner gives an increase in both life and body-to-body attack, something that in this battle does not have much effect, because that increase in power will not have result, because it cannot use cards with this type of attack.

In this battle I won very easily, because my rival could not do much against me, and although he had a bad strategy, he could not do much to change the result of the battle.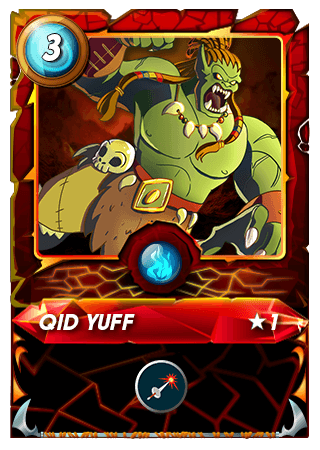 El invocador que he utilizado en esta ronda fue QID YUFF
, es una carta con muy poco gasto de maná, y tomando en cuenta que nuestro maná máximo era de solo 18 puntos, teníamos que dejar la mayor cantidad de puntos de maná para elegir nuestras cartas de ataque.
Este invocador cuenta con la habilidad Perforación, lo que ara que si mi rival está haciendo uso de armadura, mis cartas de ataque puedan perforar esa armadura y hacer daño a la vida de forma directa
The invoker I used in this round was QID YUFF
, it's a card with very little mana cost, and considering our maximum mana was only 18 points, we had to leave the most mana points to choose our attack cards.

This invoker has the ability to Pierce, which will make my opponent's armor cards be pierced by my attack cards and deal direct damage to their life.
---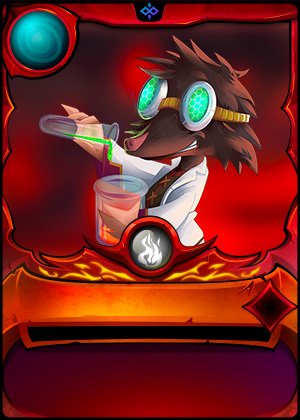 En la primera posición estoy usando la carta SCAVO CHEMIST, sé que esta carta no debería de ir acá, pero tenemos que tener en cuenta que no puedo hacer uso de otro tipo de cartas.
SCAVO CHEMIST tiene la habilidad de quitar los efectos negativos a la carta que tengamos en primera línea, que en este caso es ella misma, pero ella está acá solo para resistir un poco antes de que lleguen a mis cartas de ataque principal.
I'm using the SCAVO CHEMIST card in the first position, I know this card shouldn't be here, but we have to take into account that I can't use any other type of cards.

SCAVO CHEMIST has the ability to remove negative effects to the card we have in the first line, which in this case is herself, but she is here only to resist a little before my main attack cards arrive.
---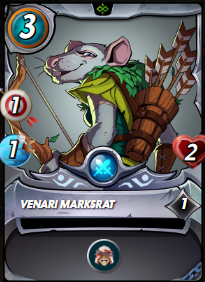 En la segunda posición está la carta VENARI MARKSRAT, esta carta tiene la habilidad mártir, por lo que al momento de morir estará dando un aumento total de estadísticas a la carta aliada más cernada.
Las cartas con ataque a distancia no pueden quedar en primera línea, pues no pueden atacar, a no ser que tengan la habilidad de hacerlo, pero VENARI MARKSRAT está acá solo para dar más poder a mi carta principal que está en la última posición.
In second position is the card VENARI MARKSRAT, this card has the martyr ability, so when it dies it will be giving a total increase of statistics to the closest allied card.

Cards with ranged attack can not stay in the front line, because they can not attack, unless they have the ability to do so, but VENARI MARKSRAT is here only to give more power to my main card that is in the last position.
---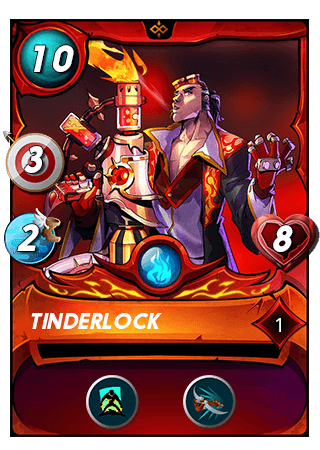 Y por último tenemos a nuestra carta protagonista que es TINDERLOCK, esta carta tiene la habilidad de atacar si queda en la primera línea de batalla.
Sumado a eso, también tiene la habilidad de, el último en pie, lo que hace que al momento de quedar sola en la batalla, pueda aumentar sus estadísticas en un +2.
Si a esto le sumamos el aumento otorgado por la habilidad mártir de la carta anterior, podemos quedar con una carta muy potente, y en esta ocasión imposible de derrotar.
And last but not least we have our star card which is TINDERLOCK, this card has the ability to attack if it remains in the first line of battle.

In addition to that, it also has the ability of, the last one standing, which makes it so that when it is left alone in battle, it can increase its statistics by +2.

If we add to this the increase granted by the martyr ability of the previous card, we can end up with a very powerful card, and on this occasion impossible to defeat.
---

Les invito a ver la batalla en su totalidad dando click al link compartido al inicio, pero para resumirles, esta victoria fue mía.
La carta final quedó con un poder de ataque de +6, cuando inicialmente tenía solo +3, y esto gracias a la combinación de las habilidades mártir, y el último en pie.
I invite you to watch the battle in its entirety by clicking on the link shared at the beginning, but to summarize it, this victory was mine.

The final card had an attack power of +6, when it initially had only +3, and this thanks to the combination of the martyr's skills, and the last one standing.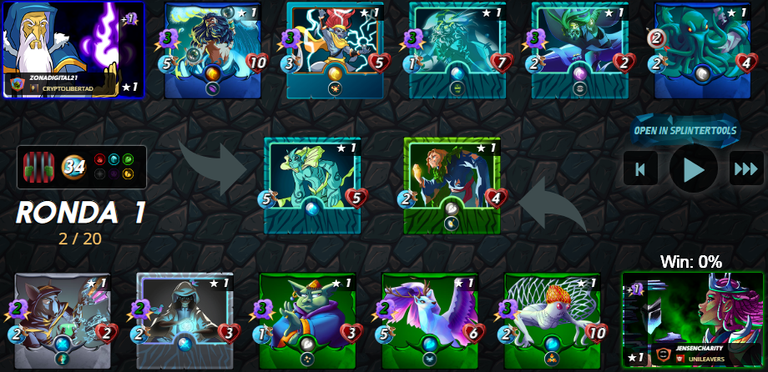 https://splinterlands.com?p=battle&id=sl_f43b16120d63544cf61eb8c271a8103c&ref=zonadigital21
---
Esta es una batalla con mayor cantidad de maná, y más salvaje jaja.
La misma regla de batalla, pero en esta ocasión podíamos hacer uso de más elementos, mi favorito siempre es elemento de agua, pues allí tengo cartas buenas con ataque mágico, y esto será crucial en la batalla.
Lo más común es que con este tipo de reglas, los usuarios se enfocan en usar cartas con ataque mágico, como lo fue en el caso de mi rival, pero él no tenía cartas con habilidad vacío, mientras que una de mis cartas sí, y esto hace que pueda reducir el daño por magia.
Desventaja para él, pero ventaja para mí.
This is a battle with more mana, and more wild haha.

The same battle rule, but this time we could make use of more elements, my favorite is always water element, because there I have good cards with magic attack, and this will be crucial in the battle.

It is most common that with this type of rules, users focus on using cards with magic attack, as was the case with my rival, but he did not have cards with void ability, while one of my cards did, and this allows me to reduce damage by magic.

Disadvantage for him, but advantage for me.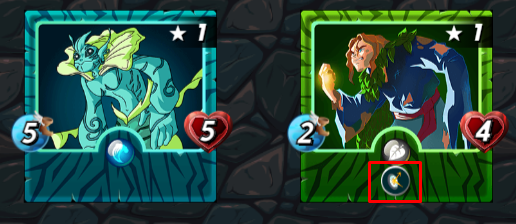 Como carta tanque estoy usando una carta sin ningún tipo de ataque, pues esto sí es permitido con esta regla.
Y mi oponente está haciendo uso de una carta con la habilidad reflejo, que hace que la magia con la que ataco se regrese a mis cartas nuevamente, pero reducida a la mitad.
Esto presenta una amenaza para mí, pero por suerte no es una carta con mucha cantidad de vida y morirá muy rápido
As a tank card I am using a card without any type of attack, because this is allowed with this rule.

And my opponent is using a card with the reflect ability, which makes the magic with which I attack return to my cards again, but reduced by half.

This presents a threat to me, but fortunately it is not a card with much life and it will die very quickly.
---

En mi caso, estoy usando cartas con habilidades como explosión, lo cual lo perjudico mucho, pues mi oponente uso una carta con taunt y eso es malo en esta ocasión.
También estoy usando una carta con una habilidad que no permite que las cartas sanadoras puedan hacer su efecto en las cartas tanque, aunque esto es cuestión de probabilidades, pero está allí, pues supuse que usara la carta de tierra que tiene la habilidad de curar, y así fue
In my case, I am using cards with skills like explosion, which harms me a lot, because my opponent used a card with taunt and that is bad in this occasion.

I am also using a card with a skill that does not allow healing cards to take effect on tank cards, although this is a matter of probability, but it is there, because I assumed he would use the land card that has the ability to heal, and so it was.
---

Estas son las cartas de mi oponente, y es acá donde pueden ver lo que les hable hace poco, y es que esa carta con habilidad taunt en la segunda posición lo perjudica, pues mi carta con habilidad explosión atacara a esa carta y gracias a la explosión estará haciendo daño a tres cartas al mismo tiempo.
Y allí pueden ver también la carta con la habilidad de sanar, cosa que no me afecto mucho, pues ya estaba preparado para esto.
These are my opponent's cards, and this is where I can show you what I talked about earlier, and that is that the taunt card in the second position harms him, because my card with the explosion ability will attack that card and thanks to the explosion it will be damaging three cards at the same time.

And there you can also see the card with the healing ability, which did not affect me much, because I was already prepared for this.
---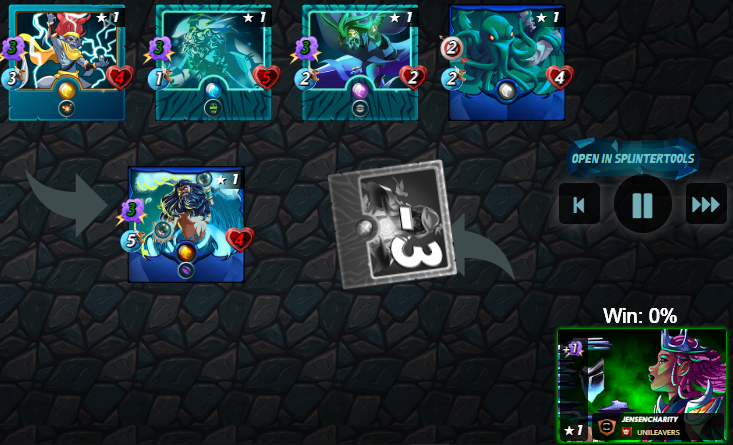 Al final, la batalla igual la gané yo, pero fue muy bueno verla, pues eran cartas solo de ataque mágico, tanto de mi parte como la de mi rival.
También te invito a verla batalla en el link compartido al inicio, espero que la explicación te haya gustado, y si tienes alguna sugerencia o duda sabes que los comentarios están allí para ver tu participación y opinión.
Feliz día para todos y continuemos haciendo batallas en #Splinterlands.
In the end, I still won the battle, but it was very good to see it, because they were only cards of magical attack, both on my part and on my rival's.

I also invite you to see the battle in the link shared at the beginning, I hope you liked the explanation, and if you have any suggestions or questions you know that the comments are there to see your participation and opinion.

Happy day for everyone and let's continue making battles in #Splinterlands.

---

---
---