Battle Weekly Challenge: DIEMONSHARK! [ITA-ENG]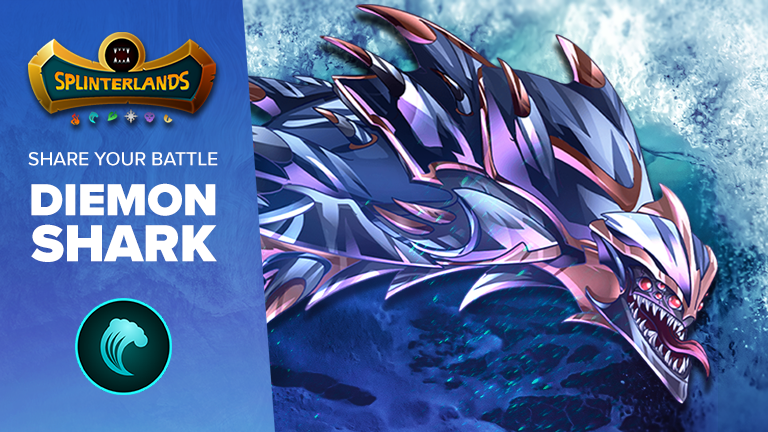 Hello all friends of the splinterlands community , today I am here to talk about the weekly contest that asks us to talk about Diemon Shark , a water element card.
The card in question is as follows: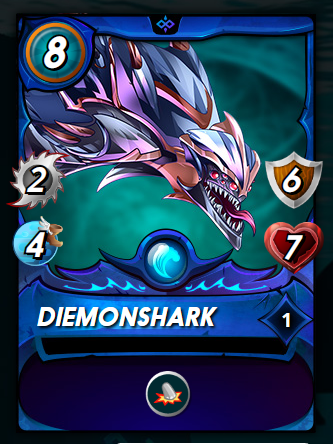 Our diamond shark has 2 of melee attack , 6 of shield , 7 of life and 4 of speed , all topped off with the ability which each time it kills a monster immediately afterwards goes to reattach the next monster.
To bring down the battlefield we need 8 mana:
---
Let's go to see how the card changes: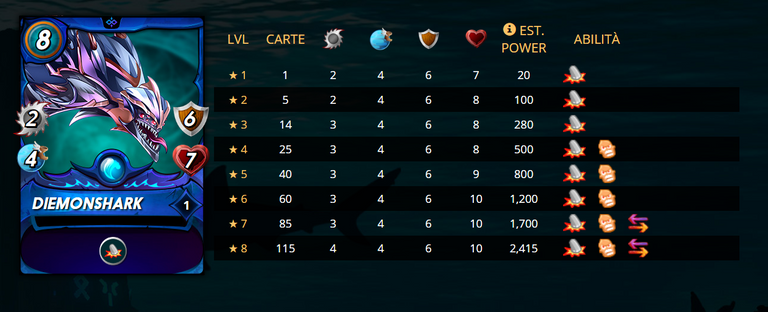 As we can see from level 1 up to level 3 we don't have big changes other than the change from 7 to 8 life points and the melee damage that increases at level 3 going from 2 to 3 , as soon as however with 25 cards we get to level 2 we unlock the ability Rage , the latter increases damage and speed of the card every time our monster is hit , coming to level 5 we go to increase the life of the card that goes from 8 to 9 , as well as for the next level , that is level 6 , that our monster arrives in double digits as far as life is concerned , arriving precisely at 10 units of life , at level 7 we unlock the skill Counterattack that allows our monster to be able to counterattack those who hit him with high probability , to finish all this cycle of improvements ends with level 8 that goes to him to increase the melee damage that goes from 3 to 4.
---
GAME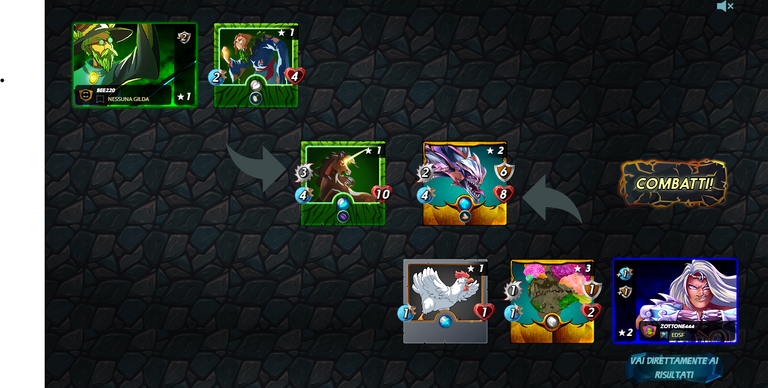 This is the match I won and as we can see from the replay which you can see by clicking here the speed of the monster affected a lot in fact it made the first attack of the opponent monster miss , afterwards the shield parried us a lot of hits which made me win.
---
---
---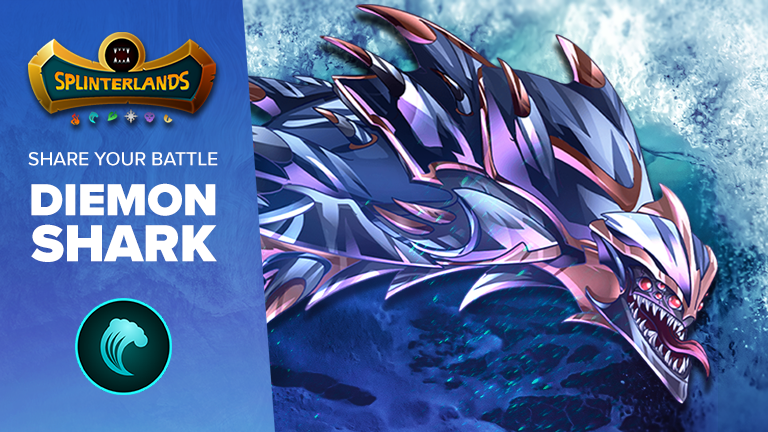 ITA
Ciao a tutti amici della community di splinterlands , oggi sono qui per parlare del contest settimanale che ci chiede di parlare di Diemon Shark , una carta dell'elemento acqua.
la carta in questione è la seguente: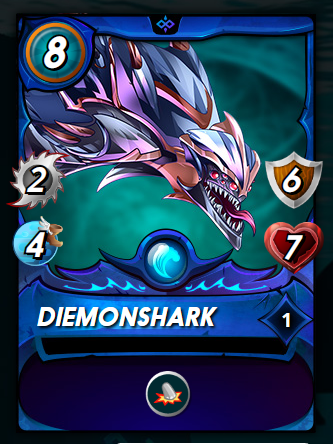 Il nostro squalo di diamanti ha 2 di attacco da mischia , 6 di scudo , 7 di vita e 4 di velocità , il tutto condito dall'abilità la quale ogni volta uccide un mostro subito dopo va a riattaccare il mostro successivo.
Per far scendere sul campo di battaglia abbiamo bisogno di 8 di mana:
---
Andiamo a vedere come cambia la carta: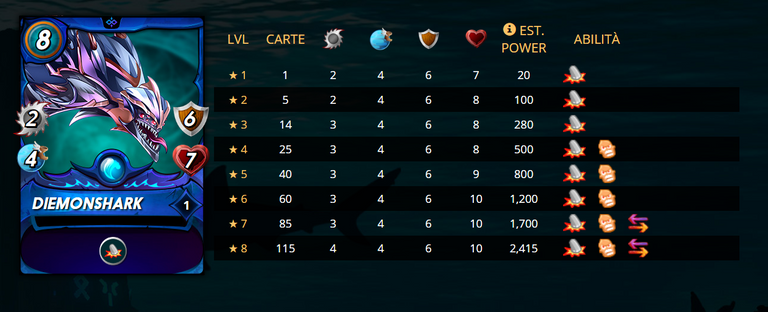 Come possiamo vedere dal livello 1 fino al livello 3 non abbiamo grosse modifiche se non il passaggio da 7 a 8 punti di vita e il danno da mischia che aumenta al livello 3 passando da 2 a 3 , non appena però con 25 carte arriviamo al livello 2 sblocchiamo l'abilità Rabbia , quest'ultima fa aumentare danno e velocità della carta ogni volta che viene colpito il nostro mostro , arrivando al livello 5 andiamo ad aumentare la vita della carta che passa da 8 a 9 , cosi come per il livello successivo , ovvero il livello 6 , che il nostro mostro arriva in doppia cifra per quanto riguarda la vita , arrivando appunto a 10 unità di vita , al livello 7 si sblocca l'abilità contrattaccare che permette al nostro mostro di poter contrattaccare chi lo ha colpito con alte probabilità , per finire tutto questo ciclo di miglioramenti si conclude con il livello 8 che gli va ad aumentare il danno di mischia che passa da 3 a 4.
---
PARTITA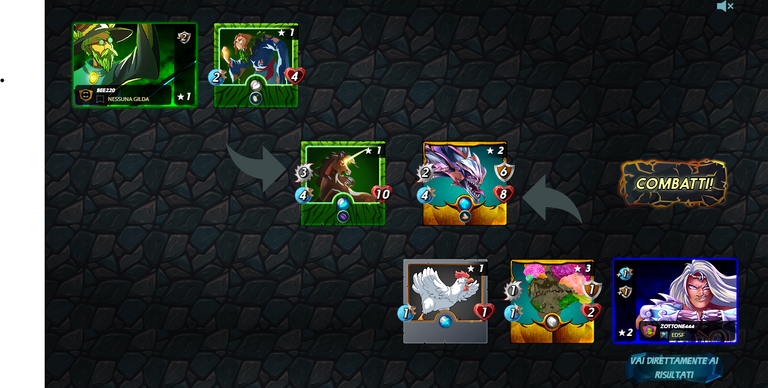 Questa è la partita che ho vinto e come possiamo vedere dal replay che potete vedere cliccando qui la velocità del mostro ha influito molto infatti ha fatto mancare il primo attacco del mostro avversario , successivamente lo scudo ci ha parato un sacco di colpi che mi ha fatto vincere.
---
---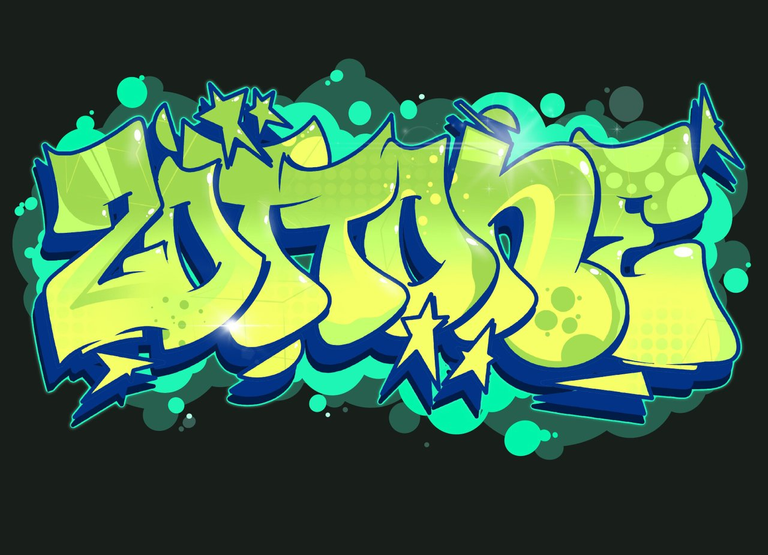 Follow me on
TWITTER ---> https://twitter.com/zottone444
TORUM ---> https://www.torum.com/u/zottone444
HYPPER ---> https://hyprr.com/profile/zottone444
NOISECASH ---> https://noise.cash/u/Zottone444
READCASH ---> https://read.cash/@Zottone444
BLURT ---> https://blurt.world/@zottone444
JOIN ON TELEGRAM ITALIAN GROUP ---> https://t.me/hiveitaly
FOLLOW HIVE ITALIA ON ---> Twitter -- Instagram -- Fecebook
photo by me / @splinterlands
---
If you want to buy/sell Dcity cards with the PGM token from the NFTM.art shop click here
---
My private socials
Instagram---> ale_zotta_
Twitch ---> zottone
---
Links that may be useful to you for the PGM token
Buy it here
If you don't know how to buy the PGM token click here
If you want to know what projects we collaborate with, click here and here
If you want to become a sponsor of the project click here
joins the PGM discord server
FOLLOWE PGM ON TWITTER
Buy games by paying with hive-HDB-Pizza Token here @thebeardflex
To buy my microphone click here
To join my fortnite community click here
---
---