Splinterlands , Analysis of all tokens on the market! [ITA-ENG]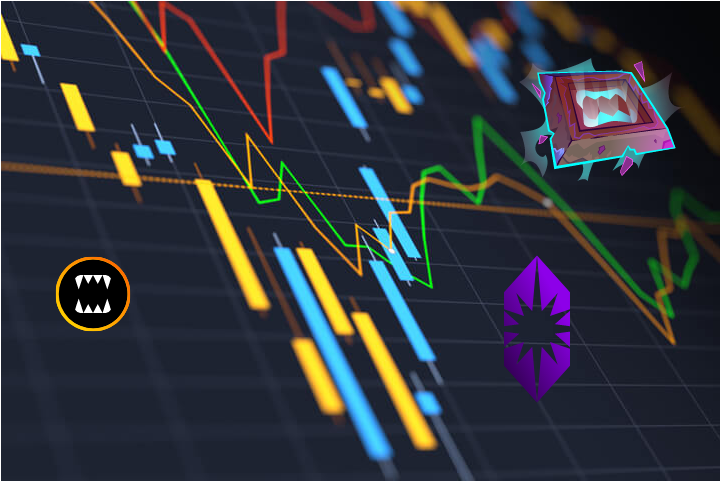 ENG
Hello all friends of the Whale Oil community today I am here to talk about the performance of all the Splinterlands tokens that are listed on HIVE-ENGINE!
Starting of course with the 3 currently most in vogue and with the highest trading volumes on the market which are:

Adding up the volumes of these tokens on HIVE-ENGINE alone we reach volumes of $75k ,this goes to confirm the economic overpowering of Splinterlands and how crucial it is for all the other tokens that run on HIVE-ENGINE as well , finally getting some liquidity on the largest token exchange currently on HIVE.
However, these are just the volumes currently on HIVE-ENGINE because now we're going to go and analyze all the tokens specifically to actually see how many volumes of all these tokens are.
---
DEC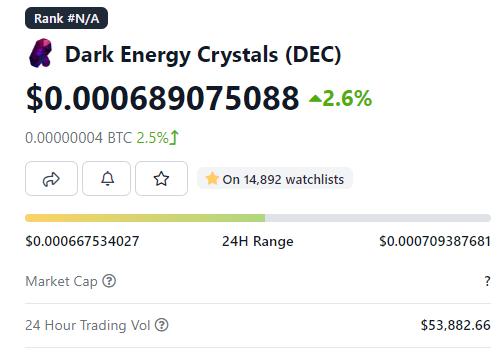 As we can see the trading volumes that are counted on coingecko do not count those on HIVE-ENGINE. As we can see from the image the trading volume of the latter is relatively low , only $53 K and a stable price for months now which is between $0.0006 and $0.0007.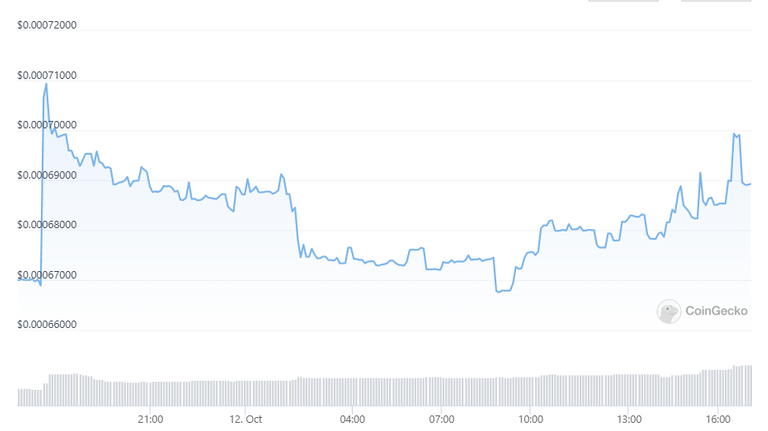 This is the graph of the DEC in the last 24h and as said before it fluctuates a lot , and so this can lead to many small gains on the variation of the value of the token , buying at $ 0.000675 , for example , and selling at $ 0.0007 , so doing so you could make some money , depending of course on the number of money invested in the market.

Currently the exchange site that is most used outside the HIVE ecosystem is PancakeSwap , with the DEC/BUSD swap (Stable coin of binance) and that I think is the most useful one , also because just below that we have UniSwap (with very high fee costs) and with the DAI/DEC swap
---
SPS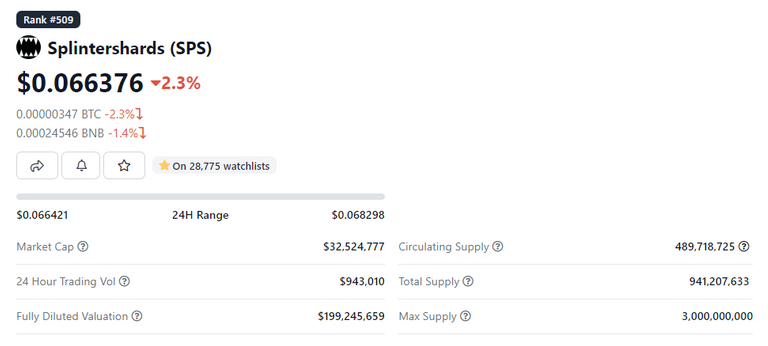 As for SPS the matter is quite different , in fact SPS has a trading volume outside the blokchain of HIVE of almost $ 1 MLN ! Ceh boy a token also present on HIVE-ENGINE has almost $1 MLN in volume! Something crazy , and if we add up the volumes here on HIVE we come much closer to the figure with 6 zeros!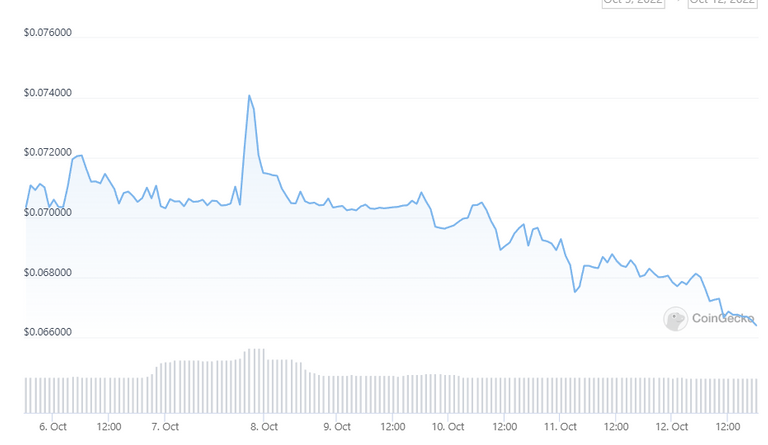 As we can see from the one week chart , after a stalemate with a small rise in token value because of the announcement of RIFTs , now we are back in dumps for SPS which has started its descent again which of course will be much but much slower because of the functions it has been assigned to buy packets , but still I predict it will continue to fall until we find out what LANDs are for.

As we can see only Huobi with its SPS/USDT trade brings the volumes to $ 676 K , so we understand well that the support of a centralized and world famous exchange is very useful and brings a lot of publicity to HIVE!
---
CHAOS

As for Chaos we are seeing a drop in their value outside the Splinterlands store huge! In fact, today you could buy a CHAOS for less than $2!
Something crazy and something I never expected. This I think is due to the fact that users I see that the cards keep depreciating and they prefer to sell the packs rather than open them , if for example they get them as a reward or , with the bonuses that come when you buy x + packs!

Unfortunately the only chart available is the one that HIVE-ENGINE offers us who are good at many things except charts , however we can see that the CHAOS token at a bearish trend.
Translated with www.DeepL.com/Translator (free version)
---
---
---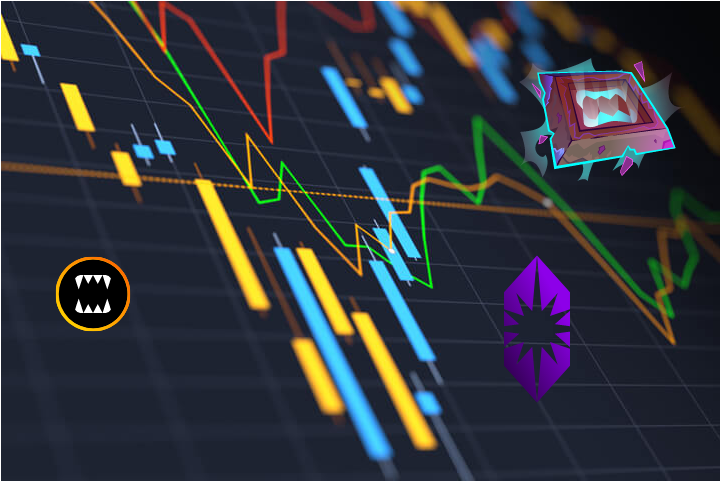 ITA
Ciao a tutti amici della community di Olio di Balena oggi sono qui per parlare dell'andamento di tutti i token di Splinterlands che sono listati su HIVE-ENGINE!
Iniziando ovviamente dai 3 attualmente più in voga e con i volumi di trading più alti sul mercato che sono:

Sommando i volumi di questi token solo sul HIVE-ENGINE raggiungiamo dei volumi pari a $ 75k ,questo va a confermare lo strapotere economico di Splinterlands e di quanto sia fondamentale anche per tutti gli altri token che girano su HIVE-ENGINE , facendo finalmente arrivare un pò di liquidità sull'exchange di token più grande attualmente di HIVE.
Questi però sono solo i volumi attualmente presenti su HIVE-ENGINE perchè ora andremo ad analizzare tutti i token nello specifico per vedere effettivamente quanti sono i volumi di tutti questi token.
---
DEC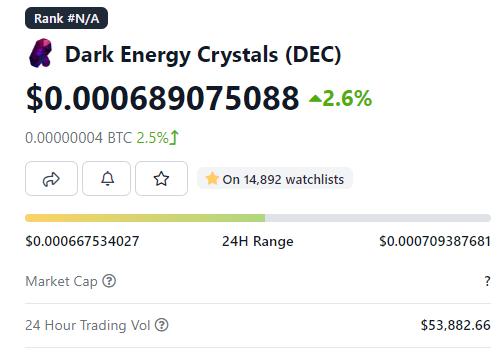 Come possiamo vedere i volumi di trading che vengono contati su coingecko non contano quelli di HIVE-ENGINE. Come vediamo dall'immagine il volume di trading di quest'ultimo è relativamente basso , solo $ 53 K e un prezzo stabile da ormai mesi il quale si aggira tra gli $ 0.0006 e gli $ 0.0007.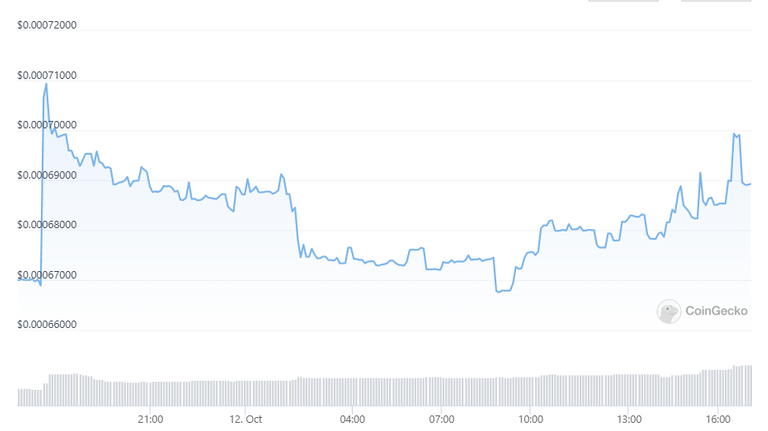 Questo è il grafico del DEC nelle ultime 24h e come detto prima oscilla molto , e quindi questo può portare a tanti piccolo guadagni sulla variazione del valore del token , comprando a $ 0.000675 , per esempio , e vendere a $ 0.0007 , cosi facendo si potrebbe fare qualche soldo , in base ovviamente al numero di soldi investiti sul mercato.

Attualmente il sito di scambio che viene più utilizzato fuori l'ecosistema di HIVE è PancakeSwap , con lo scambio DEC/BUSD (Stabile coin di binance) e che credo sia quello più utile , anche perché subito sotto abbiamo UniSwap (con costi di fee altissimi) e con lo swap di DAI/DEC
---
SPS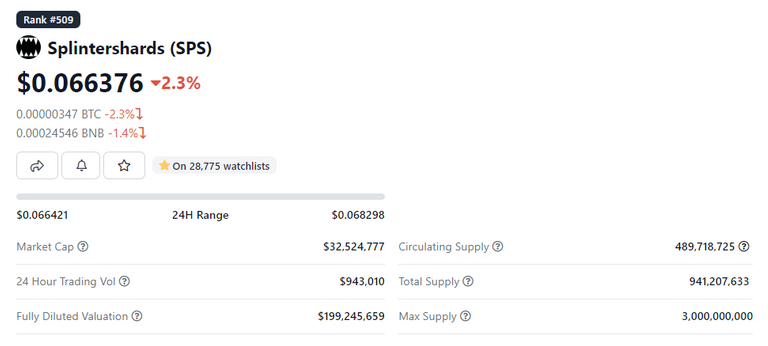 Per quanto riguarda SPS il discorso è ben diverso , infatti SPS ha un volume di trading esterno alla blokchain di HIVE di quasi $ 1 MLN! Ceh ragazzi un token presente anche su HIVE-ENGINE ha quasi 1 MLN di dollari di volumi! Qualcosa di pazzesco , e se sommiamo i volumi qui su HIVE arriviamo molto più vicini alla cifra con 6 zeri!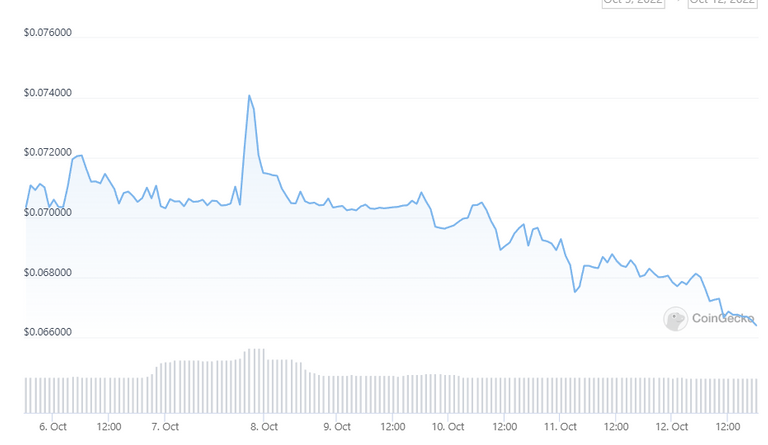 Come possiamo vedere dal grafico di una settimana , dopo una situazione di stallo con un piccolo rialzo del valore del token per via dell'annuncio dei RIFT , adesso siamo tornanti in dump per SPS che ha ricominciato la sua discesa che ovviamente sarà molto ma molto più lenta grazie alle funzioni che gli sono state assegnate per comprare i pacchetti , ma comunque prevedo che continuerà a calare finchè non scopriremo a cosa servono le LAND.

Come possiamo vedere solo Huobi con il suo trade SPS/USDT porta i volumi a $ 676 K , quindi capiamo bene che il supporto di un exchange centralizzato e famoso in tutto il mondo è utilissimo e porta tanta pubblicità a HIVE!
---
CHAOS

Per quanto riguarda i Chaos stiamo vedendo un calo del loro valore fuori dal negozio di Splinterlands enorme! Oggi infatti si poteva comprare un CHAOS a meno di $ 2!
Qualcosa di pazzesco e che non mi sarei mai aspettato. Questo credo sia dovuto al fatto che gli utenti vedo che le carte continuano a svalutarsi e preferiscono vendere i pacchetti piuttosto che aprirli , se per esempio li ricevono come ricompensa oppure , con i bonus che arrivano quando si comprano x + pacchetti!

Purtroppo l'unico grafico a disposizione è quello che ci offre HIVE-ENGINE che sono bravi in molte cose tranne che nei grafici , comunque possiamo vedere che il token CHAOS a un andamento ribassista.
---
---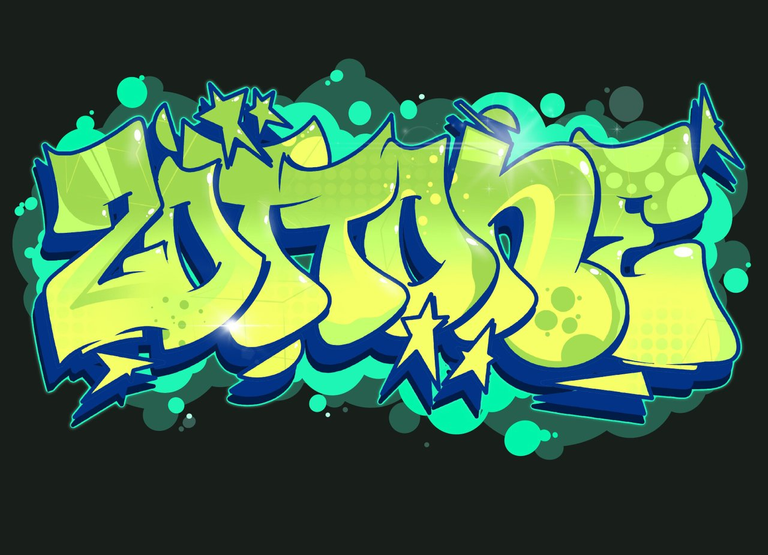 Follow me on
TWITTER ---> https://twitter.com/zottone444
TORUM ---> https://www.torum.com/u/zottone444
HYPPER ---> https://hyprr.com/profile/zottone444
NOISECASH ---> https://noise.cash/u/Zottone444
READCASH ---> https://read.cash/@Zottone444
BLURT ---> https://blurt.world/@zottone444
JOIN ON TELEGRAM ITALIAN GROUP ---> https://t.me/hiveitaly
FOLLOW HIVE ITALIA ON ---> Twitter -- Instagram -- Fecebook
photo by me / @leofinance / @hiveland.dapp
---
If you want to buy/sell Dcity cards with the PGM token from the NFTM.art shop click here
---
My private socials
Instagram---> ale_zotta_
Twitch ---> zottone
---
Links that may be useful to you for the PGM token
Buy it here
If you don't know how to buy the PGM token click here
If you want to know what projects we collaborate with, click here and here
If you want to become a sponsor of the project click here
joins the PGM discord server
FOLLOWE PGM ON TWITTER
Buy games by paying with hive-HDB-Pizza Token here @thebeardflex
To buy my microphone click here
To join my fortnite community click here
---
---