SPS , buy or not ?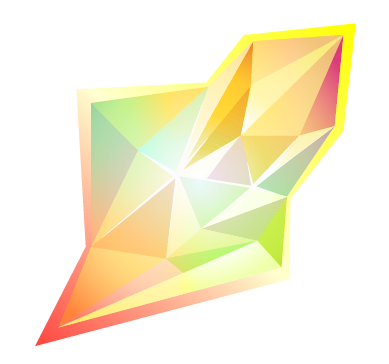 Hello all community friends , today we are here to evaluate the new splinterlands project and figure out whether it is worth buying SPS and vouchers or not , but first let's go over what we are talking about how it will all work and do the analysis of how to behave whether to speculate on the SPS pump and buy them at the lowest price or not !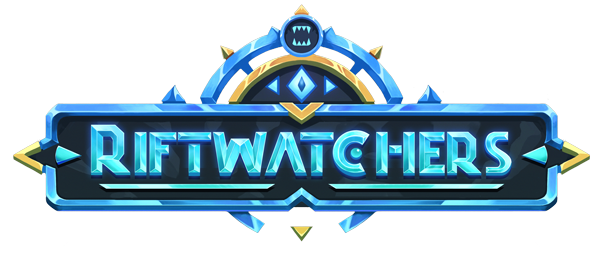 First let's talk about riftwatchers that is the name of the event that will add as many as 43 cards to the chaos collection.
Inside there will be as many as:
13 common cards
12 rare cards
6 epic cards (summoners)
12 legendary cards (counting airdrops)
The total number of packs offered for sale will be 3 mln at a cost of $5 to be paid in SPS and +1 voucher.
Only 500 K will be distributed in the pre-sale.
and also there are the following bonuses on purchases:
100+ packs = 10% bonus packs
500+ packs = 15% bonus packs
2000+ packs = 20% bonus packs
---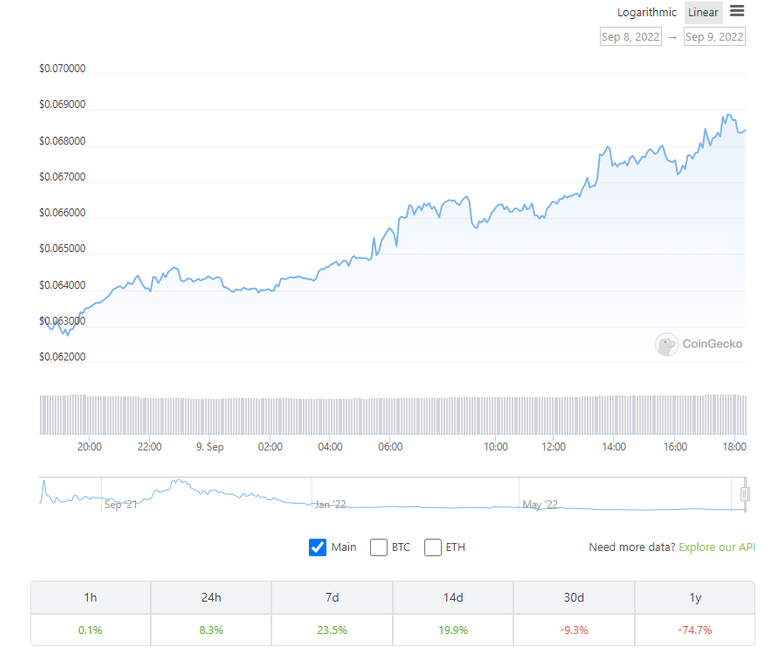 This is the trend of SPS in the last 24h and as we can see from the table below we had a weekly pump of 23.5% on their value and the price looks like it will go up again and again.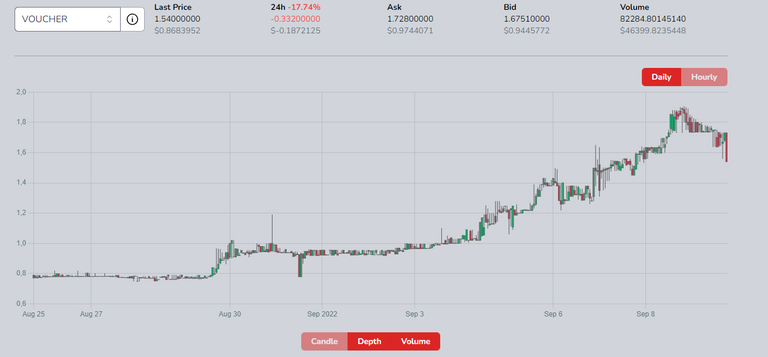 This, on the other hand, is the trend with hourly chart of the vouchers on HIVE-ENGINE which has registered a minus -17.4% in the last 24 hours

However according to @hiveland.dapp the price of vouchers in the last week has increased by 69.50% compared to 7 days ago , in short a huge pump followed by a nice dump due to the sale of about 2000 VOUCHERS on HIVE-ENGINE by two users , and among which one of them still has 4000+ vouchers on his account.
---
I sincerely believe that I will participate only partially in the airdrop , from the some I will try to recover immediately by selling the cards at crazy prices and selling the remaining SPS and vouchers at the time of the pump so that I can earn as much as possible from these transactions.
Obviously already now I will start buying SPS and vouchers and in a few days I will go to resell them when the price will be higher , also because in my opinion the price will be quite a lot higher , even by a good 30% on the SPS and even more on the vouchers since you will need quite a lot thanks to the super bonuses that splinterlands always puts in their airdrops that make you look like you are missing the opportunity of your life.
And what strategy are you going to use ?
Translated with www.DeepL.com/Translator (free version)
---
---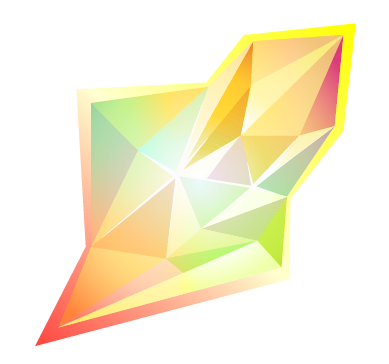 ITA
Ciao a tutti amici della community , oggi siamo qui per valutare il nuovo progetto di splinterlands e capire se conviene comprare gli SPS e i voucher oppure no , ma prima andiamo a vedere di cosa parliamo di come funzionerà il tutto e fare le analisi di come comportarsi se speculare sul pump degli SPS e comprarli al prezzo più basso oppure no!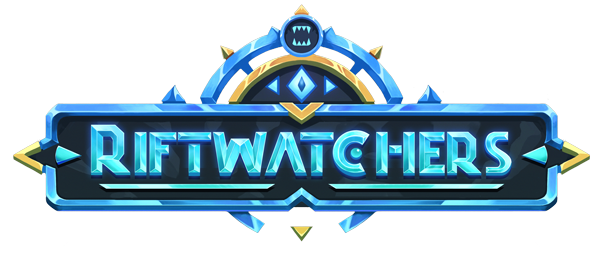 Per prima cosa parliamo di riftwatchers cioè il nome dell'evento che aggiungerà ben 43 carte alla collezione chaos.
All'interno ci saranno ben:
13 carte comuni
12 carte rare
6 carte epiche (evocatori)
12 carte leggendarie (contando anche gli airdrop)
Il numero totale di pacchetti messi in vendita sarà di 3 mln al costo di 5$ da pagare in SPS e +1 voucher.
Nella pre-sale ne verranno distribuiti solo 500 K
e inoltre ci sono i seguenti bonus sugli acquisti:
100+ packs = 10% bonus packs
500+ packs = 15% bonus packs
2000+ packs = 20% bonus packs
---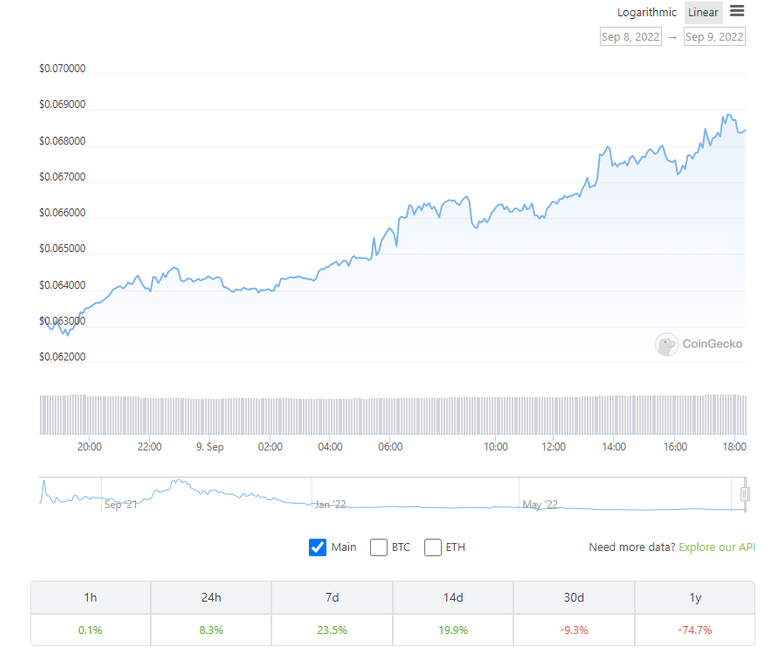 Questo è l'andamento degli SPS nelle ultime 24h e come possiamo vedere dalla tabella sottostante abbiamo avuto un pump settimanale del 23,5% sul loro valore e il prezzo sempra destinato a salire ancora e ancora.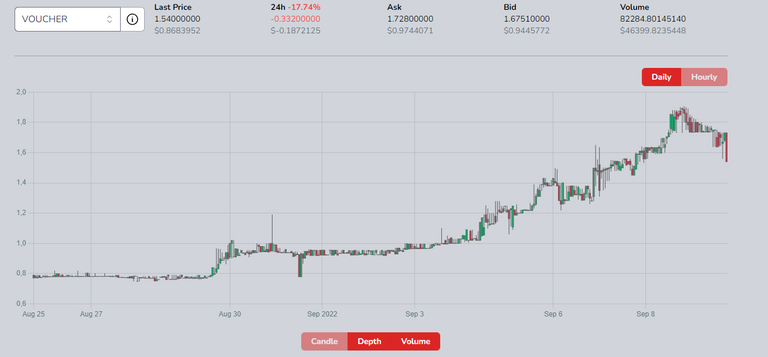 Questo invece l'andamento con grafico orario dei voucher su HIVE-ENGINE che ha registrato un meno -17.4% nelle ultime 24 ore

Però secondo @hiveland.dapp il prezzo dei voucher nell'ultima settimana è aumentato del 69.50% rispetto a 7 giorni fa , insomma un pump enorme seguito da un bel dump dovuto alla vendita di circa 2000 VOUCHER su HIVE-ENGINE da parte di due utenti , e tra i quali uno dei due ha ancora 4000 e più voucher sul proprio account.
---
io sinceramente credo che parteciperò solo in parte all'airdrop , dalla qualche cercherò di recuperare subito vendendo le carte a prezzi folli e vendendo gli SPS e i voucher rimanenti al momento del pump cosi da poter guadagnare il più possibile da queste operazioni.
Ovviamente già da ora inizierò a comprare SPS e voucher e fra qualche giorno li andrò a rivendere quando il prezzo sarà più alto , anche perchè secondo me il prezzo sarà parecchio più alto , anche di un buon 30% sugli SPS e anche di più sui voucher visto che serviranno parecchi grazie ai super bonus che splinterlands mette sempre nei proprio airdrop che ti fanno sembrare che stai perdendo l'occasione della tua vita.
E tu che strategia utilizzerai ?
---
---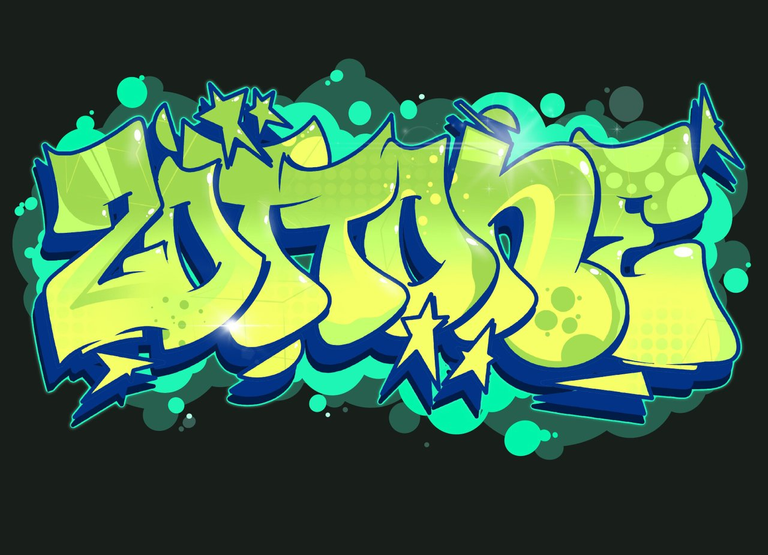 Follow me on
TWITTER ---> https://twitter.com/zottone444
TORUM ---> https://www.torum.com/u/zottone444
HYPPER ---> https://hyprr.com/profile/zottone444
NOISECASH ---> https://noise.cash/u/Zottone444
READCASH ---> https://read.cash/@Zottone444
BLURT ---> https://blurt.world/@zottone444
JOIN ON TELEGRAM ITALIAN GROUP ---> https://t.me/hiveitaly
FOLLOW HIVE ITALIA ON ---> Twitter -- Instagram -- Fecebook
photo by me / coingecko / luncpenguins
---
If you want to buy/sell Dcity cards with the PGM token from the NFTM.art shop click here
---
My private socials
Instagram---> ale_zotta_
Twitch ---> zottone
---
Links that may be useful to you for the PGM token
Buy it here
If you don't know how to buy the PGM token click here
If you want to know what projects we collaborate with, click here and here
If you want to become a sponsor of the project click here
joins the PGM discord server
FOLLOWE PGM ON TWITTER
Buy games by paying with hive-HDB-Pizza Token here @thebeardflex
To buy my microphone click here
To join my fortnite community click here
---
---
---