My Fan art: Deep lurkers. / Art Contest #178 (Eng-Spain)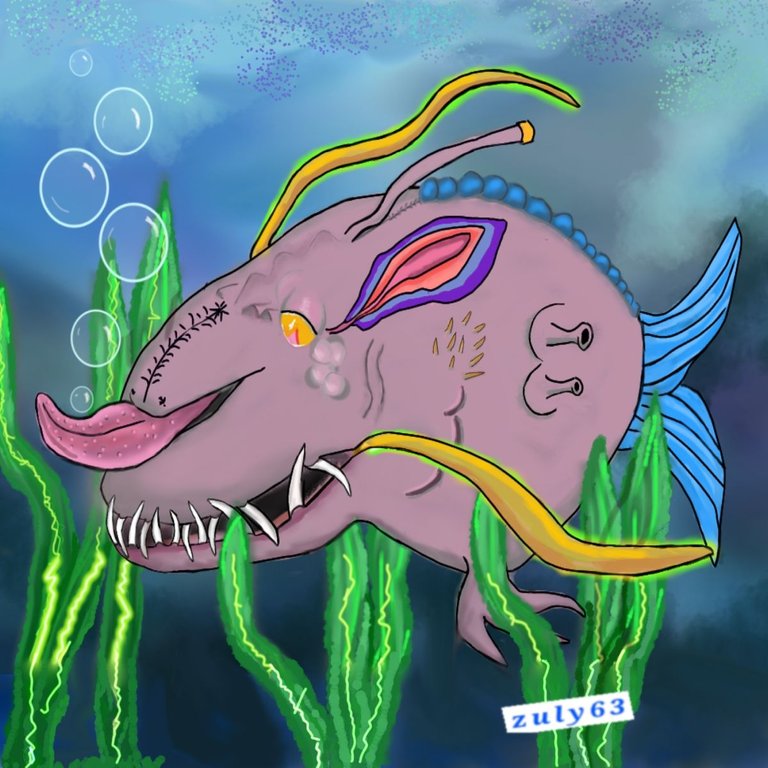 Hello, today I want to share with you an art that I made this weekend.
It is one of the monsters of the #Chaoslegion, the Deep lurkers of the Water Splinter. This monster is powerful and at high levels it brings poison to its victims and this is what inspired my art today.
Deep lurkers lives at the bottom of the sea feeding on poisonous algae and that poison does not hurt him, rather it is like sweet honey for him and he accumulates it in those tentacles that he has on his sides, which he uses when he attacks to his enemies, he touches them with his tentacles and inoculates them with the poison so that they die slowly or quickly, according to his taste or just tear them apart with his big teeth.
Hola hoy quiero compartir con ustedes un arte que hice este fin de semana.
Se trata de uno de los monstruos de la #Chaoslegion, el Deep lurkers del Splinter de agua. Este monstruo es poderoso y en niveles altos lleva veneno a sus víctimas y ésto fue lo que inspiró mi arte de hoy .
Deep lurkers vive en el fondo del mar alimentándose de algas venenosas y ese veneno no le hace daño, más bien es como dulce miel para él y lo va acumulando en esos tentáculos que tiene a los lados, los cuales utiliza cuando ataca a sus enemigos, los toca con los tentáculos y les inocula el veneno para que mueran lenta o rápidamente, según su gusto. O simplemente los destroza con sus grandes dientes.
---

---
Drawing Process
For this art I used the IbisPaint X app on my phone. First I made a linear following the image of the monster, trying to get all the details.
Proceso del dibujo
Para este arte utilicé la app IbisPaint X en mi teléfono.
Primero hice un lineal siguiendo la imagen del monstruo, tratando de tener todos los detalles.
---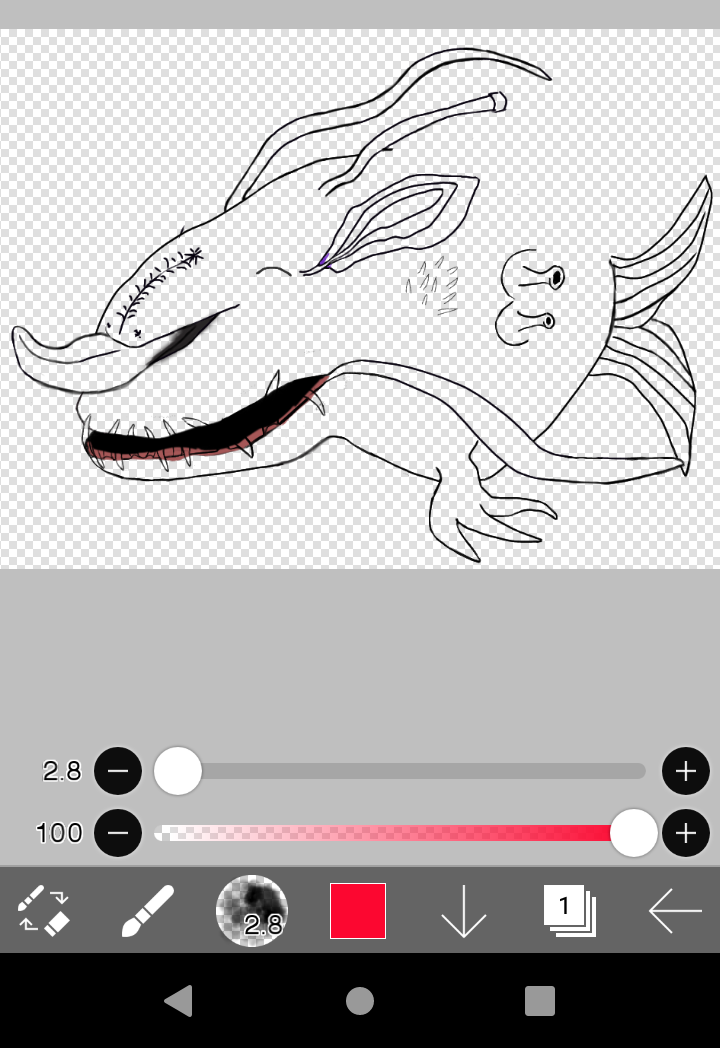 ---
Each part of his body I drew them on separate layers. The body, the mouth, the tentacles, the eye, etc.
Cada parte de su cuerpo los dibujé por capas separadas. El cuerpo, la boca, los tentáculos, el ojo, etc.
---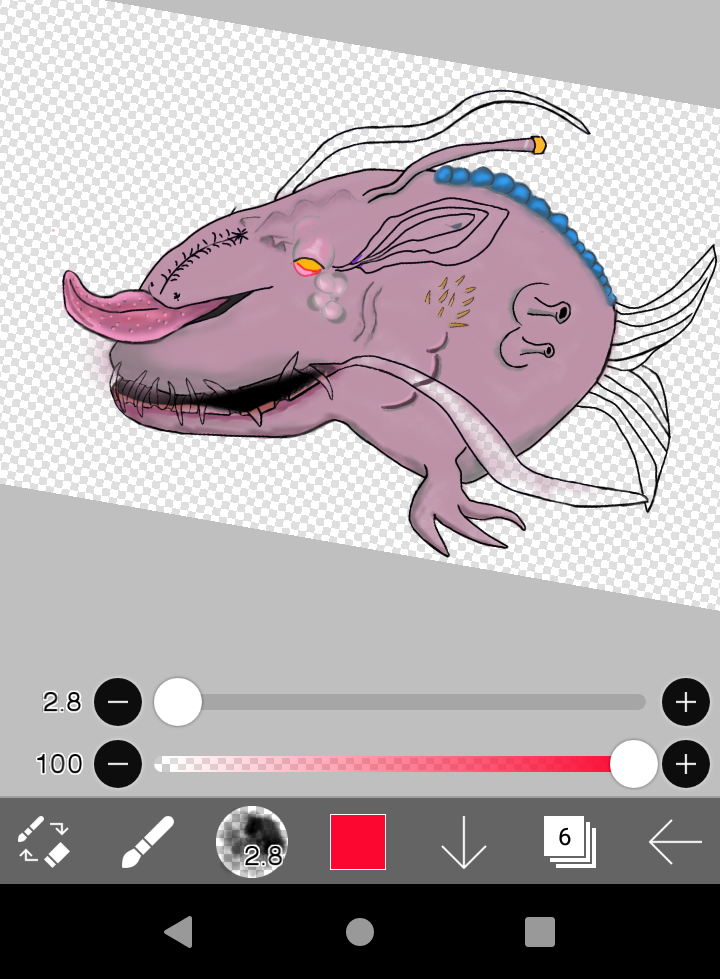 After finishing I added a seabed with algae.
Luego de terminado adicioné un fondo marino con algas.
---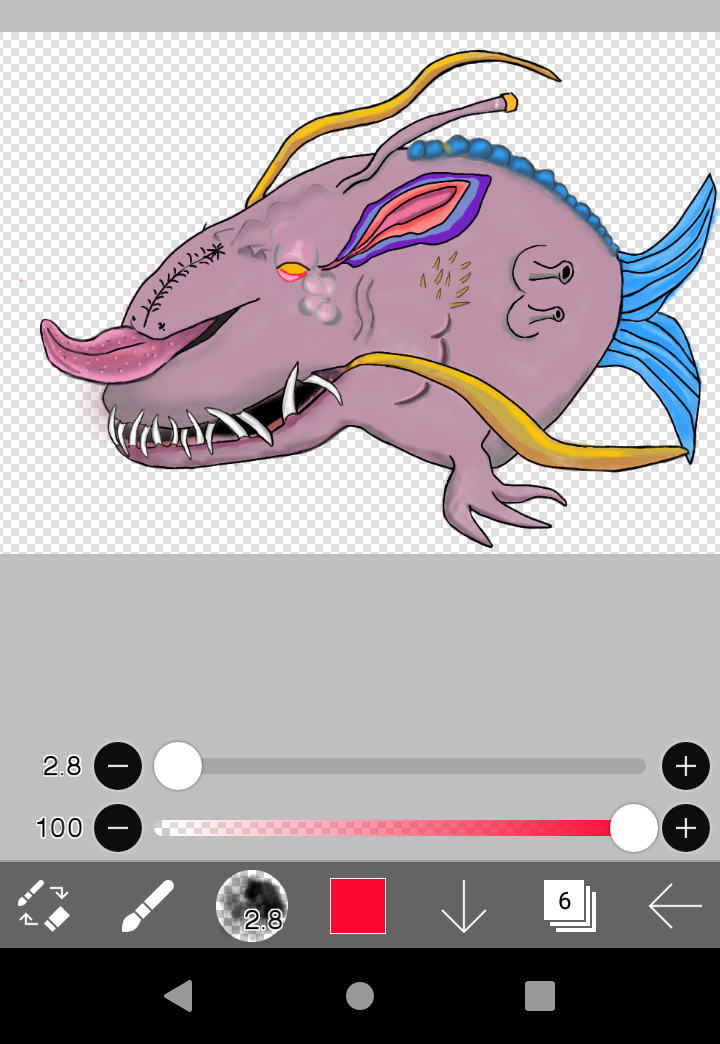 And so the Deep lurkers was ready.
Y así quedó listo el Deep lurkers.
---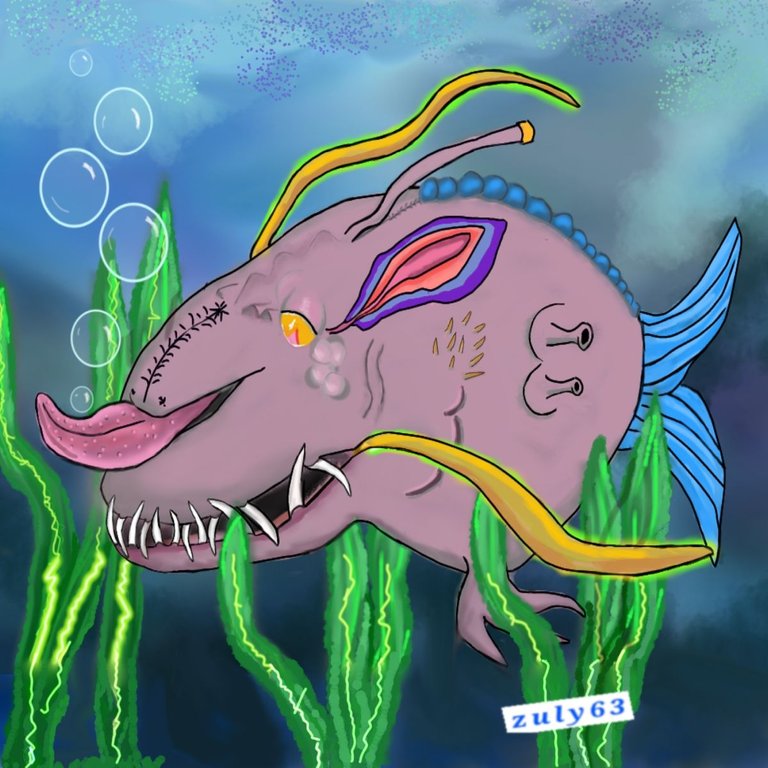 I hope you like it as much as I do. 🎉🎉🎉
Espero que te guste tanto como a mí. 🎉🎉🎉
---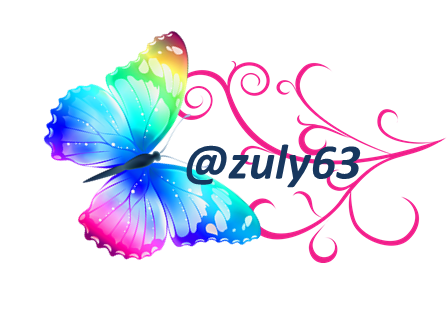 ---
Note: The text was translated from Spanish into English at Google Translate.
Si aún no tienes una cuenta en Splinterland, sigue el link para tener la tuya:
If you don't have a Splinterland account yet, follow the link to get yours.
---
---