SHARE YOUR BATTLE Weekly Challenge! GOBLIN SHAMAN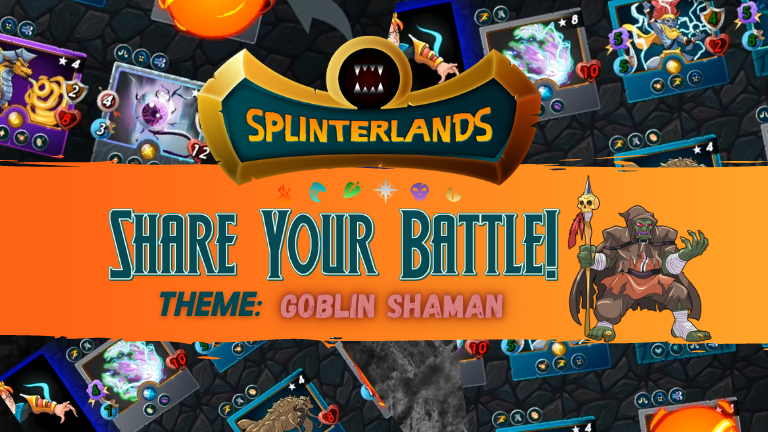 CHALLENGE
Hello everyone, this is my submission to Weekly Challenge for Splinterlands. This weeks theme is Goblin Shaman, one of the best utility card in fire splinter that is included in Starter Deck which means anybody can use this awesome card.
MY LINE UP
For splinter I choose pyre to get extra speed on my monsters. I usually play around speed when i play with fire deck. The idea is to get fastest cards & weaken the enemy team in terms of health and speed and then just watch your monsters killing everything on board even without getting touched. I prepared myself for anything coming though. I battled against Lorna who gives divine shield to her monsters and can throw a high health / armor tanks with heal and repair cards behind.
LIVING LAVA

Living Lava is a good tank with shield and not easy to get through especially if there is no magic attack in opposite team.This card's biggest con is, its low speed. But with pyre it can be balanced. Thats why its usually good choice for position 1 tank in fire deck.
GOBLIN SHAMAN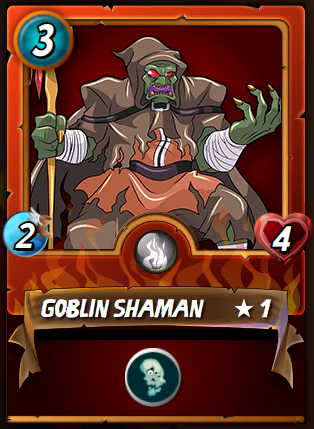 This card is just superb. And most of the time it fits in any fire deck. With the weaken ability you can easily remove 1 health from all the monster on enemy team and combined with high speed it is easy to remove some cards from the opponent even before they can attack. And Goblin Shaman is not only a good utility card but also okey tank for position 2 as well because 4 health is no joke and usually can tank minimum 2 attacks in most battles.
SERPENTINE SPY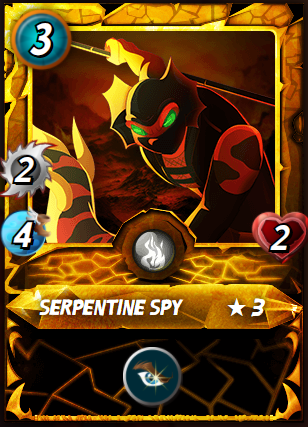 This card is just what its name says. Hunting for the lowest health with high speed means opponents weak cards just dead in round one.
CREEPING OOZE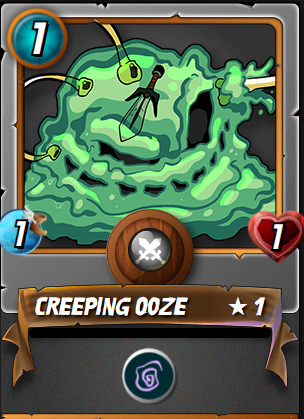 So we need high speed. But what else we need ? Slow opponent of course. Removing 1 speed from enemy team is always good.
FIRE ELEMENTAL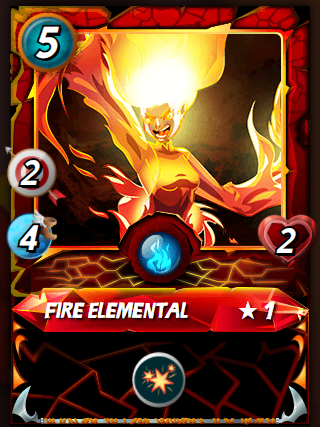 High speed, good attack and blast ability for 5 mana. What else we can expect from any card :D
FURIOUS CHICKEN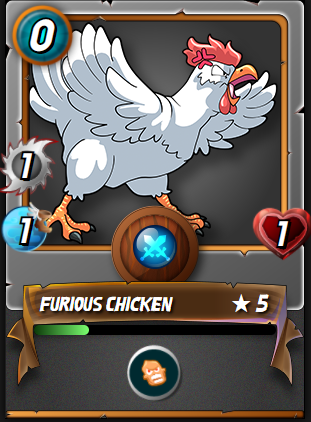 Chicken is always good to throw in any team when there is a room. Putting in the last position means = 1 wasted attack from enemy team if they have snipe or sneak. Low mana battles' must use card. Suprisingly it did not do much for this battle since lorna decided not to with any sneak attack even though there are good sneak cards in life deck.
THE BATTLE / STRATEGY
Strategy is literally "give them nothing take from them everything".
Shaman&Ooze combination to remove stats. Lava in first position to reduce incoming damage. And finishing off with high speed cards which is Fire elemantal&Spy combination.
The weaken from the goblin made the enemy Tank die 1 round early. Afterwards only eagle reamins to deal with and it was easy job to finish him.
I like Goblin Shaman a lot due to its versatile usage. It is effective against almost all decks, It makes opposite teams' monsters easy to deal with and sometimes it can be used as second tank. I usually include Goblin Shaman in my fire deck.
Battle Link: https://splinterlands.com?p=battle&id=sl_6ca98c49c9ed466e62585cdf11ec29e5&ref=zvan35
---
---