Don't eat the seeds of the guava fruit they will germinate in your stomach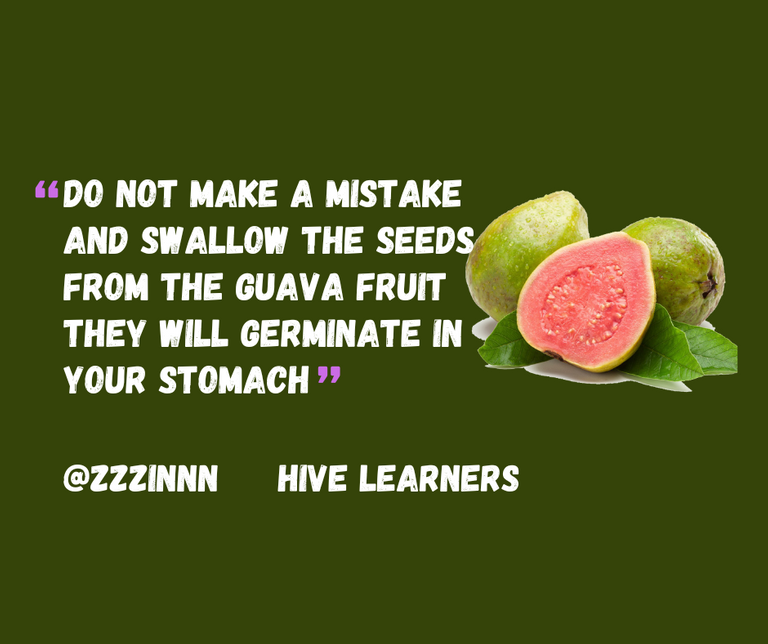 I can't believe I had to take a moment to think back and now remember some interesting lies we believed as kids. I remembered this particular one which made me laugh so hard. I was sitting on a chair and almost fell to the floor laughing.
---
DO NOT MAKE THE MISTAKE AND SWALLOW THE SEEDS FROM THE GUAVA FRUIT THEY WILL GERMINATE IN YOUR STOMACH
---
I bet some of you still believe this hilarious big ass joke. LOL. It was not only the guava plant but it was the one that was stressed on the most. If you actually use your childish* mind to think about it it sounds quite possible.
I think the reason why they told us that was because most of us as kids we liked to eat clay. If you put 2 and 2 together; Soil + Seeds + Water = Germination. This was easily convincing. I mean how can you not believe this? Any kid in their right senses should believe this.
It was not only the Guava seeds that they told us about but it was the one that we feared most to swallow. The seeds are really very small and the least mistake you make you can easily swallow it without even knowing. The way the seeds are just make it look so believable that it can actually germinate in one's stomach.
Another fruit whose seed I can remember it being fearful to swallow is the seeds of the watermelon fruit 🍉. The watermelon seeds are much bigger than the guava seeds but we still believed it could grow in our stomachs. Recently, I have heard people saying the watermelon seeds have some health benefits, now people have started chewing it like their lives depend on it.
After eating and swallowing seeds of fruits for the better part of my life I can confidently tell you that no the seeds cannot grow in your stomach. So feel free enjoy your guava fruits in whole and not spit out any part of it. Just wash it and throw it in your mouth.
---
Thanks for passing by.
You can support my blog with your upvotes, reblogs, comments, and or a follow.
See you in the next one!
Cover Made With Canva

---

Source
---
---