My Favorite Hive DApp: PeakD Frontend DApp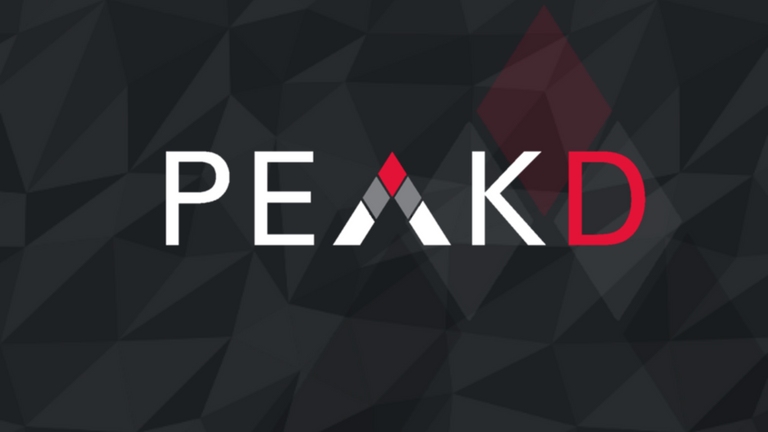 I love Peakd. Peakd is unarguably the smoothest Hive frontend Dapp I have seen. There are other frontends that come with their own standalone apps which can be downloaded, such as Threespeak and Ecency. But even though Peakd has a different functionality than Threespeak, user-experience-wise, Peakd is just so smooth.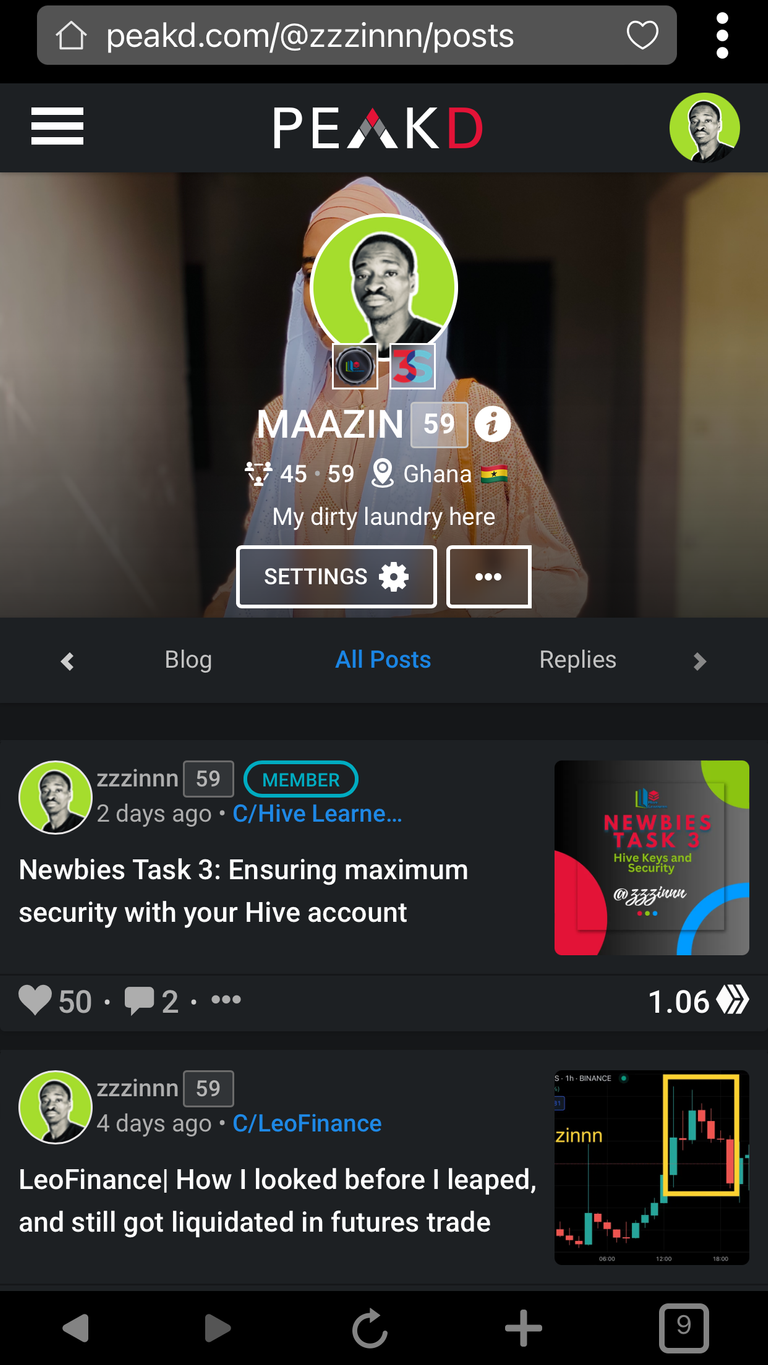 Picture of my profile on Peakd
Take a look at my profile as viewed from Peakd and compare it to your favorite fronted Dapp. The amount of information here and their arrangement is just so articulate.
As far as I know it is only on Peakd that you can view your badges right from your profile without having to go into many settings. I currently have two badges; I have a badge from Hive Learners and a badge from Threespeak. They just mean I am a verified creator of those communities. (Let's talk about badges in another post)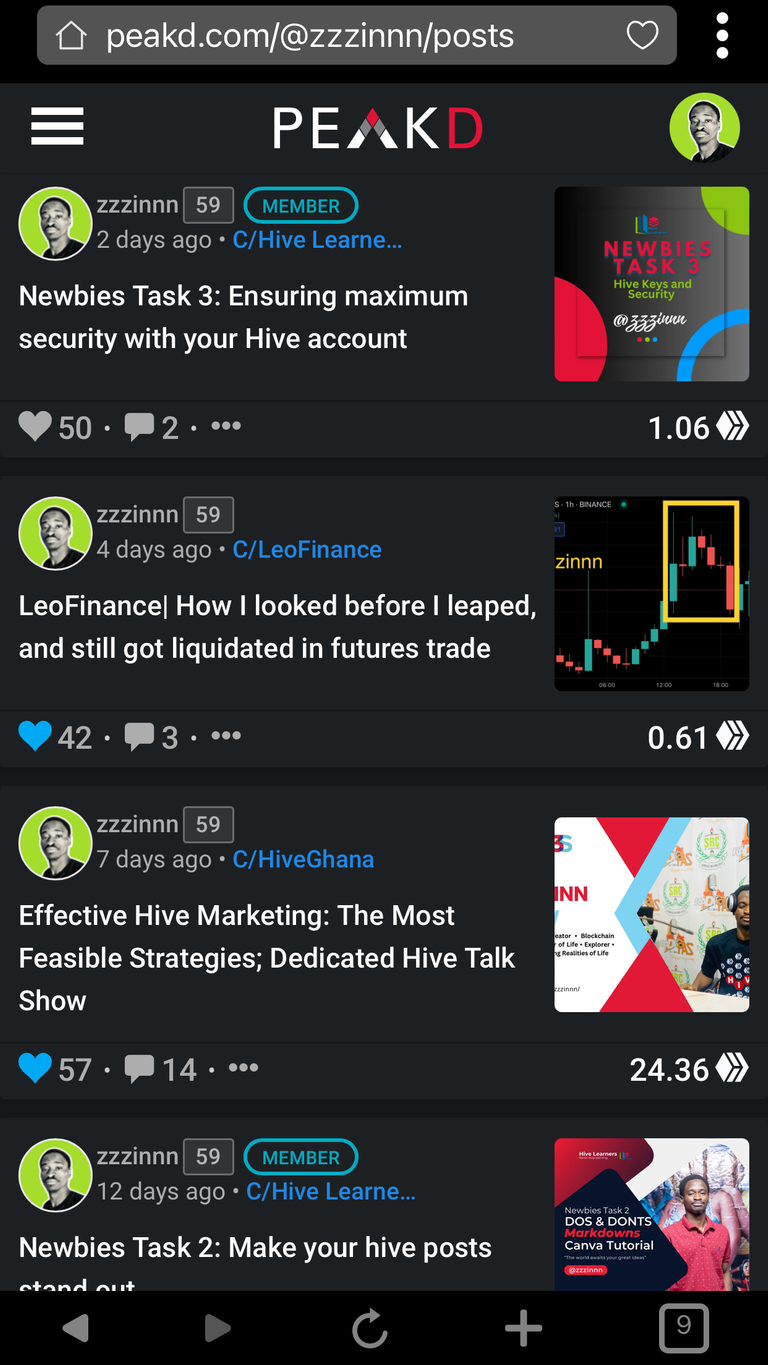 Picture of a list of posts on my blog
In Peakd, your posts are listed vertically with each post in a horizontal form(stacked on top of each other) having all the main details of the post clearly outlined and arranged. Your profile picture, your username, your reputation, your tag in the community (whether you're a member/moderator/admin/etc), the age of the post, the community where you have posted it, the title of the post, the cover photo as a thumbnail, number of votes on the post, number of comments, and the total votes worth of the post. Even better, you can see all these information of as much as four different posts at the same time(in an iPhone 6s Plus screen side. you might be able to see more in your screen size).
The User Experience of PeakD is just so wonderful!!!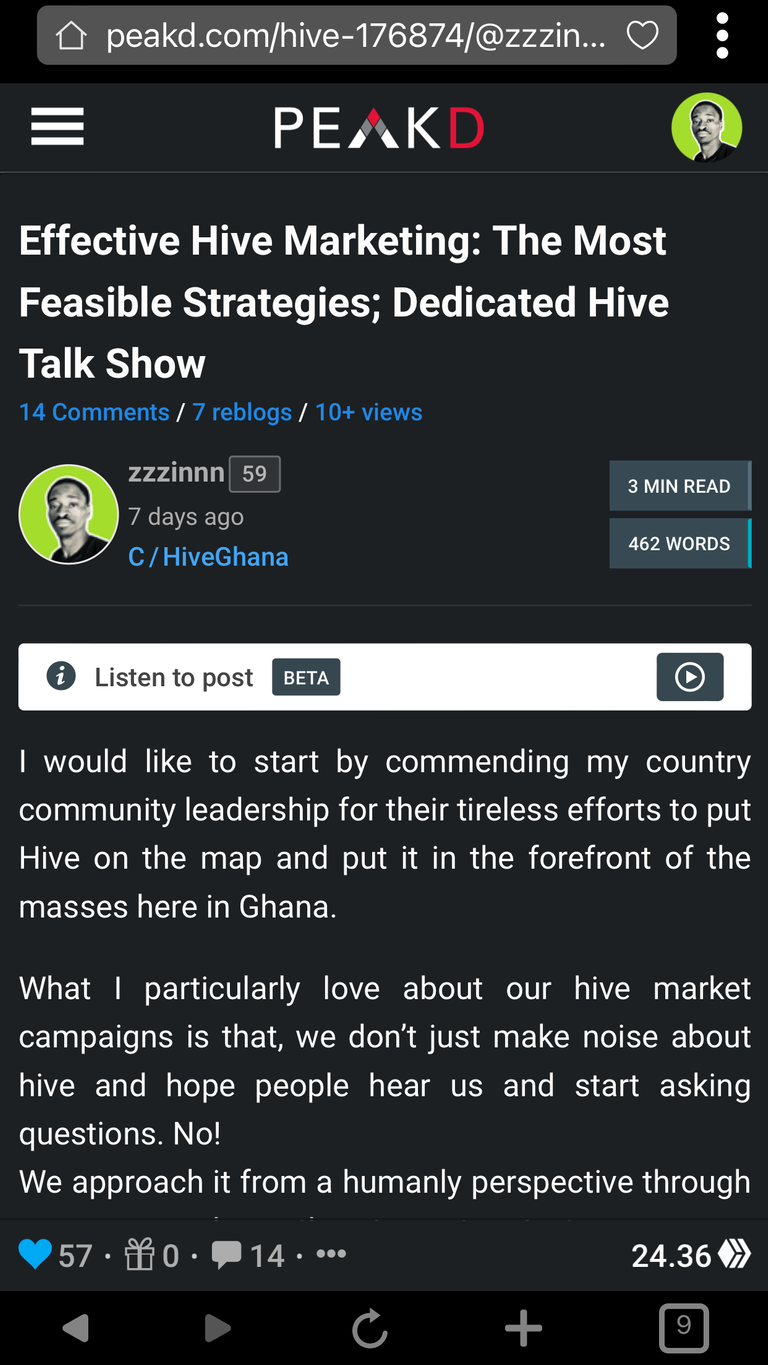 Picture of the inside of a post in PeakD
Tap on a post to read it and you are presented with all the details you need to right from the top. Plus, you can choose to listen to the post instead of reading it. I have not seen this anywhere.
It tells you how long(in minutes) the post is. How long it'll take you, on average to finished reading the post. And the number of views the post has got. There's more, the total number of words of the post can be seen right from the top.
How to use PeakD
There are a number of ways to sign in to PeakD. You can sign in with Keychain(another Dapp), or hivesigner among others. I have only mentioned these because those are the ways I am familiar with.
To sign in with Keychain you need to have the Keychain Dapp and open PeakD from the Keychain browser.
But if you want to open PeakD from your regular browser then using HiveSigner is the simplest way.
How to sign in to PeakD from any browser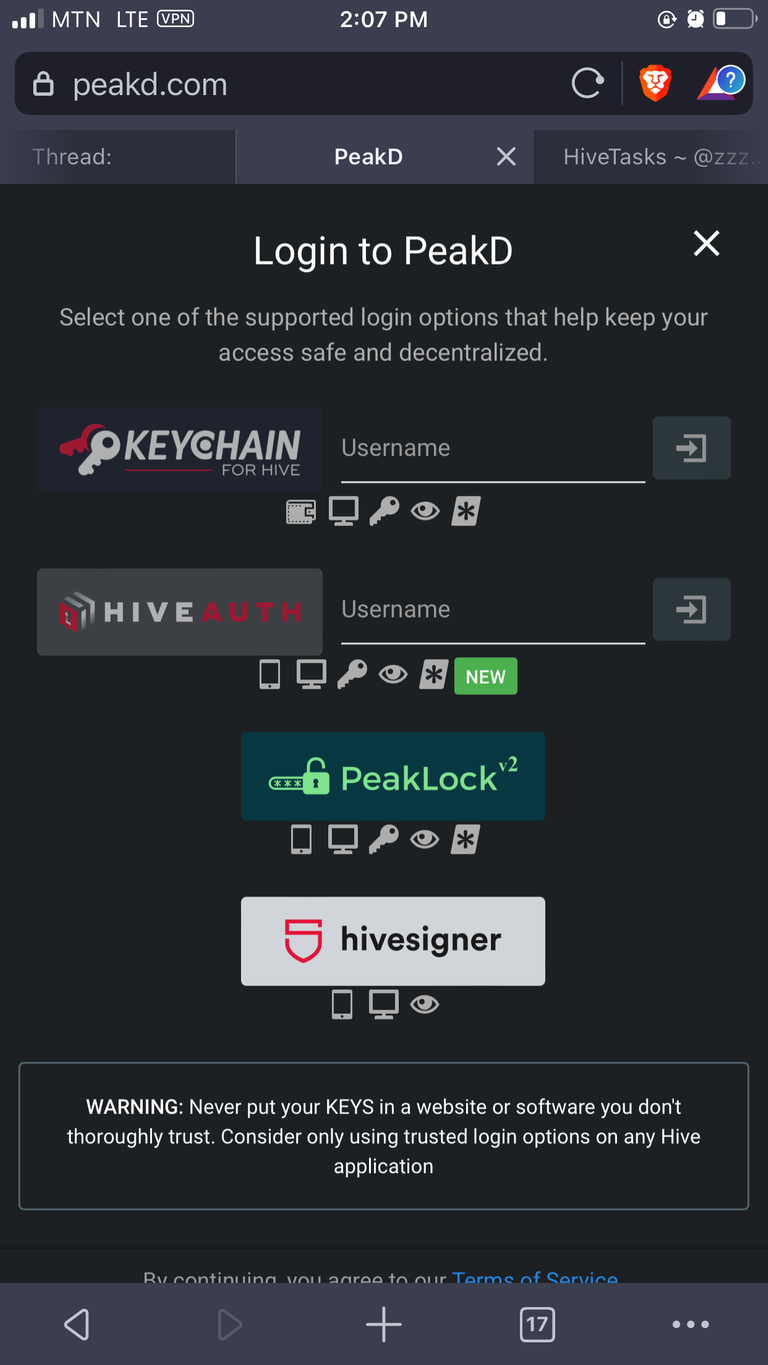 Picture of PeakD sign in page
To use any browser to sign in to PeakD, choose the hivesigner option to sign in.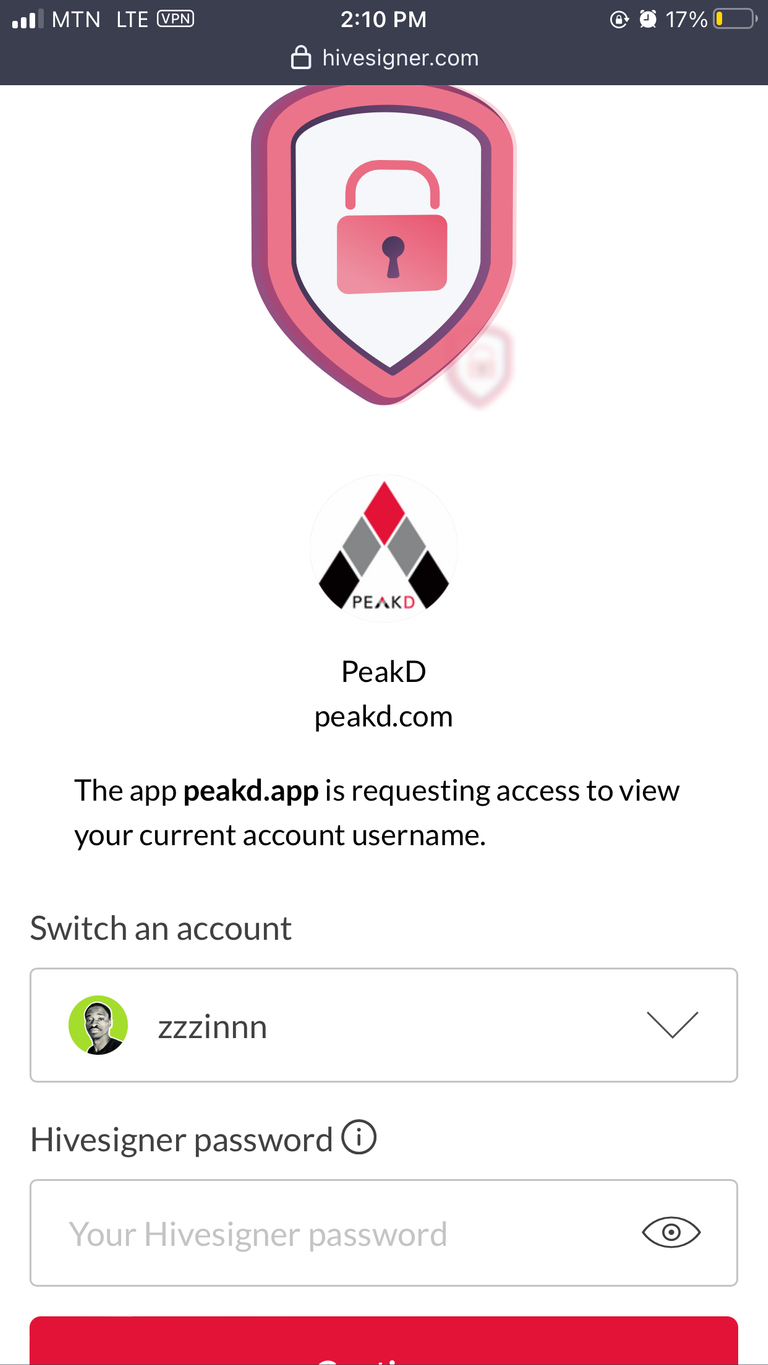 Picture of PeakD Sign in with Hivesigner
Here, just enter your hivesigner password and that's all.
You are in!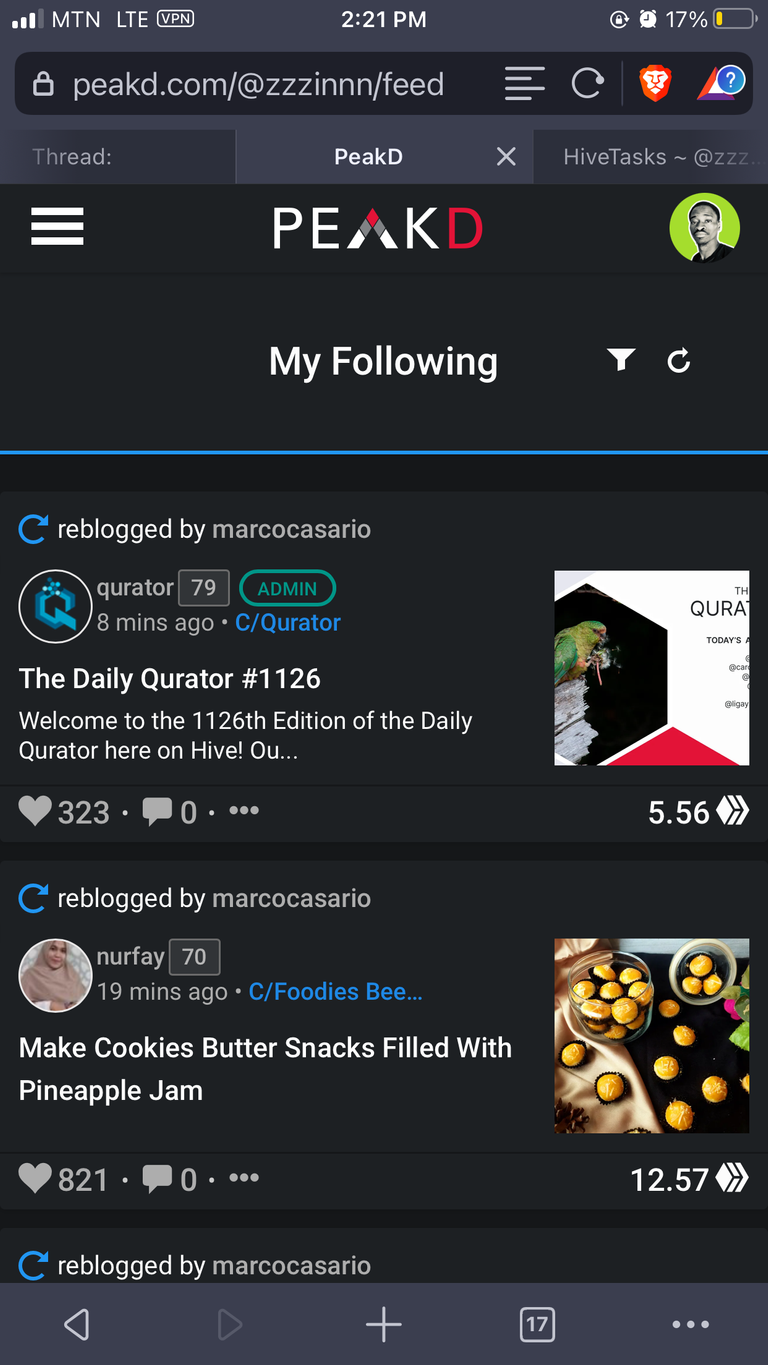 Picture of PeakD, signed in with hivesigner
---
That's all guys I hope you are intrigued to test out PeakD as a hive Dapp. I might have not covered into much details about PeakD but I am sure with the little I have shown you you have learned something and you are interested to give PeakD a try.
---
Thanks for passing by.
You can support my blog with your upvotes, reblogs, comments, and or a follow.
See you in the next one!
---

Source
---
---