I've really cut down on my play in the splinterlands arena over the last few weeks, so my recent promise of regular updates on tournament results is already going to be broken :p Not enough tournaments to report on and priorities changes:)
I did however play a gold foil silver level tournament the other day and managed to take out first place! It was a credible and satisfying win, having the opprotunity to meet and beat a couple of top ten ranked players in the game:) Its always difficult and a great challenge to get the better of such experienced and talented battlers!
The final score in a best of five final was 3-1, which can be viewed at the following link.
https://steemmonsters.com/?p=tournament&id=73aac307f0995c355b636757ea28d59625520e99
---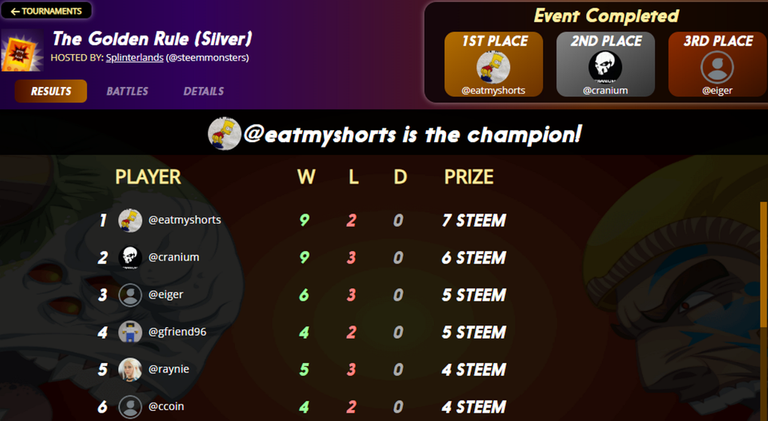 ---
Well, it looks like I may have to stick to playing these silver gold foil tournaments from this point on, since its the only tournaments I seem to be able to win!
I'm now going to the tournament lobby and siging up for all of these well in advance. I wish I could sign up for these one year in advance lol. Gotta make the most of my chances!
See you all in the next one, and good luck to all:)
---
---
As always, have a great day and PEACE