Steem Basic Income
Steem Basic Income is a social experiment to bring a voluntary crowd-funded basic income to as many Steemians as possible. Members join by sponsoring others into the program. Steem Basic Income is delivered through regular upvotes to member content.
Steemed Out?
It has been a tough year for Steem. Bitcoin has been in recover, but altcoins have been left out and STEEM's cap ranking is in free-fall! It has been a tough year for Steem. Are you all Steemed out? Do you need something to get your energy back? Have you considered attending or organizing a local Steem Up?
SteemUps
SteemUps are local meet-ups that are organized by and for Steemians. They are a great way to meet like-minded bloggers and crypto investors, swap war stories, share strategies, and commiserate about the state of Steem. I have been to several Steem conferences (though not any local meetups) and they have been a breath of fresh air, reinvigorating me for the challenges ahead.
Steem Basic Income would like to encourage you to attend a SteemUp by offering our first ever bounty...
Steem Basic Income T-shirts!!!
We are pleased to announce the release of two t-shirt designs, with orders fulfilled by Amazon.com. The first is our basic logo, originally designed by
@roldamn
. It is available in five colors and 18 different sizes.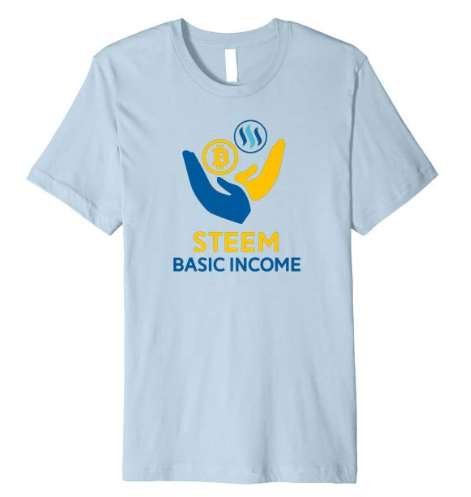 The second is our Sustainability logo, designed by @ecoinstante. It's also available in five colors and 18 different sizes. Both t-shirts are sourced by Amazon.com through fair trade suppliers.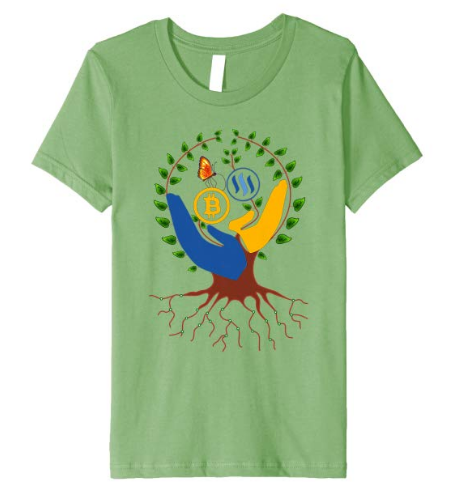 And There's a Bounty?
We want you to wear one of our t-shirts to a Steem event and blog or vlog about your experience. When you do, please let us know so that we can verify your purchase and check out your post. Then we will reward you with 50 SBI units (sponsored by @josephsavage or one of his other accounts). We will keep the bounty at 50 SBI until the STEEM price goes above $0.50 again, and then we will announce a new bounty level.
How well do you know Steem Basic Income?
If you wear a Steem Basic Income t-shirt to a Steem event, you are likely to get a few questions about your experience. You may even get some questions about how it works, or even have a few people think that you're part of the team. To have the best experience as an SBI Bounty Hunter, we recommend you check out our Helpful Resources page:
https://steemit.com/steembasicincome/@steembasicincome/helpful-sbi-resources
Availability
We are working to expand selection to tank tops and hoodies, as well as make everything available outside the U.S. The images above are hyperlinked to the .com page for U.S. customers.
amazon.de
amazon.co.uk
amazon.com
---
Enrollment
If you want to get involved, or to increase the share of basic income that you receive, enrollment is pretty straightforward:
Just send 1 STEEM to @steembasicincome. Include the name of a Steemian to sponsor in the transaction memo (preceded by @). You and the person you sponsor will each receive 1 unit in the program. You can sponsor any active Steemian, it does not have to be a current member.
In effect, when you enroll, you are 'curating' another account to receive ongoing support, and at the same time receiving curation rewards - an equal level of ongoing support. If you're unclear, please check out our full transaction memo guidelines and then let us know if you have any questions.
https://steemit.com/busy/@steembasicincome/transaction-memo-guidelines
The official currency for enrollment is STEEM. If we choose to accept SBD without refunding it, you do not receive extra value for it. Enrollments are processed automatically every 144 minutes.
Questions about Steem Basic Income?
Most questions are addressed in our
FAQ
or in these
helpful resources
. If you still have questions, ask in the comments section or join us in our
discord channel
.