---
From this week about to start weekly posts with updates of my activities and progress in Splinterlands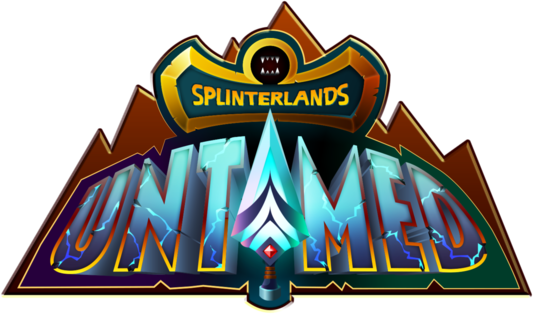 1 Daily quest and overall position
After almost two weeks of vacation while wasn't really able to play have dropped a lot in ranking, so have to catch up now as soon as possible. The advantage of this is very easy passing of daily quest, which is obvious with my 5 level summoners while appeared in Silver II. Even feel kind of sorry meeting all those lower opponents, but can;t do much about
So daily Fire quest was finished in a few battles and with total 14 WIN streak reached Gold III with current rating 1922 and stopped waiting for DEC capture rate recuperation.
Hopefully today's quest gonna be same easy one, which going to pass shortly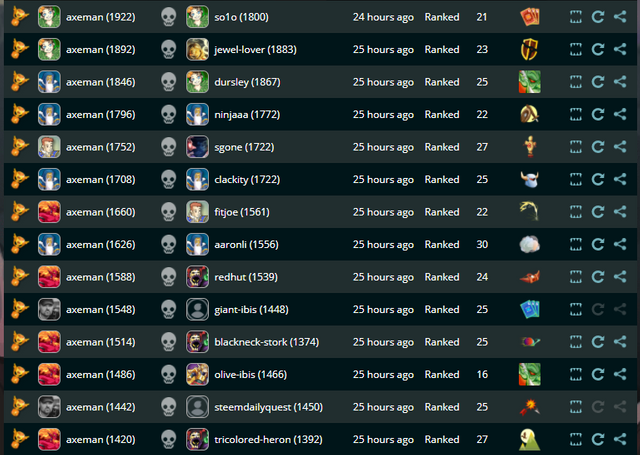 Next week also will post most interesting battle when reach adequate opponents :)
2 Quest rewards
After two weeks of absence looks like algorithm was quite positive and Fire Legendary drawn (total rewards value $1.20). However only second one, so still quite a few to go to level it up to 3. Lets cross fingers :)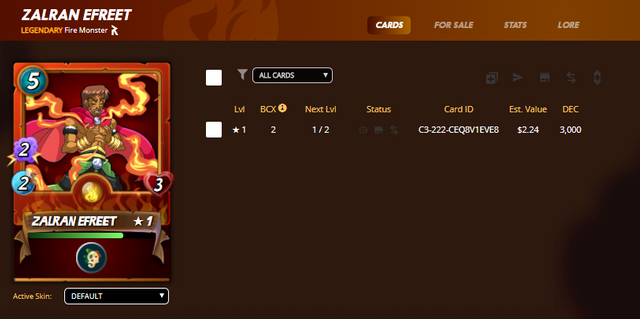 The rest of reward cards will go to market or be burned
3 Cards leveled up
As per practice I'm trying to chose next useful card worth to be leveled up. And doing it one by one normally (as soon as additional DEC earned or some cards being sold), unless some good offer on the Market (while always using @monstermarket receiving some decent cash back
For this week that was Khmer Princess (Earth Splinter). Very low mana cost of only 2 combined with Tank Heal ability starting from level 4.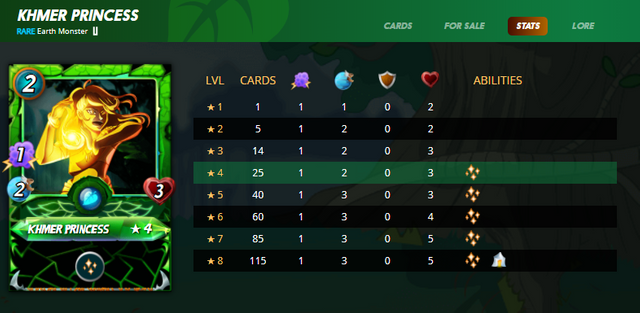 So, the card is leveled up now to 4 and here is the dilemma if worth to level up further to 5. Next level provides only rise of speed from 2 to 3, but do we need it? Counting that Wood Nymph has speed 3 as well, it really maybe better to keep speeds different. It can make advantage in Low Speed battle condition, either if both Healers used in a battle it may help while twice healing with a certain interval
So I guess will keep it so far at Level 4 and will see how it works out
As for reward cards continue to level up Spirit Shaman (Earth Splinter)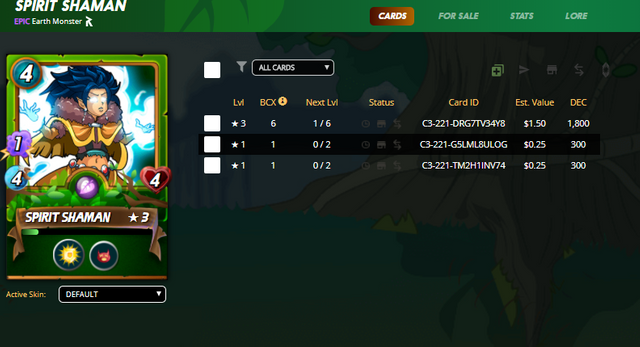 )
Still 4 cards to receive as daily rewards to get it to Level 4 which is max with my 5th level Summoners) to get additional Stun ability, so it could be used full force
4 The Guild of NEOXIAN
Again, due vacation have dropped in Guild level too with present position as No.24 even. Next few days will improve situation definitely

Guild status: Guild Hall - Maxed / Quest Lodge - Level 9 (132 scrolls to Maxed)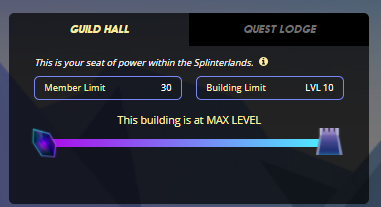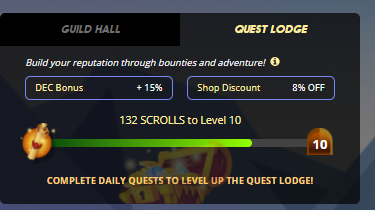 That's all so far and hope you have enjoyed!
---