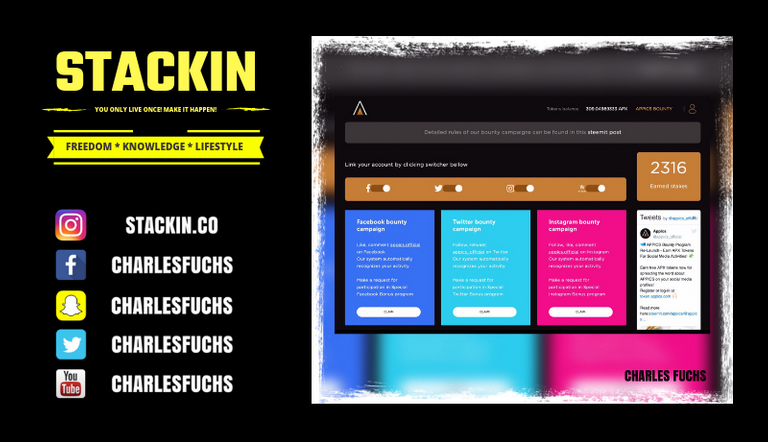 Did you hear the good news yesterday?
The Appics Bounty Program is back and now you can start earning stakes by doing social media activities once again!
So far I've earned over 2300+ Stakes in the bounty program by commenting, liking, sharing, and engaging on Appics Social Media Platforms such as twitter/facebook/instagram. 💁‍♂️
What can you do with these Stakes? They will become APX Tokens when Appics launch their token in the near future.
I'm going to make it easier for all my followers to get started... all you have to do is follow the simple instructions located on the Steem Appics Blog Here.
(I'm to lazy to explain it all here) 😂
So Steemians, let's start getting the news out about APPICS and get them FREE Tokens! I believe Appics will be one of the biggest DAPPS on the Steem Blockchain in 2019!
Keep On STACKIN! 😎
~ Charles Fuchs
Want To Trade Bitcoin with 100X Leverage? Create Your Free Bybit Account Here in 30 seconds and claim your $60 Welcome Bonus!
For those who's interested in following my "Content" and "Daily" Posts... you can just follow me @stackin to get my updates.
You Can Follow Me Here:
➡️ Facebook: https://facebook.stackin.co
➡️ Twitter: https://twitter.com/CharlesFuchs
➡️ Instagram: https://www.instagram.com/Stackin.co
➡️ Steem: https://steemit.com/@Stackin
➡️ UpTrennd: https://www.uptrennd.com/signup/MTczMg