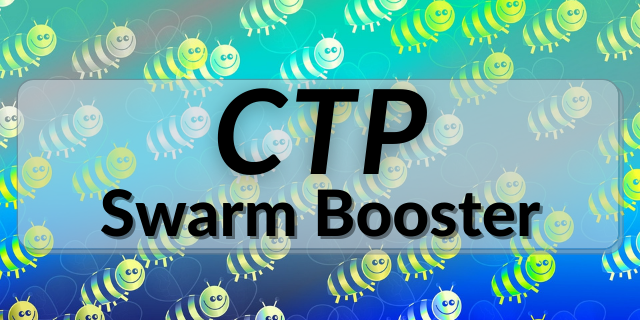 Picture by Prawny at Pixabay edited in Canva

Disclamer: This is not financial advice, what you choose to do you do at your own risk.
The CTP Swarm Booster or CTPSB for short.
Why did I choose to put so much into it?
Well I am not a whale, not an orca not even a dolphin.
I am just a tiny little minnow.
I could have chosen to power up my own account over time and gotten half way to dolphin,
so why didn't I.
Well I am no expert at this blockchain thing. I have been here for 2 months,
so I don't know much.
But I powered up my hive to 500 a month ago and now I am at 517 as of writing this post.
Could I have had some more, yes I wasted some on potions at Splinterlands.
I think I bought 40 or maybe more but did not get any legendary cards for it.
But it wouldn't have been a whole lot more I would have gotten.
And yes I play Splinterlands because it gives an ok income at higher levels.
I have only reached Silver III last round so I don't know about the higher levels.
Anyway.
The Swarm Booster account will grow much faster than my own account would have,
even with the same amount of investment.
Because I would only have been able to rely on the exact amount that I put in and the rewards would have been according to it.
And relying on my own writing of posts.
But putting that investment into the Swarm Booster gives me the leverage of all the other investors and delegators, and the account will be much bigger. so the curation rewards will also be bigger.
And I will be able to get bigger upvotes on my posts from it.
Also you have the fact that we will be getting a whole new token, the CTPSB token.
It will grow as the account authors and curates posts.
And for anyone knowing something about compound interest it should spark an interest.
So if you are into investing and holding crypto, or into collecting rare crypto currencies
Then this might be something for you, you can buy the token for 1 hive right now by sending hive to @ctpsb, but hurry you only have until the end of September to get it at this price.
The token will be distributed when the sale has ended.
Until next time.
Have a nice weekend & God bless.