Ich habe an der Crowdfunding der Untamed Steemmonster Karten teilgenommen und war somit beim Airdrop dabei mit der Chance auf eine oder mehr Karten. Aber das kann jeder sein: Kauf dir ein Paket über die Steemmonster-Seite und du kannst bei jedem kommenden Airdrop Glück haben!
I participated in the crowdfunding of the Untamed Steemmonster cards and so was eligible for the airdrop. But everyone can be: buy a pack via the Steemmonster site and you might get lucky at every coming airdrop!
Als gestern die Nachrichten über den Airdrop kam, ging ich sofort online, um einen Blick auf meinen Account zu werfen. Und dort, wo man die Packs kaufenkann, war dieses zu sehen:
When the news about the airdrop came yesterday I immediately went online to take a look. This is what you see on the page where you can buy packs:
Natürlich habe ich sofort geklickt und dann kam diese Meldung (Sorry, aber ich werde euch nicht verraten wie viele Packs ich bisher gekauft habe):
Of course I clicked on "claim now" at once. Next there was this (sorry, I won't tell you how many packs I bought so far):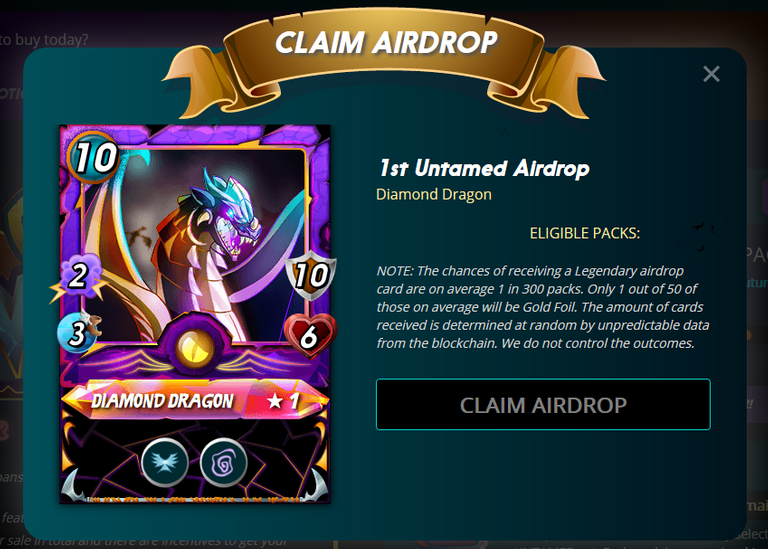 Dann kam entweder die "Leider nicht!"-Meldung, wenn man nicht zu den glücklichen Gewinnern gehörte:
Clicking further brought you either a message that unfortunately you didn't get a card: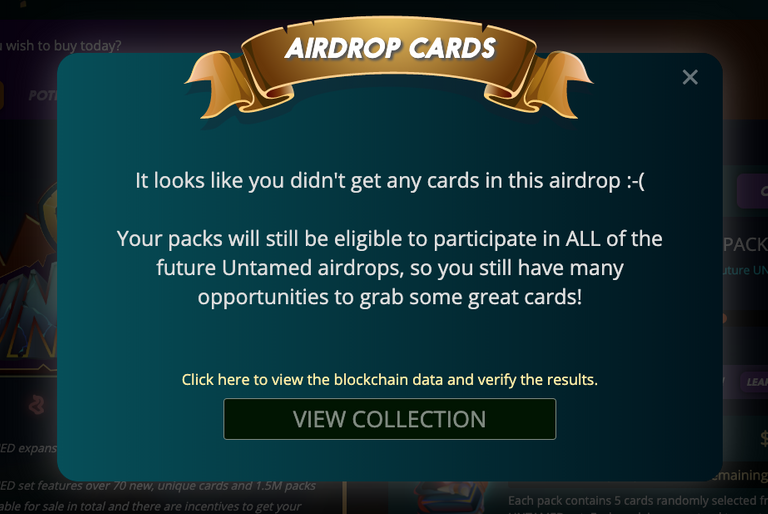 Oder es erschien der Diamond Dragon (oder sogar mehrere, wenn man besonders viel Glück hatte). Ich hab einen bekommen und bin sehr glücklich darüber!
Or you saw your Diamond Dragon (or even several of them, if especially lucky). I got one and am so happy!


PS: Es soll angeblich diese Karte auch in den Untamed Packs geben - also Packs kaufen und vielleicht Glück haben ;)
PS: There seem to be some these dragons hidden in the Untamed packs - perhaps you'll get lucky there?
---

---