Get ready folks, it is that time again! Another season of Splinterlands has ended and that means your feed will soon be filled with posts about what awesome cards everyone got as their rewards.
In fact, it can be viewed as the end of an era with the new rewards changes that the @splinterlands team is implementing, we may never see so many cards in our feeds again!
---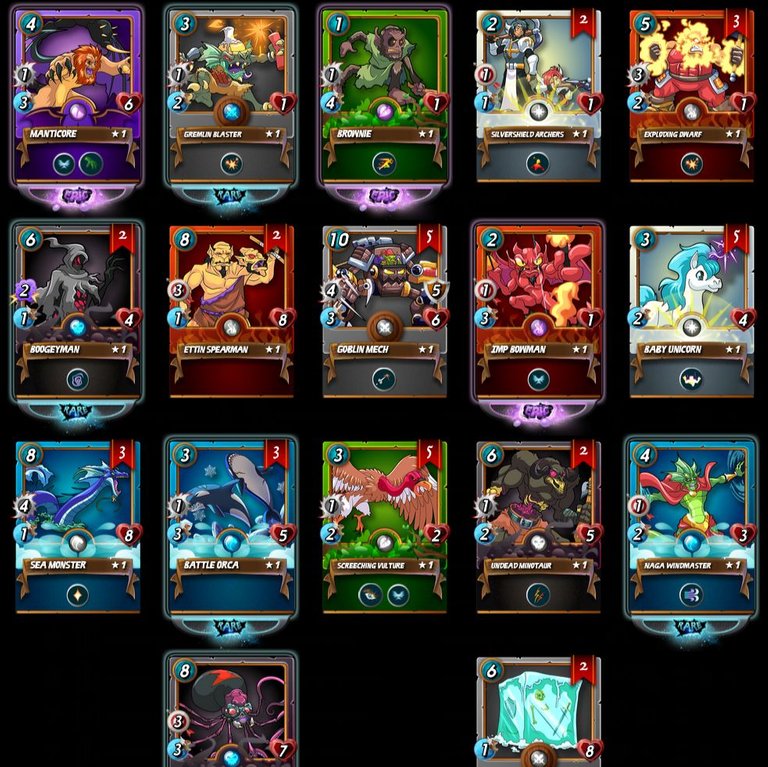 ---
I did pretty well getting about 92 cards across all three of my accounts. @mrsbozz finished in Diamond III netting 40 cards, @bozz.sports finished in Gold III netting 22 cards and I finished in Gold 1 netting 30 cards.
As you can see above, the rewards that @mrsbozz got were nothing altogether special. Three epics and four or so rares is nothing to complain about. It would have been nice to see a legendary or gold foil card in this pull. You would have though the odds should favor it after all. I used zero potions.
I like the idea of maybe winning some next season. I don't typically choose to spend my DEC on them, but if they are just given to me, why not...
---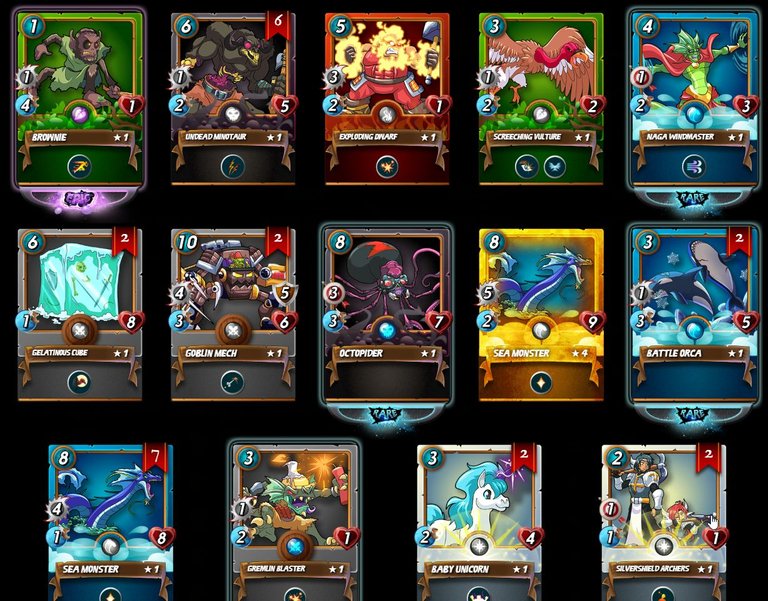 ---
I feel that my season rewards were pretty much a wash with @mrsbozz. Sure I got a gold foil card, but it was Sea Monster which I feel is more common that someone having an opinion about something these days. The epic Brownie might give me a chance to fully level another one and put it on the market for rental. I have been making some pretty decent income on @peakmonsters from my other fully leveled Brownie.
---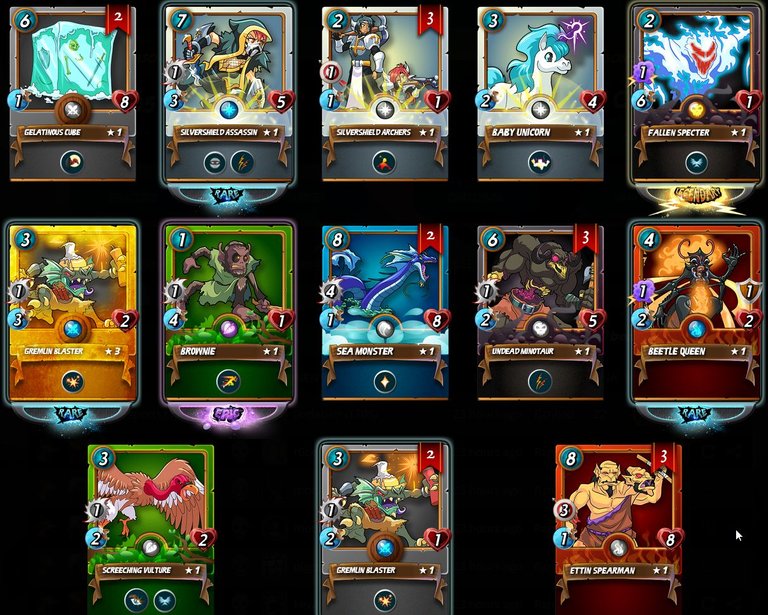 ---
Finally, the real winner this season was my newly created @bozz.sports account. I moved my dragon and fire splinters over to him and as I said I was able to push into the Gold III tier this season. Yet another Brownie to put towards my goal of having two on the rental market. A gold foil Gremlin Blaster! Not bad for a rare card. More exciting was the legendary Fallen Specter. I know I already have a couple of those, so I need to see if I can gain a level now with this draw.
Beetle Queen is slowly becoming one of my favorite cards. Especially with the addition of healing as you get it to higher level. Plus I always love more Screeching Vultures for @mrsbozz's earth deck.
Finally, who hasn't fallen in love with Silvershield Assassin(SSA) yet? To paraphrase 'Full Metal Jacket', "He love you long time". I've gotten taken out several times by an opponent who has a higher level SSA card than me. In the right circumstances he can be devastating!
There you have it! All of my season rewards and a post that is actually under 500 words (signature doesn't count)! It is a truly magical day on the blockchain!
---
---