Hey fam,
I'm back with a brand new Splinterlands weekly challenge. When I saw this week's concept, I had a smile on my face unintentionally because I love using Kobold Miner and it's a quite beneficial card even from the first level.
Since the previous week, what's new about my gaming experience?
Well, I took a big step for me by making one of my summoners 2 levels. Actually, I figure out that I'm more eager to play with my level 2 summoner because I enjoy when the monsters are stronger than usual 😂 Yet, I'm aware of the fact that my rivals are checking my previous matches so that they can design their decks to be able to beat me. However, today's match is also played with solely level 1 cards.

Currently, I'm in the Champion III league and I still have one day to become Champion II player. We'll see if I can 😌 Let's take a look at the weekly challenge.

The rulesets are highly clear. As the ranged cards are not to be used, I decided to design my deck with melee attackers as they are not going to miss any attack. So, because I planned to use melee attackers, I used Malric Inferno to deal +1 damage with all my attackers.
Also, I love low mana cap fights because I know what to use. If mana cap is limited, I give chance to the monsters with Heal ability to absorb some damage from low cap rival cards. (In general, 3 damage points at most is dealt, so Heal may work fine under this circumstance)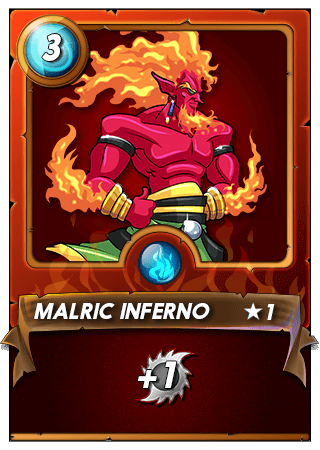 Even though I had two options to use as summoners, I chose Malric Inferno due to its +1 melee attack ability. My second option was QID YUFF with Piercing ability but the mana cap was not high enough to use more mana consuming cards that have shields to protect themselves.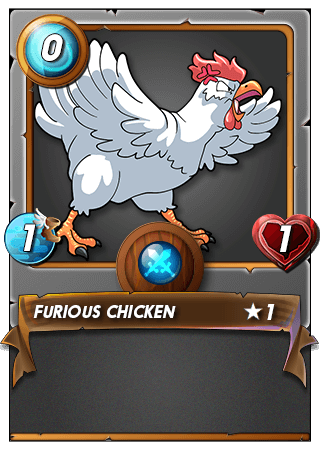 I hope the furious chicken forgives me but I sacrificed it for the sake of a win. When I checked the previous matches of my rival, I saw 2-3 cards that have high speed to deal damage that may give birth to the death of my Cerberus. If Cerberus falls, no one can escape. So, I had to sacrifice the Furious Chicken to get the initial damage.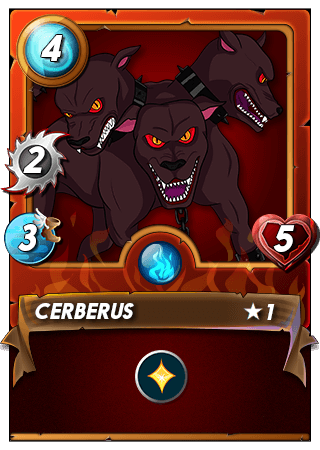 As it's put into the second position for just one attack session, I could save the whole health of the Cerberus to absorb some more.
If I had not put the Furious Chicken into the first position:
3 + 2 Magic Attack & 1 Melee attack would be dealt to Cerberus and most probably it would be the end of the game for me. However, after the initial attack, Cerberus both dealt damage and absorb some to protect the other cards.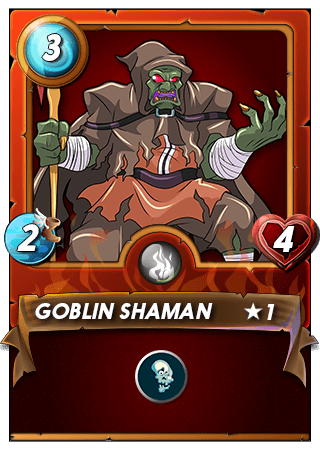 While designing the deck, I hesitated to use Goblin Shaman because it might be a better idea to slow my rival. However, as I had 8 melee damage from my team for each round, I wanted to decrease the health of my rival cards beforehand.
Also, I wanted to use its 4 health points to get the damage for the other cards to get it. That's why it was one of the fore-comers in the deck.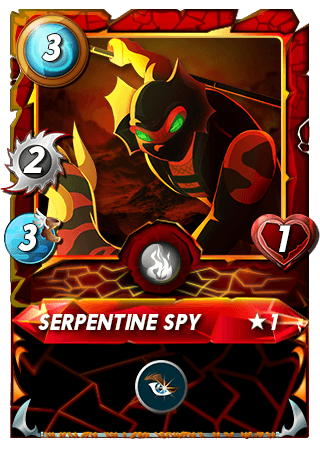 Serpentine Spy is great at dealing damage but it just has 1 health point. Because of its low health point, I always put it into the middle of the deck to save it from rival cards with the sneak ability.
Besides, as Kobold Miner has the sneak ability, I put it at the last position to start dealing damage from the last card of my opponent's deck.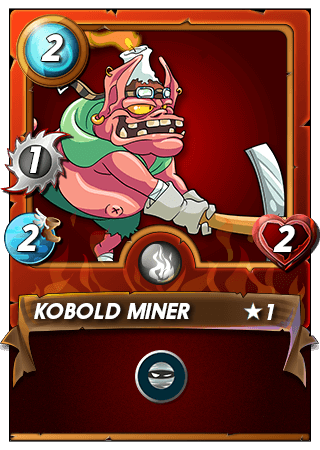 Kobold Miner took Creeping Doze with its sneak ability. As the side effect was sorted out, my melee attackers could end up the match very quickly.
One thing is certain that my rival was ready for sneak attacks that's why 2 cards with no attack ability were located at the last 2 positions. However, both Kobold and Spy did a great job in terms of executing the attackers with magic ability.
Rationale Behind
Before getting into the match, I checked my opponents' previous matches and I realized that s/he is going to use magic ability and the speed of the cards will bring me trouble. Even though I only relied on the Melee attack, I took 1 with the sneak ability and 1 with the opportunity ability to prevent the attackers located at the back positions.
When Cerberus could heal itself, It provided me an opportunity to keep deal 8 damage for one more round. If Cerberus was dead, then I would have 5 damage points which were scattered to two different opponent cards. Both Furious Chicken and Cerberus did a great job in terms of defense.
As trouble makers, Serpentine Spy and Kobold Miner killed out the dangerous ones as I planned...
Please watch the fight and tell me what performed best to bring victory.
Thanks for reading 😌
(Unsupported https://lbry.tv/$/embed/Splinterlands-Kobold-Miner-play-and-earn/9c411f5bd2c910b24e29337cd660d5a5fe5dd117)