Hello Splinterlandians.....I've got some thoughts to share....
I hold one of the rarest cards on Splinterlands, just the thought of that gives me joy, last week I explained how its price dropped from $40 to $37, apparently a player was in a rush to sell, and well, someone else picked it up and now the last card on sale is back at $40 with only 6 pieces left in the market at simultaneously increasing prices, the card is non other than the Gold Foil Dark Ha'on(Level 2)! Trust me...its nice to see!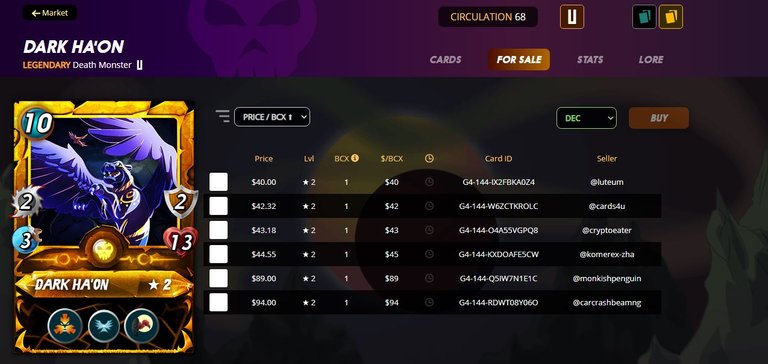 The interesting thing about this card is that besides being one of the most lethal Gold Legendary foiled cards in the market or ever produced yet, it is actually a lot more useful than a bunch of cards which are even more expensive than it is. Lets take a look at few of them.


Magnor(Level 2)
71 in circulation
4 damage points
13 health points
10 mana
10 currently on sale
Ability to taunt(all enemy monster targets it) and enrage increasing its melee damage point by 1
Current price $44.54
---
Dark Ha'on can evade enemy attacks with its FLY ability and also capable of increasing its own health when other monsters die, plus Taunt with 13 health and 2 shield! The Magnor is no match for it but is somehow more expensive than the DH....surprised?
Chain Golem(level 2)
313 in circulation
3 damage points
4 shield
7 health points
16 currently on sale
10 mana
Ability to reduce melee, ranged and void attacks!
Current price $44.5
Quite strong but not strong enough to match the Dark Ha'on, it is also not quite as rare as the Dark Ha'on as there are already 313 pieces in circulation, unlike the DH with jist 68 pieces...
---
The Vigilator(level 2)
83 in circulation
3 melee damage points
1 ranged attack point
8 health
9 mana
Ability to double strike(0.0) and also has thorns so when an enemy monster hits it with a melee damage, it gets hurt as well!
Current price $44
This one is quite a beast I agree, the double strike ability makes it super lethal but its only caveat is that it has a short health span, face it with a couple of ranged or magic attackers and it won't last 3 rounds. The advantage Dark Ha'on has over it is that it can recoup its health when any monster dies in battle.
---
Diamond Dragon(level 2)
53 in circulation
10 mana
Magic attack of 2 damage points
10 shield!!!
6 health
Fly, slow and cleanse ability.
Current price $42
I'm not sure I should be comparing this card with the Dark Ha'on, the Dragon is obviously on a different league, it is more rare, and its abilities are just wow!, so for this one, I'd pass.
Phantom Of The Abyss(Level 2)
68 in circulation
Ranged magic attacker with 3 damage points
7 health points
10 mana
Ability to fly, dodge and demoralize
Current price $41.64
This card is also badass at the right position, it has a specialty in evading melee and ranged attacks and also reducing them. Its best advantage though is its magic attack, its major disadvantage is its low health span, this is where Dark Ha'on has an advantage over it.
---
After all this analysis, I think more people will agree to the fact that the Dark Ha'on is more likely to be in demand than these others which will directly impact its price in the market, I think the Dark Ha'on is very under priced at the moment and it won't last long before other gamers realize it, for card speculators out there, the gold foil Dark Haon is also a good hold as it is super useful in battle and has the potential to appreciate in value over time due to its rarity.
What say you?
And that's it for this weeks show off folks, if you'd like to join me in having this awesome gaming experience on Splinterlands, here's my referral link, I will walk you step by step in the noobiest way possible.
Don't forget that if you don't have a Hive account or haven't bought any cards, you can still play for fun by registering with your Email address. This will allow you access to a lite account. The real deal is when you buy your cards and build your deck, because only then will you have access to tournaments, daily and season quests and rewards...
If you're game, I'm always up for a challenge. Hit me up and get your ass whooped.
Battle till you drop!!!! See ya.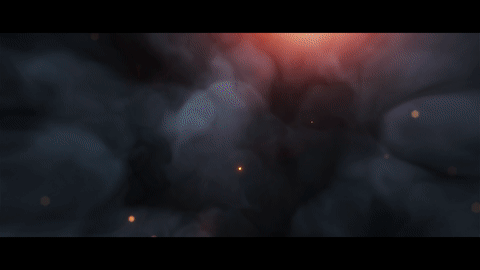 Want to join Hive through my Ref Link and let me walk you through starting up? Click the image below.