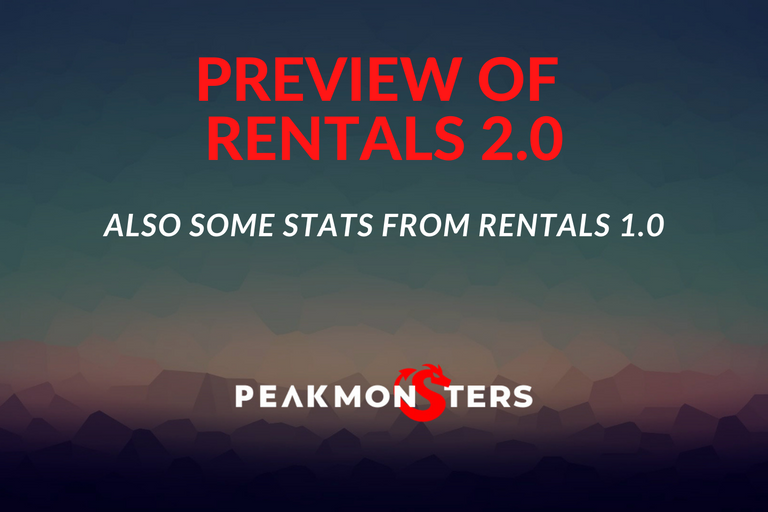 Since it was in the recent RoadMap by Splinterlands that they will be working on Rental Stuff this quarter i feel it's fine to share what we're planning on doing.
We have been in discussion with SplinterLands team and we have discussed a Protocol that will allow us to move away from an ESCROW system and move towards a DEC type system as well. We also want to move toward a fluid system where you can add or remove cards easily and there are no set time constraints. If you want to move from gold league to diamond you could do it quickly and easily.
What we are planning is an AUTO RENTAL system.
GOALS
Owners should be able to dump hundreds if not every card they want into our system in minutes if not seconds.
Renters would be able to select the monsters and summoners they want as quickly as they can decide what they want and click the buttons.
We play matchmaker (You don't have to look at contract options, peruse the market or even care at all who is renting it to you)
We would like a way for new players to have a one click approach to renting. They don't even know what cards they want... we want options for them to click a competitive deck at the level they want in one click.
We still intend for it to have market fluctuations
We will allow users (players and owners) to impact the market value IF they want to. But maybe some people will just roll with the market variations and say I'd rather just select 5000 cards make them available and be done with it. While other owners will demand a certain return or use them elsewhere.
OUR QUESTIONS TO YOU
If you are an owner of cards how many cards are you looking to make available if it took 1 minute to make them all available?
If you are an owner renting out cards would you like to know: DEC or USD or yROA% for that card?
If you are a player (or potential player) how many cards you looking at getting assuming it was little to no work to rent them the first time or upkeep afterward was little to none?
If you are a player how would you set your max costs? DEC / USD or yROA%
What other suggestion do you have for us? Remember you will not be dealing with Escrows and you will not be dealing with Time Limits you simply rent as long as you want or as short as you want.
yROA% to me means the yearly Return on the Asset value of the card based on either Listed value or Market value
RENTAL STATS OF THE OLD SYSTEM
There are 9291 cards under contract right now
There are 512 accounts renting at least 1 card
There are 9 players renting at least 100 cards
There are 77 players renting at least 40 cards
There are 5 owners renting out over 300 cards
There are 332 owners renting at least 1 card
There is one owner making at least $120 a month renting cards
There are 34,060 cards available for rent (counting the 9.2k being rented)
There are 97 fallen specters presently being rented out
There are 100 lord arianthus presently being rented out
There are 109 ruler of the seas presently being rented out
There are 9 non gold cards only being rented out once (Dice cards make up 5 of those like: Naga Brute, dragon spirit and Flamesmith)
EXPECTATIONS
We expect the new system will have way way way more cards rented available the heavier supply may reduce rates until more players come in to bring more demand for that supply.
When supply far outweighs demand those who enter their cards into the auto rental market FIRST will benefit when it comes to ties. I myself (jarvie) have an excess thousands of unplayed cards that will quickly go into the market.
We expect this system will take quite a bit of work and we're not giving an exact date and time and we are still at the mercy of the backend system of Splinterlands.
We would love to also have the future ability for people like you or sites like splinterlands to gift rentals in this auto rental system to other accounts. (friends or as awards) Perhaps entire accounts decks of cards to help tease people into playing at higher levels for a few days or a whole season.