Axie Infinity kills my brain, Splinterlands doesn't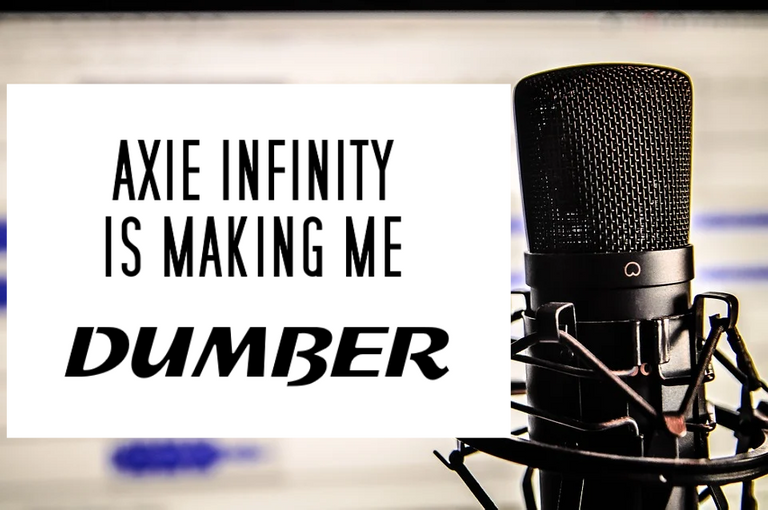 As an Axie Infinity player, I've been very frustrated at how mindless the game is to me, as a traditional gamer. Most people who are into Axie right now are not gamers, so what I'm going to say might sound like I'm boasting: playing Axie makes me dumber. My brain activity is nearly zero. Both adventure and arena are brain-dead difficulty to me.
What can I do to keep my intelligence while playing Axie? Whatever it is, it can't require alt tabbing, because the game will screw me over for an entire hour (temporary ban) if I do that. And it can't keep me from playing as quickly as possible, because I want to get on with my daily schedule. The answer is simple: podcasts.
I've long disliked watching YouTube tutorials in general because it takes too long. If I can read about it and get started within five minutes, why learn the very same thing over a thirty-minute video? But I can't alt tab or read while playing Axie without compromising time efficiency. No better solution than audio-only entertainment or knowledge.
My success story! Playing Axie is no longer boring. I learn while making money. Curious fact: while researching interesting podcasts, one of the articles I went through mentioned this type of media has become increasingly popular during the global pandemic. Surprisingly, it seems everyone has felt too idle lately, so they're trying to make up for the lost time.
If anyone is wondering, I'm listening to a podcast from my country, nerdcast, but it's in Portuguese. Also, no, I can't play multiple accounts in Splinterlands at the same time and listen to a podcast. I've tried, but I need to focus on constant team creation. It takes up a lot more brain power. But then again, that's only when I'm completing dailies in 3 to 5 accounts at once.
---
Image source: pixabay
---
---