Hello Friends,
Finally, there was something Legendary from Season End Rewards and the joy also got doubled as I also got a Legendary monster from my daily quest I completed today and that Legendary card is from the new set of Rewards cards released yesterday!!!
The new cards, 14 of them in all, will bring more life into the Splinterlands battles as some of them are introduced with a new weapon called as Oppress, which will do double damage to any targets that have no attack.
Now that is something which will frighten all those no attack monsters like Lord Arianthus, Gelatinous Cube etc..
More details below..
I am sure you all have opened your Season End Rewards for Splinterlands by now.
Let me first take you thru Daily Quest Completion Rewards as that brought me a Legendary new Rewards edition monster.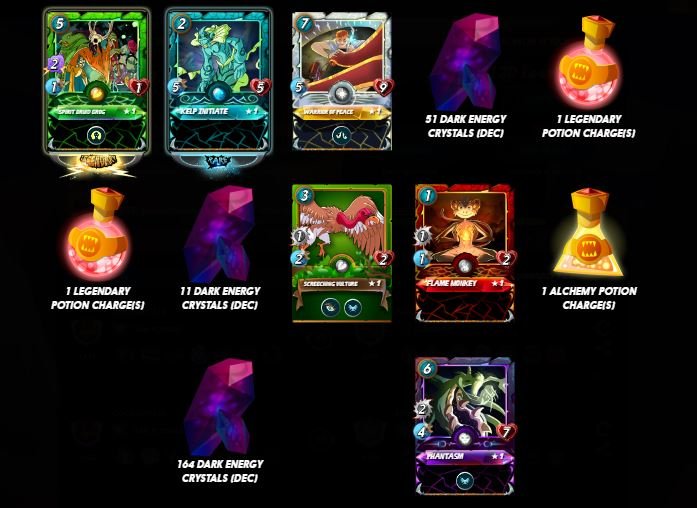 As you can see above, it was a Legendary SPIRIT DRUID GROG from Earth Splinter, which is among the 14 new Rewards cards introduced by Splinterlands recently.
Based on the price, Spirit Druid Drog is right now at third place on market just just after the Legendary Lord Arianthus and ever attractive Ruler o the Seas.

That's not all, I also got couple of other new Rewards edition cards in Kelp Initiate and Phantasm and it's all fascinating in the battles to be fought with these new monsters!!!

Season End Rewards:
Once again, I didn't get any Legendary from season end rewards from those 120 chests, but the good thing is, I got 3 Untamed packs and luckily, one of those included a Legendary monster for me as a consolation for not getting any Legendary Rewards card from Season End.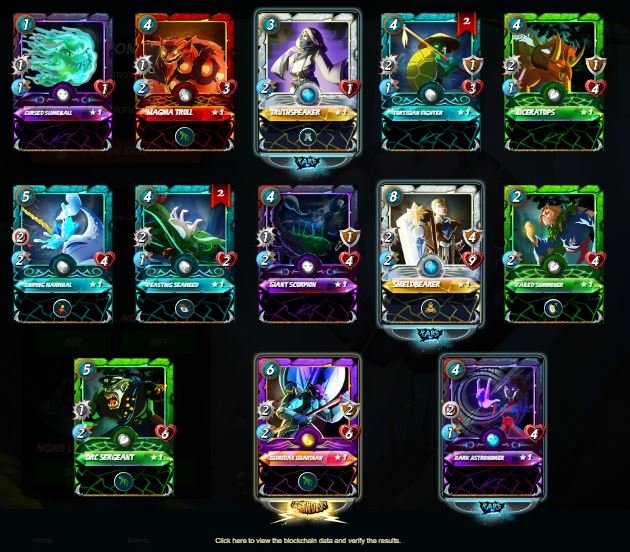 So, as we can see above, it's a Legendary GLORIDAX GUARDIAN as the best card from those 15 cards.
Couple of other notables include Shiledbearer and Sniping Narhwal besides Truthspeaker and few others.
---
Splinterlands has recently provided some new features like option to transfer DEC in game itself, Displaying tips at the start of each battle, displaying balance history besides introduction of those 14 new exciting cards!!!
It's always fun battling and collecting those rewards and trade them for Crypto. You never know when you will get those huge value monsters from the packs you purchase or from daily quests and Season end rewards!!!
So, it's never late to join this awesome game and start battling and earning crypto and if you are not yet on the game and decided to join, you can join using my referral link and get some cards from me as a heads up.
Thanks you for reading this and I hope you too got some nice cards from your daily quests and season end rewards. Looking forward to read your updates on the same.

Not yet signed up for Splinterlands?
You can join using my referral link: splinterlands.io and get some monsters from me :)
Also, try monstermarket.io if you haven't already for your steemmonsters cards and packs purchase and get instant cashback with every card purchase.

Thanks for the votes, comments and resteems.
I am a proud member and supporter of below communities: