Hello Friends,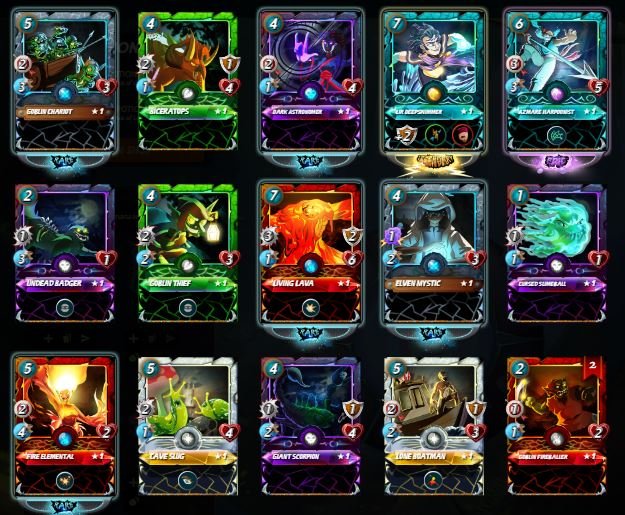 I continue to be a bit more lucky with the packs I open from the purchases either from Splinterlands market or from the Hive-engine website.
Why I say this? On an average, I get a Legendary monster from 4 packs I open and below few screenshots are the proof for that.
Well, I hope that luck continues with me as I intend to buy few more packs whenever I have some hive.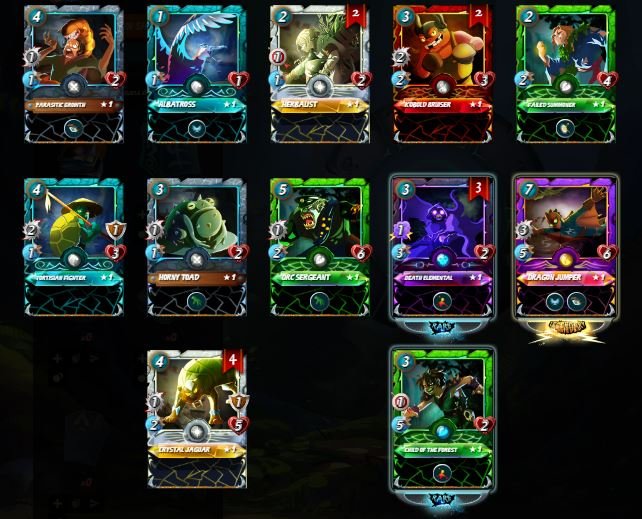 Yeah, here I share above the First screenshot with Legendary Dragon Jumper as one of the monsters from 4 packs.
Although Dragon Jumper is not a monster with very high value, but it's definitely a monster to have an upgrade the existing one to get additional ability in each of it's 4 levels.
With this and another one I got from few other packs, I could upgrade the card to level 3 to have that Stun ability enabled!!!!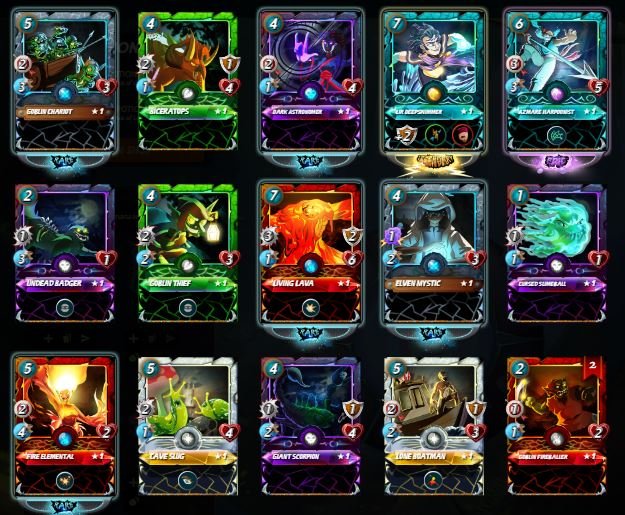 The second set of cards I shared above has one of the high rated Legendary monster in Lir Deepswimmer which is costing about $11 as per the marketplace and it will be something I intend to retain and upgrade when I get couple more.
Other interesting cards from this set includes an epic Azmare Harpoonist, a Goblin Chariot which helped me to level up the cards have, a Fire Elemental and few other rare cards.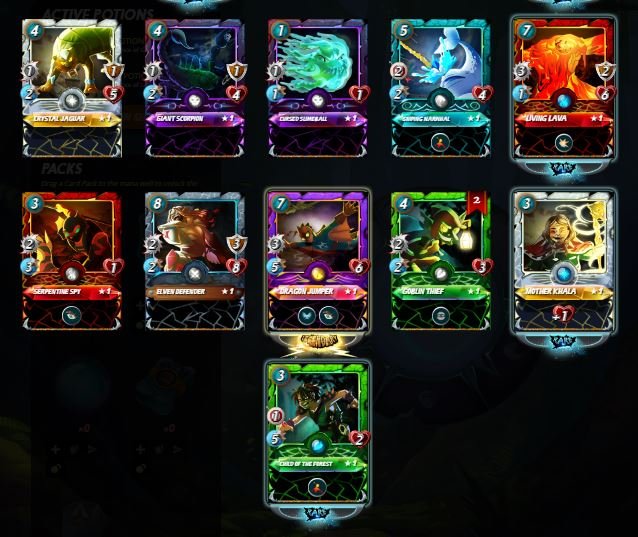 The next set is shared above and I was fortunate to get another Dragon Jumper which helped to level up the card along with the other one mentioned above.
This set also had a summoner in Mother Khala and there were other monsters like Serpentine Spy, Sniping Narhwal, couple of Goblin Thief and a Child of the Forest.
The standout monster being the Legendary Lir Deepswimmer.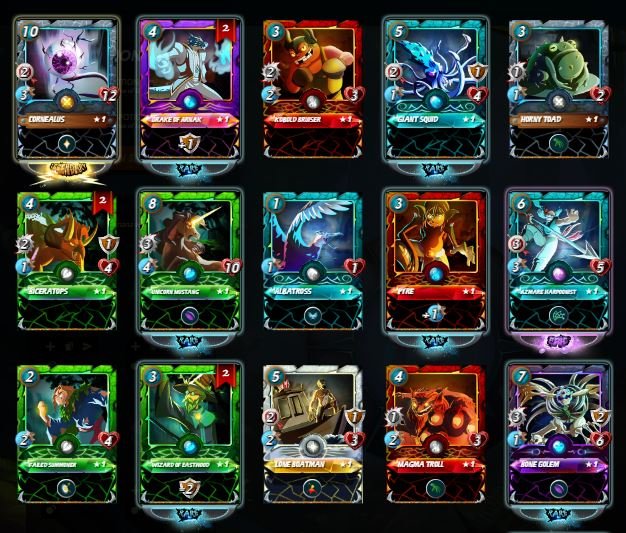 Here I share the last set of monsters for today with about 18 cards I got from this set.
There was a Legendary Cornealus, couple of Drake of Arnaks, couple of Wizard of Eastwood and another epic Azmare Harpoonist as the major ones.
That means, I had a Legendary monster from approximately 20 cards which will be equal to 4 packs.
I almost recovered whatever amount I invested for these packs and when I have a Legendary from approximately 4 packs, that almost covers the cost of that set.
Some of the cards I got helped me to upgrade the cards to next level and have some additional abilities enabled and that should help me to reduce the loss percentage and give me more wins :)

Good pulls although I liked a shiny Gold Foiled Legendary monster from these set of packs and I once again re-iterate that, Hive Engine packs available for sale are a bit cheaper compared to marketplace and there are more chances of getting a Legendary monster.
Don't treat this as financial advice, this is based on my own personal experience with opening packs and getting Legendary monsters.
The packs currently available for 4.43 Hive per pack which is approximately 1.93$ per pack and that means, almost same price as on market place but little lesser compared to DEC conversion rate and better chances of getting Legendary monsters based on what I discussed above.
Thank you for all the love you guys continue to shower on my blogs and it's always a encouragement for me to write on different topics and continue interacting with you all.
Thanks and Have a Wonderful Day :)

Join the new Official Telegram for Splinterlands via link given below to participate in contests and have fun.
---
Not yet signed up for Splinterlands?
You can join using my referral link: splinterlands.io and get some monsters from me :)