BATTLE MAGE SECRETS Weekly Challenge! - AIM TRUE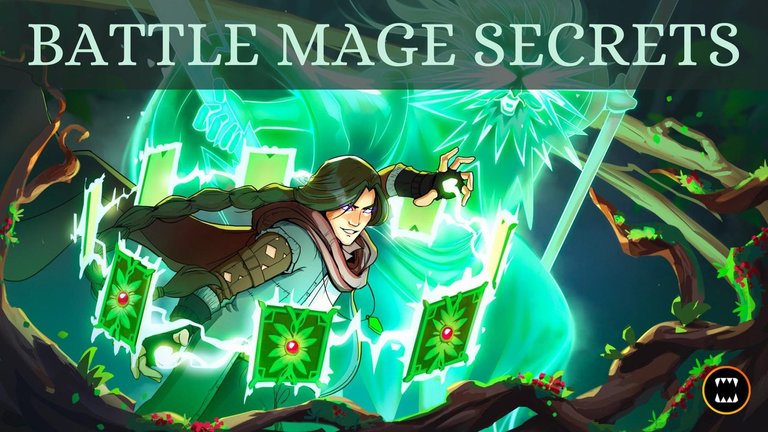 [🇺🇸 - EN - 🇧🇷 - PT/BR]
Hello, everyone! 😄
For the Share your Battle of this week, oh, wait, I mean for the Battle Mage Secrets of this week let's talk about the Aim True ruleset! I was very happy to see this new challenge, since the share your battle one got very repetitive! As usual, I'll stick my analysis considering Gold league + Modern format!
---
Olá pessoal! 😄

Para Compartilhar sua batalha desta semana, oh, espere, quero dizer para os Segredos do Mago de Batalha desta semana, vamos falar sobre o conjunto de regras Aim True! Fiquei muito feliz em ver esse novo desafio, já que o share your battle ficou muito repetitivo! Como de costume, vou manter minhas análises considerando o formato Liga Ouro + Moderno!


AIM TRUE
General Strategy
Summoners to Avoid
Aquatus: Backfire is going to be useless.
Lir Deepswimmer: he can be useful due to his +2 armor and Return Fire, but you are going to waste the Blind ability.
Astral Entity: same logic as the Lir Deepswimmer,the Dodge ability won't work.
Sthispa: totally useless just like Aquatus!
Byzantine Kitty: well, she is so strong that it can still be a good choice, however, she loses her strength in this ruleset (Aim True).
---

---
Best summoners
Mylor Crowling: this ruleset encourages to use melee/ranged monsters since they won't miss, so Mylor is very effective against melee attack type for obvious reasons!
Kelya Frendul/Conqueror Jacek: you want to strike first, because you might kill some of the opponent's monsters before they can do anything!
Yodin Zaku: this summoner usually loses for two reasons, one being heavily countered by Return Fire (Lir/Ilthain) or Reflection Shield and the second one is missing their ranged attacks! In this ruleset he is going to be even stronger!
Immortalis: great summoner to counter monsters with a lot of armor!
Lily Shieldpaw: with her Camouflage ability, you can use a strong tank in the 1st position or even a Taunt monster in the back to split the enemy attack and add a Triage monster to increase the survivability of the monster in the 6th position.
---

---
Invocadores a evitar
Aquatus: Backfire será inútil.
Lir Deepswimmer: ele pode ser útil devido a sua armadura +2 e Return Fire, mas você vai desperdiçar a habilidade Blind.
Astral Entity: mesma lógica do Lir Deepswimmer, a habilidade Dodge não funcionará.
Sthispa: totalmente inútil assim como Aquatus!
Byzantine Kitty: bem, ela é tão forte que ainda pode ser uma boa escolha, porém, ela perde sua força neste conjunto de regras (Aim True).
---
Melhores invocadores

Mylor Crowling: este conjunto de regras incentiva o uso de monstros corpo a corpo/à distância, pois eles não errarão, então Mylor é muito eficaz contra o tipo de ataque corpo a corpo por razões óbvias!
Kelya Frendul/Conqueror Jacek: você quer atacar primeiro, porque você pode matar alguns dos monstros do oponente antes que eles possam fazer qualquer coisa!
Yodin Zaku: este invocador geralmente perde por dois motivos, um sendo fortemente contra-atacado por Return Fire (Lir/Ilthain) ou Reflection Shield e o segundo por perder seus ataques à distância! Neste conjunto de regras, ele será ainda mais forte!
Immortalis: ótimo invocador para combater monstros com muita armadura!
Lily Shieldpaw: com sua habilidade Camouflage, você pode usar um tanque forte na 1ª posição ou até mesmo um monstro Taunt nas costas para dividir o ataque inimigo e adicionar um monstro Triage para aumentar a capacidade de sobrevivência do monstro no 6ª posição.
---
Monsters to Avoid: follow the same logic as the summoners, don't pick monsters that are strong or rely on dodging the attacks, such as: Coeurl Lurker, Serpent of Eld, Pelacor Deceiver, Flying Squid (Blind ability).
Good monsters: I usually avoid picking melee/ranged monster with slow speed due to their inconsistency such as: Stitch Leech, Grund, Grum and many others. However, in this ruleset, I think they perform very well, so let's check below the battles I picked!
---
Monstros a Evitar: siga a mesma lógica dos invocadores, não escolha monstros que sejam fortes ou dependam de esquivar dos ataques, como: Coeurl Lurker, Serpent of Eld, Pelacor Deceiver, Flying Squid (habilidade Cega) .

Monstros bons: Normalmente evito escolher monstros corpo a corpo/à distância com velocidade lenta devido à sua inconsistência, como: Stitch Leech, Grund, Grum e muitos outros. No entanto, neste conjunto de regras, acho que eles se saem muito bem, então vamos conferir abaixo as batalhas que escolhi!


Although I'm analysing Modern format, I picked two battles from Wild format!
The first one was Aim True + Weak Magic + Explosive Weaponry with 60 mana cap!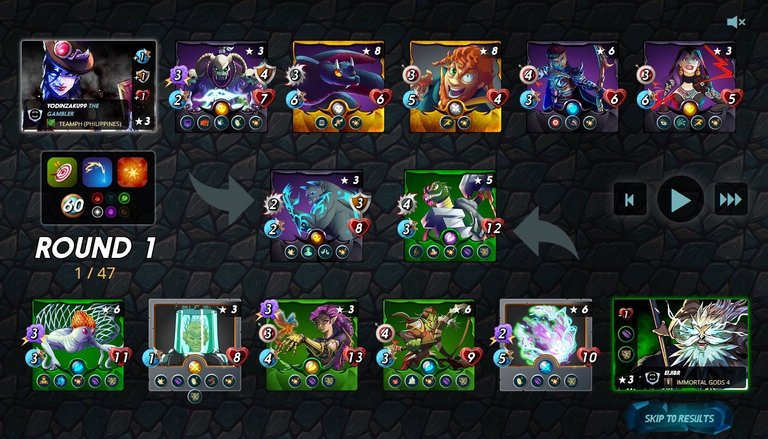 About the Strategy
Immortalis: great counter on Weak magic ruleset due to his Shatter ability!

Since Grund won't miss his attacks, his Double Strike ability + Blast allows him to Trigger the Trample ability more often and also damage the adjacent monster!

Prismatic Energy is a great monster to reflect the magic damage from the Blast to the enemy, not only that, he might not even suffer damage due to his Void ability!

Uloth Dhampir: good to keep Mycelic Slipspawn alive with Triage, not only that, he has low speed, but with Aim True he won't have a problem to hit the target!

Runemancer Florre: double attack is always great on Explosive Weaponry!

Lord Arianthus great card to reflect the magic attack damage just like Prismatic energy!

Mycelic Slipspawn: good tank to keep the rest of the team alive!
---
Apesar de estar analisando o formato Moderno, escolhi duas batalhas do formato Selvagem!

O primeiro foi Mira Certeira + Magia Fraca + Armamento Explosivo com capacidade 60 de mana!

Sobre a Estratégia

Immortalis: ótimo contador no conjunto de regras de magia fraca devido à sua habilidade Shatter!

Como Grund não errará seus ataques, sua habilidade Double Strike + Blast permite que ele ative a habilidade Trample com mais frequência e também danifique o monstro adjacente!

Prismatic Energy é um ótimo monstro para refletir o dano mágico do Blast para o inimigo, não só isso, ele pode nem sofrer dano devido a sua habilidade Void!

Uloth Dhampir: bom para manter Mycelic Slipspawn vivo com Triage, não só isso, ele tem velocidade baixa, mas com Aim True ele não terá problemas para acertar o alvo!

Runemancer Florre: ataque duplo é sempre ótimo em armas explosivas!

Grande carta de Lorde Arianthus para refletir o dano do ataque mágico, assim como a energia prismática!

Mycelic Slipspawn: bom tanque para manter o resto do time vivo!
---
The 2nd battle I picked from a Brawl battle in enemy arena in Gold league level + Modern format! The rules were: Melee Mayhem - Odd ones out - Aim True with 28 mana cap!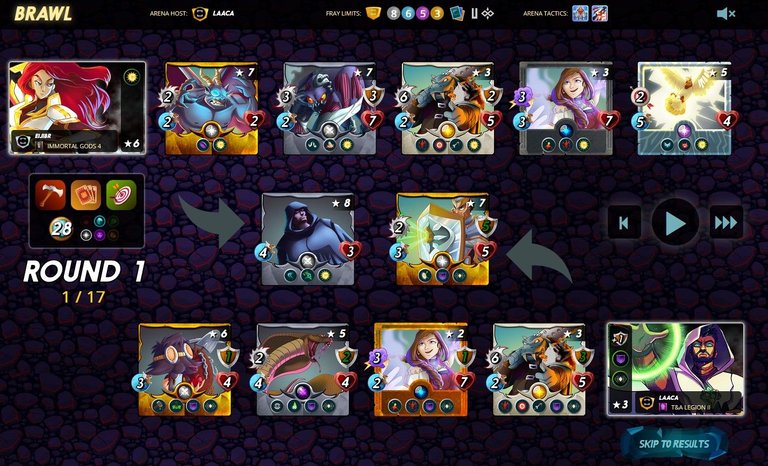 About the Strategy
Chaos Agent and Gargoya Scrapper: are just a distraction to absorb two to three attacks (one for the divine shield and the others to kill them), giving enough time for Jared Scar to lust and become a real beast!

Disintegrator: I was expecting some melee attack type due to the melee mayhem ruleset, so his Demoralize ability would be effective!

Jared Scar: his main weaknesses are slow speed and low HP, but in this ruleset he can attack from the backline diminishing these weaknesses!

Captain Katie: she has strong attack power and it is the 2nd monster that has a chance to bloodlust in my lineup!

Thunderbird: with his stun ability and high speed, it is a very strong card in spite of losing his chances to dodge with the Flying ability!
---
A 2ª batalha eu escolhi de uma batalha Brawl na arena inimiga no nível liga Ouro + formato Moderno! As regras eram: Caos Corpo a Corpo - cartas ímpares apenas - Mira certeira com 28 mana de capacidade!

Sobre a Estratégia

Chaos Agent e Gargoya Scrapper: são apenas uma distração para absorver de dois a três ataques (um para o escudo divino e os outros para matá-los), dando tempo suficiente para Jared Scar cobiçar e se tornar uma verdadeira fera!

Desintegrador: Eu esperava algum tipo de ataque corpo a corpo devido ao conjunto de regras do caos corpo a corpo, então sua habilidade Demoralize seria eficaz!

Jared Scar: suas principais fraquezas são baixa velocidade e baixo HP, mas neste conjunto de regras ele pode atacar pela linha de trás diminuindo essas fraquezas!

Capitã Katie: ela tem forte poder de ataque e é o 2º monstro que tem chance de sede de sangue na minha escalação!

Thunderbird: com sua habilidade stun e alta velocidade, é uma carta muito forte apesar de perder suas chances de esquivar com a habilidade Flying!

If you want to start playing Splinterlands, please use my referral link by clicking here!
Thanks for reading!
---
Se quiser começar a jogar Splinterlands, por favor use meu link de referência clicando aqui!!

Obrigado por ler!

---
---