Renting is a Splinterlands newbie's best option
If you look at my @posthero account, you'll notice it has nothing but the cards from the image below. By having it stay as low as Silver III and only a few monsters, I'm certainly not profiting much. But I like the gameplay and, who knows, legendaries and gold cards might drop often enough. Spamming the same cards over and over again makes consuming 25% energy daily very easy.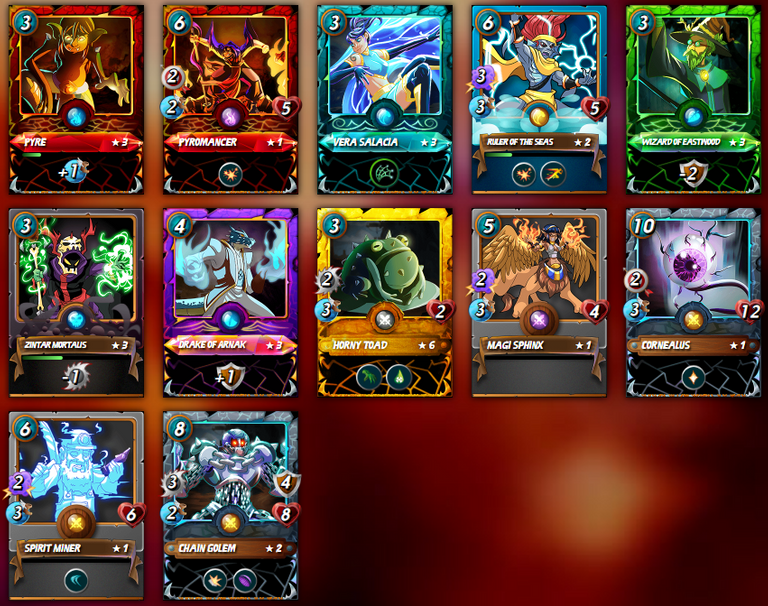 Thanks to legendary and epic neutrals, I can even score dailies for summoners I don't own. Holding only two splinters is very good at this rank because splinter restrictions only get serious at diamond and above. This means my rented Ruler of the Seas will almost always be pickable. But it's the gold foil that really lets me shine.
That level 6 horny toad. There is no way my account would have enough collection power without it. As the season goes by, I will pick up extra gold foils to get better daily quest rewards. Even though this is not particularly attractive to those who are at diamond level, being at silver softens how much power we need to get to the next rank by a lot.
So if you are a new player who didn't yet know what is the best way to build up your collection, now you do. A bit of Hive experience will help you a lot while doing this, but if you don't know how, you can just ask in the Splinterlands Discord server. Just remember to choose the best cost/benefit cards before you rent them. Browse a lot. They'll be with you for many seasons if you like. Cards are available for renting at: https://peakmonsters.com/