Hi Dear - SplinterMates,
For this week's Battle Share Contest Organised by the SplinterLands Team; details can be found @ Weekly Splinterlands Battle Share:: For this week challenge, we have FIRE Element Monster who is named as EXPLODING DWARF; we will explore this Melee attack EXPLODING DWARF monster in our post today. I strongly feel that Winning or losing battles does not matter. What matters most is how a player is building upon his/her game strategy.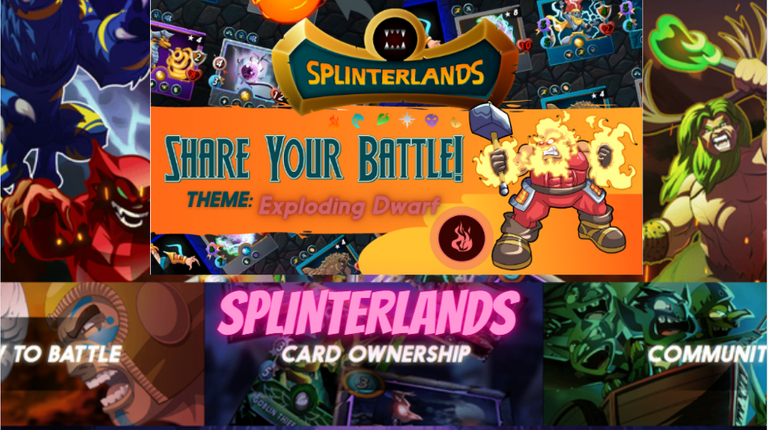 In this post, we will explore LIVE; this FIRE Element Monster EXPLODING DWARF-; share my strategy around it and how I'm using this card i.e. its placing position on the battlefield and how often I use the card, and at what level it should work the best for you. At the end of the post, we will also be doing a Cost-Benefit Analysis of this Card EXPLODING DWARF
The high-level pointers that we are going to discuss are as follows::-
EXPLODING DWARF Monster card level discussion, stats, and how I am stack with the FIRE monster card EXPLODING DWARF
Gameplay & Strategy discussed in detailed
Battle Results & How Often I use this FIRE element card EXPLODING DWARF
A Final Note to keep things simple; talking a bit around the cost-benefit analysis for this card. Simplicity is the one that is admired by most people & I'm one of them that likes to keep things clean, simple, and straightforward.
How Often I use this FIRE element Monscard EXPLODING DWARF
Happy to share that; I have this monster EXPLODING DWARF at Max level. So the answer to the question of how often I use this card is straight forward.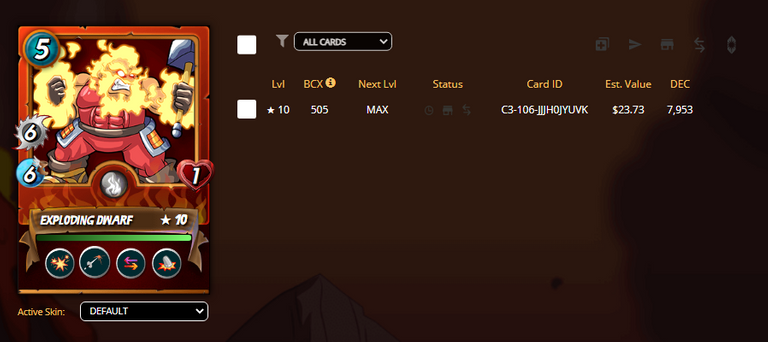 I'm using this monster card regularly and the best part is that the damage it does to the opponent's monster is huge i.e. 6 Melee damage along with the Blast ability is a Bonus. And for that reason, this is one of my favorite cards to be taken to the battle field.
A player will need to shed around $23+ to have this monsterous card at the MAx level. Altogether you need to combine 505 cards of EXPLODING DWARF to bring it to the max level and explore all the FOUR abilities that it has.
One important thing that I would like to bring into attention is its HEALTH. Have a close look at the health of the card its just - "ONE"; a wrong placement of the card in the battlefield will cost you the battle. Hence it's imperative that when you plan to include EXPLODING DWARF in your lineup be extra cautious with its position in the battle. The same we would be exploring in the Vlog.. you will notice that I had a spot for this furious monster at a safer place and from that position it did the real double damage.
Now that we know about the card and how I'm stacked up with it. Lets Battle As
THE::

Watch the Battle LIVE on my LBRY.tv channel::
Gameplay & Strategy discussed in detail & the ROI of the Card
---
Watch the LIVE Battle on LBRY.tv
---
Cost-Benefit Analysis for EXPLODING DWARF Card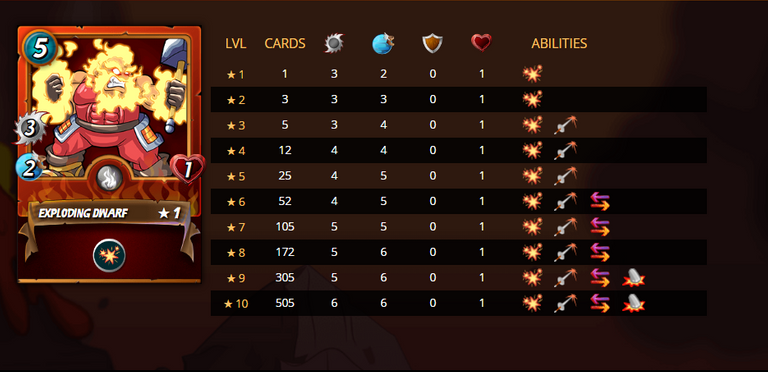 The Ideal level considering the cost-benefit ratio and the maximum utilization of the card. I think this card at level 6 should be the best FIT. To bring this furious monster EXPLODING DWARF card to level 6; you will need to combine 52 cards and 1 Card costs around $0.054. Hence You will need to shed close to $2.80+
$0.054 * 52 = $2.80+ Approx.
I've choose the level 6 postion, coz. of the Retaliate ablity that opens up at level 6. I'm not that fond of Piercing abilty but can assure you that a card having Retaliate ability is good to have in your card collection.
And since this is a card that comes under the Reward category and if you are lucky you can get this card via completing the Daily Quests. So you have a chance to get this card as a Reward and no need of investing in it. But I do recommend that one should definitely have this furious monster card. Check my Vlog LIVE battle and you will notice how this EXPLODING DWARF played a critical role and its monstrous attack doing the REAL damage to my opponent's enemy lineup.
Battle Results; Did the Strategy Work Out::
Did my Strategy work, Did I WIN or Loose. Was it a wise decision to have this EXPLODING DWARF at Max level and be able to explore all its FOUR abilities which are Blast, Piercing, Retaliate, Trample Check & Explore in the VLOG?
In the Vlog I answer all the above questions; In a new way of LIVE Share Your Battle Challenge:: With the FIRE Monster EXPLODING DWARF | Live Battle & Strategy Discussed.

Best Regards
Do you love playing games and do you want to earn as well while playing the game. If YES then come join this amazing online trading cards game SPLINTERLANDS here
See You @ The Battle Field - May the POWERS be with You!!
Cheers & Thank You!!!
Find me on LBRY & Earn LBCs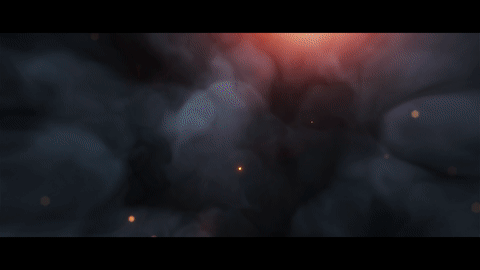 ---
Image Courtesy: SplinterLands